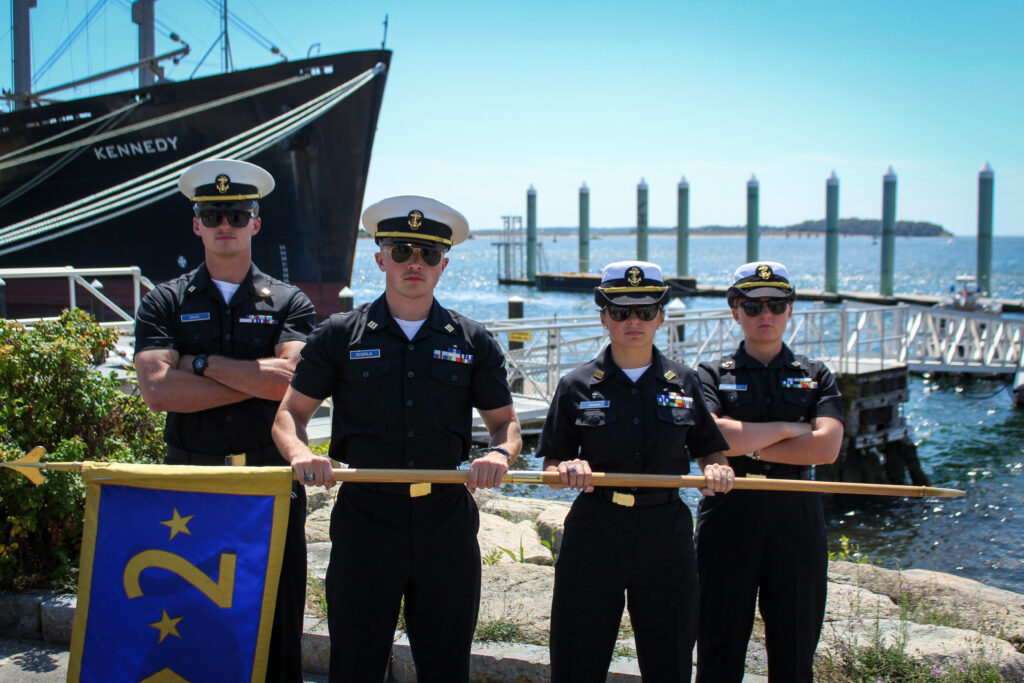 2022 2nd Company Commander: Emily Dudek
Read below for an update from the Company Commander daily and scroll down for photos.
Day Zero
Today was a successful first day of orientation for the Cadet Candidates. They started their afternoon with a healthy lunch in the mess deck, followed by uniform distribution in Clean Harbors gym. Second Company spent their day studying their youngie knowledge and practicing marching, where they were improving by the hour. Second Company has a great group of motivated Cadet Candidates who are ready to take on any challenge they might face.
Day One
This morning the Cadet Candidates attended the Meet the Cadre ceremony where the Second Company Squad Leaders and Senior Staff formerly introduced themselves. Their day consisted of more drill, indoor team bonding, and lectures provided by the Academy's Regimental Staff. They had the opportunity to learn about the Academy's history and learn about daily Watch procedures. Later this week the Cadet Candidates will be participating in fire fighting drills led by the Onset Fire Department. They had a meeting in Admirals Hall to go over safety protocols and take a basic fire knowledge class. Today was a long day for our Cadet Candidates but they worked hard and persevered through this rainy second day.
Day Two
Day three started out with the physical fitness test where our Cadet Candidates gave it their all and motivated each other until the end. They also went to Sea Lab, where they learned how to effectively operate a Monomoy on land. This lab will help them during pond day when they get to row one on the water. Before dinner, the Cadet Candidates played an intense game of dodgeball against Sixth Company. Unfortunately, the rest of the day was rained out, but they were still able to be productive in their dorms doing room preparation and studying their youngie knowledge.
Day Three –
As Orientation progresses, the Cadet Candidates are being introduced to more traditions at the Academy. Every day there is a new CCPL, or Cadet Candidate Platoon Leader, that leads the company in a series of motivational discussions with their shipmates. Last night we introduced the CCPL tradition and C/C Dang was Second Company's first CCPL of Orientation. Mr. Dang stands out due to his attention to detail and really knowing the youngie knowledge handbook. Throughout the day Second Company went back to the gym to get properly fitted uniforms, had their student ID pictures taken for their key cards, and participated in a water polo game against Third Company. These Cadet Candidates still have a long way to go, but they continue to prove their motivation and willingness to the Cadre every day.
Day Four –
Second Company spent most of their day at water survival training. During this time the Cadet Candidates swam laps around the pool, practiced flipping life rafts, and learned how to float in the help position. After water survival training, the Squad Leaders introduced some new marching techniques to the company. They learned open and close ranks, along with practicing other marching techniques and facing movements from earlier this week. As the CCPL tradition continues, a new Cadet Candidate was picked for the role. Ms. Cheffro is highly motivated and one of the loudest Cadet Candidates at patio when spouting the youngie knowledge. She was chosen by the Sauad Leaders due to her consistent dedication and ability to be confident in herself and others.
Day Five –
Today was another eventful day for Second Company. The Cadet Candidates spent the morning with the Onset Fire Department learning how to use fire hoses and fire extinguishers. The Chief in charge gave a great report about how respectful the Cadet Candidates were. For the rest of the afternoon and evening they were in Admirals Hall listening to lectures from Academy staff about alcohol, the safety management system, and campus police. Lastly, the guide on was introduced to the company. The guide on is the company flag, and one Cadet Candidate from each company is selected to be the guide on bearer for the rest of their freshman year. For Second Company Mr. Schrier was selected due to his locked on attitude and willingness to learn more every day.
Day Six –
The Cadet Candidates got a lot of time with their Second Company Senior Staff today. They were able to listen about their experiences at the Academy, and the opportunities that were provided because of the Academy. Second Company took about three, nonconsecutive, hours to practice new marching movements. Today the company worked on the right and left flank, to the rear, and dress right dress. They picked up the movements quickly and some Cadet Candidates took the time to teach their shipmates some facing movements. With the marching competition coming up in a few days, Second Company's motivation to learn and advance their skills is at an all-time high. 
Day Seven –
During Orientation, most days are spent on campus where the Cadet Candidates attend meetings, practice marching, or study their youngie knowledge. Today they were taken off campus for pond day to learn how to sail, and row in a monomoy and the crew boats. The company was broken up into three groups for this operation to run smoothly. After about an hour and a half at one station, they would rotate to the next activity. The Cadet Candidates had a lot of fun out on the water with their shipmates, while continuing to learn how to work together as a team. Once again, Second Company got an outstanding report about their attention to detail and respect for the instructors.