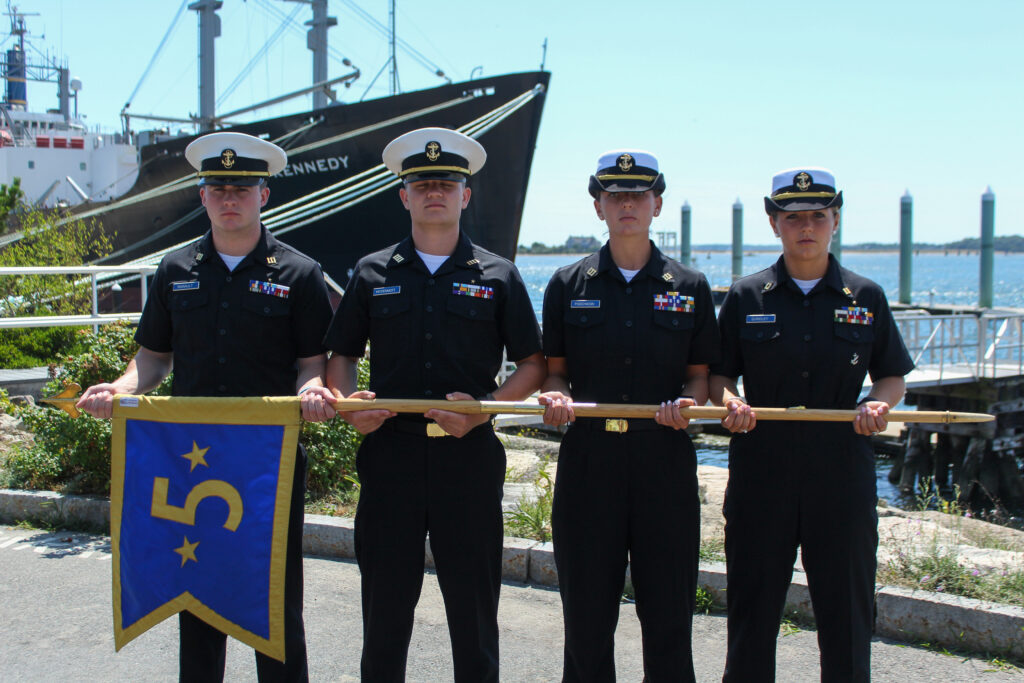 2022 5th Company Commander: Nathan McDermott
Read below for an update from the Company Commander daily and scroll down for photos.
Day Zero –
Welcome family members and friends of 5th company cadet candidates (C/C's)! They are joining a company that has won Admiral's cup for the past 4 years in a row. Admiral's cup is awarded to the best company in the regiment at the end of orientation. Today, they met their company staff and are becoming accustomed to the traditions of orientation at MMA. Today also marks their first step in the followership journey at MMA. We're glad to have them!
Day One –
Youngies met their company staff and begin to understand the regimental structure of the academy. They took their first steps in learning how to march and the different marching skills they will need to know for the competition.
Day Two –
CCs had their first-morning formation at MMA. Every day of the academic year they will be joined by the entire regiment (1/C-3/C). They are starting to take their steps together as a unit and it shows during their performances on patio and their continued improvement in marching. Tomorrow they begin their STCW firefighting class, for on-ship fire safety.
Day Three –
CC's spent most of their day learning firefighting skills such as handling a hose, properly using an extinguisher, and many more things. It is a USCG requirement that they learn these skills before we embark on mini-cruise and if any student changes their major to a license degree they need these certifications.
Day Four –
Orientation is a challenging environment that pushes CC's out of their comfort zone. Today was the easiest of all those days because CC's went to the Academy's pond facility where they spent the day away from the regiment and learned how to sail and row. Throughout orientation, all US military branches give a lecture, and tonight they learned about the army and the opportunities it provides at the academy and post-graduation. 
Day Five –
Another component orientation that all young have to go through is water survival training. Here they learn how to survive as a group if a ship was to sink or if they go overboard. During the evening they had meetings to explain regimental standards applicable during the academic year.
Day Six –
CC's were distributed the last of their seabag. During a team-building session, they are asked to work with their shipmates to accomplish different group tasks. As the company gets ready to compete in the orientation marching competition, the 5th company staff takes advantage of every meeting to practice and teach marching.
Day Seven –
During orientation and the academic year, CC's will have personal inspections of their uniform and room inspection to meet regimental standards. CC's were given instructions on how to prepare their rooms to get ready for their first inspection on the 30th.