And we're off, to the first full day of Orientation! The cadet candidates were woken up today by their Cadre ordering them up and knocking on their doors, and then filed out to the hallway to start chanting "we're waiting for you" while waiting for the rest of the platoon to be up and ready. Once fully assembled, the companies marched out to the parade field for "Meet the Cadre". Each of the Cadre in their company introduced themselves and set their standards for these cadet candidates. After meeting their staff (and enjoying a beautiful sunrise), the platoons marched back to their companies to shower and change before breakfast.
After breakfast, the companies split up- some went to replace uniform items, some went to practice monomoy rowing, ans some sat in meetings on Watchstanding and MMA History. Every company came together for our "Morning Formation", where every company marches onto the parade field and reports their musters. During the school year, cadets attend morning formation (which we call MoFo) every single day, so it's good to get a start on it now.
Before lunch, every company had a "patio" session, where they are marched up in front of the Regimental Staff and asked questions about their Youngie Knowledge. The cadet candidates are expected to spout the information in unison. The first day of patio was extremely rough- many C/C's didn't know any of their knowledge, were addressing the women as "Sir", not speaking in unison, or not responding at all. There is a lot of room for growth. Every single company got "dropped" (made to do pushups) by the Regimental Staff because of their performance at patio.
After lunch, company's continued their meetings and learning basic drill movements. In the afternoon, they got to participate in intramurals- 1st Co vs 3rd Co in Ultimate Frisbee, 2nd Co vs 7th Co in Dodgeball, and 5th Co vs 6th Co in water polo. Intramurals are a great chance to relax and get to know each other while cheering on your shipmates in the game, and there were smiles on everyone's faces. The groups are beginning to develop a natural camaraderie with each other that'll last all 4 years. The C/C's were able to take showers again after intramurals finished, and then got into boiler suits and boots for their firefighting meeting tonight. But before that, they had to have another evening patio session.
Many companies did improve for dinner patio, but many still faltered with their marching and knowledge. Every day, every patio, they have to strive to be better then they were before, and the potential is there. The evening concluded with a meeting on firefighting, and then standing at attention for Taps before being sent to bed.
The first full day of Orientation has been successfully completed, and I know that every cadet candidate here can make it through the week. Tomorrow, 1st Co and 5th Co will be going off campus to learn firefighting and sailing/rowing respectively, and the remaining companies will continue to drill and study here at MMA. We're all ready for another amazing day!
Here you can receive updates on each specific company:
1ST COMPANY
To the Friends and Family of 1st Company,
I would first like to begin by introducing myself. I am 1/C Jessica Hinds and I am the 1st Company Commander for the 2023-2024 academic year. I am currently entering my senior year as a Marine Transportation major, and words can not describe how excited I am to lead your Cadet Candidates. While attending this Academy, I have had countless opportunities that have shaped me not only into the student and young mariner I am today, but also a leader. I have the utmost confidence in my staff of Executive Officer, Training and Retention Officer, 03 Platoon Leader, and eight Squad Leaders under my command will transform your cadet candidates into young professionals not only after these ten days, but the whole school year.
Day 1 mostly consisted of what is known as pool day, which is when cold water survival is completed. This is mainly for our license major cadets which are Marine Transportation and Marine Engineering, as this training is an STCW requirement for sea term and eventually their Coast Guard Licenses. Tasks include treading water, practicing huddling in a group as an attempt to retain heat in cold water, entering a life raft in the water, flipping an upside down life raft, and other small assessments. All Cadet Candidates must complete these assessments, and it also serves as a time to build friendships with their new fellow shipmates. After pool day, we played 3rd Company in ultimate frisbee which was a great game to watch. Although we did not bring home a win for 1st Company, the cadet candidates had a great time bonding with their shipmates and getting hyped up. To finish off the day, the Cadet Candidates attended a firefighting lecture, which is also an STCW requirement for license majors. They will be traveling to the Mass Fire Academy in Bridgewater, MA tomorrow to complete their basic firefighting training. Although only one day has passed, I have seen enormous amounts of improvement amongst the Cadet Candidates in 1st Company. There is still room for growth, but we as a staff are looking forward to training them to become the best Cadets they can be.
Very Respectfully,
1/C Jessica Hinds
1st Company Commander
2ND COMPANY
The Cadet Candidates experienced their first full day of orientation today. After morning meal, they participated in their very first morning formation with the Regiment of Cadets. After that they went through some meetings, including watch standing procedures, and MMA history and traditions. They also received the rest of their uniforms later on in the morning. The Cadet Candidates also experienced their first "Patio" with the Regimental Staff, where they are quizzed on their Youngie Knowledge before mid day meal. They then went to intramural dodgeball where they defeated 7th Company 3-0. They ended the day with an STCW fire fighting lecture. We are continuing to work hard to shape the Cadet Candidates into Fourth Class Cadets!
3RD COMPANY
My name is 1/C Sophie Strano and I am the 3rd Company Commander for the 2023-24 academic year. I am from Sandwich, MA and I am a Marine Transportation major.
Today was the Cadet Candidates first full day here at Massachusetts Maritime Academy. The Youngies started their day by meeting their Company Staff during Meet the Cadre on the football field.
After breakfast, 3rd Company Cadet Candidates headed to the gym for uniform fittings and then attended some Academic presentations in Admirals Hall. Any down time that they have during the day has been devoted to learning the key knowledge they need to know in order to be successful at the Academy.
Following lunch, the Cadet Candidates participated in intramurals and led 3rd Company to their first win against 1st Company during their Ultimate Frisbee game. Winning an intramurals game means more points towards winning Admirals Cup at the end of Orientation!
The Cadet Candidates attended an STCW Fire Fighting Lecture tonight. This lecture prepares the Cadet Candidates for the hands on Fire Fighting training they will be receiving in the days to come.
It is the first full day and I can already see the hard work and determination the Cadet Candidates are demonstrating. They are learning to work as a team, spout with pride, and endure and overcome challenges. I am looking forward to seeing 3rd Company grow over the next 9 days.
Very Respectfully,
1/C Sophie Strano
3rd Company Commander
4TH COMPANY
Good Afternoon, I would like to introduce myself to all of the parents, family members, and friends who will be following this blog to track the progress of their Cadet Candidates through Orientation. My name is Jack Mulligan, and I am the 4th Company Commander. I am entering my senior year here at Massachusetts Maritime Academy studying Emergency Management. Together with my fantastic Senior Staff and group of 8 Junior Squad Leaders, we will work tirelessly to develop the Cadet Candidates into self-disciplined, responsible, and professional leaders.
Today began with "Meet the Cadre", where myself and my staff introduced ourselves to the Cadet Candidates. Cadet Candidates also experienced their first Morning Formation today, a daily routine for all Cadets at the Academy. The staff took the Cadet Candidates through drill practice, where they began to learn the basic functions of marching here at the Academy. Furthermore, Cadet candidates studied their Youngie Knowledge extensively, working to acquire the knowledge of Academy customs, traditions, and staff.
Before the day ends, the Cadet Candidates will go through their required STCW Fire Fighting meeting to learn the basics of fire safety and prevention before they put those skills to use later on during Orientation. Our staff has been impressed with the Cadet Candidates motivation and desire to learn the skills being taught to them. They are all performing well, and we look forward to seeing their continued growth over the coming days.
Very Respectfully,
1/C Jack Mulligan
4th Company Commander
5TH COMPANY
Good afternoon,
Today was the first full day of orientation for the 5th Company cadet candidates. The day started off with "Meet the Cadre", this event is the cadet candidates official introduction to their cadre staff. From this point on any little mistake made by your cadet candidates will be recognized and the staff will correct it.
The platoon was moved to the mess deck where the cadet candidates had breakfast which was then followed by morning formation on the parade field. Morning formation is held everyday during the school to confirm accurate accountability of personnel. The rest of the day was an assortment of meetings included hands on Monomoy rowing, watch standing, and MMA history.
The day concluded with an intramural game of water polo verse 6th Company and a STCW firefighting class.
At 2200 all of the cadet candidates are sent to bed after standing taps; a military procedure done to honor those who served. Today was a hard day for the entire platoon but we expect nothing but the best from them. I have hope in my entire 5th Company staff to push these cadet candidates to the best of their ability and strive for success. Thank you for following along as always please contact me with any questions.
Very Respectfully,
1/C Micheal Riehl
5th Company Commander
6TH COMPANY
Hello, First off, I would like to introduce myself for those following the 6th company blog for Orientation of 2023. My name is 1/C Michael Nogueira from Pembroke, MA, and I have the honor of being the 6th Company Commander for the year. I am entering my Senior year at Massachusetts Maritime Academy studying Energy Systems Engineering. Words cannot begin to express what this academy has done for me. Myself and my staffs goal is to provide the same opportunity, and allow our Cadet Candidates to discover their true and full potential.
Yesterday after you said your goodbyes to your Cadet Candidates, they began the orientation traditions right away. They were escorted by their cadre to the dining hall, and while waiting for their food we're studying their "youngie knowledge" learning the academy staff, the chain of command, as well as some of the Academy Policies provided in the handbook. After that, they were issued their uniforms which they will learn how to wear, respect, and love within the next nine days. Following the uniform distribution, they began some room prep, which is a series of very specific standards established by the academy. From there, they were issued a medical brief by the Academy medical team and Dr. Cukor. Their spirits were high, as well as their nerves as they began their journey here at MMA.
Today the candidates were awoken slightly before sunrise and marched to the football field to participate in a tradition titled "Meet the Cadre" which is their official introduction to those who are in charge of them and responsible for their well being. Following this, they were taught some facing movements, as well as some basic marching maneuvers to allow the platoon to move swiftly throughout campus. Following their noon meal, 6th company clenched its first victory in Intramural's in a tight game between 5th company in water polo. Some Cadet Candidates that went above and beyond to secure the victory were as follows: C/C Cates, C/C Hill, and C/C Guimares. Their effort and energy ensured that 6th company got the win, and gave us the first points toward winning Admirals Cup. With this being said, 6th company was not infallible. They had a very rough patio performance, which is where they are quizzed as a company in-front of the regimental staff to prove they know their knowledge. Unfortunately, we had some struggles with knowing the information, our low volume, as well as difficulty with saying it in unison. Following evening meal, the Cadet Candidates were given a Fire Fighting Lecture from the firefighting academy instructors so they are prepared to practice in their trainings in the days to come.
Thus far, I am very impressed with the willingness of the C/C's to learn, as well as their competitive nature. They respond very well when mentioning competitions against other companies, as well as against each other. The camaraderie within the company has begun today with the win in the pool, and I suspect will only increase with days to come. My Orientation Squad Leaders have been doing a fantastic job with ensuring that the C/C's are both in physical and mental well being. I am looking forward to getting to know the C/C's. I am confident that this company has what it takes to be Admirals Cup Champions, as well as unwavering cadets here at this academy for the years to come. I will close with this, "life is either a daring adventure, or nothing at all". Your C/C's have made the courageous decision to be apart of something bigger than themselves. They have chosen the path less traveled, and it will pay dividends. They have taken the risk that others did not. Although time away from families, friends, and home may be difficult for all of us, it is what is best for them now, and what is right for their future.
Very Respectfully,
1/C Michael Nogueira
6th Company Commander
7TH COMPANY
Today marked the first full day of orientation for the cadet candidates. Throughout the morning and into the afternoon, cadet candidates received and fit tested their uniforms, learned about academy history and tradition, and practiced marching movements. The day ended with an intramurals game of dodgeball against 2nd Company, the cadet candidates first knowledge quiz at patio, and an STCW Firefighting lecture. Your cadet candidates are starting to get the hang of things and I have full confidence in my Squad Leaders to improve them each day.
Very Respectfully,
1/C Luke Dawson
7th Company Commander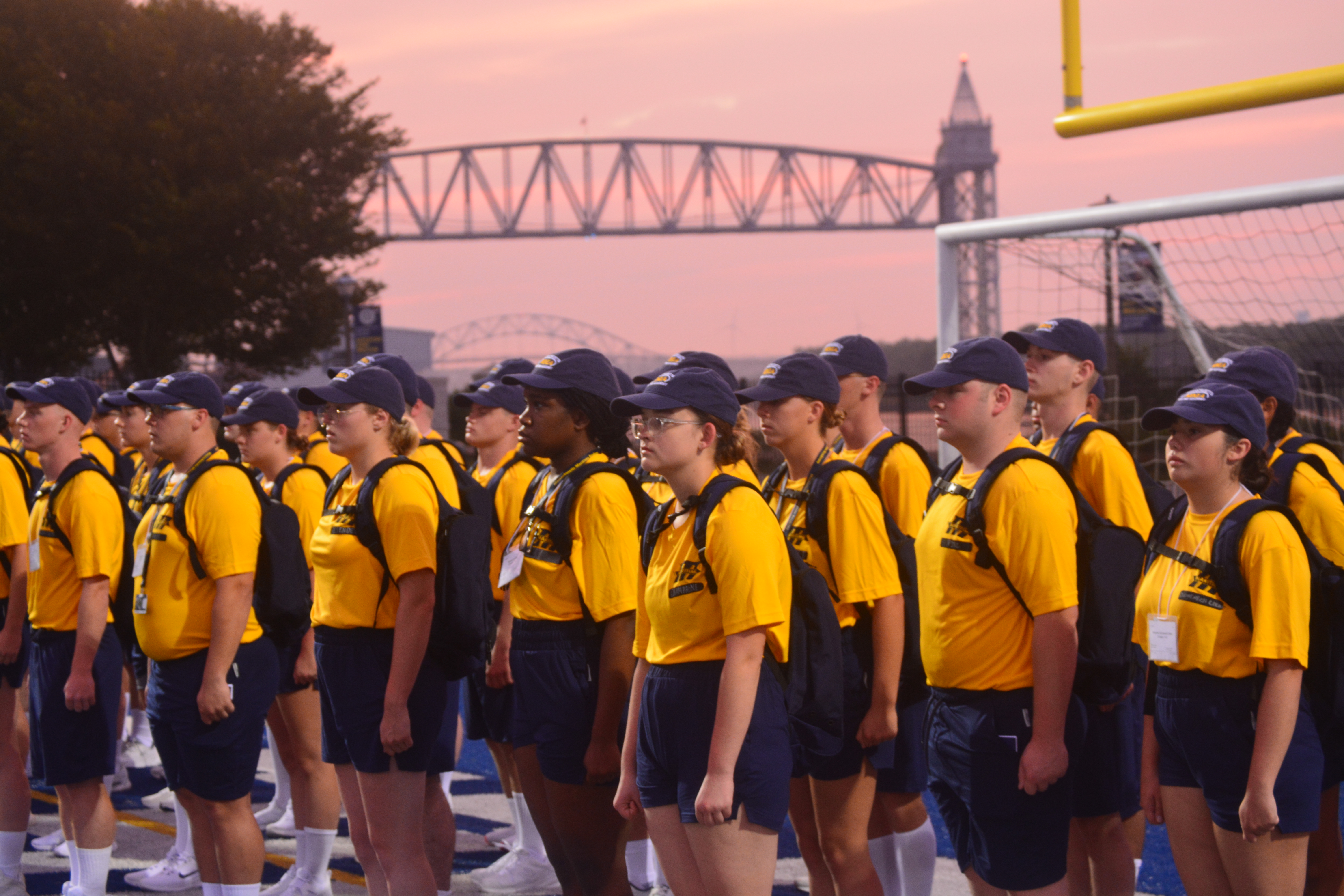 7th Co Meet the Cadre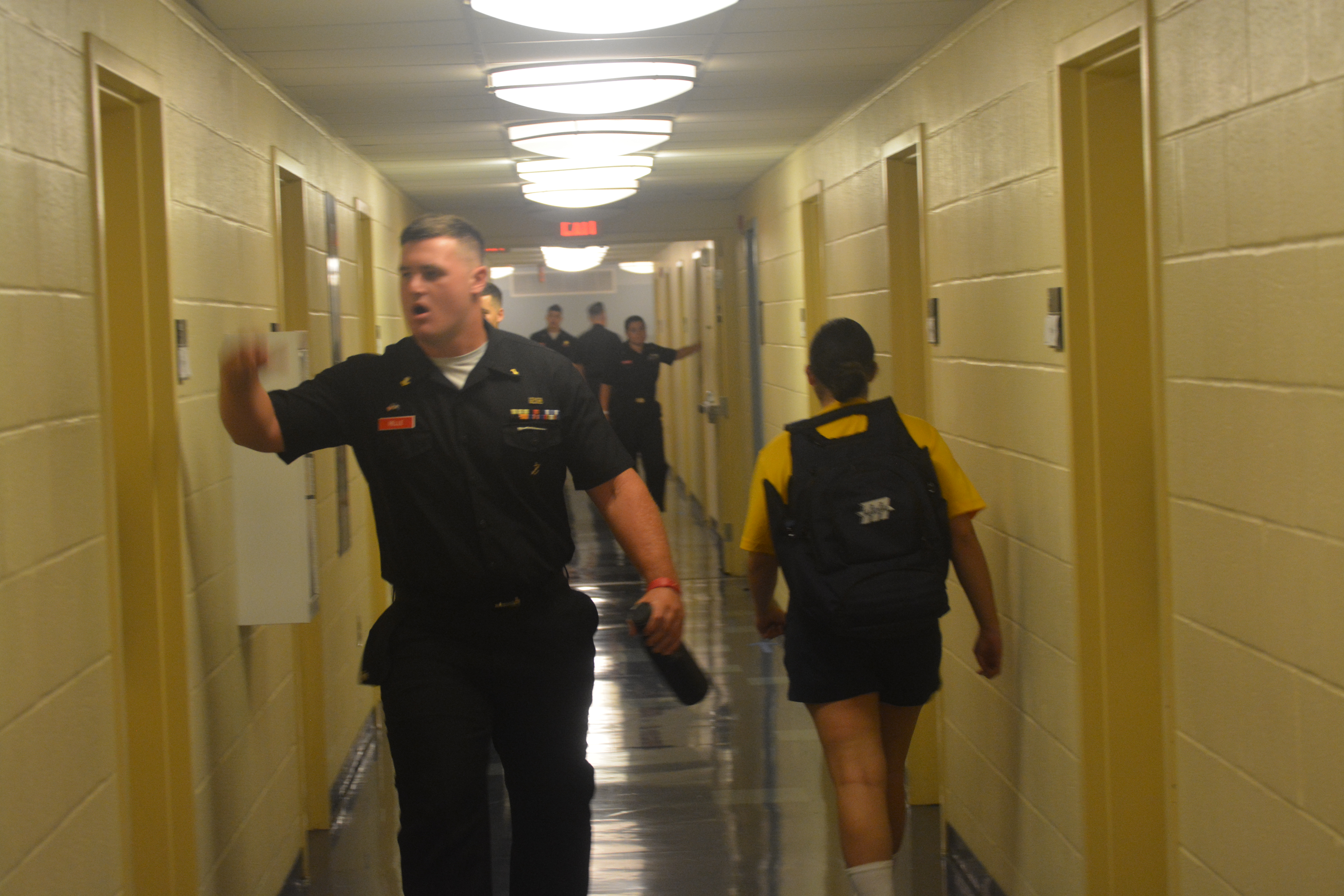 A typical Maritime wakeup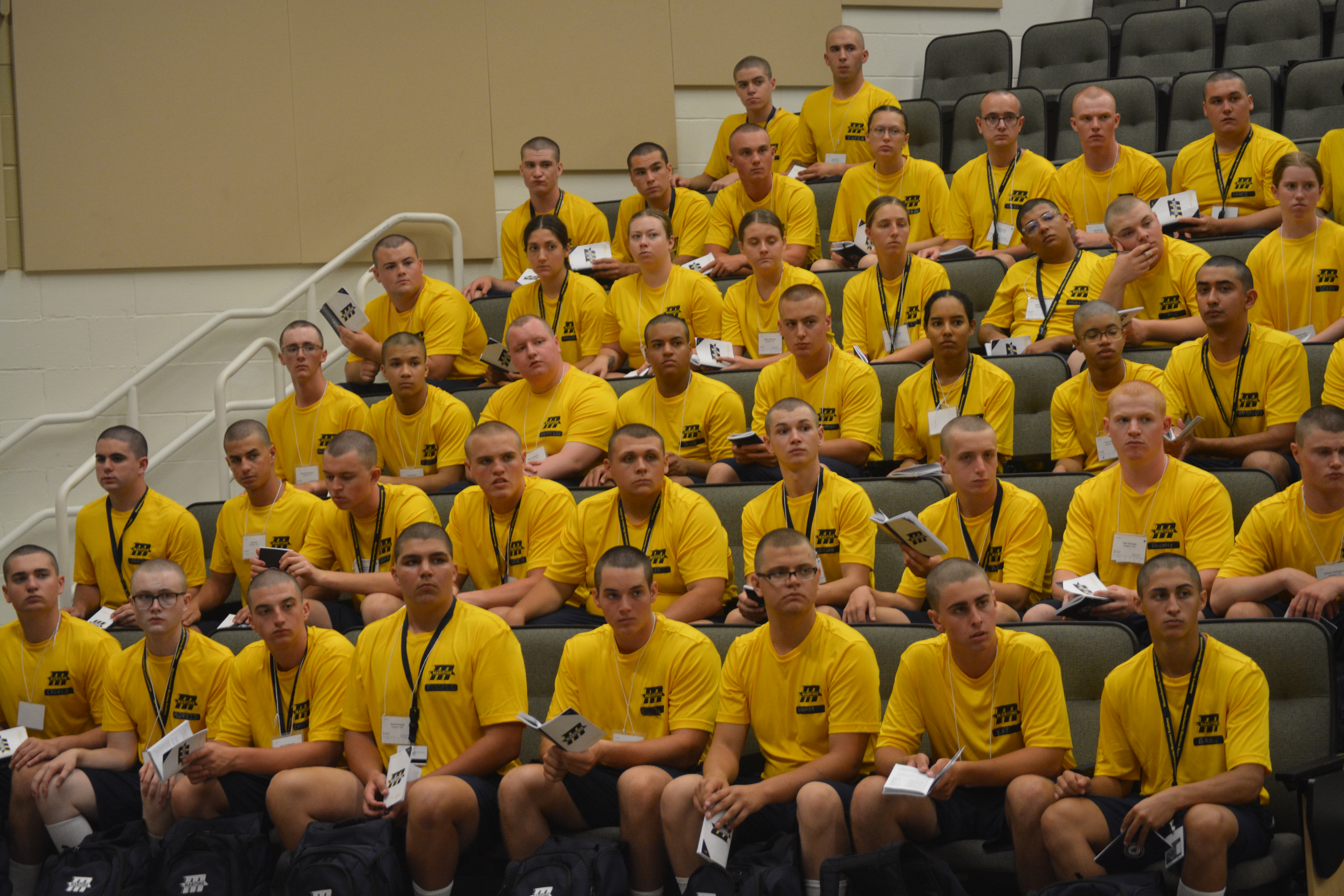 Morning meetings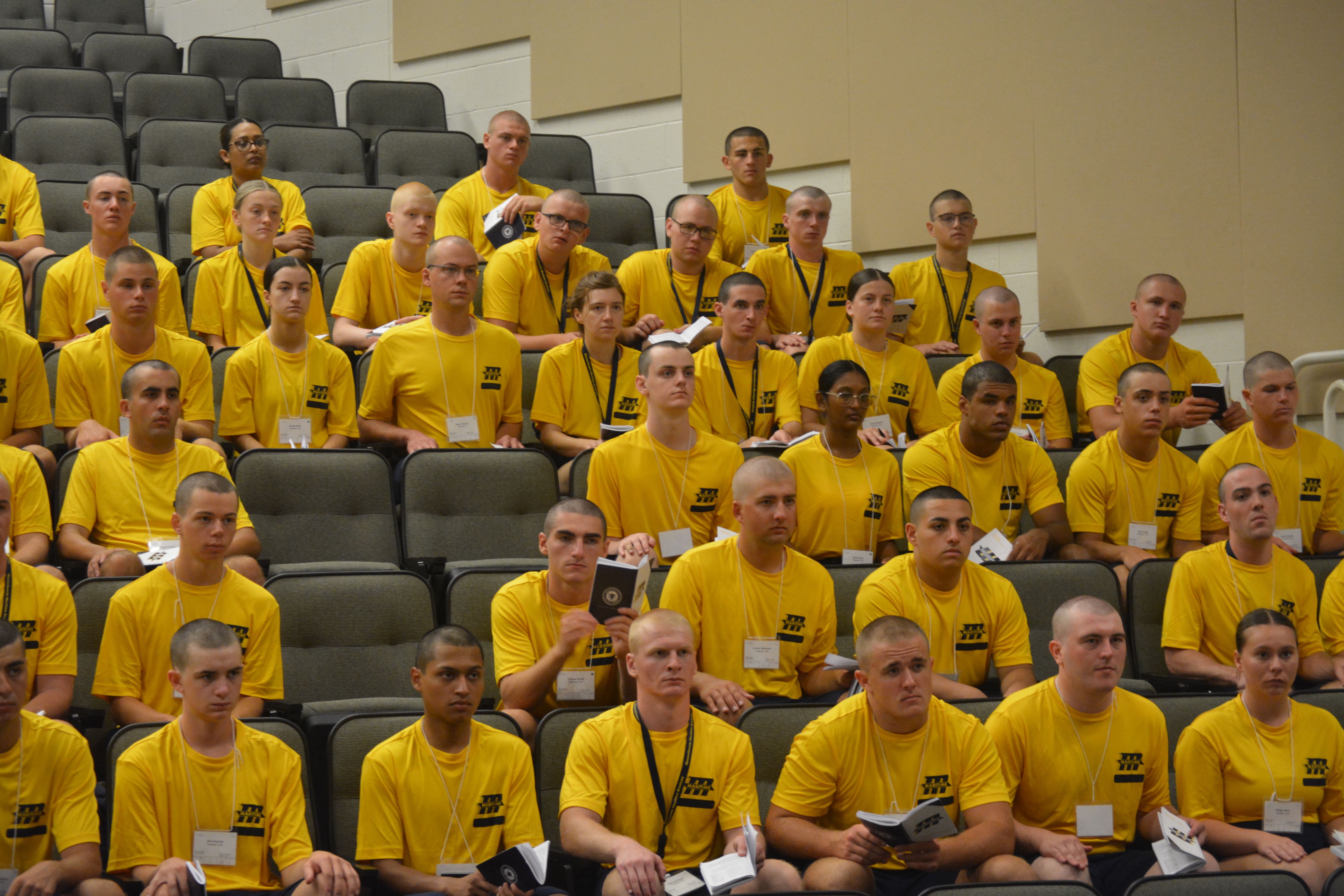 More meetings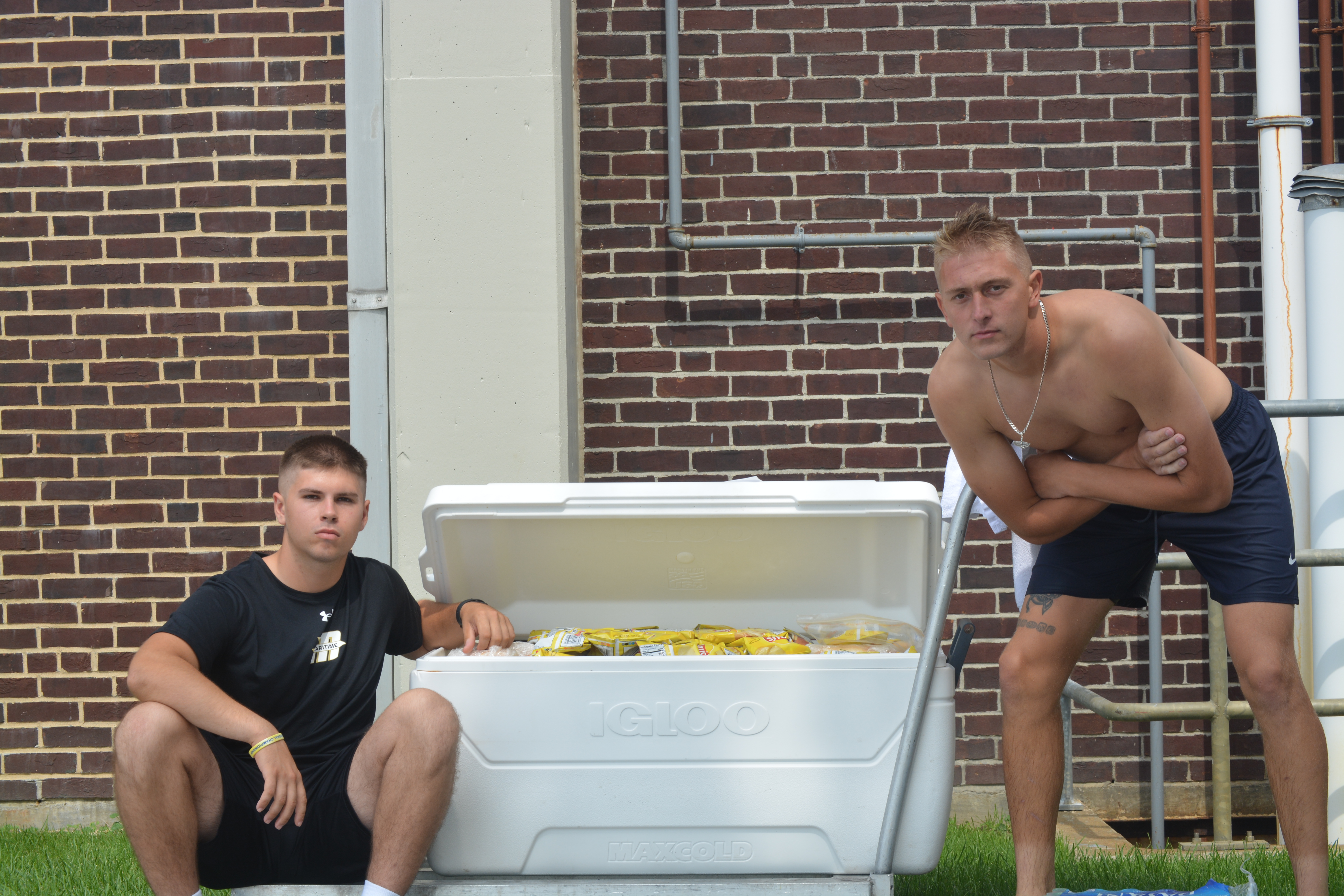 1st Co Cadre hard at work guarding our lunches!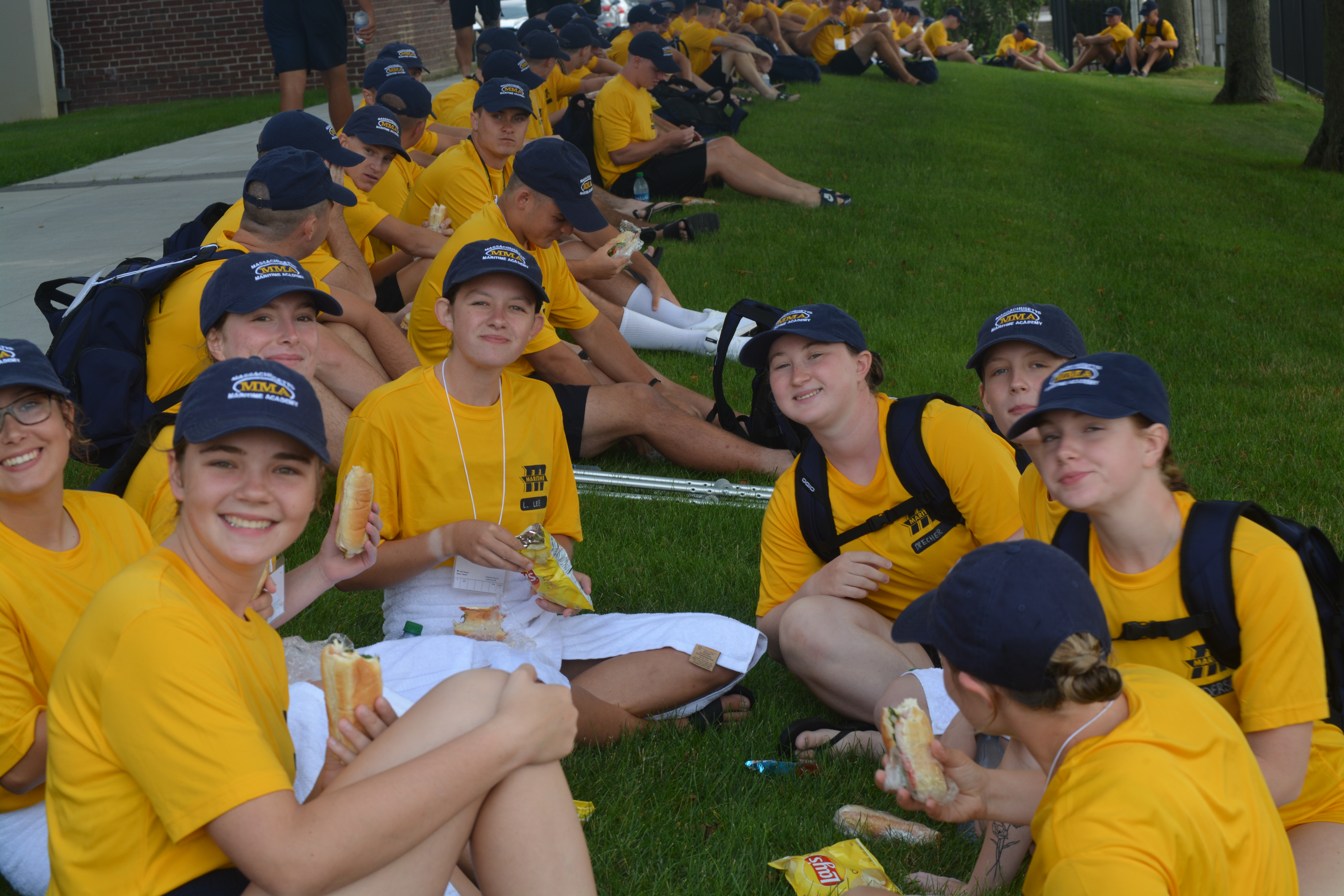 1st Co C/C's get ot meet each other during lunch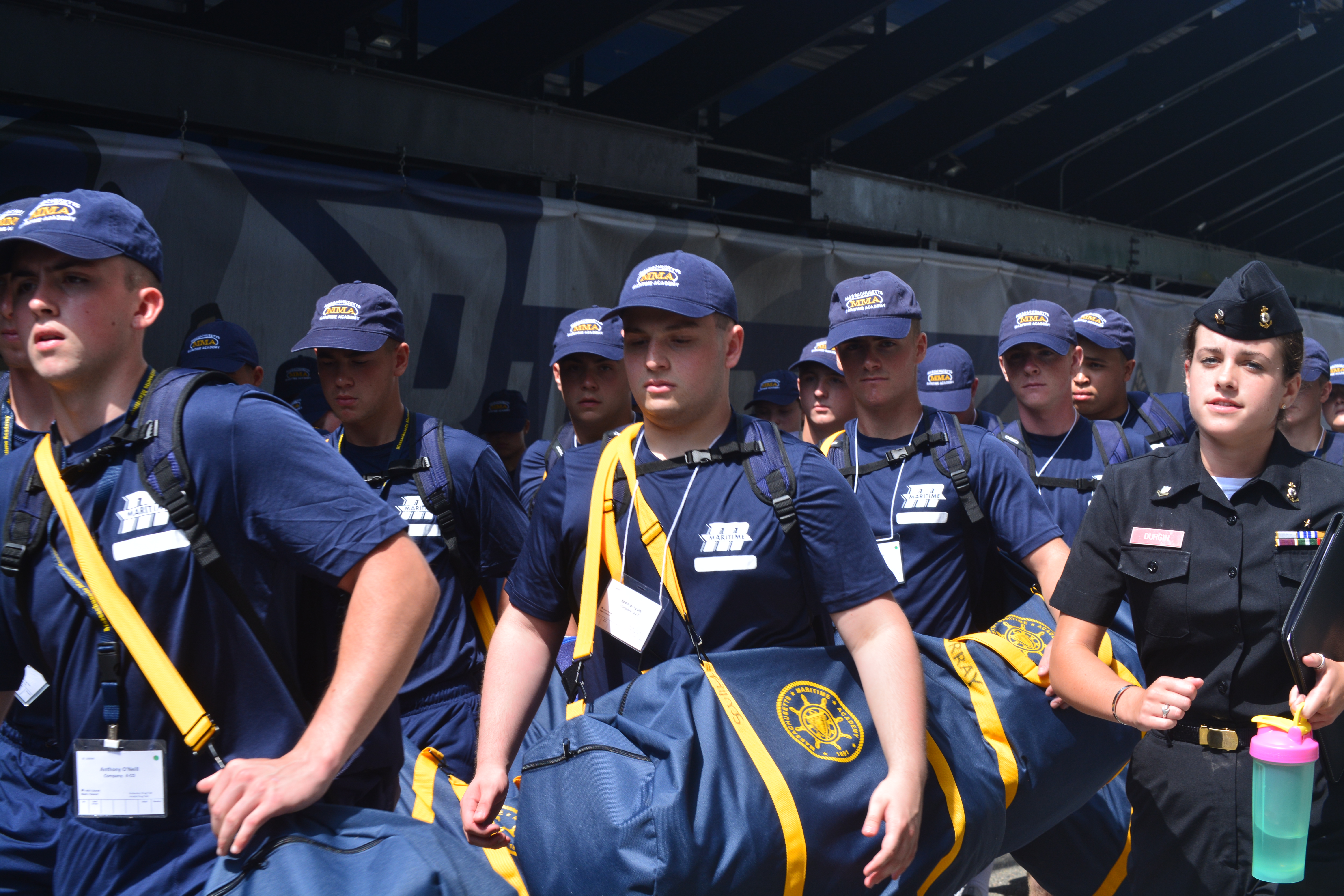 4th Co marching with their seabags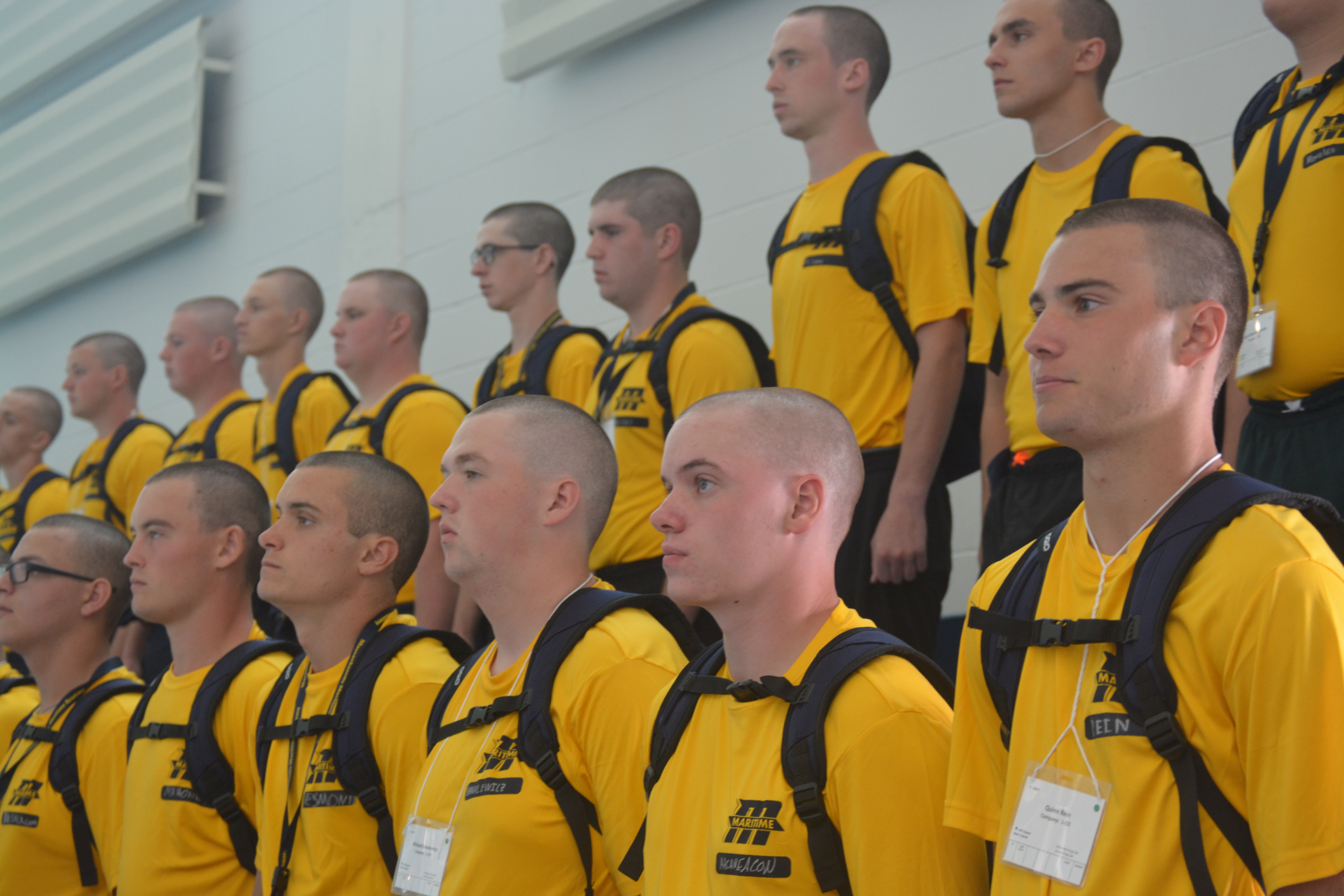 1st Co C/C's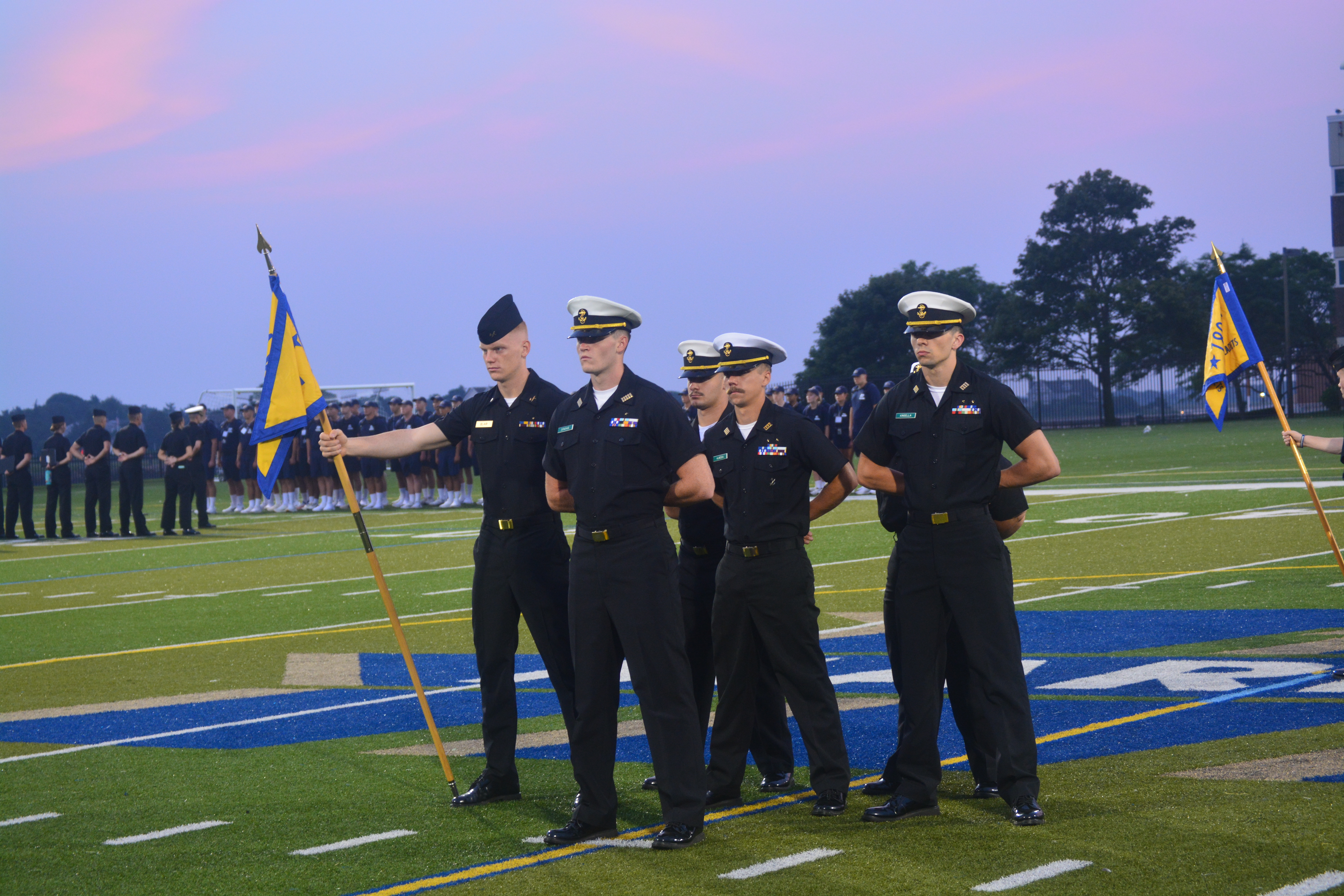 1st Battalion staff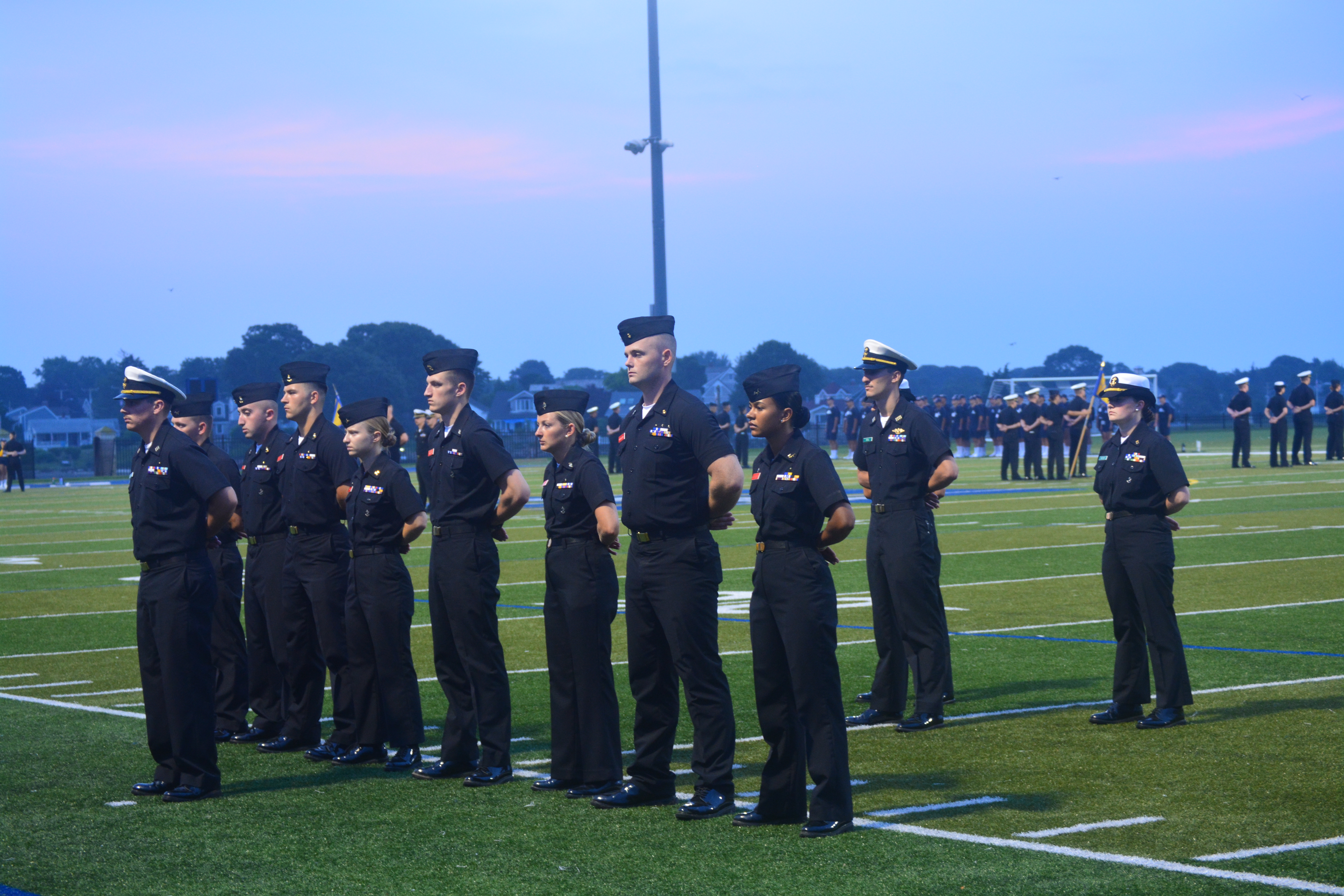 5th Co Cadre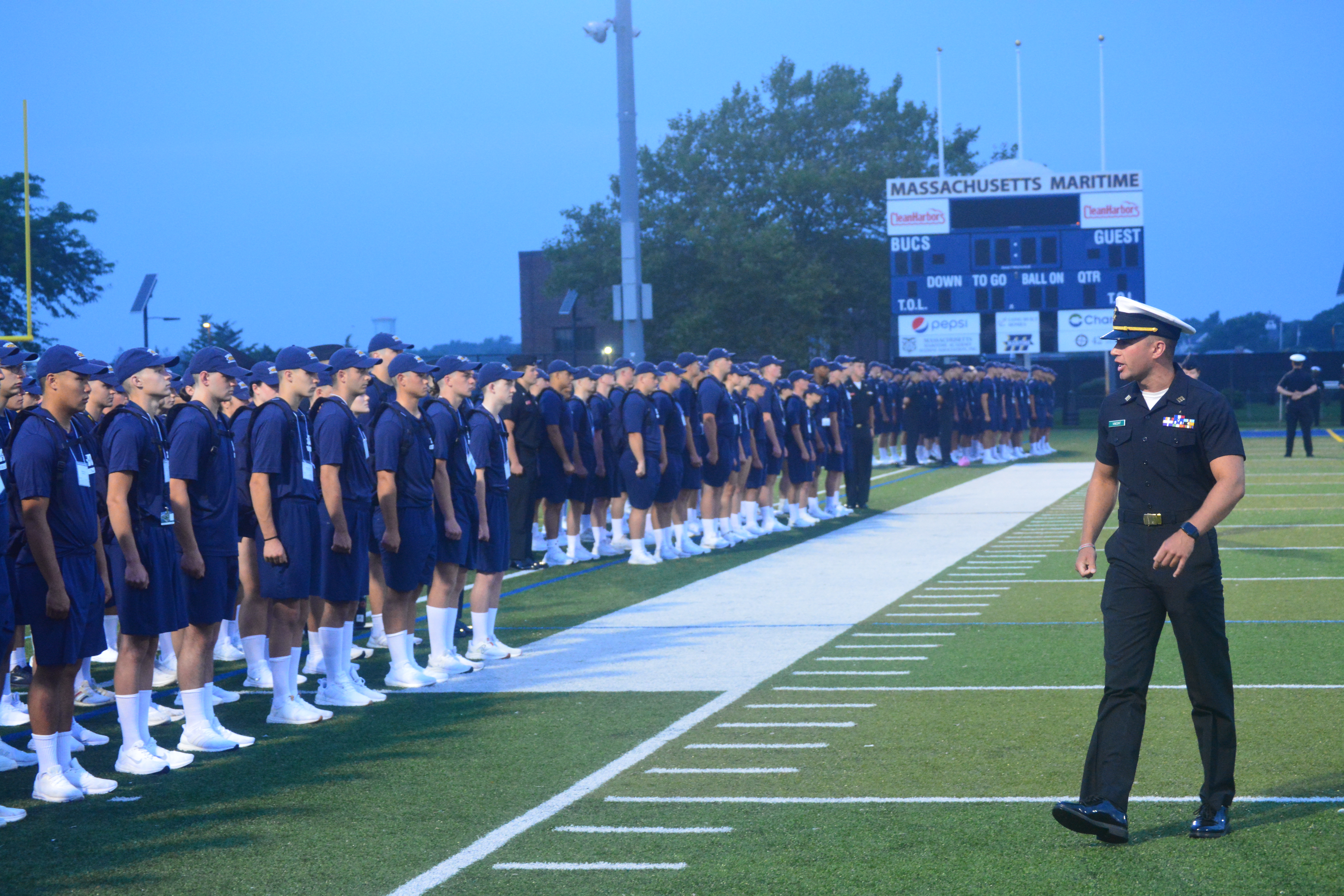 Meet the Cadre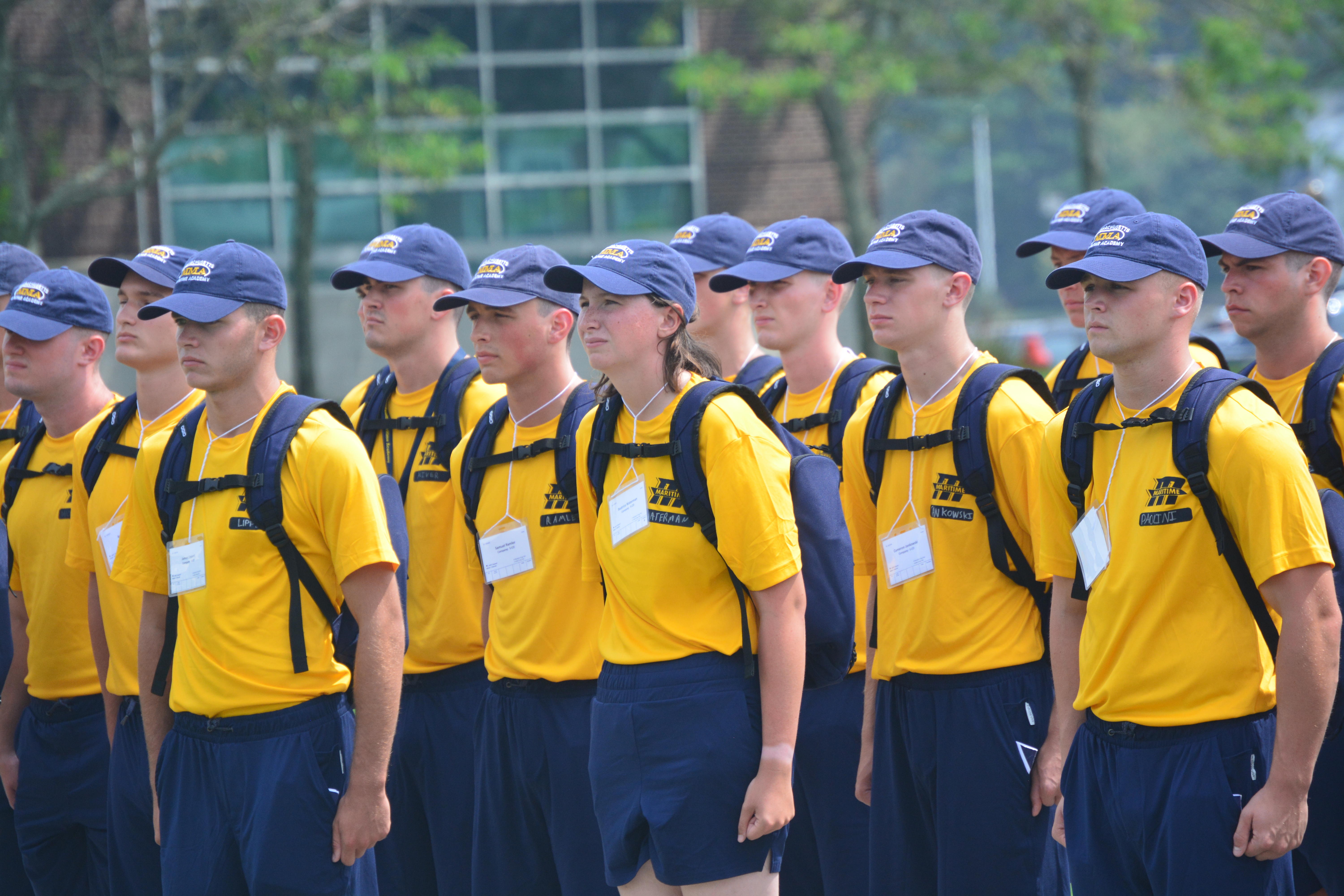 Afternoon Patio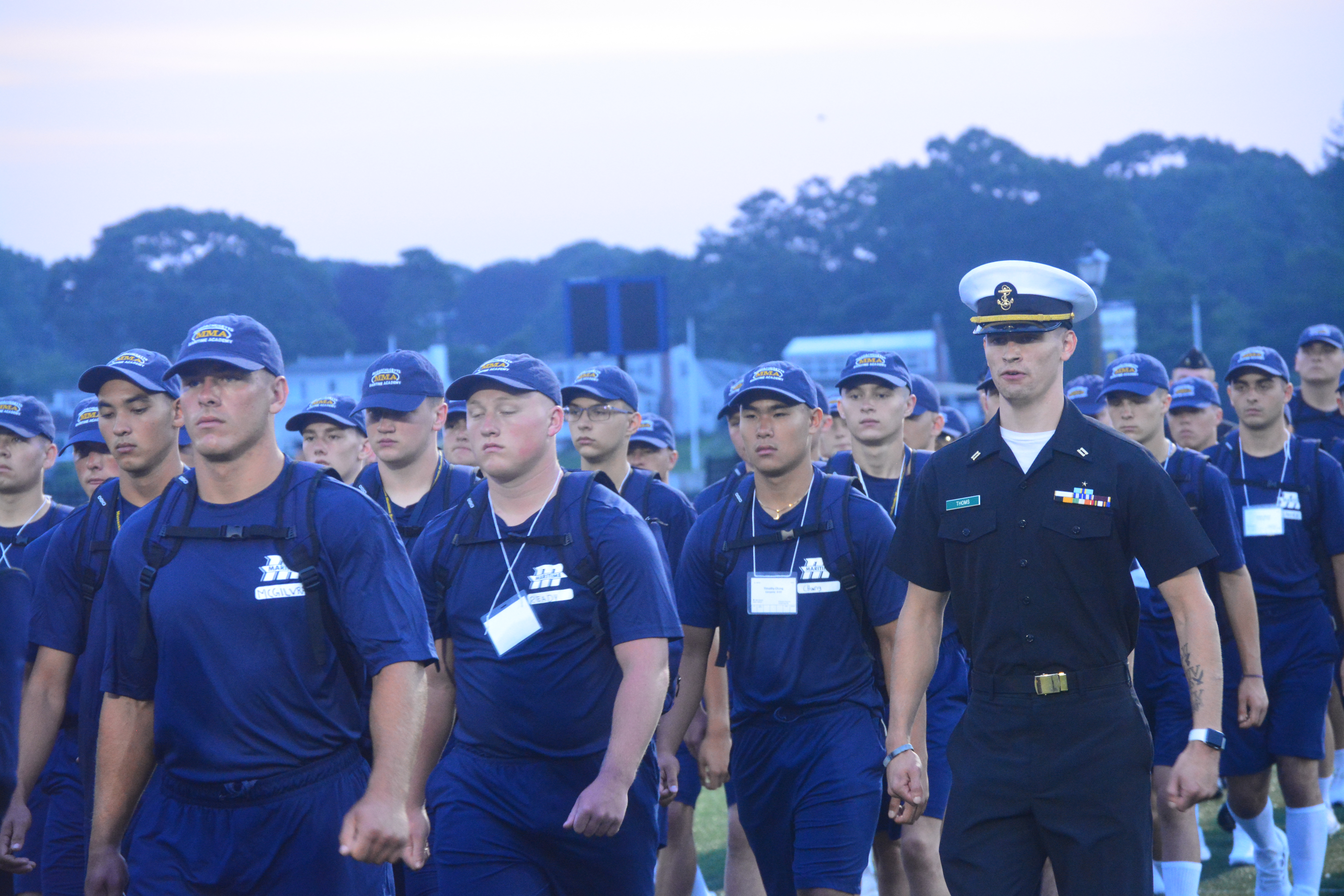 Marching off the football field
The Orientation Assistants!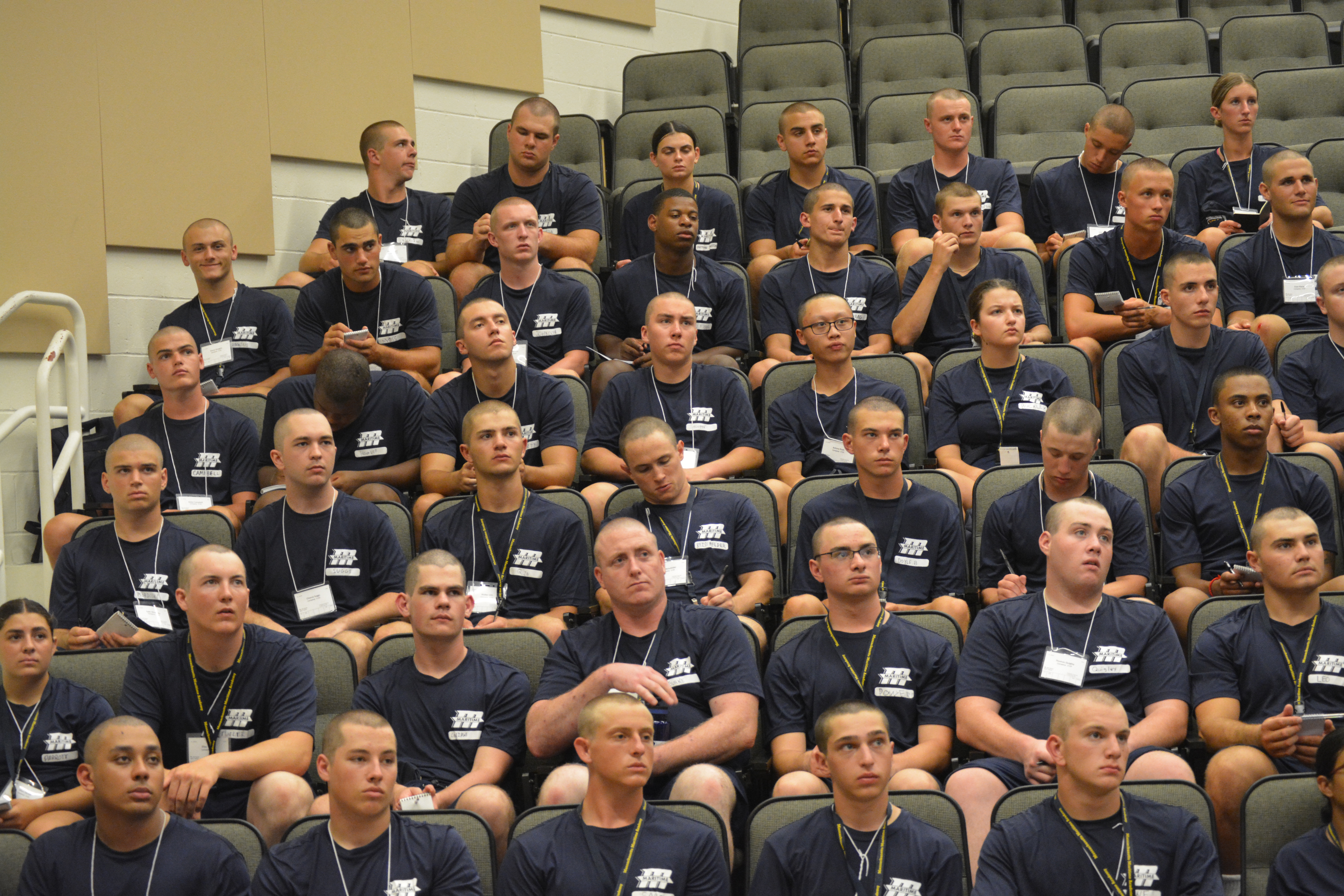 Afternoon meetings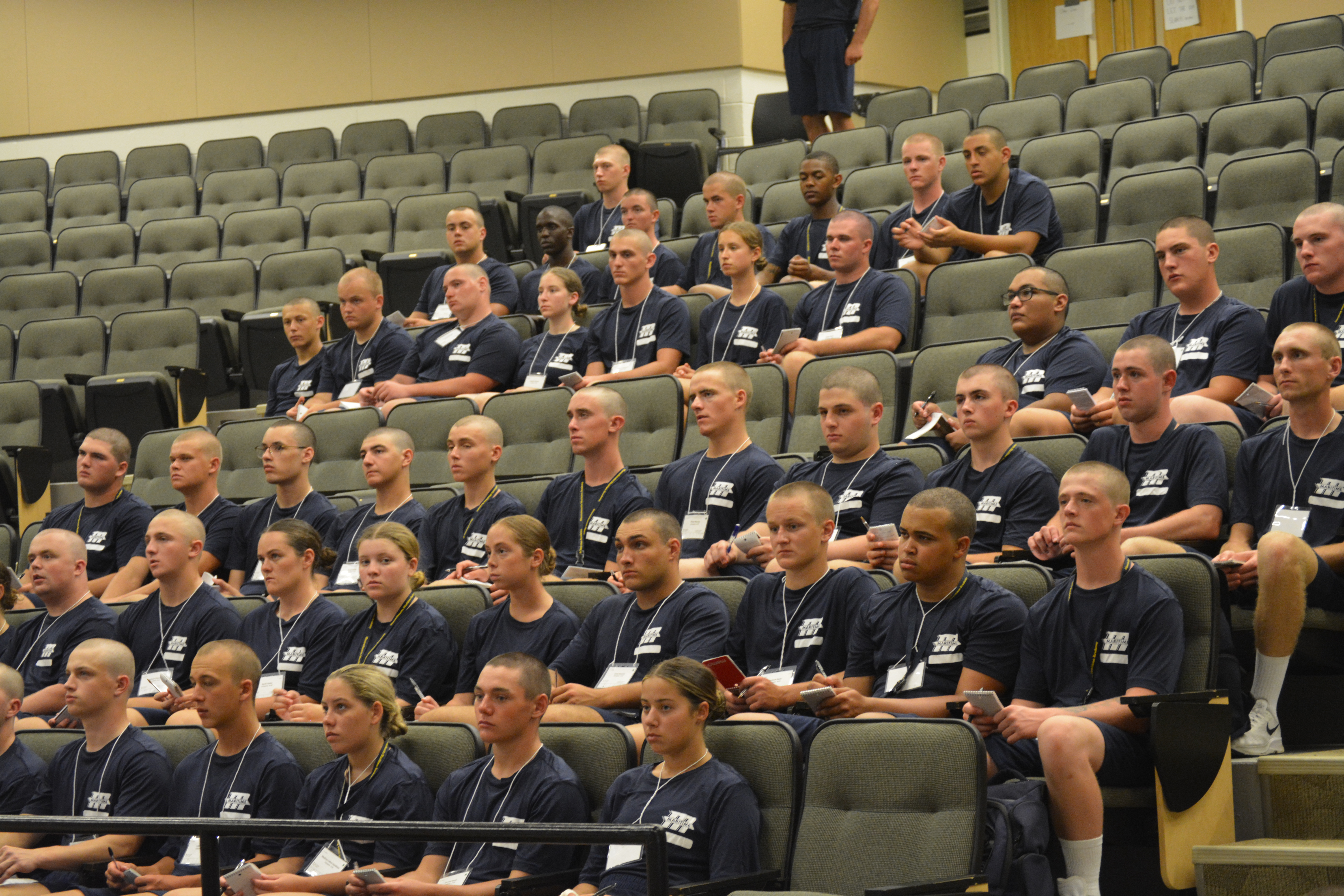 More meetings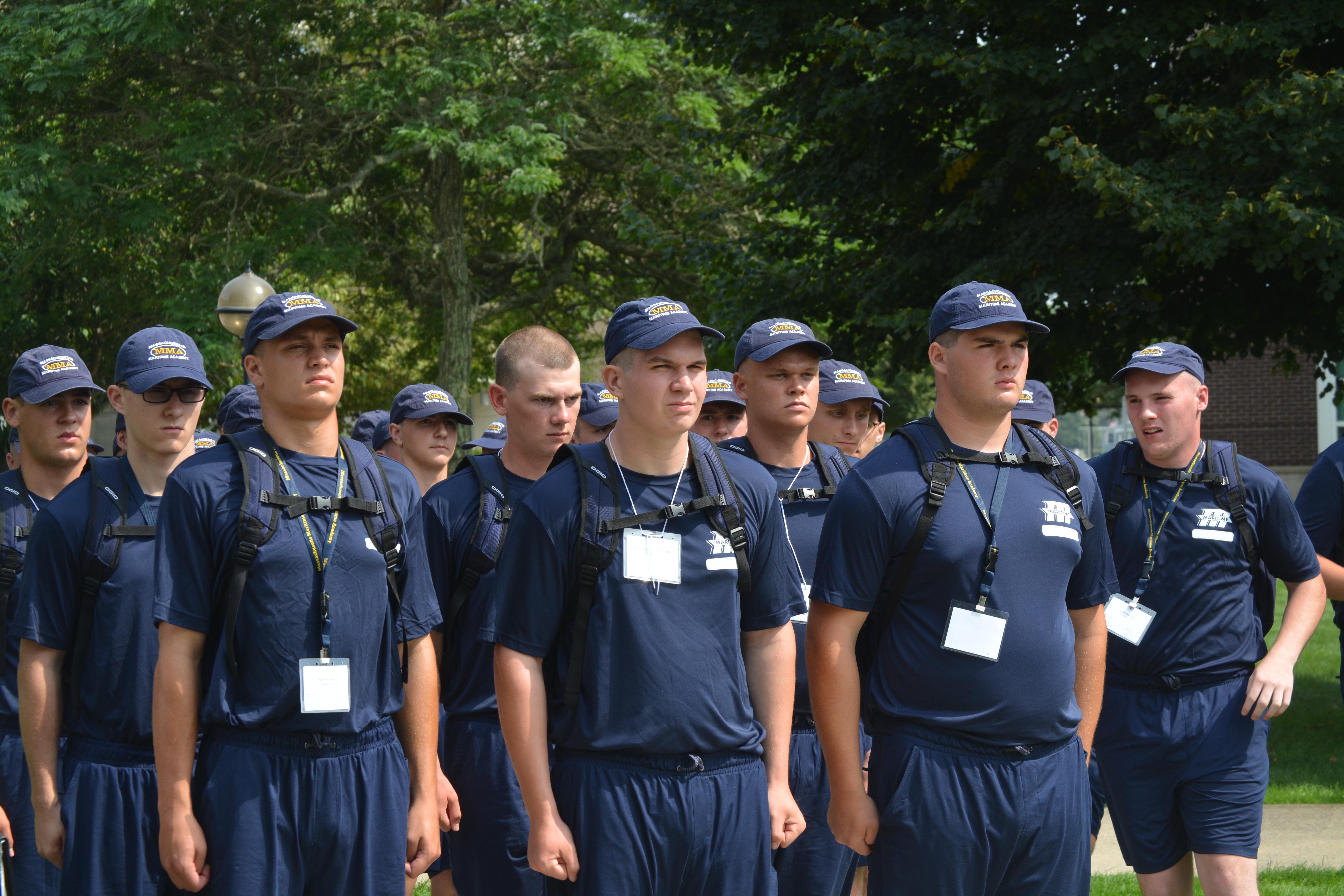 In formation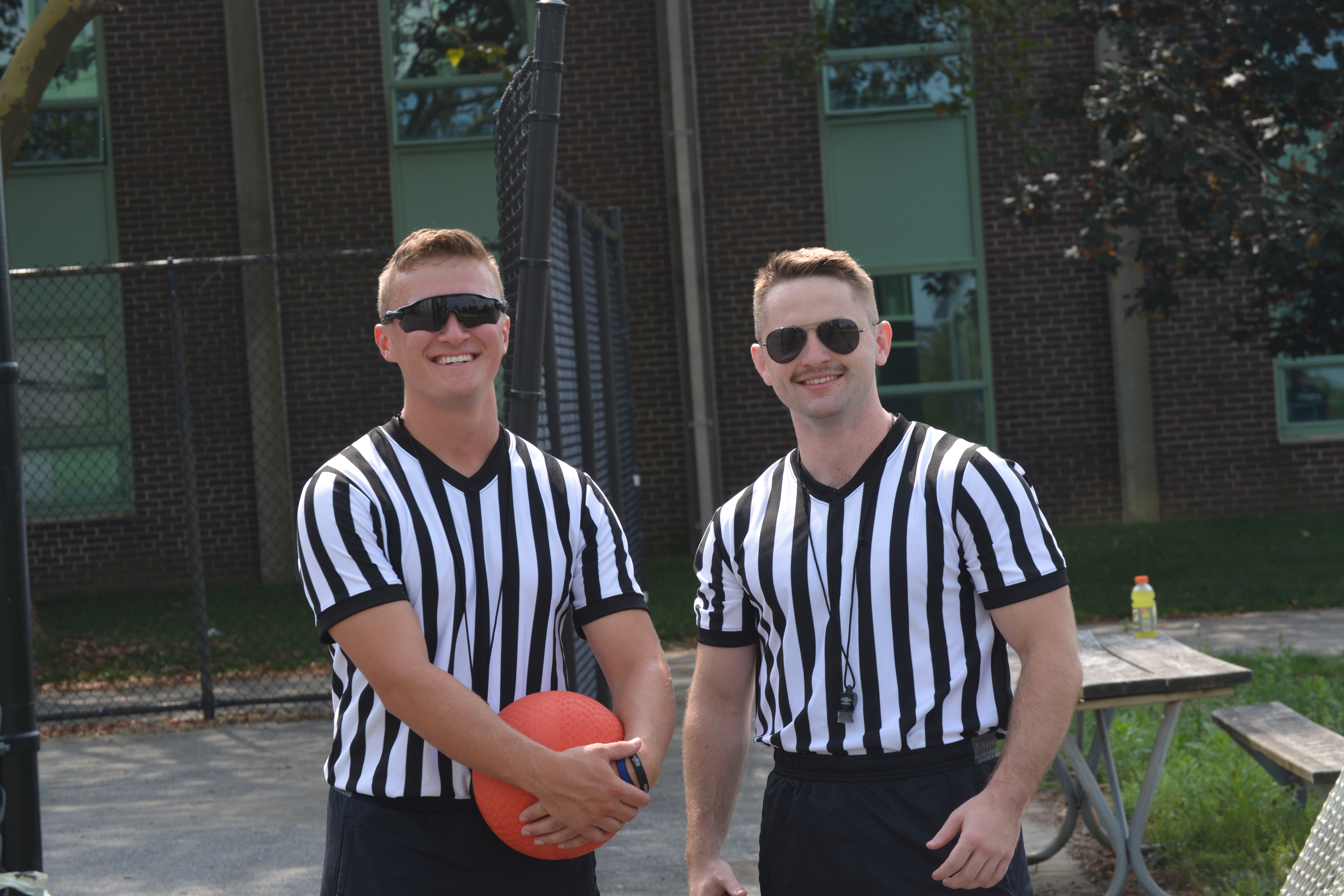 All Star referees!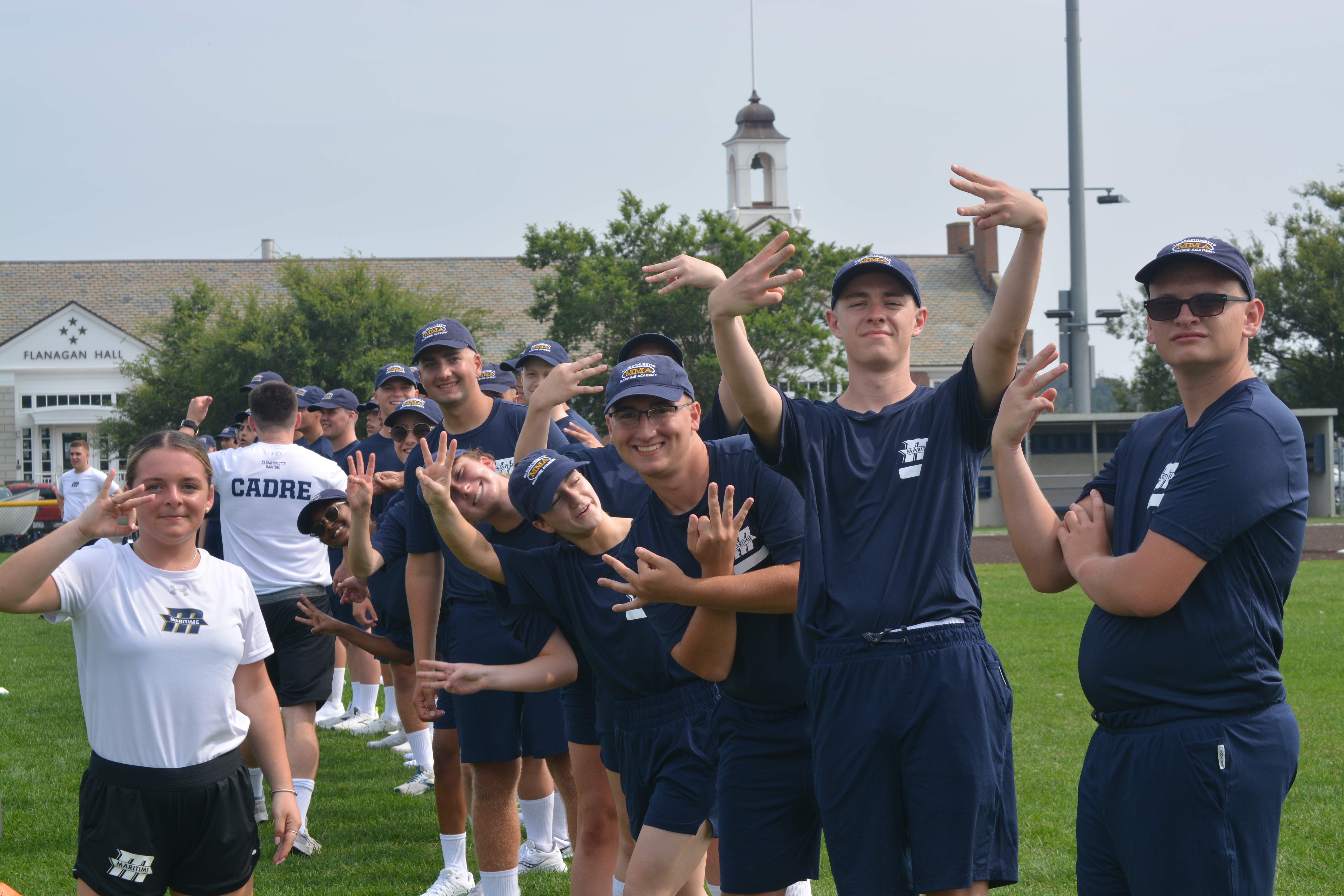 3rd Co having some fun at intramurals!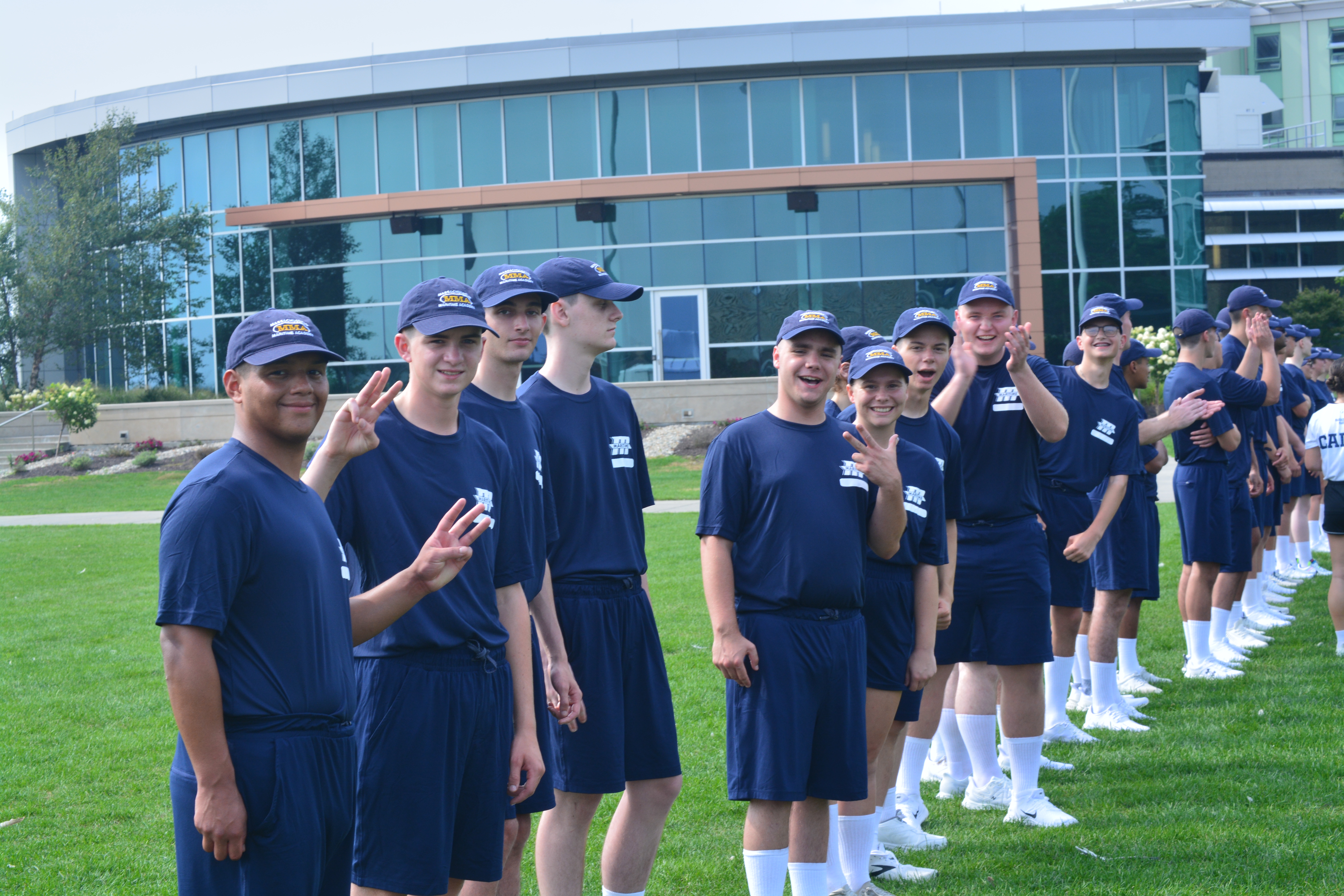 More 3rd Co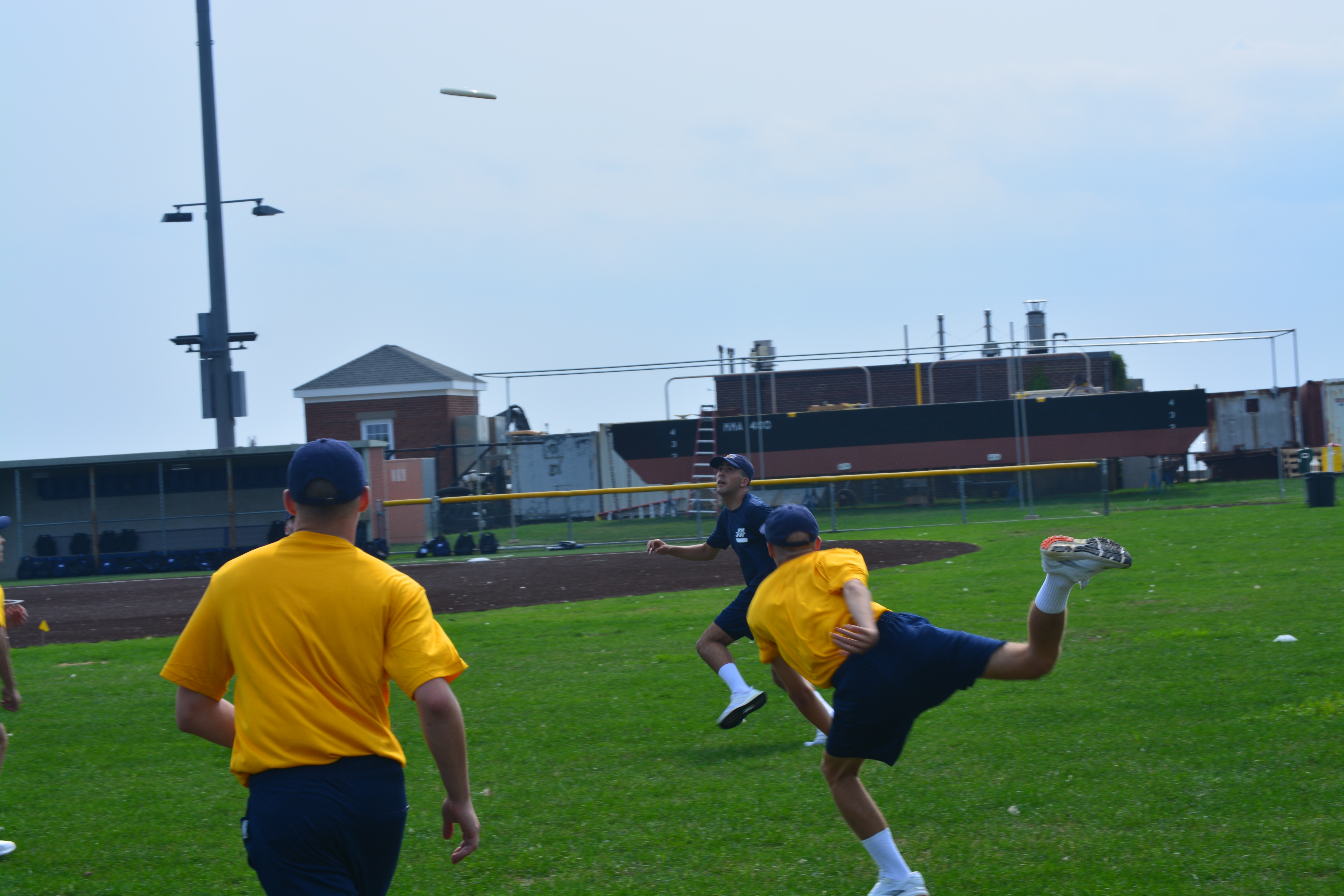 Ultimate frisbee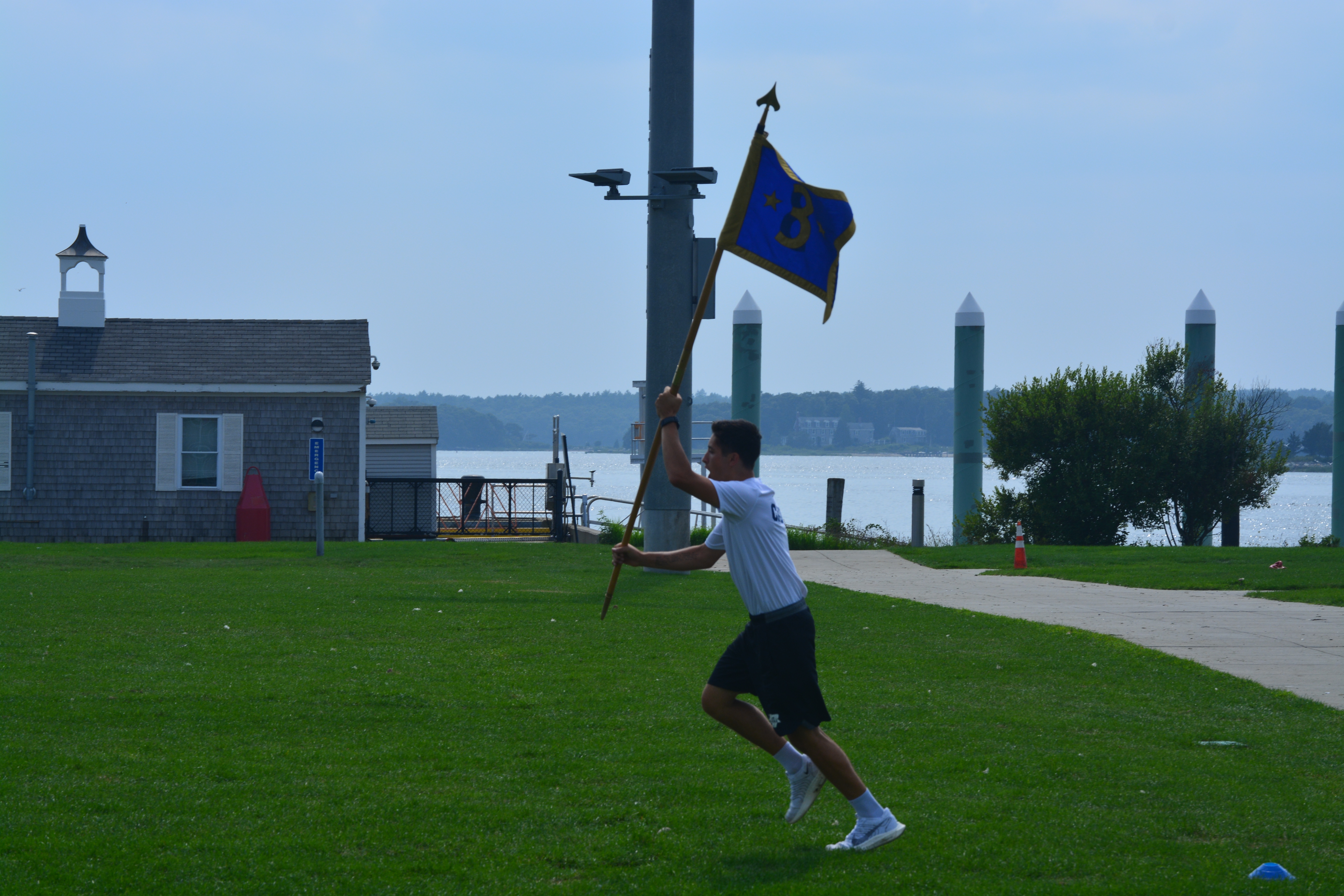 2/C Fountain carrying the guidon with pride!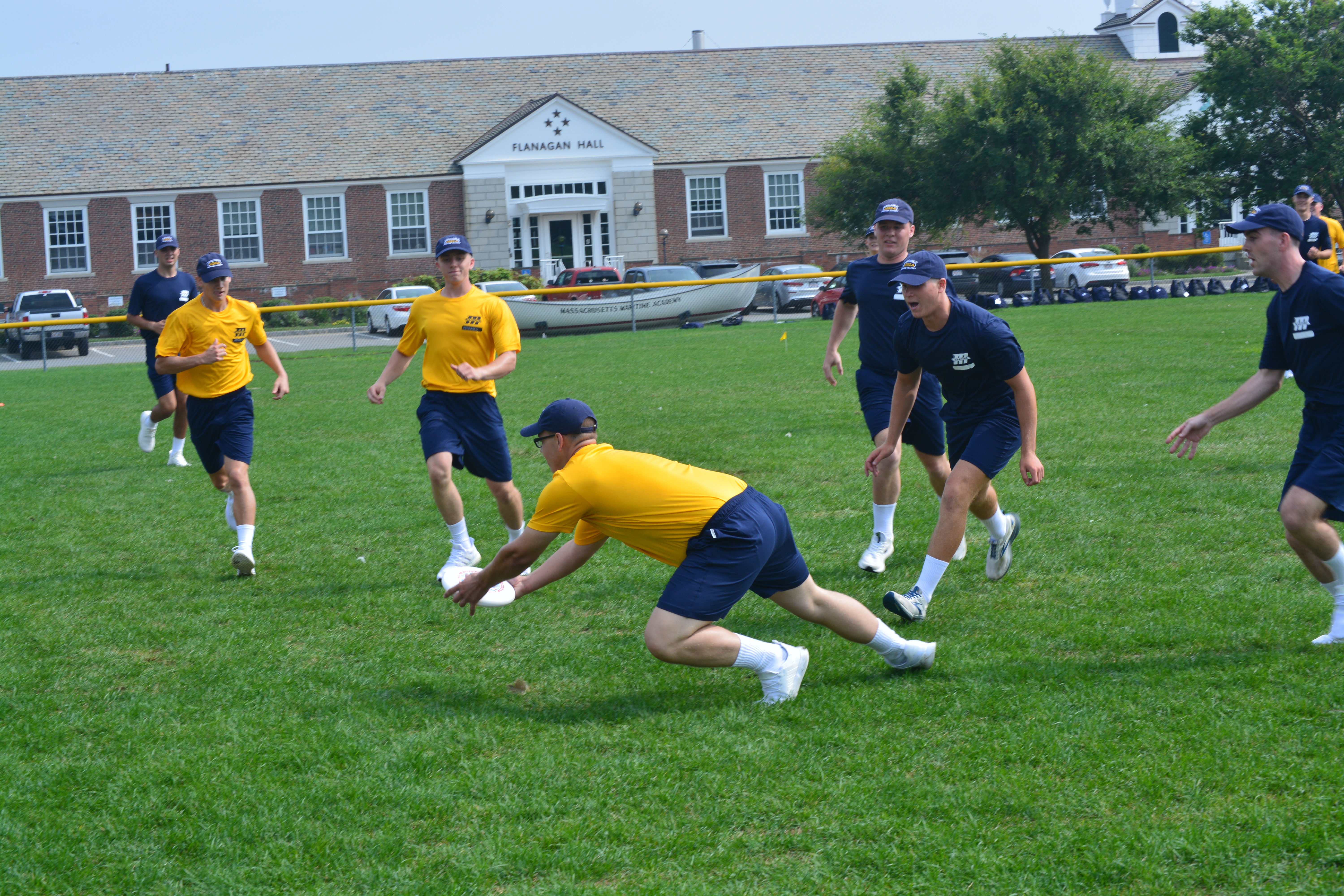 3rd Co vs 1st Co intramurals
7th Co vs 2nd Co intramurals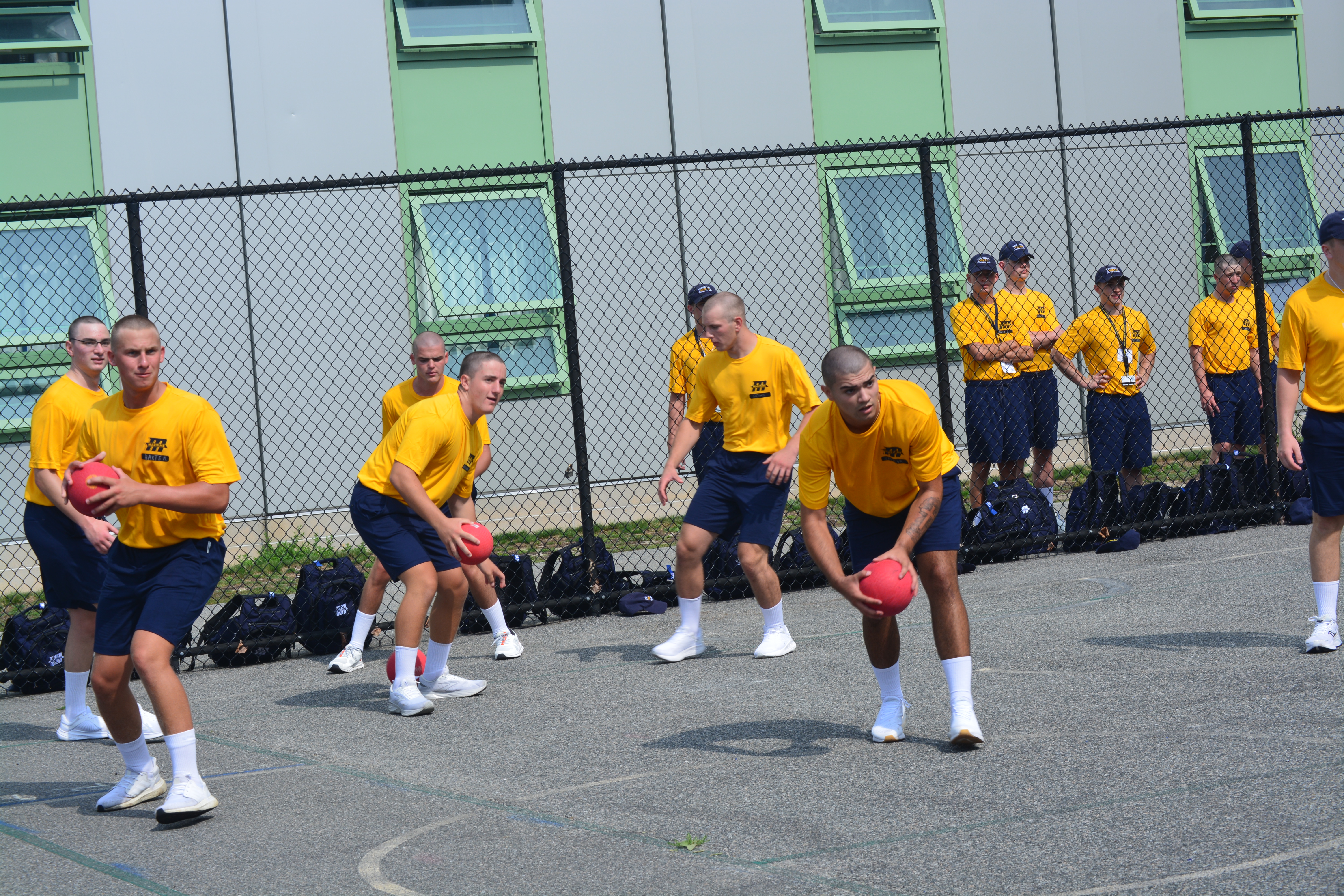 2nd Co dodgeball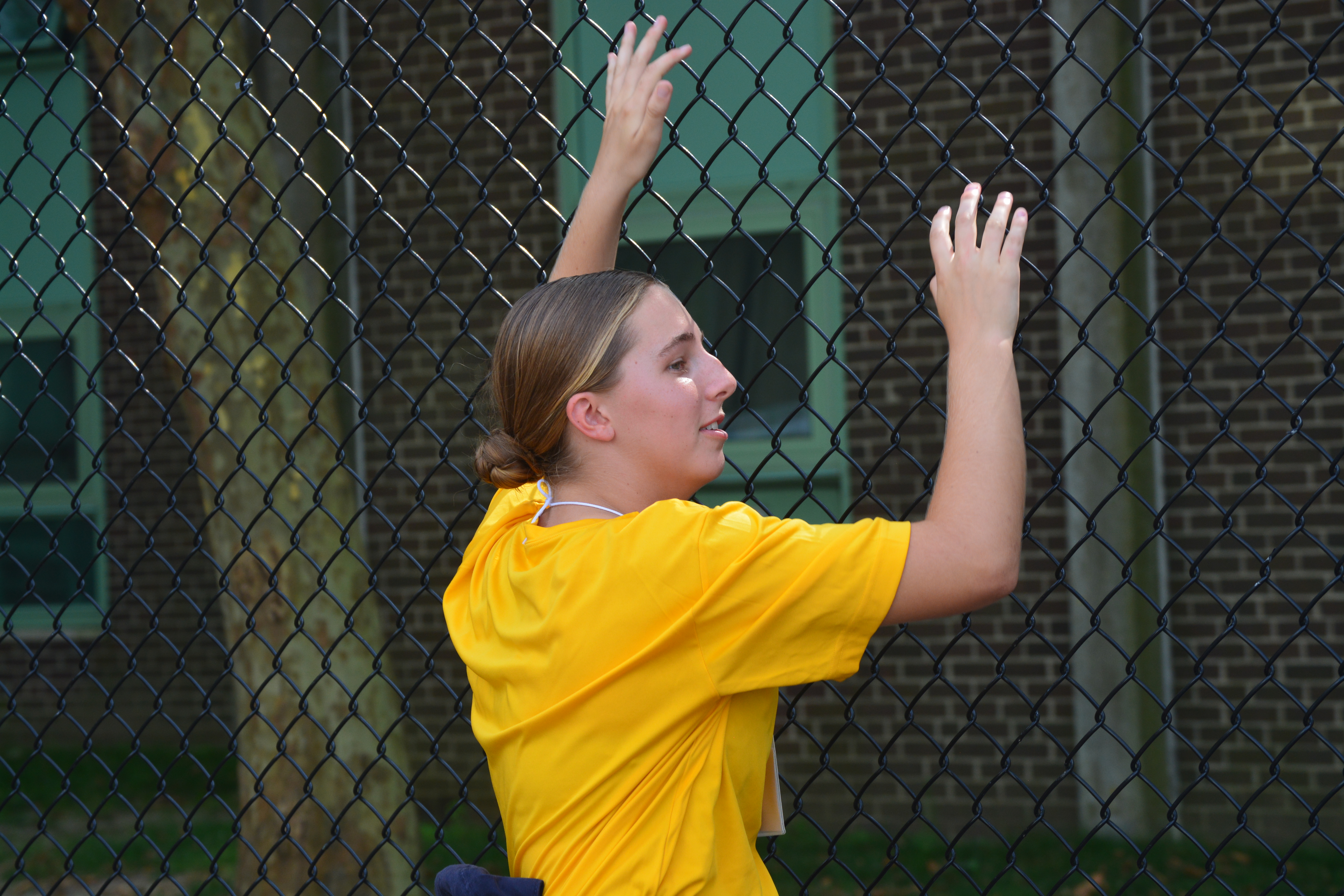 Escape from Alcatraz…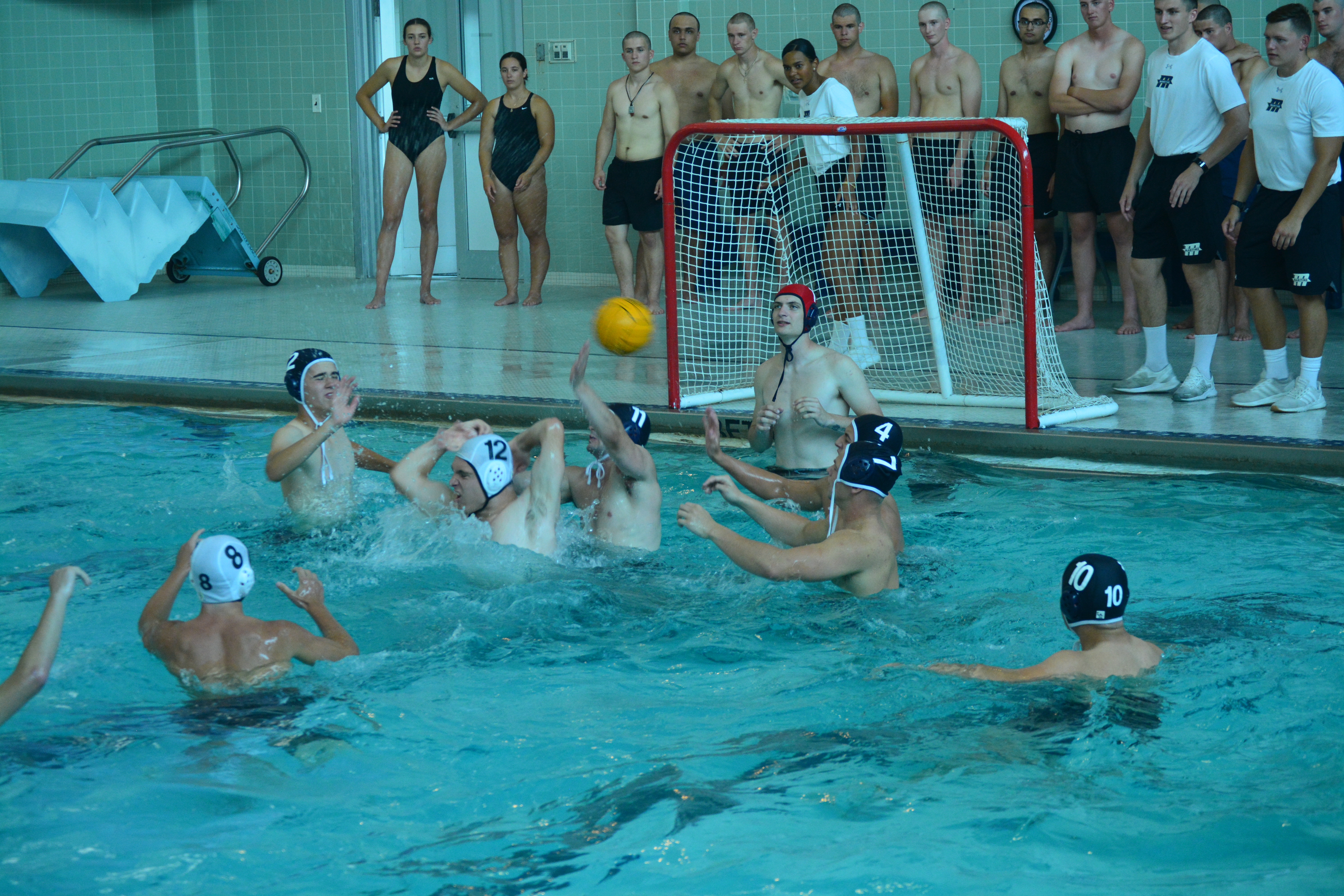 5th Co vs 6th Co Water polo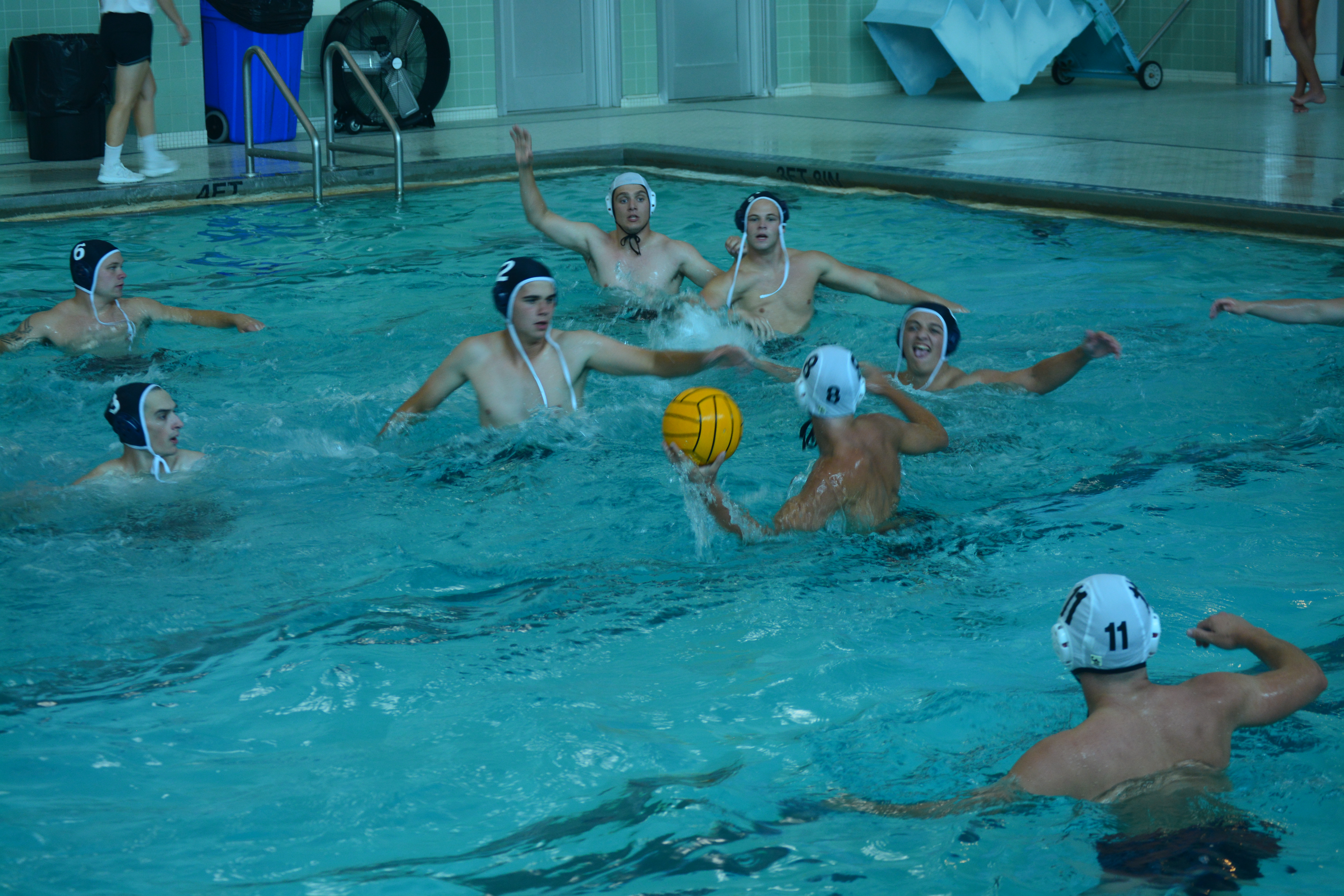 More water polo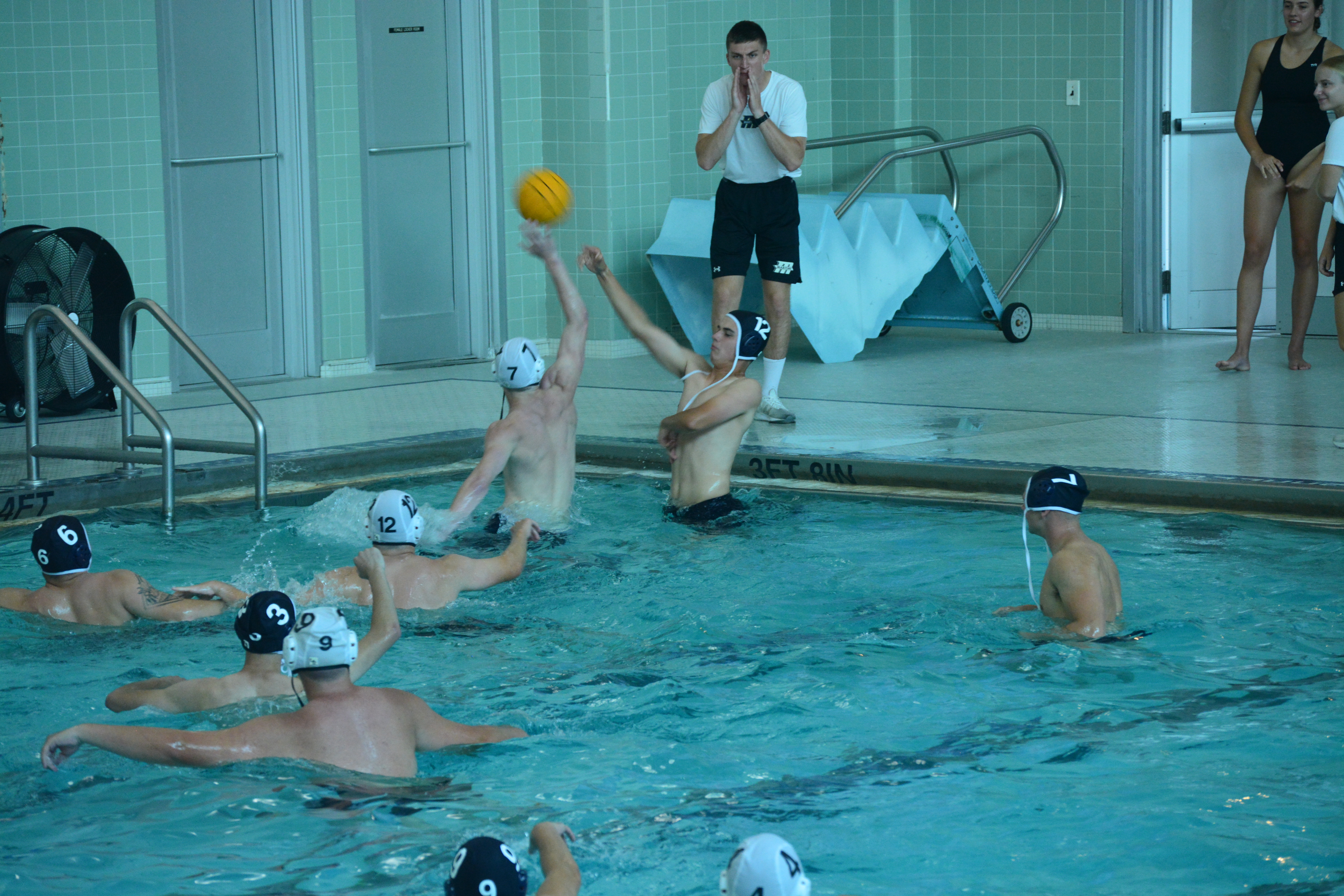 Even more water polo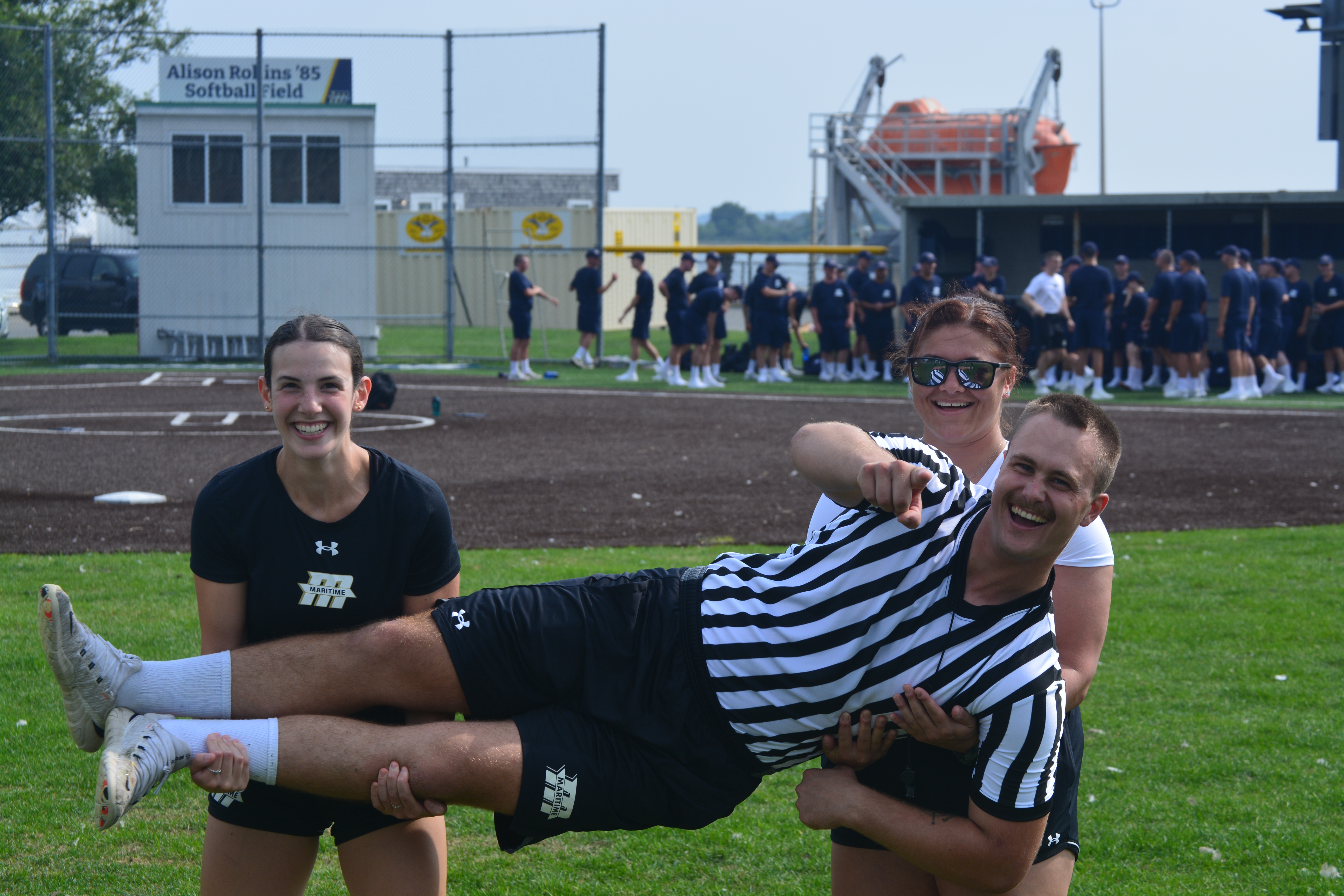 Your wonderful seniors!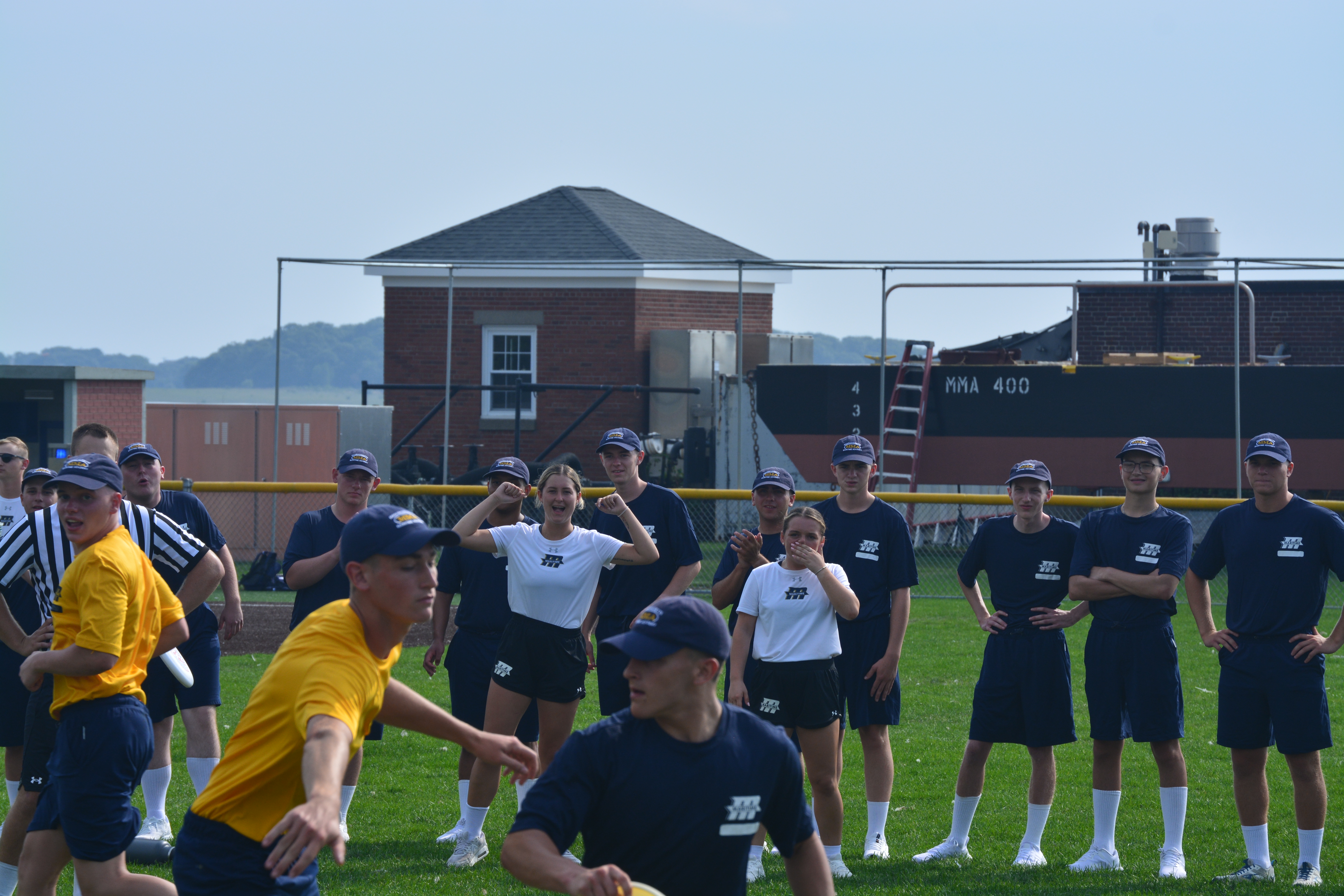 Cheering from the sidelines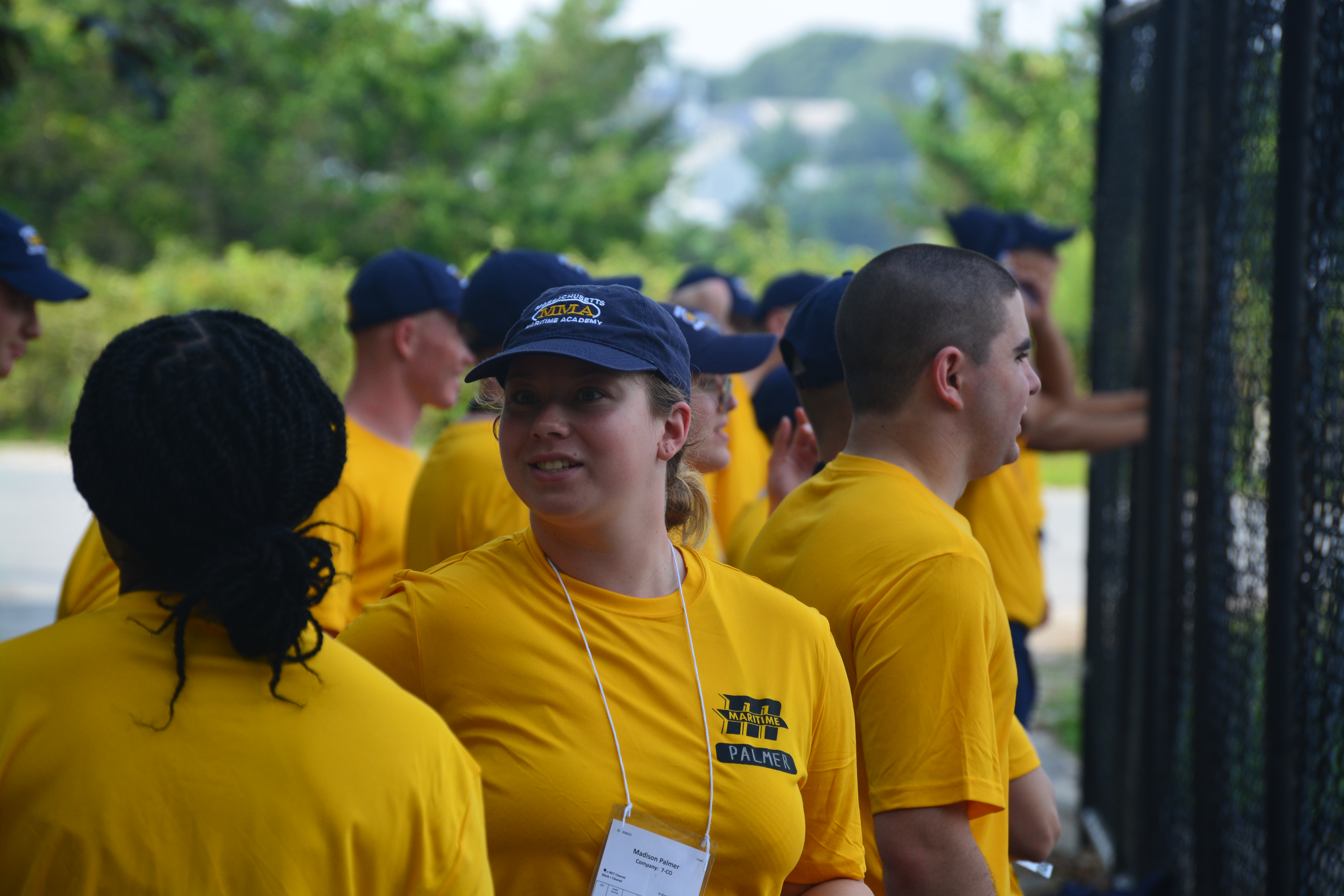 Making new friends!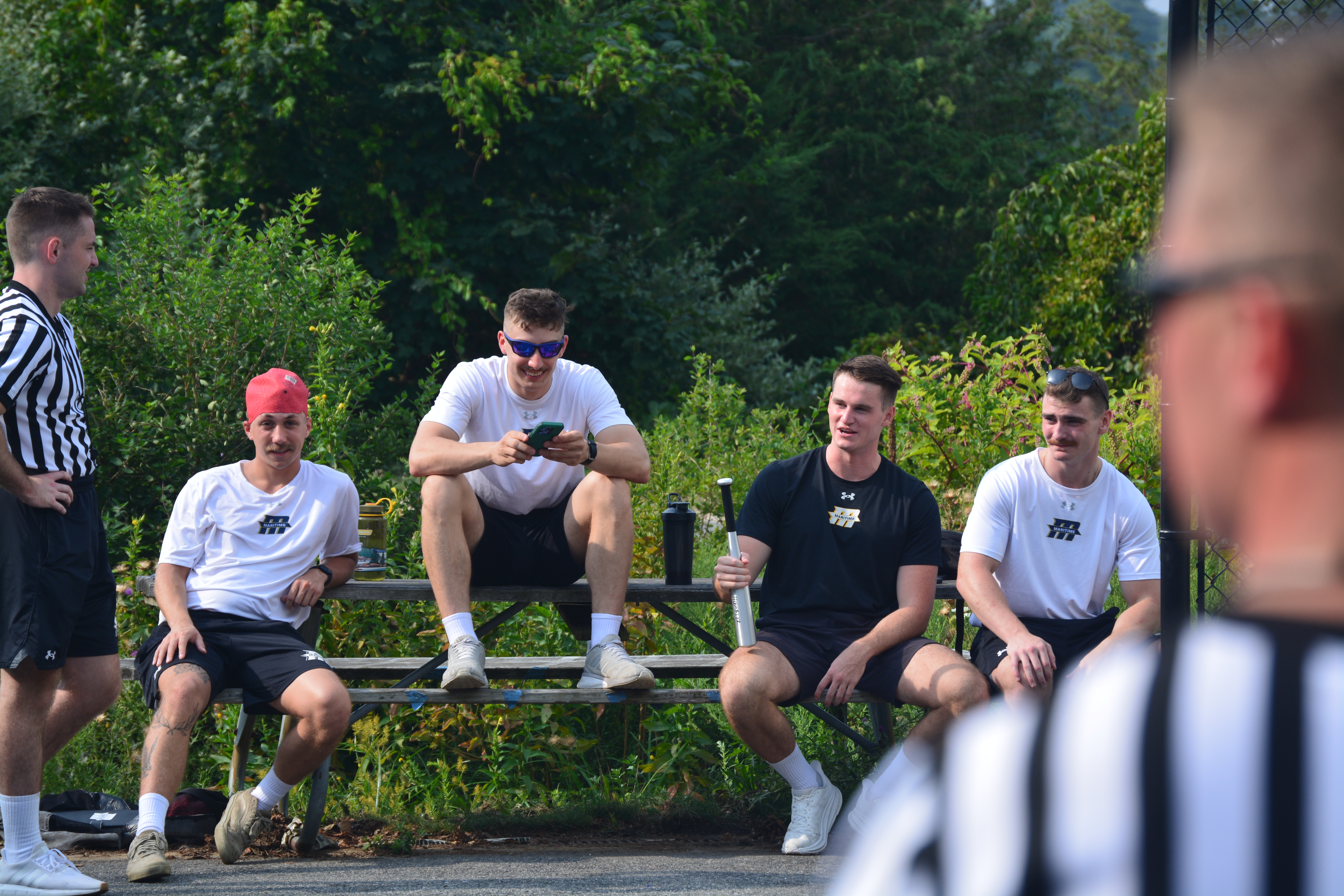 Goofing off…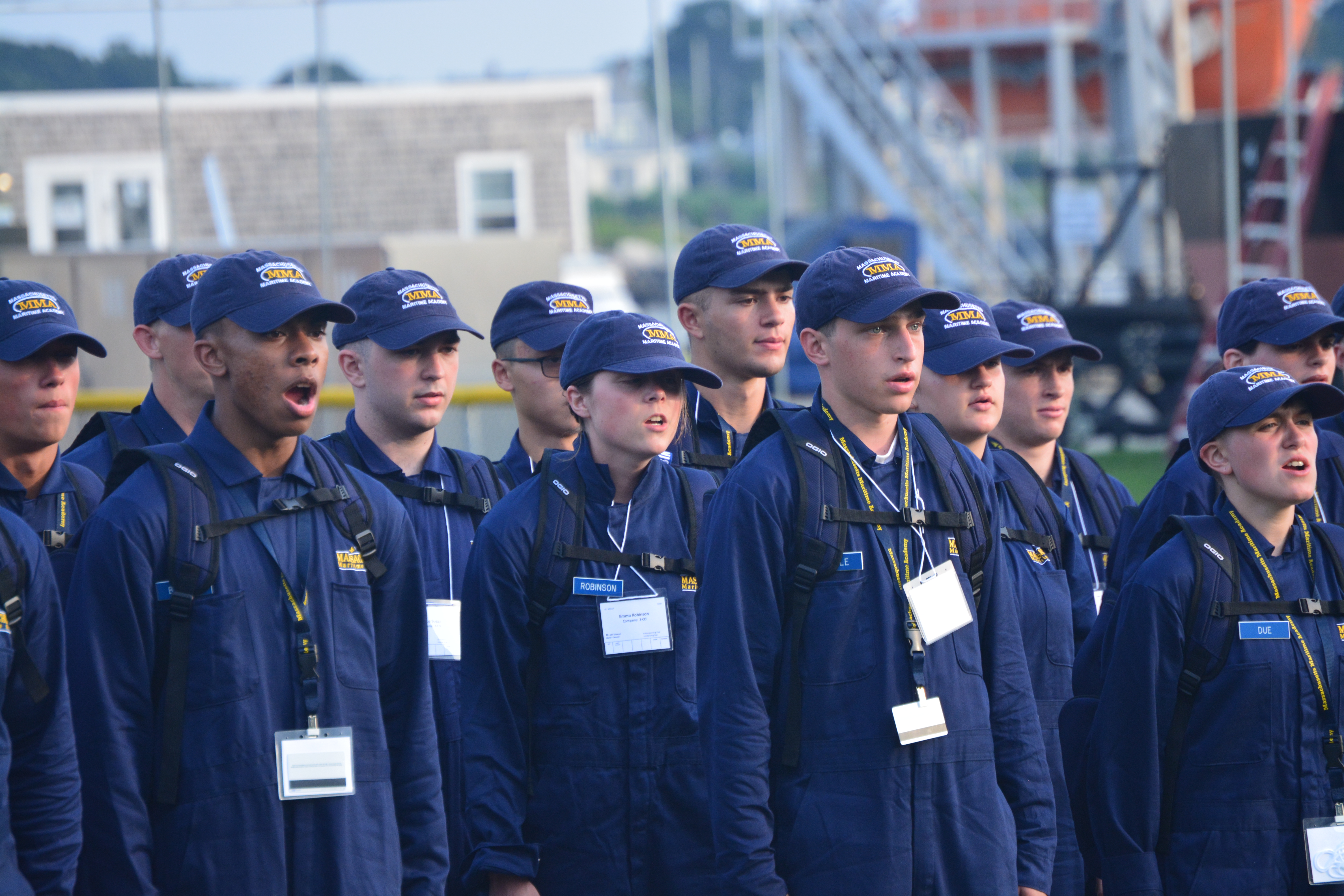 Patio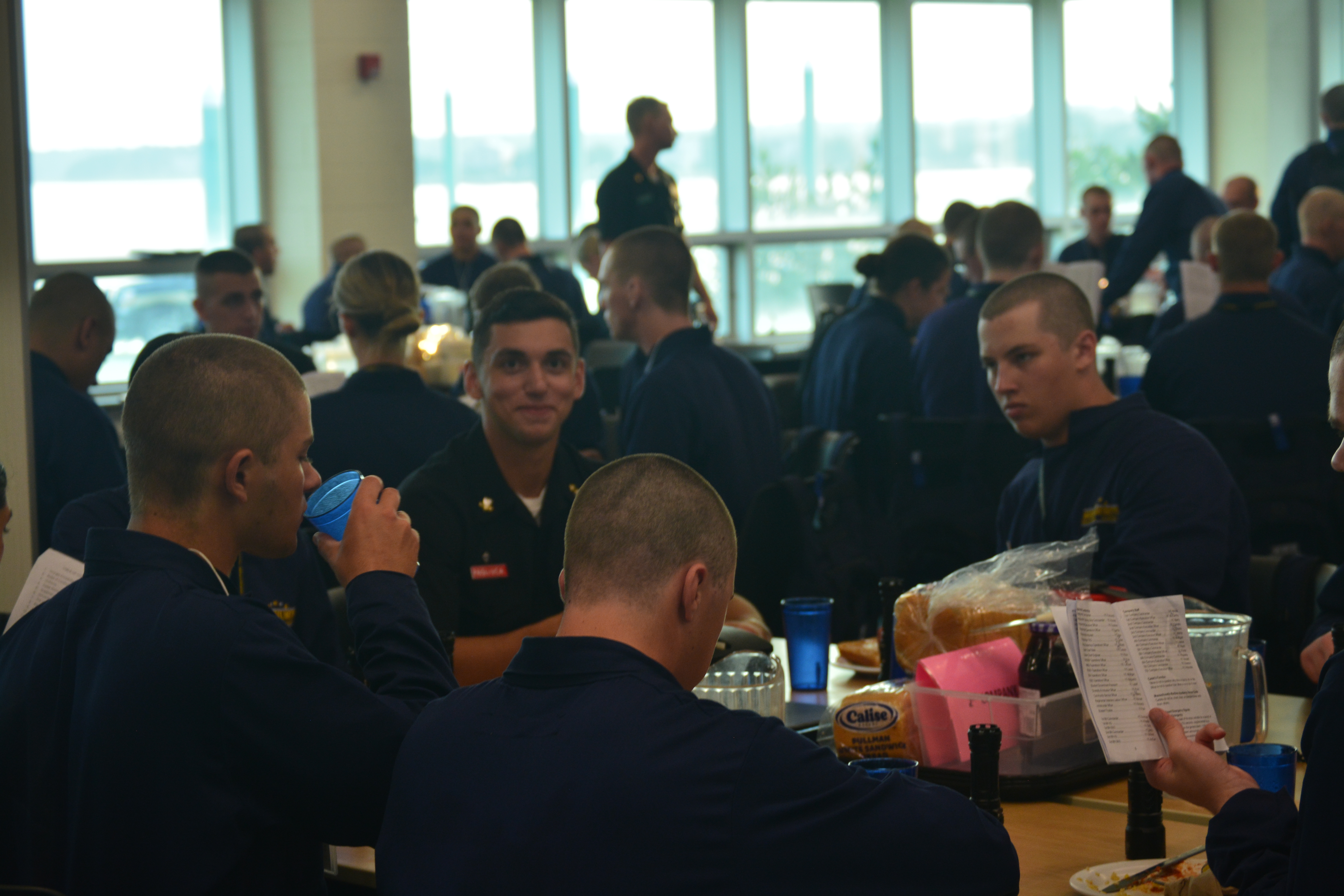 Someones having a little too much fun at dinner