Good Evening Everyone! We had another great day of Orientation today here at Mass Maritime. From here on out, you'll be able to read daily Company updates directly from our incredible Company Commanders. Yesterdays blog post has been updated with their introductions. Please be patient as we work to write and receive entries from each Company.
Without further ado, here are your updates from the Company Commanders!
1ST COMPANY
Family and Friends of 1st Company,
We started our day here on Taylor's Point bright and early to take the physical fitness test. This test is comprised of a timed 1 mile run, and a two minute intervals to complete as many pushups and situps as possible. The scores reported were impressive, with one Cadet Candidate reporting 120 pushups. The first two Cadet Candidates to finish the 1 mile run were also from 1st Company. My Squad Leaders worked hard to instill morale and camaraderie amongst the C/Cs, by cheering on their shipmates completing the test and pushing each other to their limits.
Shortly after, the C/Cs were transported by bus to the Mass Fire Academy in Bridgewater for basic firefighting training. This is an STCW requirement for license majors, but all participate. The Cadet Candidates review the classes of fire, learn how to use a fire extinguisher, try on SCBAs, and do various exercises with fire hoses. This was a huge success, and the C/Cs enjoyed their time at the fire academy. Even if this knowledge is not needed for each major, it is still very good information to know that could help save their lives in the future.
Once returning to campus, the company immediately moved into the intramurals game of water polo against 7th Company. We have won 3 out of 4 games, and it was amazing to see the Company come together. There was a point where our goalie had made a mistake of dropping the ball right in front of the net and 7th Co had taken possession. The goalie was out of the net, and the other team took a shot, but another player on our team stepped into the goal at the perfect time to block the shot. The Company went crazy, and the two players gave each other the biggest hug, as well as the rest of the team coming over and hyping each other up. This Company has begun to bond, and I can promise you they will return home with friendships that will last a lifetime.
Very Respectfully,
1/C Jessica Hinds
1st Company Commander
2ND COMPANY
(To be updated)
3RD COMPANY
Its Day 2 for the Cadet Candidates and it started off with a motivating PT test on the football field. 3rd Company did a great job supporting each other during the pushups, sit-ups, and the mile run.
Following breakfast, 3rd company attended uniform fittings in the gym, an academic planning session, and took their school pictures for their ID Keycard. 3rd Company CRUSHED 4th Company in Ultimate Frisbee today. Another win for 3rd Co!
In the evening, the Cadet Candidates attended a Title IX and Diversity 101 presentation in Admirals Hall. They were sent to bed at 2200 following Taps. Right now, the Cadet Candidates are experiencing the hardest part of this program. They are learning to work as a team and not an individual. It takes discipline, integrity, and loyalty to be successful here at the Academy and each Cadet Candidate has already demonstrated these qualities. The hard work they are going to have to put in is just getting started, but I am confident to say that each and every Cadet Candidate will find themselves stronger than ever on Orientation Graduation day.
Very Respectfully,
1/C Sophie Strano
3rd Company Commander
4TH COMPANY
Hello all,
Today was another great day for 4th Company, as the Cadet Candidates spent a majority of the day at the pool conducting water survival exercises. Here, they learned basic swimming and treading water techniques, water survival skills, and teamwork in the pool.
The Cadet Candidates also conducted the Physical Fitness Assessment this morning. The test consisted of a 1 mile run around campus, and 2 minutes of both pushups and sit ups. All Cadet Candidates pushed themselves physically and mentally, all while comin g together and supporting one another as a Company.
4th Company also participated in intramural ultimate frisbee today. After water survival and drill practice, this time allowed the Cadet Candidates to compete with another Company, and while 4th Company did not come away with the win today, the Cadet Candidates enjoyed the competition and are eager to get back on the field tomorrow.
We continue to be impressed daily by the Cadet Candidates, and how much they are coming together as a Company already.
Very Respectfully,
1/C Jack Mulligan
4th Company Commander
5TH COMPANY
Good morning,
Today was the first of physical training for your cadet candidate. They were woken up at 0530 by the cadre and hurried to the football field were they completed their first physical training test. The test includes a 1 mile run, push-ups, and sit-ups. We represented well with some top finishers in the run. After PT we enjoyed a hardy breakfast and then we hurried to Herring pond. Cadet candidates got the opportunity to step away from the regiment and cadre to participate in various pond activities such as monomoy rowing, sailing, and crew rowing. After an exciting day at the pond we headed back to the academy in the mid afternoon to practice drill. After drill and dinner the cadet candidates had meetings on Title IX and diversity. The day concluded as always with the playing of Taps. Thank you for following along, as always please contact me with any questions.
Very Respectfully
1/C Michael Riehl
5th Company Commander
6TH COMPANY
Hello again!
After the second full day of orientation, it is encouraging to see how much progress our C/C's are making. Their commitment to the program and their desire to improve is something that is worth noting. It is making the staffs job a lot easier as they are willing to learn and trying their best to improve in every aspect of their lives.
The C/C's were awoken bright and early today and headed straight to the football field to participate in the baseline Physical Training Test. This is where their first benchmark scores are recorded for the timed mile, as well as their maximum push-ups and sit ups in two minutes. 6th company had outstanding results and effort from everyone involved. It was very motivating to see the C/C's giving 110%. It was also very good to see them cheering and encouraging one another to push themselves. We had a few standouts in 6th company. Finishing first in the company, as well as first in the entire freshman class was C/C Reese with a 5:13 mile! We also had two C/C's that had over 100 push-ups. C/C Gaudiano did 108 push-ups and C/C Hill completed 113. 6th company as a whole had some very impressive PT scores, but it is important to keep in mind this is a baseline, and improvement is always a possibility.
Following PT, the C/C's changed into their "At Sea's" Uniforms for picture day. It was nice to see some smiling faces. After the photos were finished, they headed over to the gym to get some more uniforms that they did not receive on the first day. Once this was over, they headed to the water front of campus to participate in a "Sea Lab" class. This is where the Youngies learn how to operate the monomoys, which is a mid-size wooden row boat, as well as how to tie basic marine knots and learn tips and tricks of maneuvering the boats.
6th Company had a dominant performance in dodgeball vs. 2nd Company winning 3-1. Some CC's that stood out today were McQueen, Gaudiano, White, and Mcsharry. I personally loved the energy and the help from the sidelines with encouraging chants. We had two decent patio performances today, but still struggled with volume.
Overall, today was a great day. The leadership trait of the day was teamwork. The C/C's are starting to learn the power of working together. They helped each other study, cheered each other on during intramurals, as well as the PT test which booster their performance. In conclusion, I will leave you with this: "Coming together is a beginning; keeping together is progress; working together is success". The C/C's had their first experiences as working together as shipmates. This is the beginning of bonds that will last a lifetime, friendships that will last an eternity, and memories which will last forever.
Very Respectfully,
1/C Michael Nogueira
6th Company Commander
7TH COMPANY
Seventh Company Cadet Candidates have officially completed their second day of orientation. They learned how to row and experienced their first exposure to the Maritime opportunities at MMA during Sea Lab today, got their pictures taken for their MMA ID cards, finalized more of their uniforms and inspection items, and played an intramural game of water polo against 1st Company. Throughout the day, cadet candidates were quizzed on their youngie knowledge, practiced marching and facing movements, and exemplified teamwork as the leadership trait of the day. These cadet candidates are learning how this academy works and are beginning to understand the "why" behind everything that my staff and team of Squad Leaders are teaching them. Many are beginning to understand the standards expected of them and demonstrate their desire to become cadets at Massachusetts Maritime Academy. I'm looking forward to tomorrow to see how much better they can become each day. I would like to extend my sincere thanks and appreciation to the orientation assistants and Commandant staff as well as Chartwells and facilities employees for keeping this operation running smoothly behind the scenes.
Very Respectfully,
1/C Luke Dawson,
7th Company Commander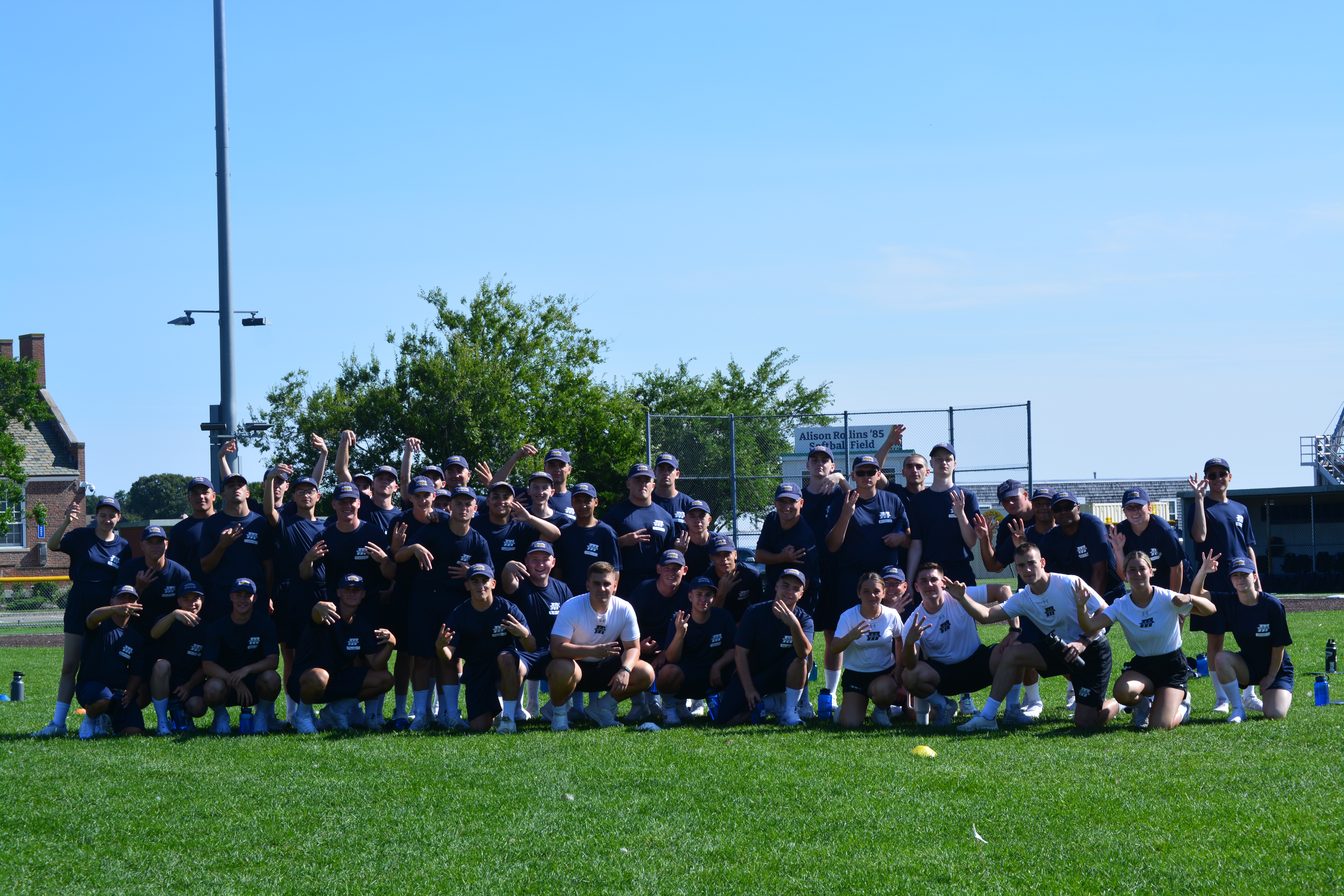 3rd Co at intramurals!
Our Cadre are always styling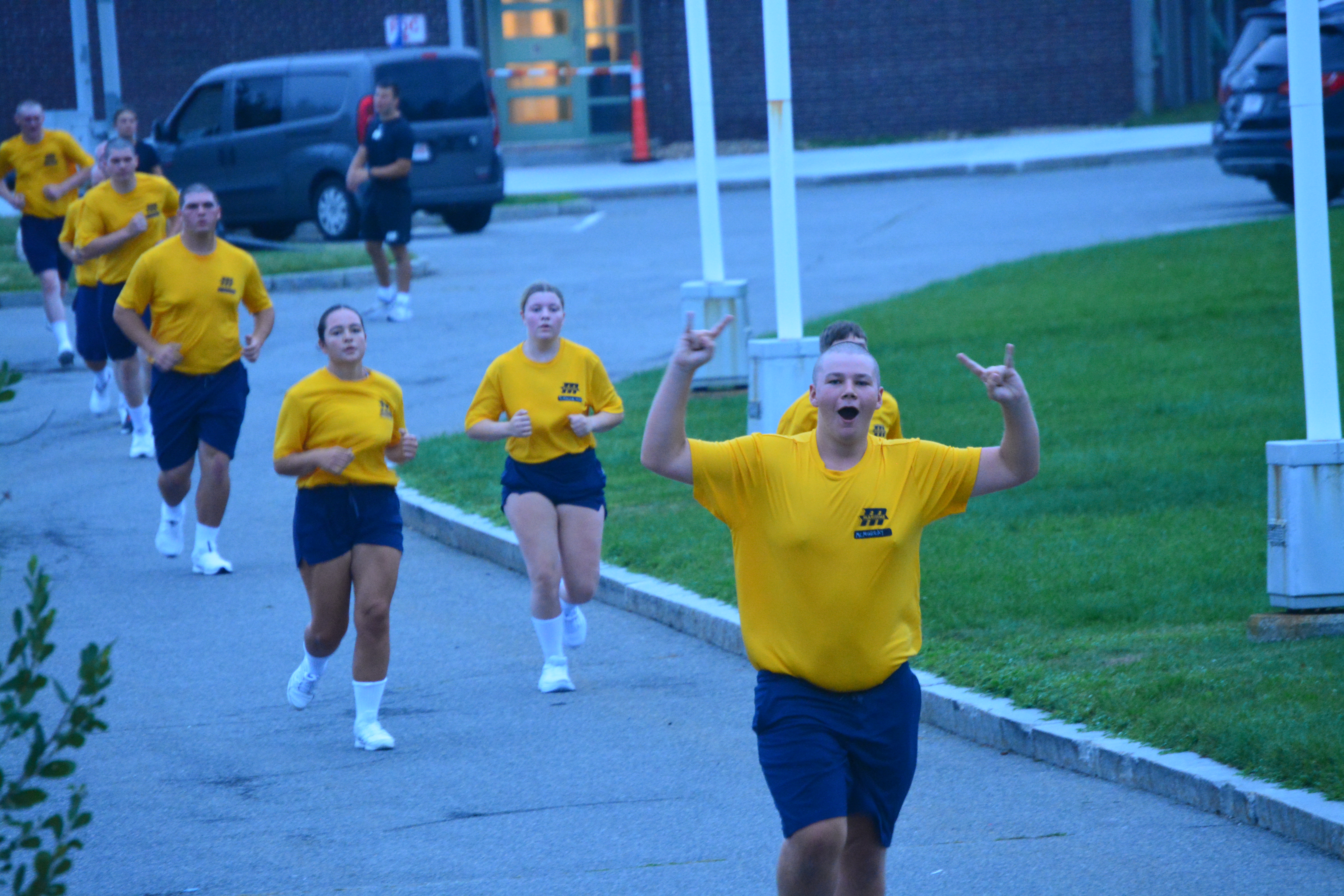 Positive attitude!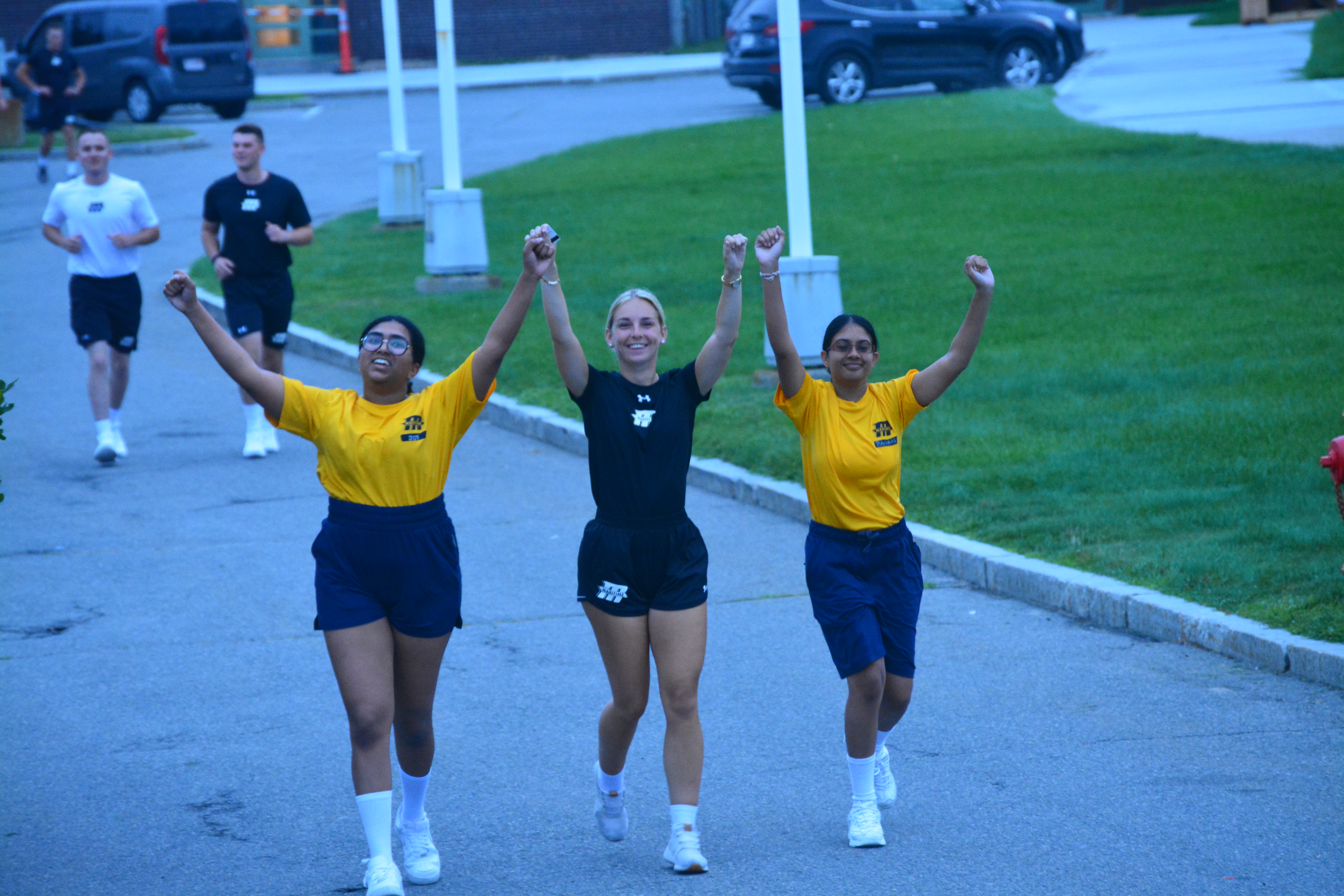 Encouraging each other!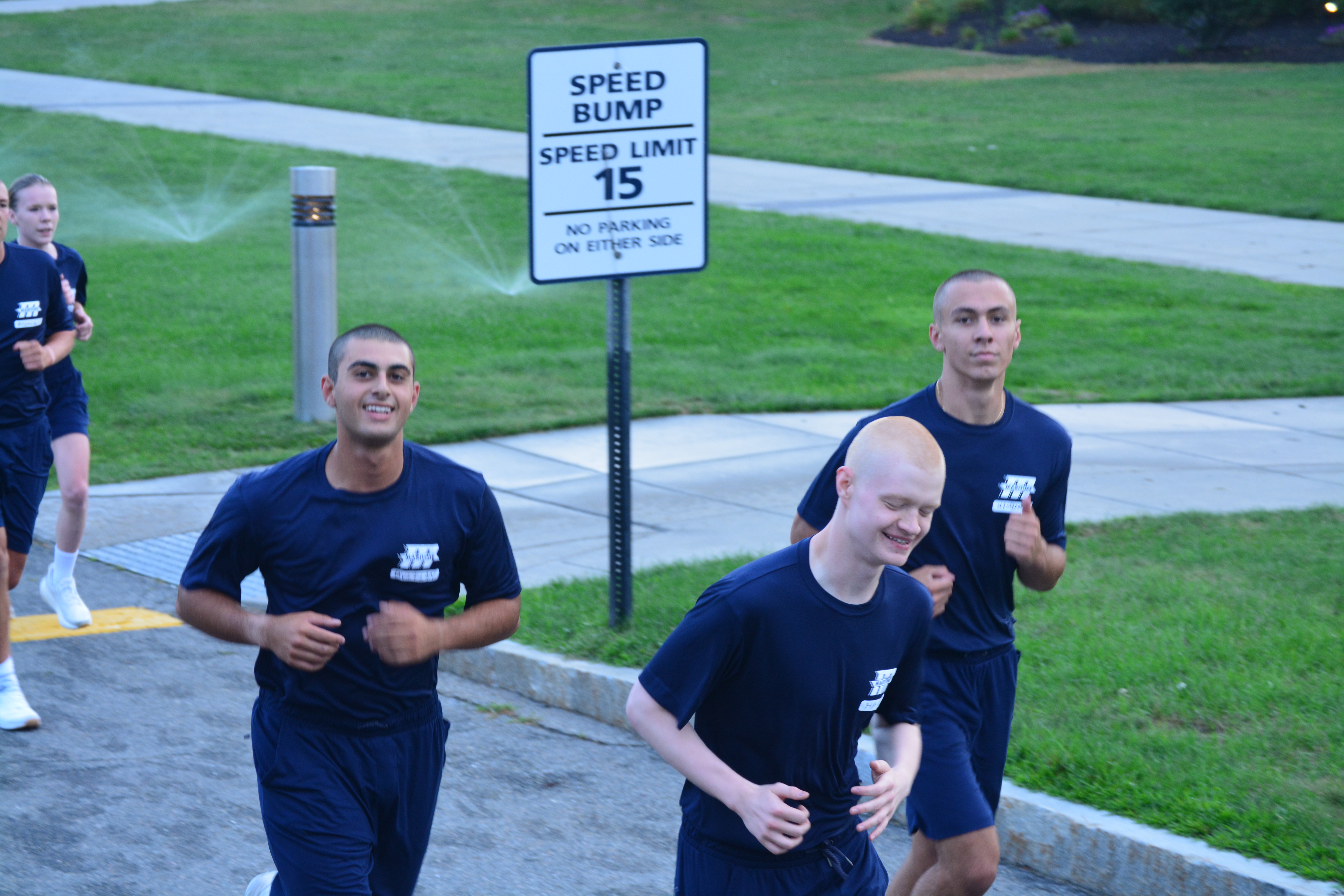 Smiling through it all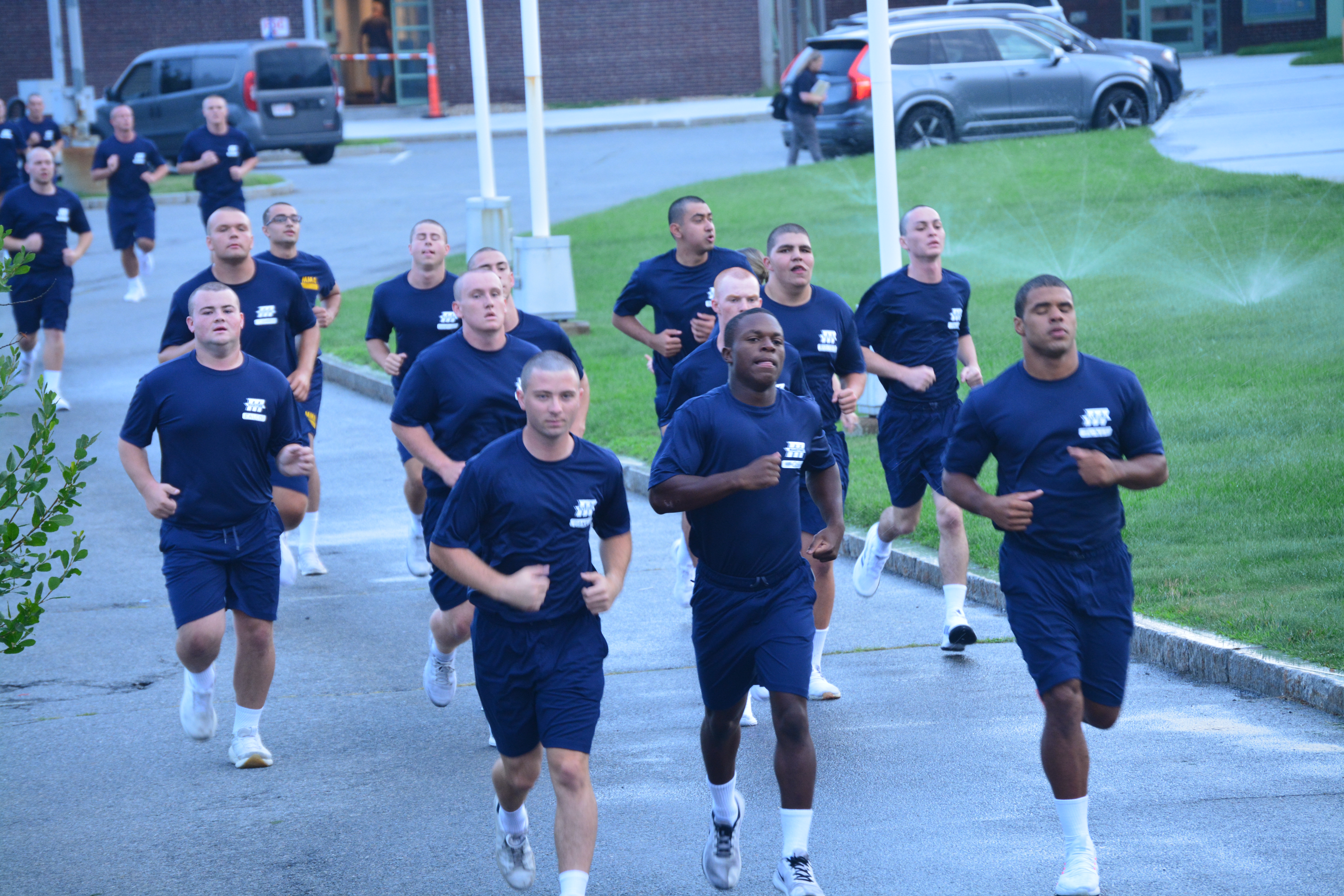 Mile run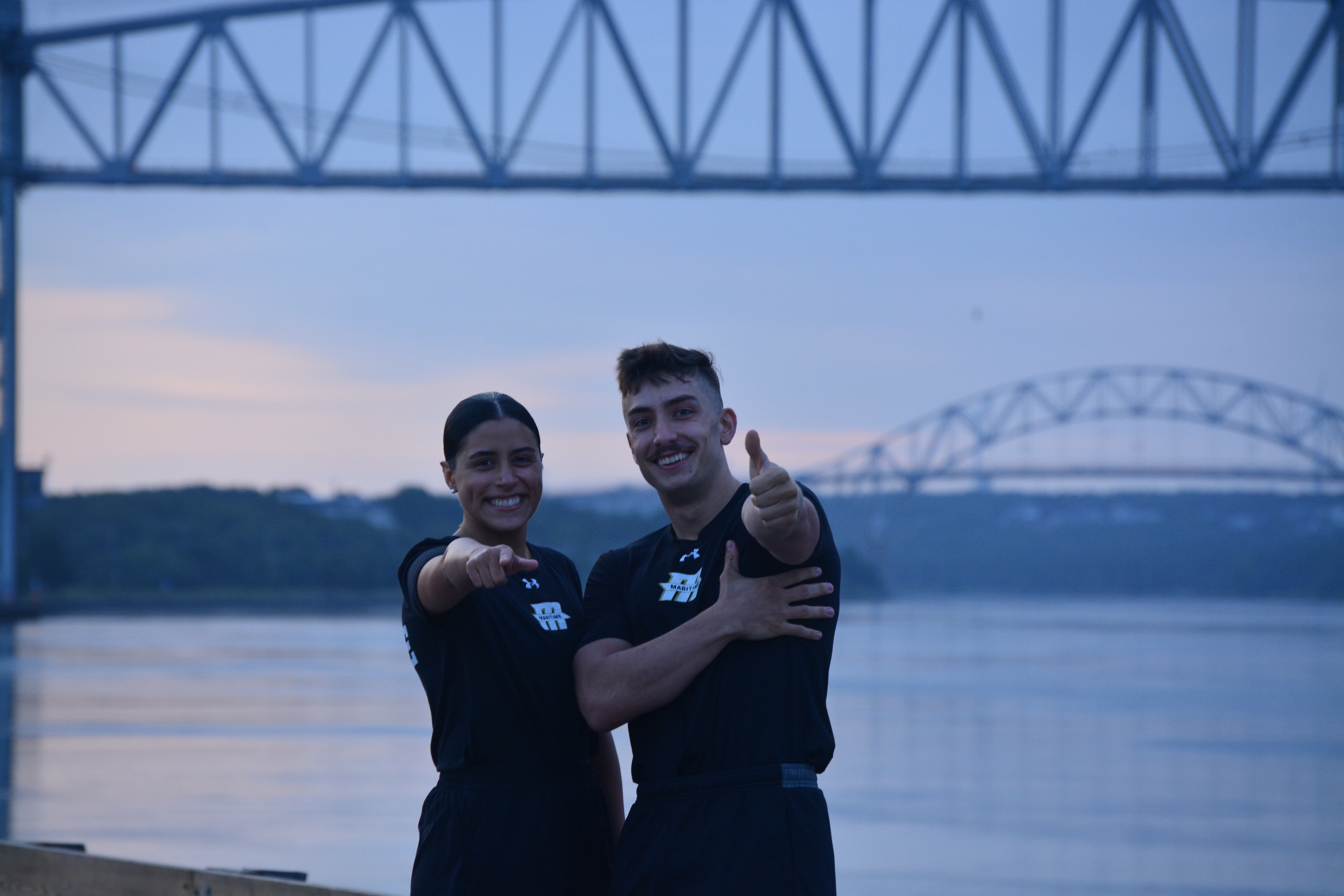 Our incredible seniors
1st Co getting pictures taken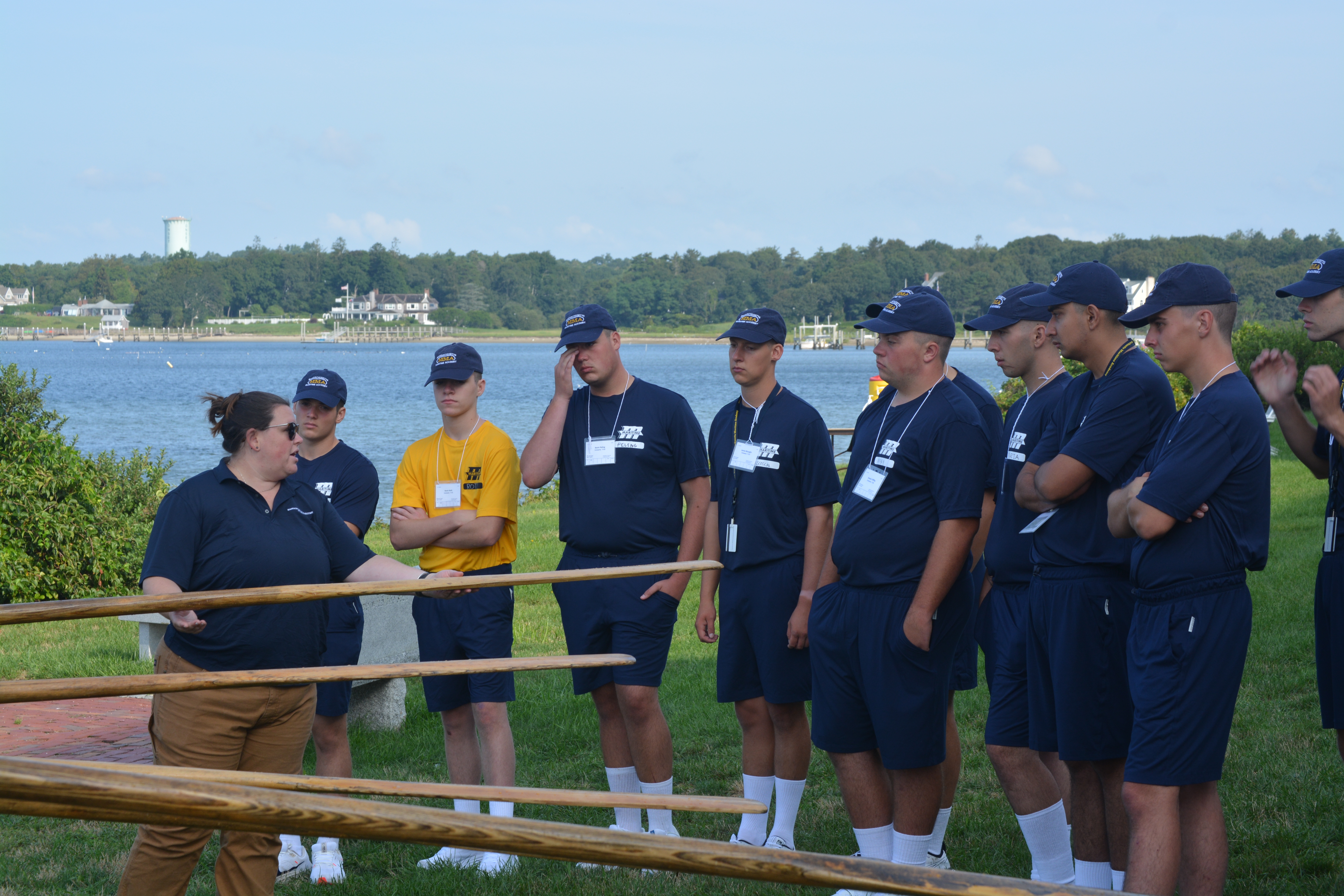 7th Co at Sea Lab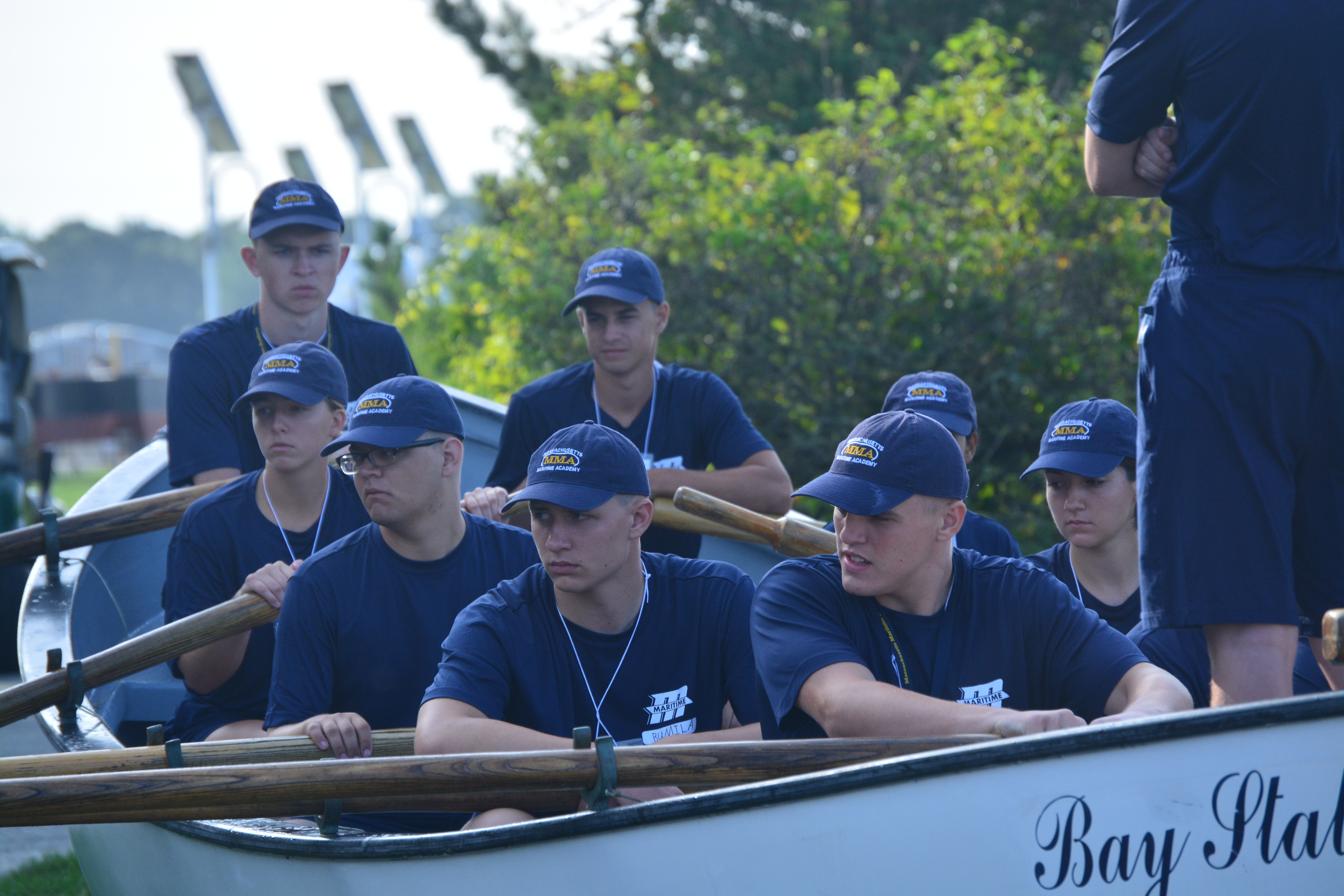 7th Co learning to row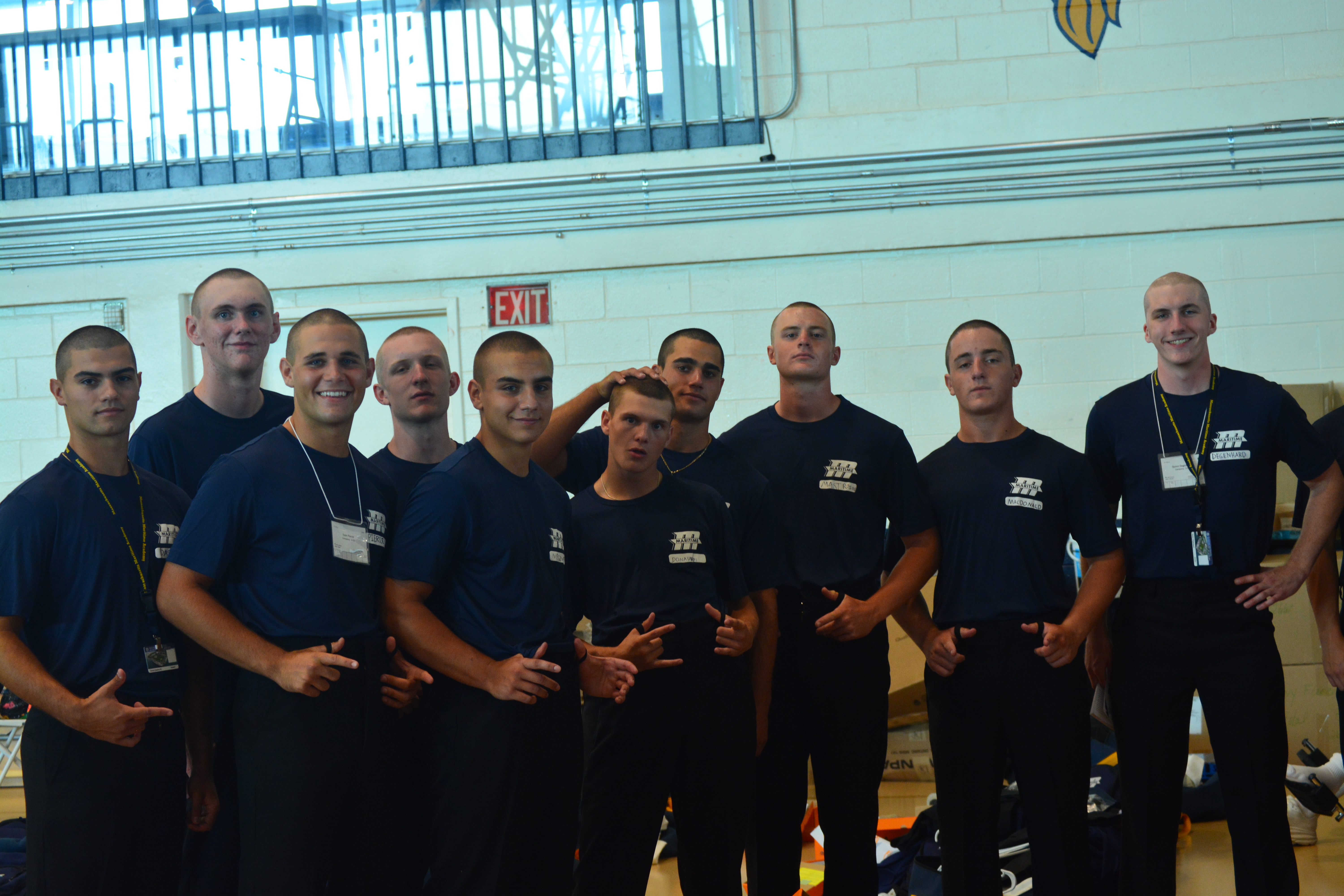 Styling some new black pants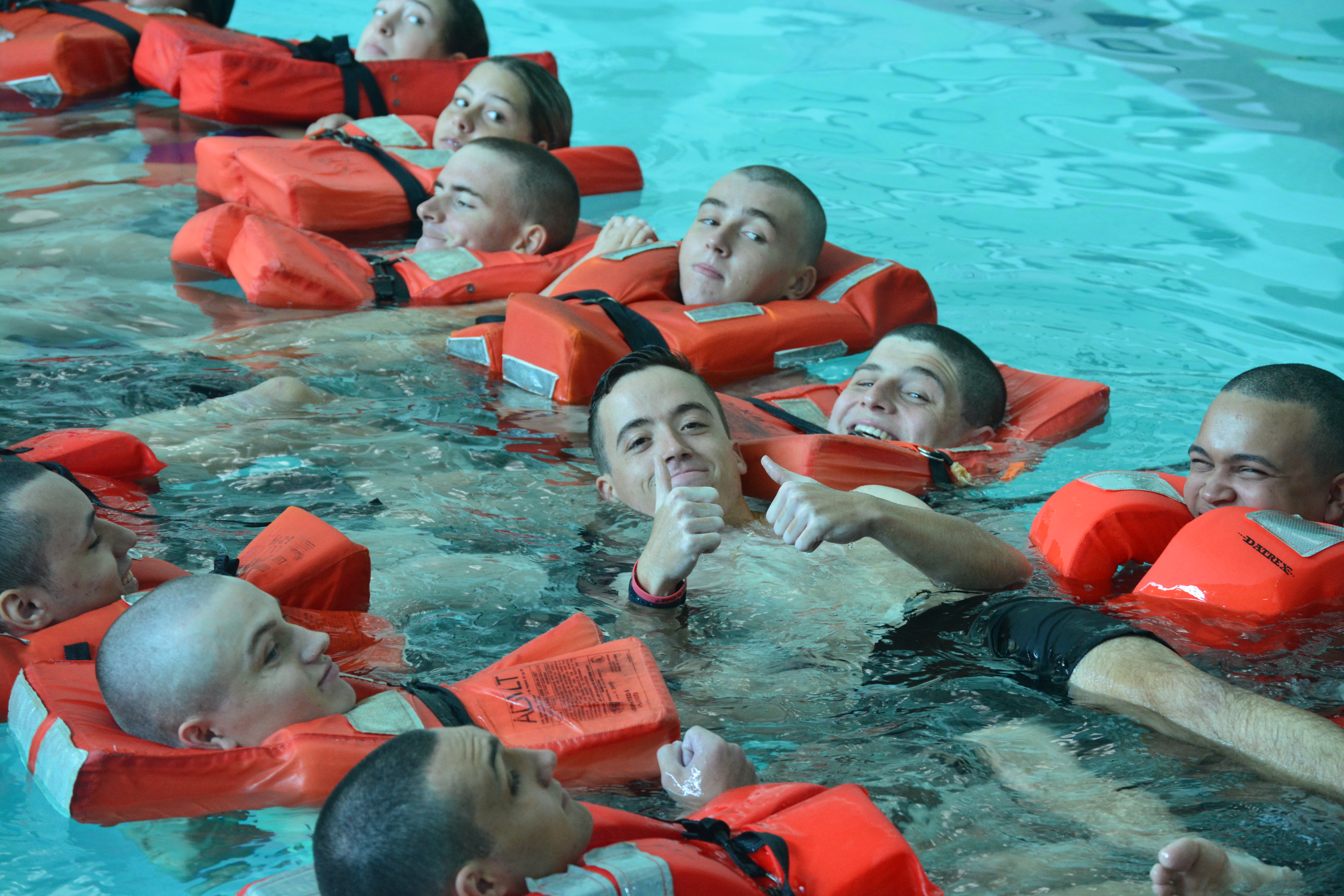 4th Co Pool Day!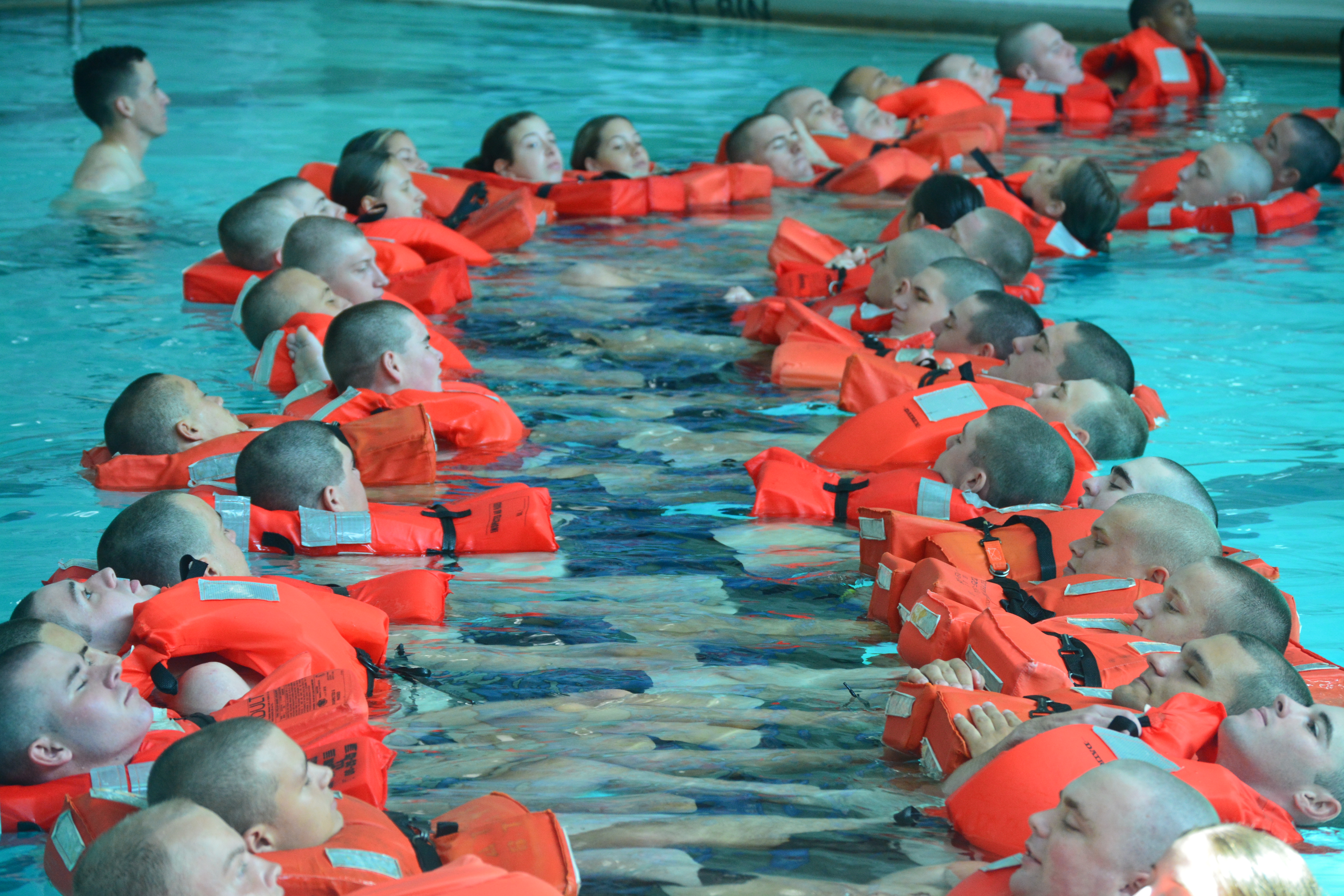 Youngie chain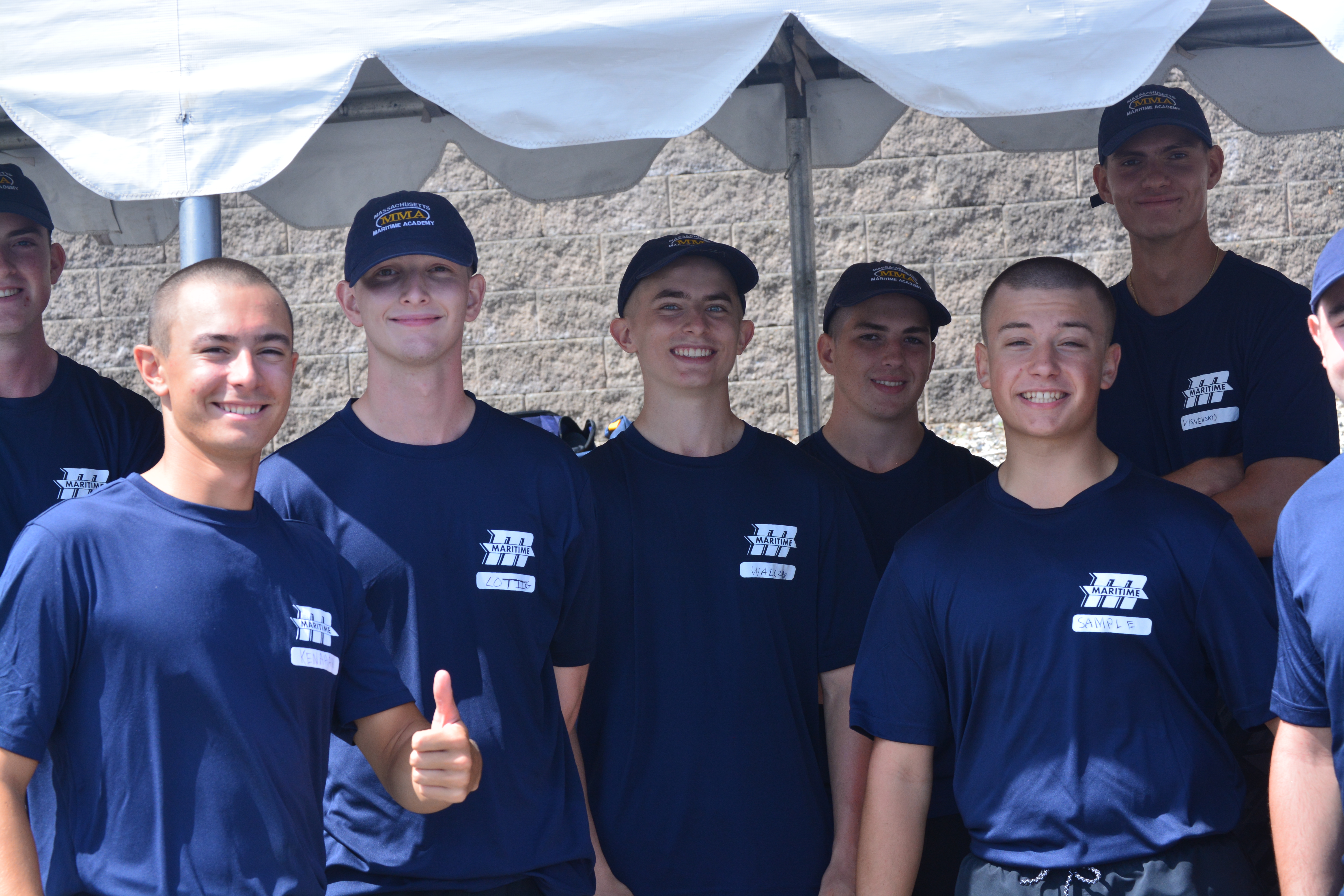 5th Co making new friends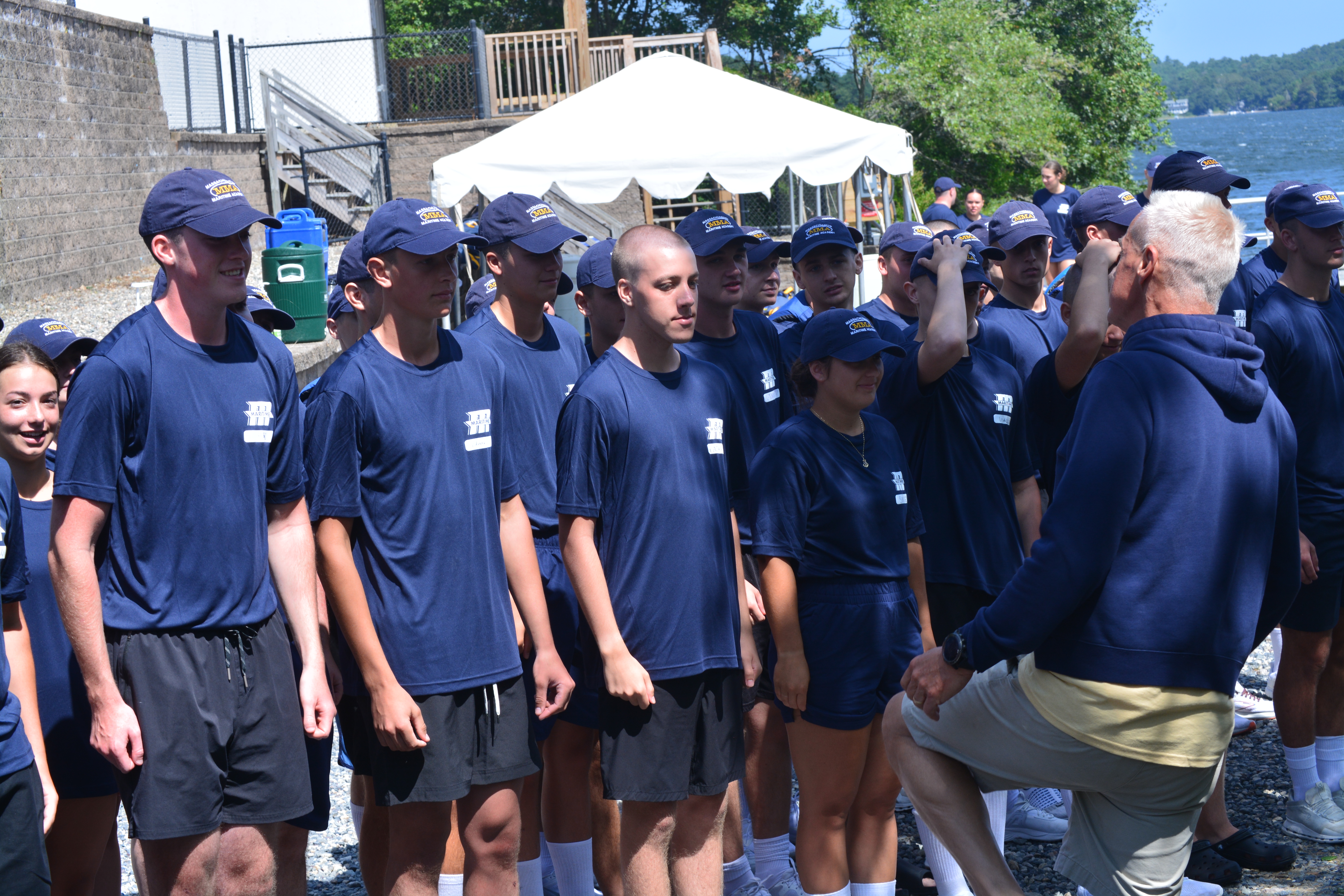 5th Co Simon Says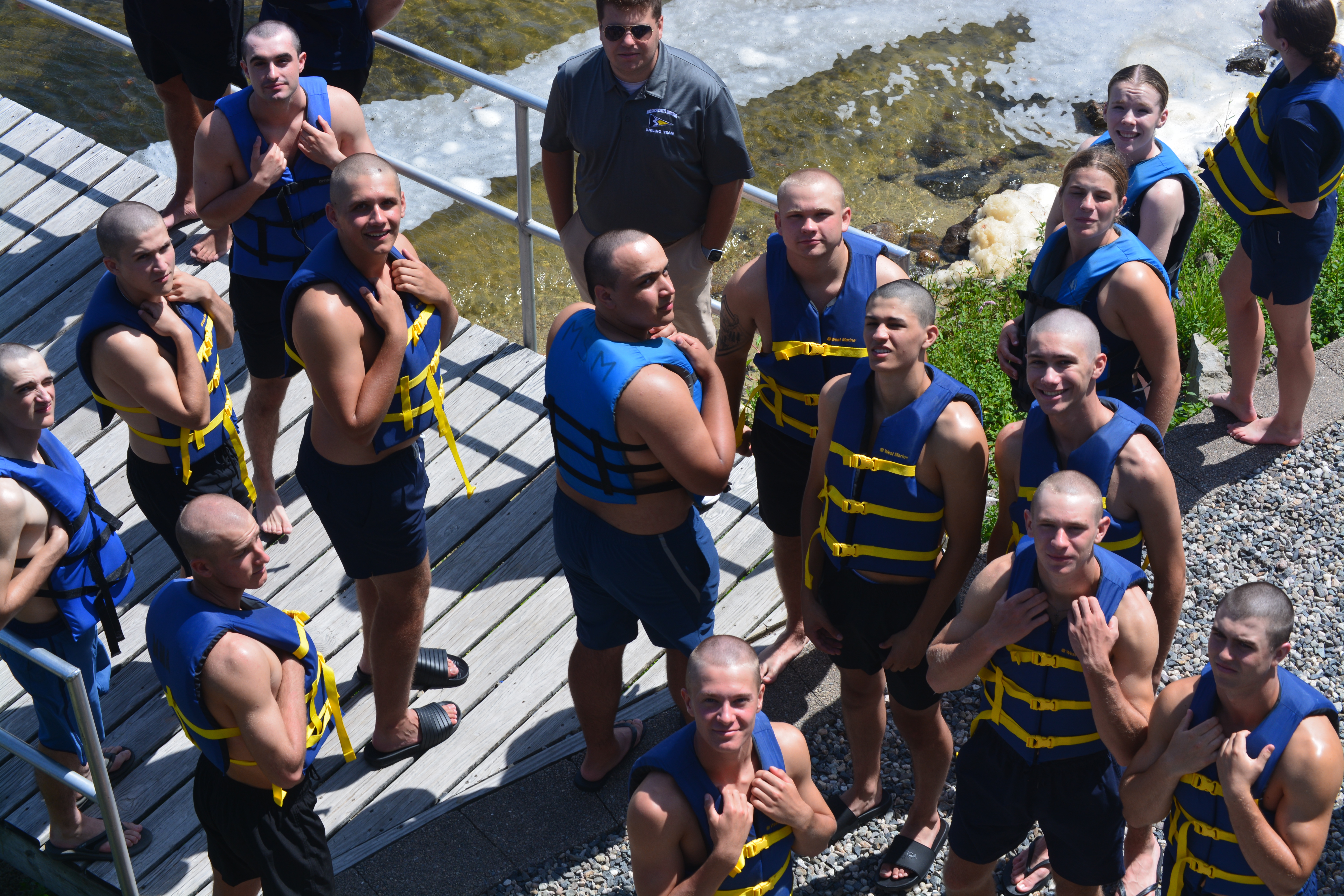 Learning to Sail!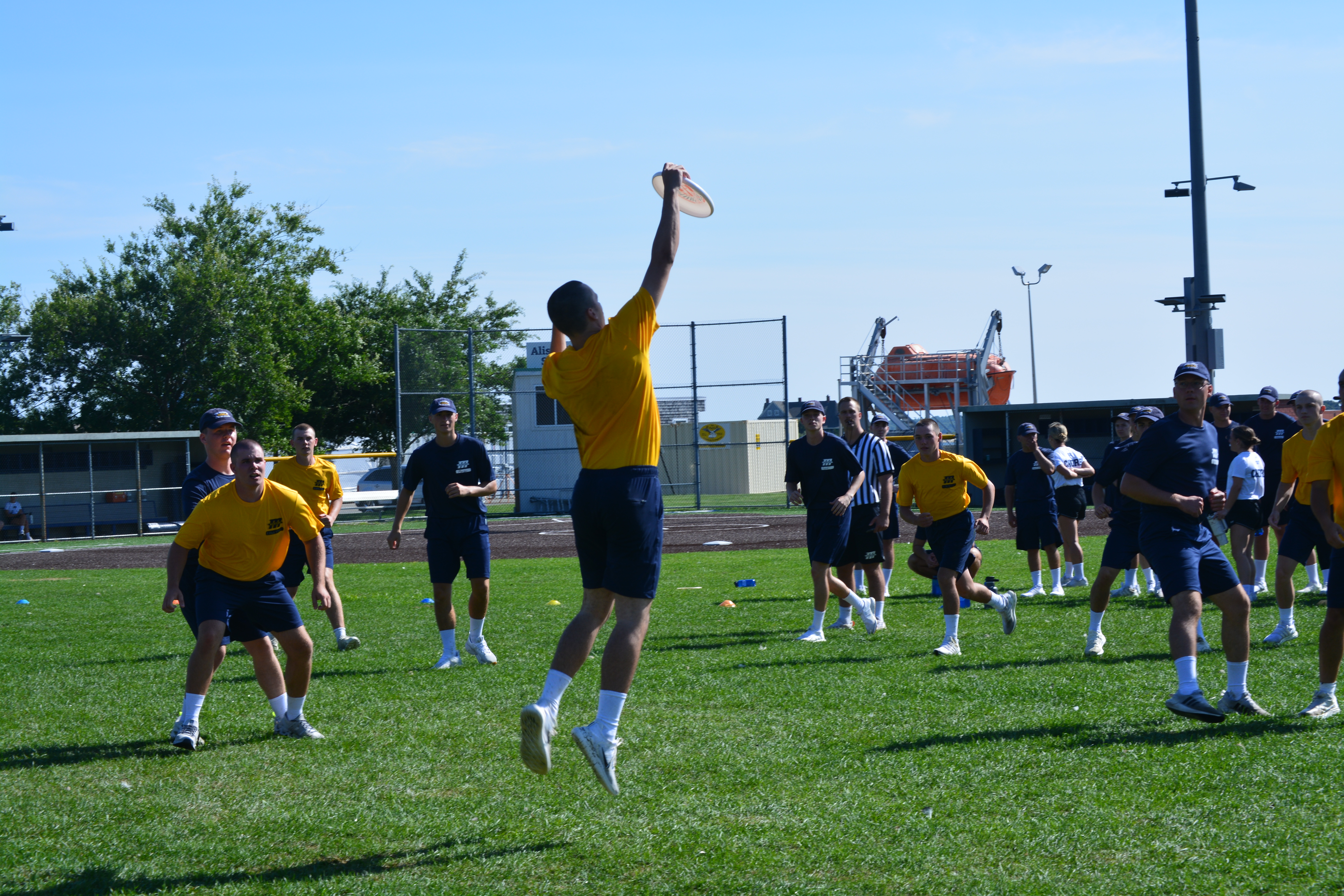 Great catch!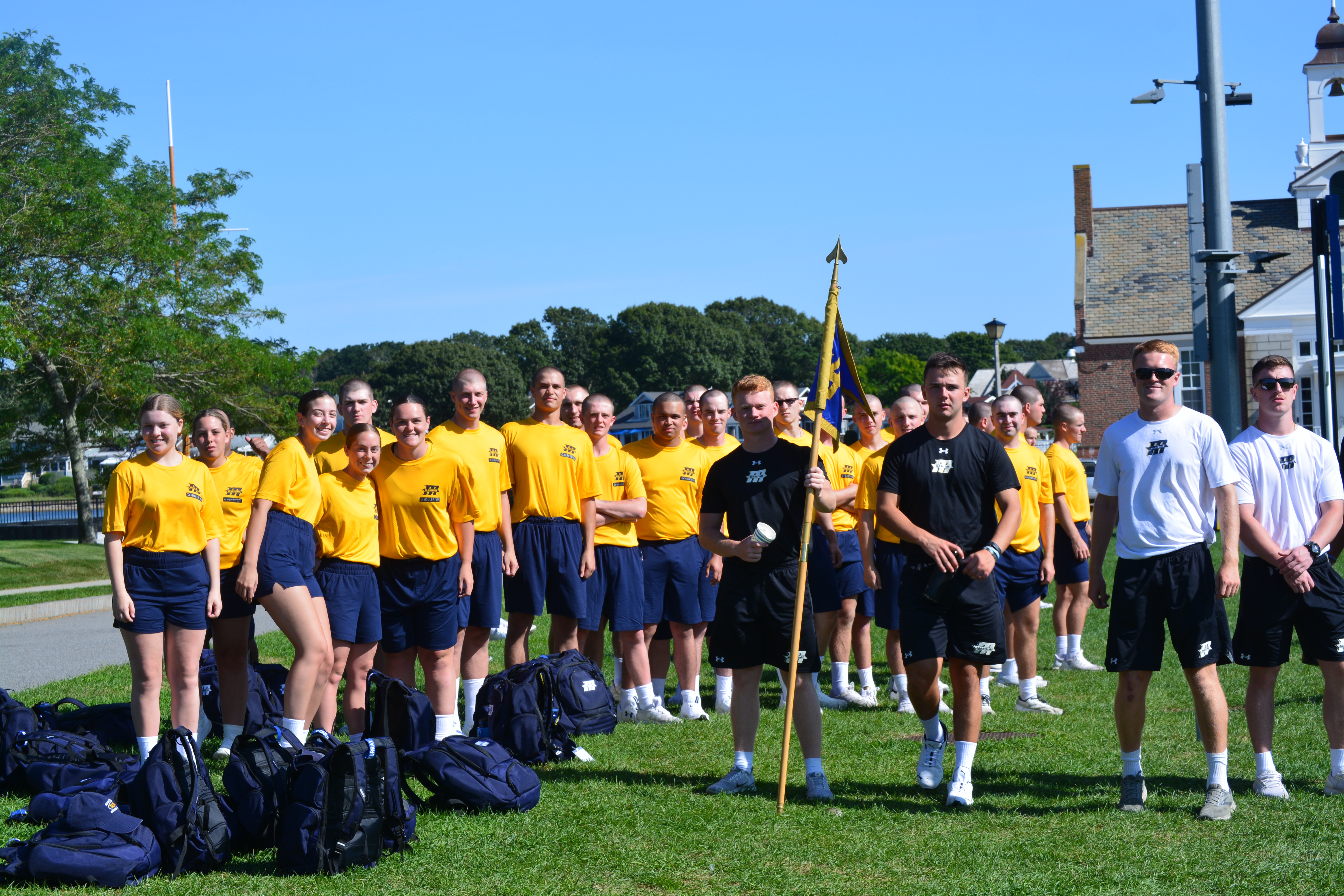 4th Co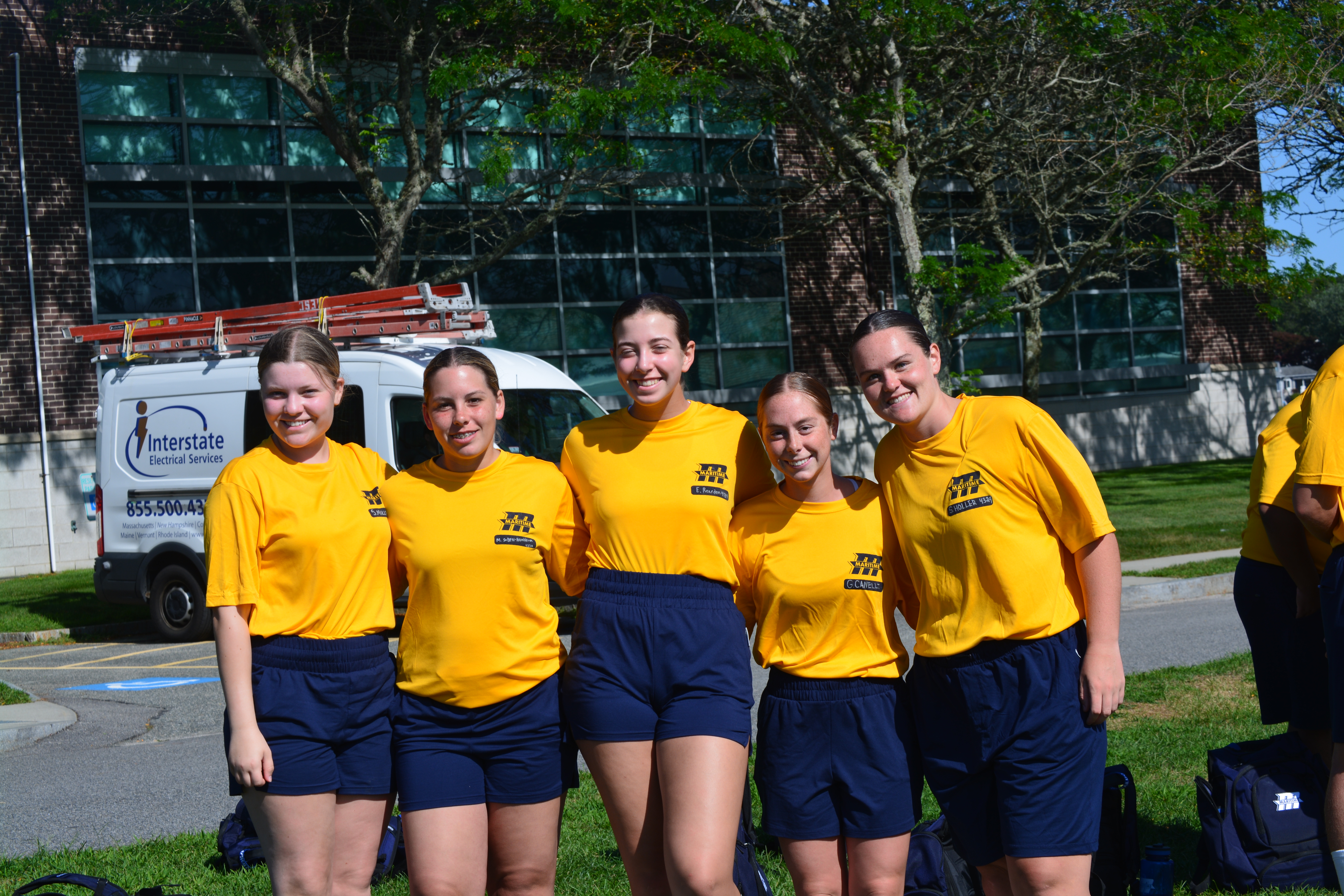 Girl power!