Day 3 was another great day for the Cadet Candidates here at MMA! In only one week, they'll be marching across the football field for Orientation Graduation. The Cadet Candidates have already shown great improvement and everyday they work to be better than the day before. One more week!
Here are you nightly updates from our Company Commanders:
1ST COMPANY
Family and Friends of 1st Company,
Because we have spent the last two days completing STCW requirements, today was the first day my staff finally got to spend a lot of time with the C/Cs. The morning was taken up by various academic meetings, as well as drill time. The platoon also spent a large amount of time practicing drill. The biggest goal today was practicing columns. Columns are used when the platoon needs to make a turn. We have gotten so much better at marching, and I am confident we will do well in the marching competition later on in the week. The late morning was spent in the gym sorting out any uniform issues. During down time, they quizzed each other on their youngie knowledge by sitting back to back, using flashcards, and just quizzing each other. Promoting collaboration has been a large priority in my staff. Although we are here to teach, it is at times more productive and efficient when helping your shipmates. This skill will carry on into their future at MMA, as well as in their careers.
We played 4th Company in dodgeball this afternoon, and I am disappointed to report that we did lose. It was a VERY close game, with 1st Co winning two out of five games. The C/Cs started off strong in the first game, by beating our opponent in less than five minutes. I believe we got tired and complacent. However I am hopeful that tomorrow we will beat 2nd Company in water polo. The youngies finished the night with a health services meeting and one with career services. These two departments are crucial for the success of our campus. The youngies were able to meet the faculty who are in these departments and further their knowledge of all the resources we have on campus.
Very Respectfully,
1/C Jessica Hinds
1st Company Commander
2ND COMPANY
Today the Second Company Cadet Candidates headed over to Great Herring Pond after a motivating PT session and a hearty morning meal. There they learned how to sail, and how to perform different tasks in rowing and commanding a Monomoy. They all had a lot of fun with these different activities. After returning to campus, the C/Cs participated in their first Water Polo match where they defeated 3rd Company 3-1! After Patio and evening meal, they had two lectures, one from Health Services and the other from Career Services. Each day is an improvement upon the last.
Very Respectfully,
1/C Matthew Barry
2nd Company Commander
3RD COMPANY
It is a beautiful day on campus! The Cadet Candidates started their morning at 0530 for an early morning PT session. 1st Battalion did a 1 mile cadence run around the campus and got to enjoy the sunrise peaking up over the Cape Cod Canal. 3rd Company Squad Leaders had the Cadet Candidates spouting loud and proud during the run. The team spirit was at an all time high this morning and it was motivating!
This morning, the Cadet Candidates had a couple hours dedicated towards drill. 3rd Company Squad Leaders broke the platoon up into smaller groups and taught the Cadet Candidates how to do drill moves step by step. They practiced their column lefts/rights, and learned "to the rear". I was very impressed with their progress. I spent some time marching the platoon to prepare for the Marching Competition next week.
The Cadet Candidates had a fun afternoon. They attended Sea Lab, where they learned how to row the Monomoy boats. This activity is extremely beneficial for our licensed Marine Engineering and Marine Transportation Cadet Candidates. The C/Cs were able to relax a bit and get to know each other. Following Sea Lab was intramurals. 3rd Co unfortunately lost to 2nd Co in water polo.
Our First CCLP (Cadet Candidate Platoon Leader) was chosen today. Every day, a Cadet Candidate who has demonstrated grit, respect, dedication, and tenacity is elected by the 3rd Company Squad Leaders. The CCPL was C/C Monteiro. Well Done!
Very Respectfully,
1/C Sophie Strano
3rd Company Commander
4TH COMPANY
The third full day of Orientation was a busy one for 4th Company, and the Cadet Candidates were moving through campus all day conducting activities. The day began with their first day of morning PT, led by the Regimental Staff. The Cadet Candidates were able to complete their PT alongside Rear Admiral MacDonald, who was very excited to see the energy and enthusiasm throughout the company.
The Cadet Candidates underwent another Morning Formation led by the Regimental and Battalion staffs, which was then followed by drill practice with their Squad Leaders. They began to learn more advanced marching techniques and continued to refine their previous learned knowledge.
After that, 4th Company participated in "Sea Lab", which is a basic course on rowing techniques and practices, as well as small boat safety training. While unable to get in water, the Cadet candidates were able to build teamwork in practicing rowing cadences among small teams.
4th Company also picked up it's first victory in intramurals, defeating 1st Company in dodgeball!!
The teamwork and comradery is growing in 4th Company, and the Cadet Candidates are coming together as one team, 4th Company, and working together to accomplish their daily tasks to the highest level possible.
Very Respectfully,
1/C Jack Mulligan
4th Company Commander
5TH COMPANY
Good afternoon,
Today 5th Company started with the run at PT. We did a 1 mile cadence run as a platoon around campus. After the completion of the run we did a cool down stretch and marched back to the company for recovery time before preparing to head to Bridgewater for firefighting.
Your cadet candidates ate a quick breakfast then boarded the buses to head out. Today at fire fighting cadet candidates completed three stations. The three stations included hose handling, fire extinguishers, and self-contained breath apparatus (SCBA). During the hose handling station C/C's were taught different types of hoses and appliances. Additionally, they learned how to deploy different fire attack lines with maritime nosels. At the next station C/C's worked on fire extinguishers. They learned about classifications of fire extinguishers and how to use them. With this knowledge, C/C's finished the station by putting out live fires. Lastly, at the third station, C/C's discussed SCBA. They received hands on instruction about the components of the breath apparatus, and how to don and doff SCBA.
After returning from firefighting we participated in intramural ultimate frisbee verse 7th company which we won. The cadet candidates night concluded with a medical brief as well as a career services meeting.
Thank you for following along, as always please contact me with any questions.
Very Respectfully,
1/C Micheal Riehl
5th Company Commander
6TH COMPANY
Good evening,
The day began with excitement as the C/C's were awaken before sunrise. They ran over to the football field as a cohesive unit singing a running cadence which got me excited to begin the day. Each and every one of them pushed themselves to their maximum today during the PT stations we did on the field. The workouts consisted of push-ups, sit-ups, mountain climbers, and one of my personal favorites, flutter kicks. The C/C's began the morning with low volume and were groggy, but by the end of PT they were cheering each-other on and spirits were high.
Following the morning PT, the candidates showered and recovered with a morning meal provided by maritime's dining. After this, they headed to the pool to complete their water survival training. This consists of many exercises in which the C/C's learned how to survive in hazardous situations. They learned techniques for surviving an oil or gas fire on top of the water, as well has how to use a group of people to help each other stay afloat. They learned that by locking arms together in a circle and placing their legs out, they could keep an injured shipmate afloat that would otherwise sink. They also learned that if they create a large chain in the water with one another, they can be spotted easier and move as a unit without losing one another. Although this training will hopefully never be put to practice, it is very good that they learn these survival techniques. I would like to recognize two cadets specifically that impressed me at the pool. C/C Joy as well as C/C Shields both had not been strong swimmers, or could not swim at all before this exercise. Through their shipmates encouragement and their cadres support, they both conquered their fears and gained confidence in the water. They both had smiles on their faces as they overcame the adversity.
Following pool day the candidates played kickball against one another as we did not have an opponent scheduled for intramurals today. Everyone participated and had a fun time doing so. The losing team payed the price by doing some motivating push-ups, however the winning team decided to help them out by doing it with them. Our Cadet Candidate Platoon Leader (CCPL) for today was C/C Hill. The CCPL program is designed to highlight Cadet Candidates who go above and beyond during orientation. When selected each day, they are expected to lead the company with studying, as well as motivate them when needed. Mr. Hills enthusiasm, team work, and willingness to strive for greatness secured his position as our first CCPL. He lead our study session before patio today, and did a very good job doing so. The candidates did well on patio and enjoyed the meal they very much so deserved following it. After their dinner, they went to a health services meeting as well as a career services meeting led by LT DeMello who educated them on the resources that they have to help them find their dream jobs and financial freedom in their future. Although this seems like it is far far away, I assured them that the job search comes quicker than they anticipate.
The leadership trait of the day was endurance. I expressed what this meant to the cadet candidates. Here was the consensus: it is easy to start something. Beginnings are often filled with excitement, adrenaline, and curiosity, which is inherent. What is hard is continuing day in and day out to perform with the same intensity you did on the first day. Life is a perpetual uphill battle. It always was, always has been, and always will be. It can wear you down at times. If people have the courage to start, but lack the discipline to continue, they will never reach their goals, and will certainly never reach their full potential. In conclusion, I will leave you with this: "With the courage to begin, and the discipline to endure, victory becomes a matter of time"…
Very respectfully,
1/C Michael Nogueira
6th Company Commander
7TH COMPANY
Day three of orientation is officially in the books. Today 7th Company had more academic meetings and time to set up their rooms for inspection as well as an intramural game of ultimate Frisbee. The cadet candidates are getting much better at marching and retaining their knowledge, and they are extremely fired up for Pond Day tomorrow where they will learn basic sailing, rowing, and water survival operations. They are learning to work as a team and have seemingly embraced the core concepts of the orientation program. Many of them have expressed their appreciation of the physical training we do in the mornings and are beginning to get used to their new lives as cadet candidates. My staff and I continue to work hard to keep these cadet candidates safe and give them the basic training they need to be successful.
Very Respectfully,
1/C Luke Dawson,
7th Company Commander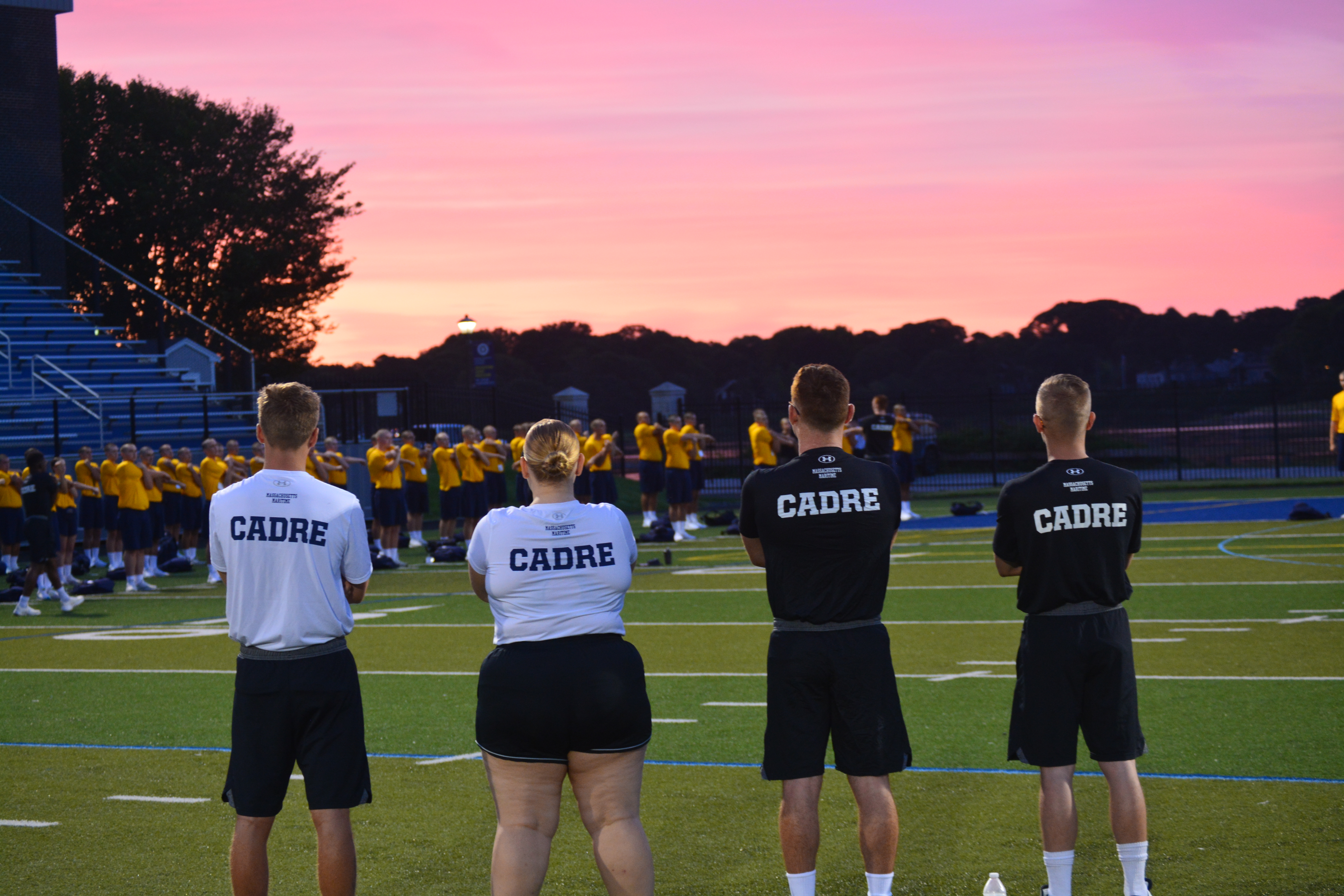 1st BN Staff watch the sunrise
Morning run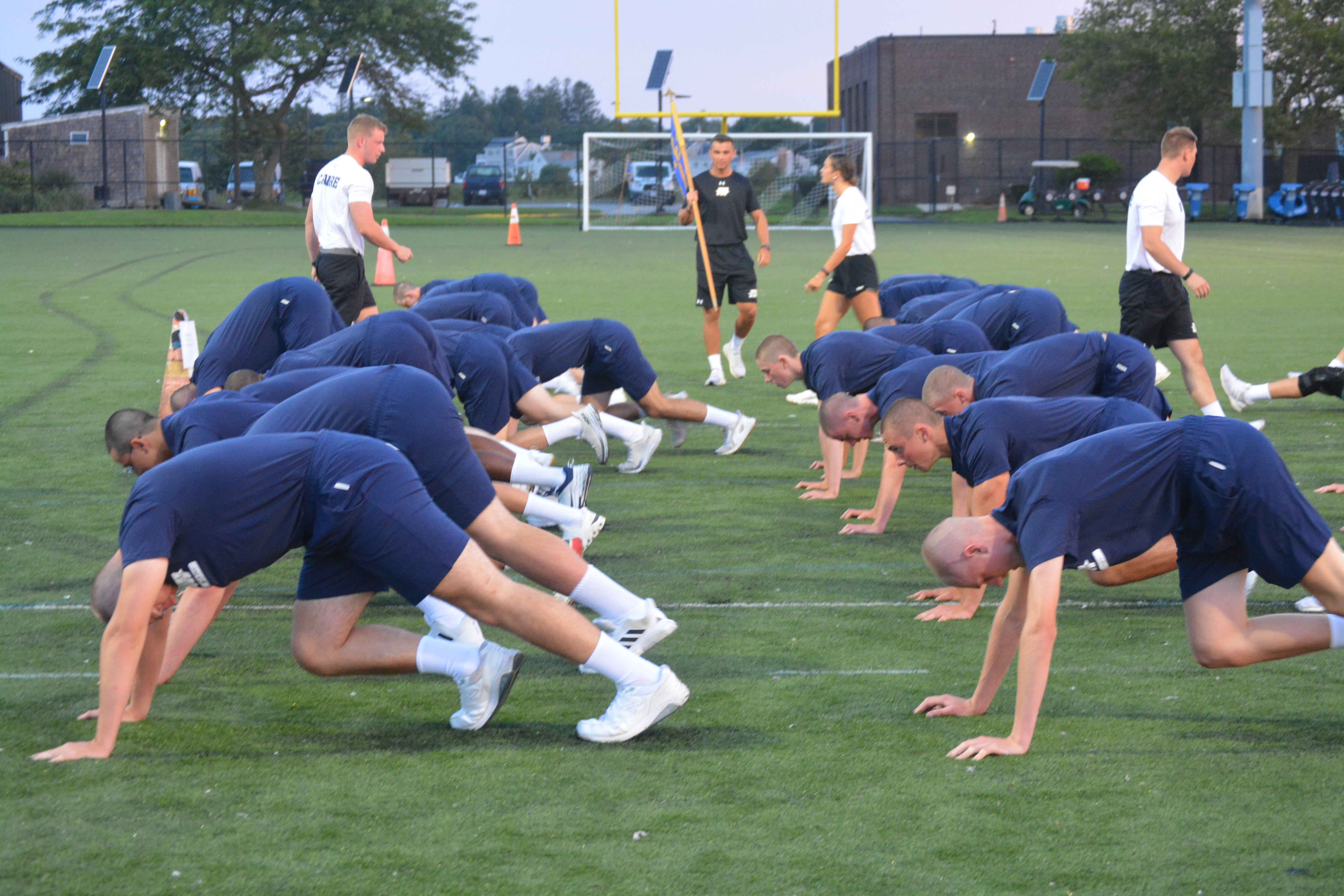 Mountain climbers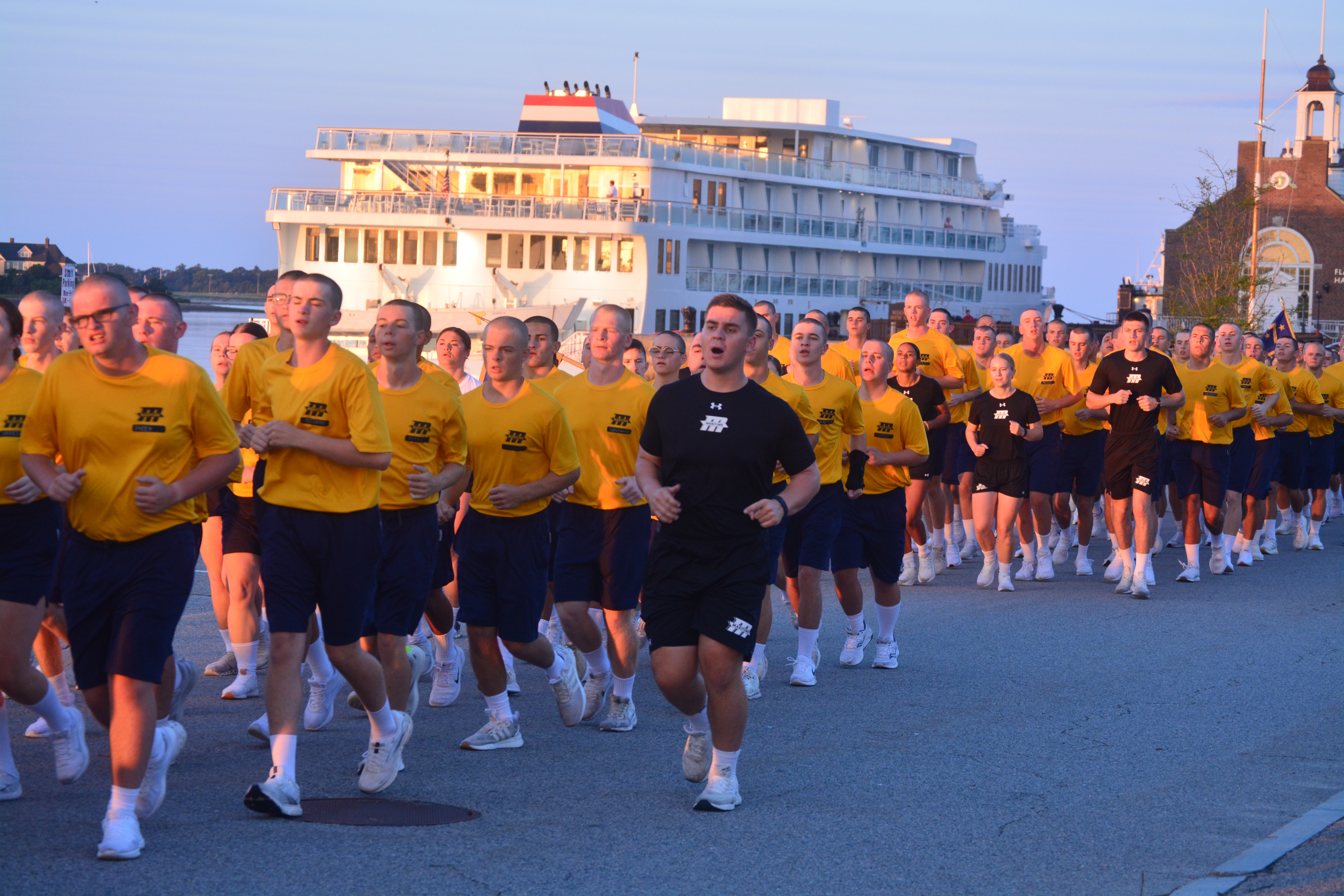 Morning run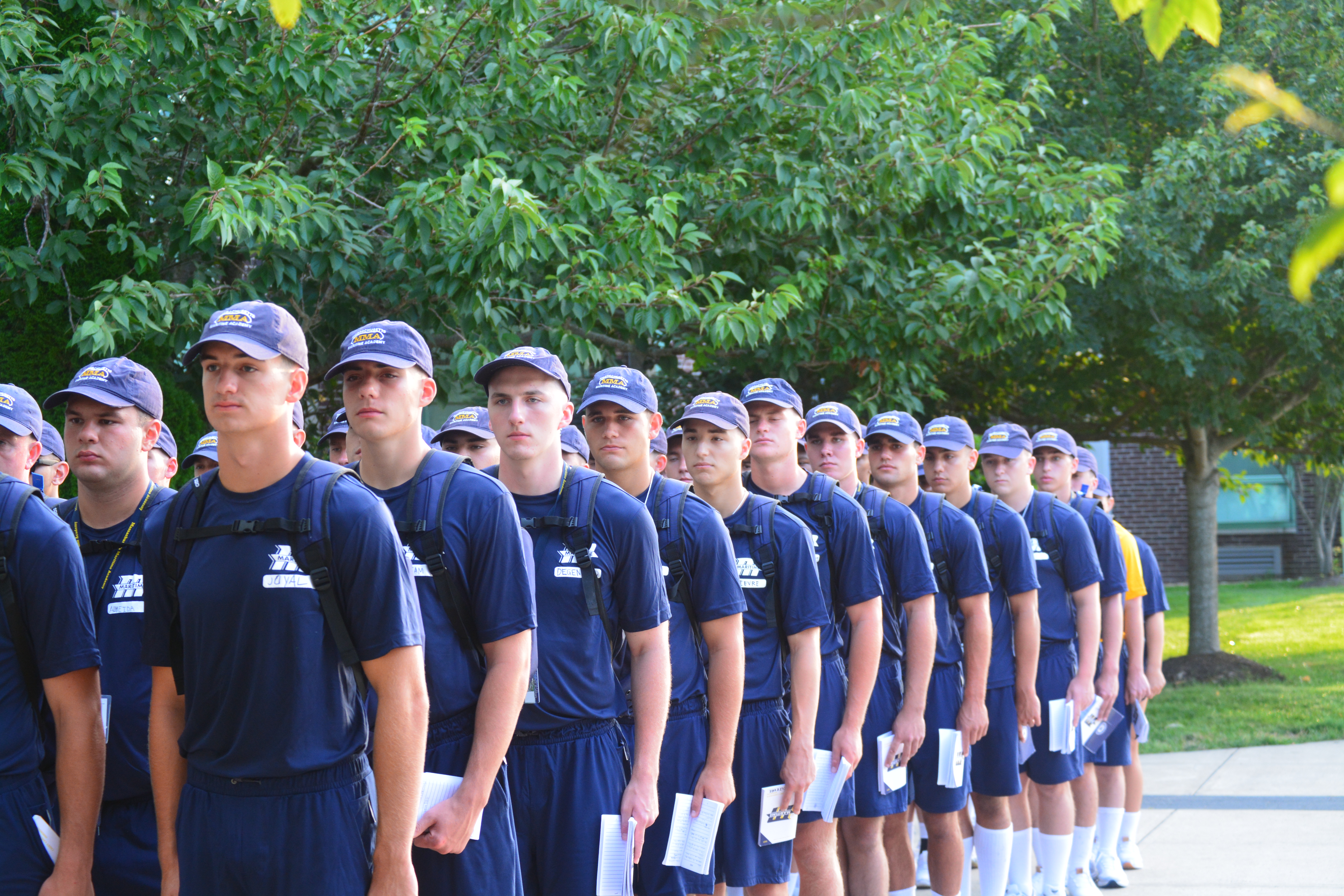 Lining up for breakfast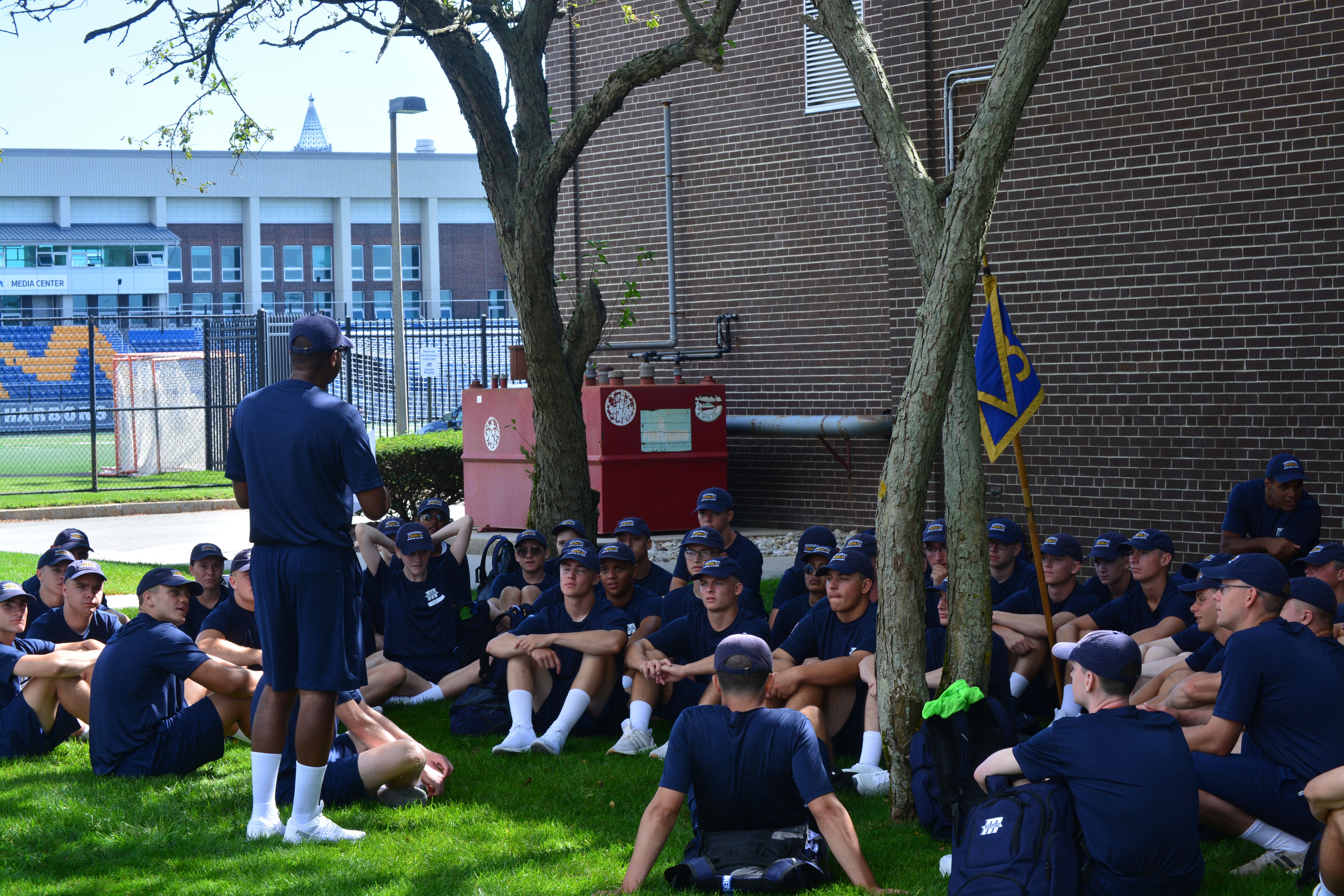 CCPL time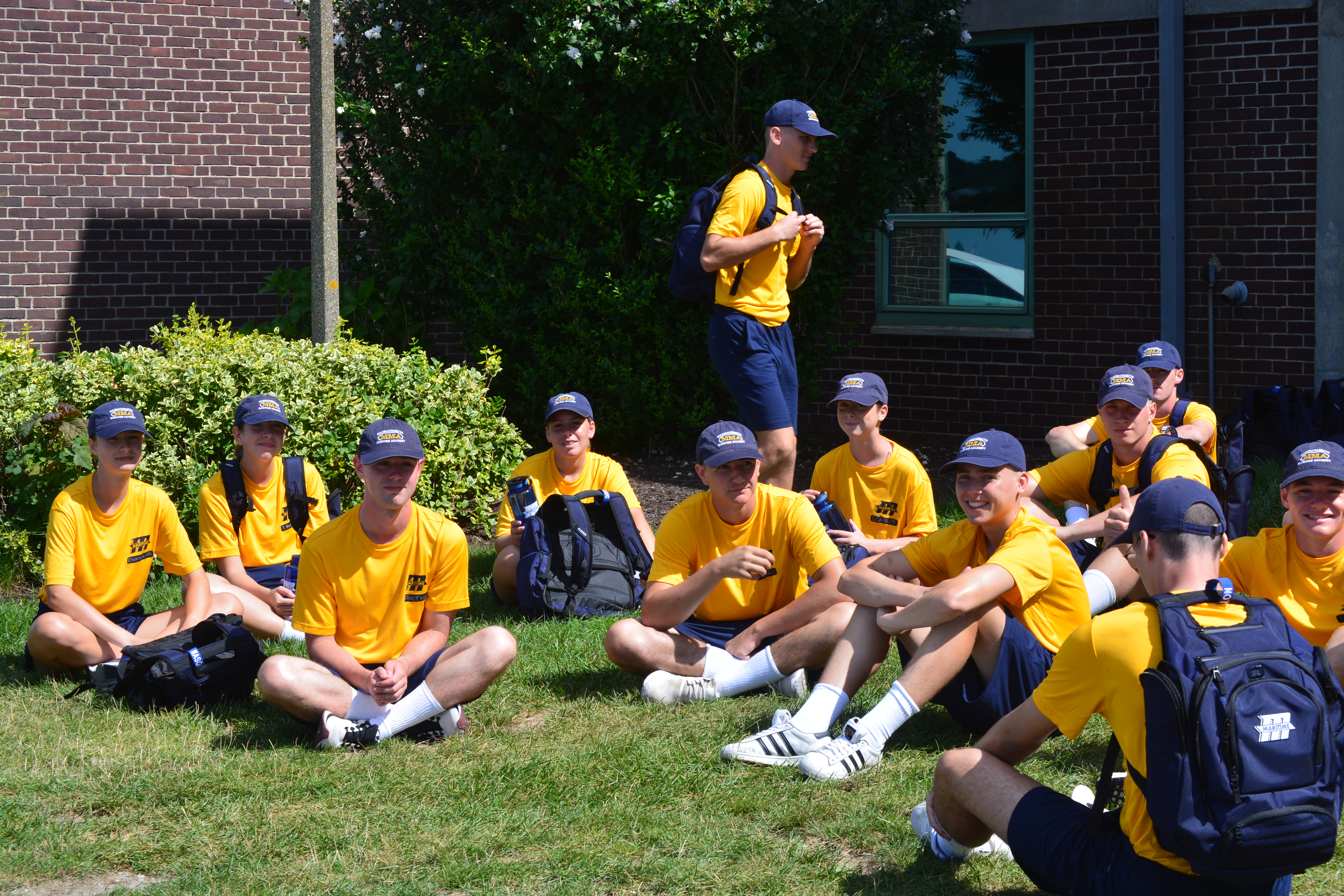 Sea Lab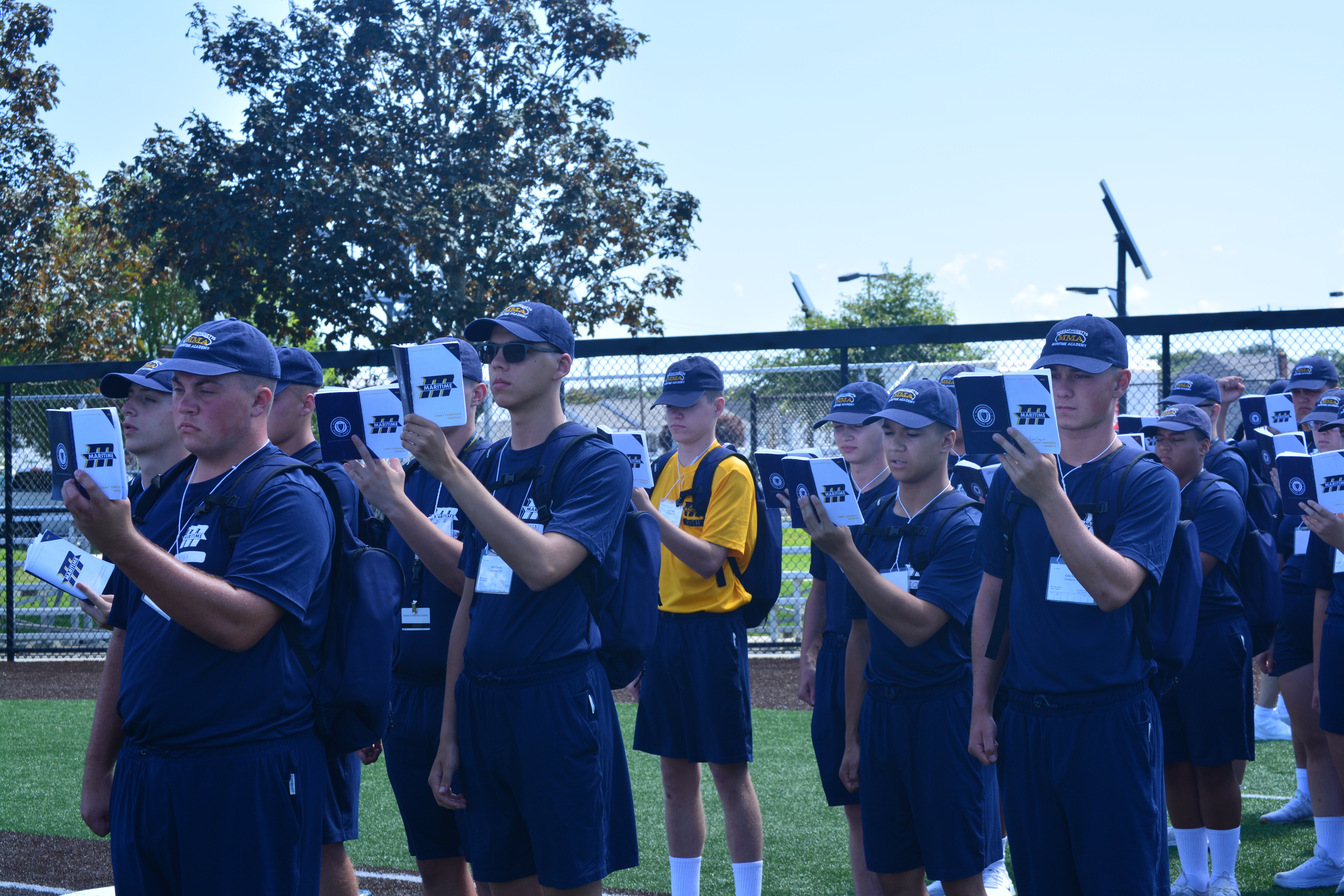 Studying youngie knowledge
Pool day
Marching with sea bags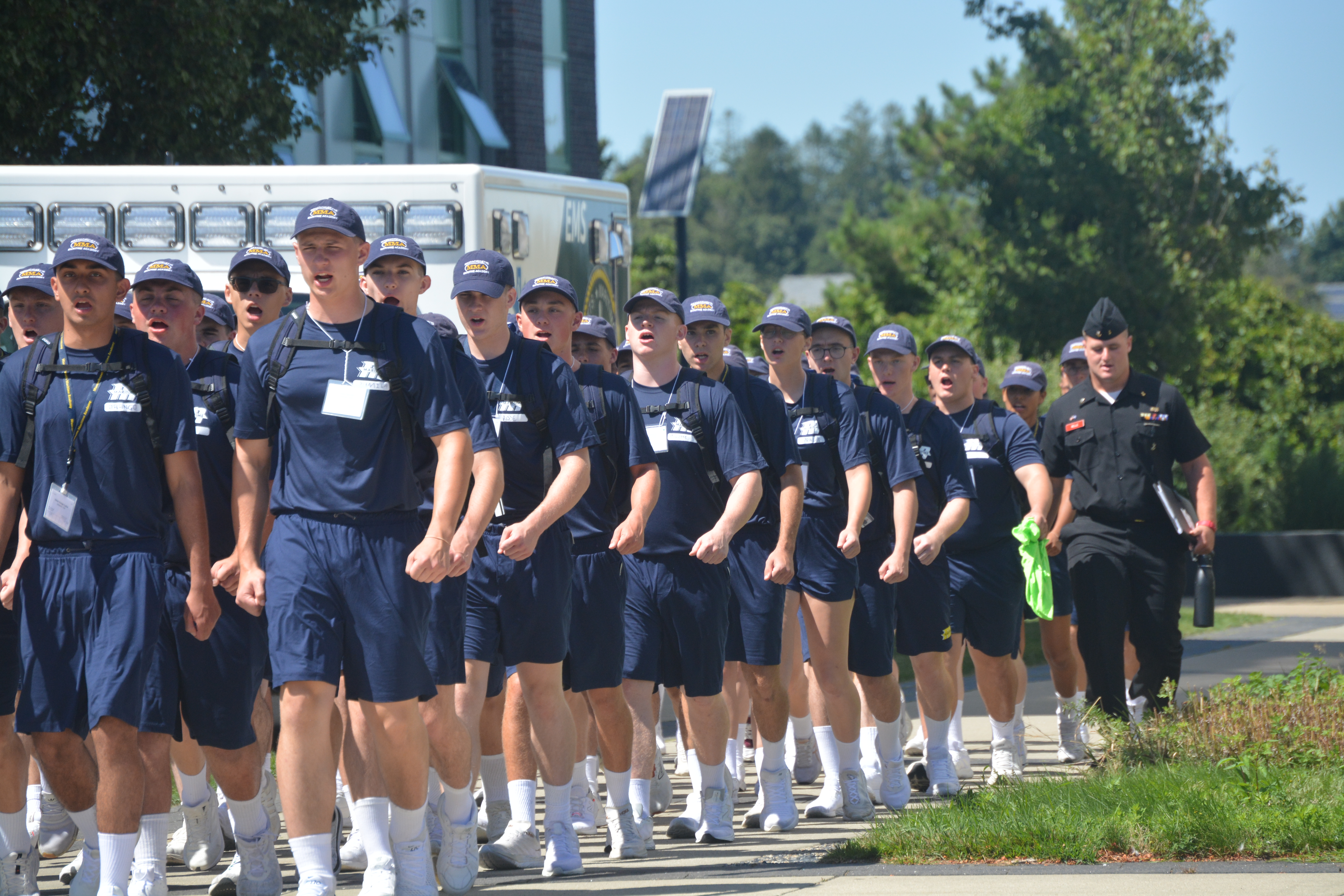 Marching with cadences
Trivia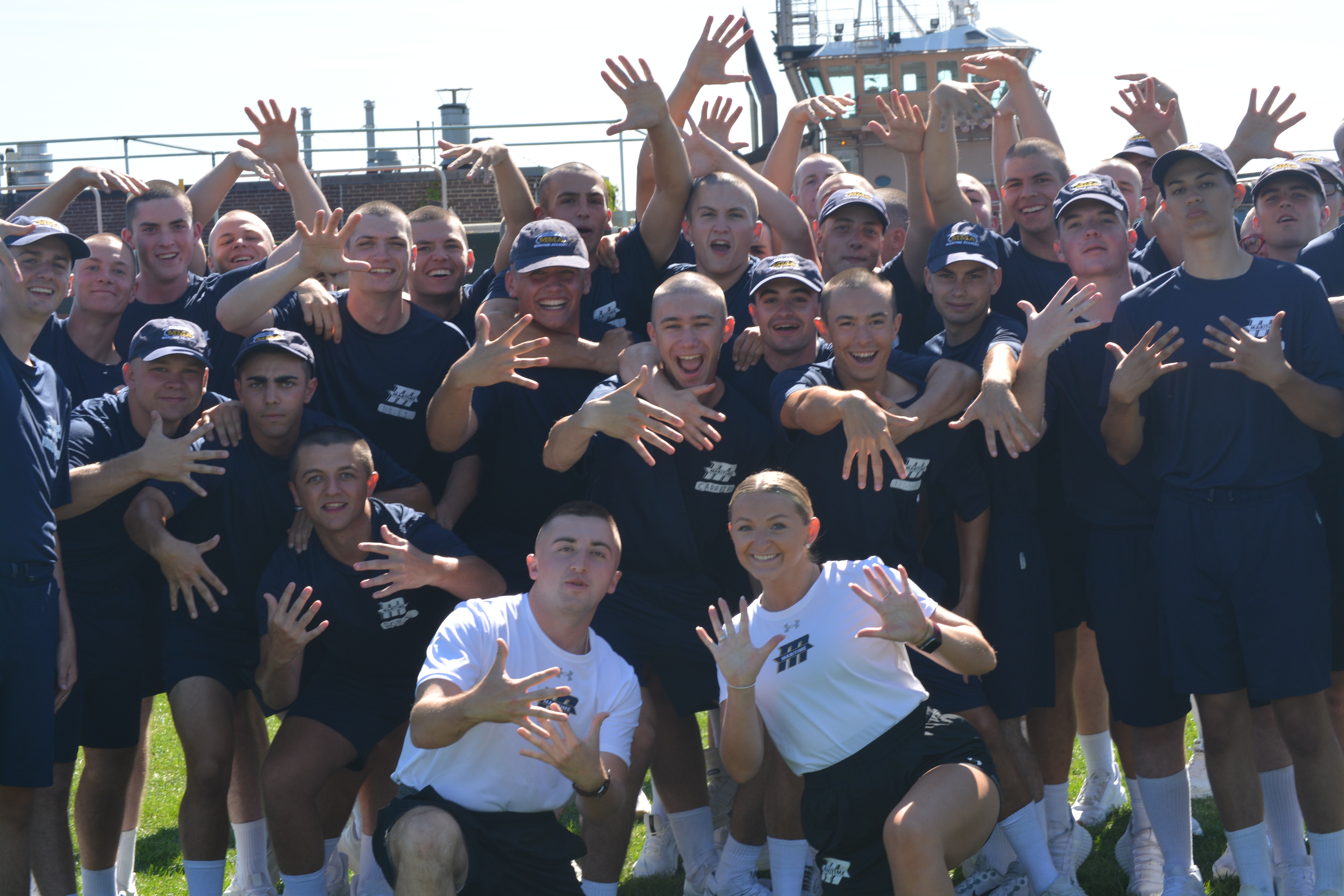 5th Co Intramurals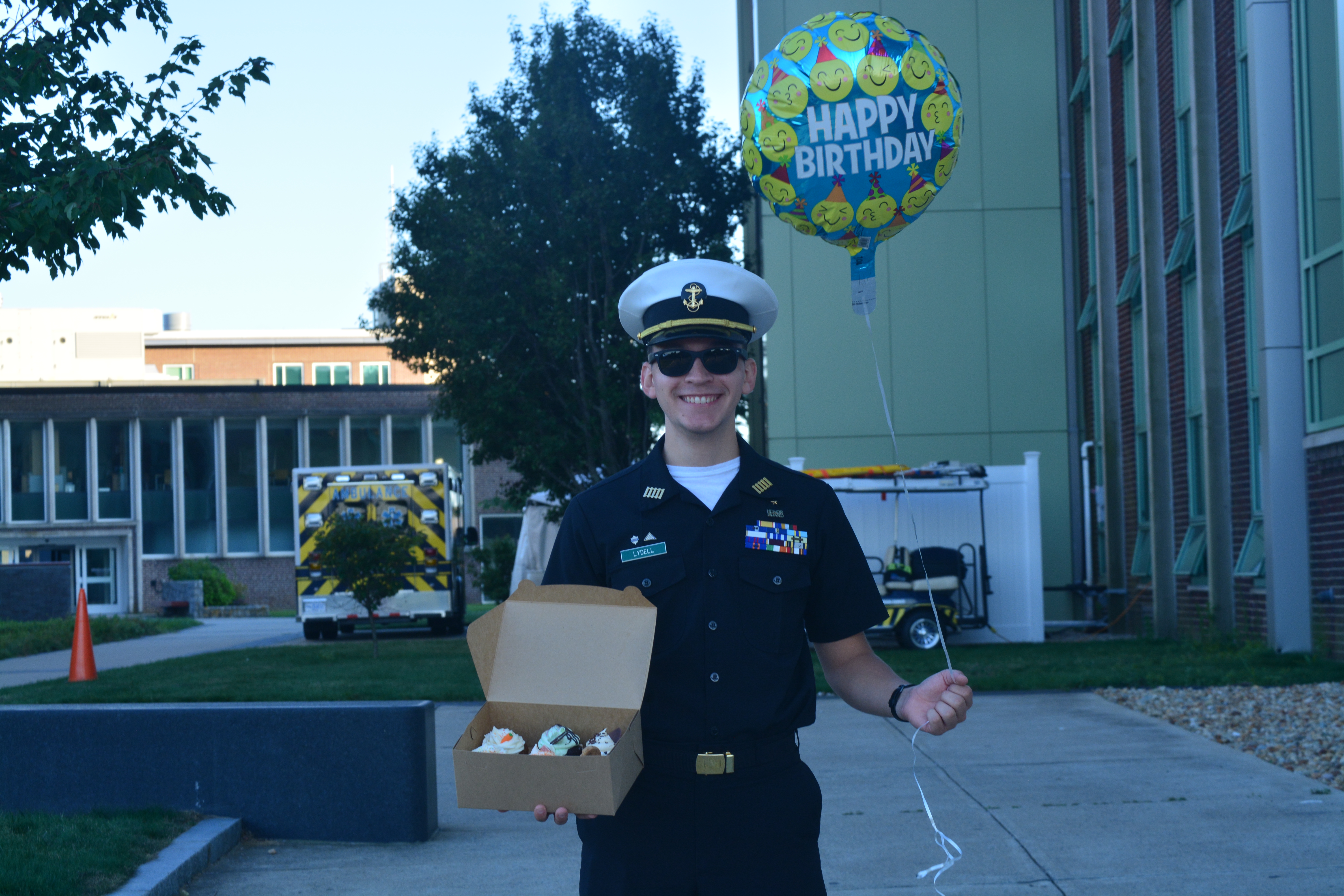 A very special birthday boy !