Good Evening All!
We're over halfway through Orientation, and today we enjoyed another day of beautiful weather. Even with some rain forecasted for tomorrow, nothing can temper these Cadet Candidates spirits! They are making incredible progress, and everyday they get closer to becoming fully recognized cadets at this academy.
Without further ado, here are your updates from our Company Commanders.
1ST COMPANY
Family and Friends of 1st Company,
We started our morning with PT on the football field, which consisted of field exercises today. This was the second day in a row we were the first company on the PT field. It is quite an accomplishment considering we are one of the farthest companies from the football field. 1st and 2nd Battalion alternate each day between a run around campus and various calisthenic exercises on the field. The youngies got super into the field exercises. When completing the situp portion, the C/Cs were instructed to interlock legs with the person next to them and complete the situps together. All partners did the sit ups together, and at the top would give each other high fives or words of encouragement. The morning consisted of drill and youngie knowledge studying, before moving into open lifeboat practice and intramurals in the afternoon.
Throughout orientation the Cadet Candidates are given multiple opportunities to lead their shipmates. We introduced the Cadet Candidate Platoon Leader position yesterday (CCPL). Each day the 1st Company Cadre will choose a youngie who goes above and beyond. The CCPL will then be given a window of time to speak with their shipmates and lead their platoon in a guided discussion on how to be better and motivate each other. The CCPL is given a colored pinnie to tie on their youngie pack to signify their achievement. Yesterday our first CCPL was awarded to C/C L. Lee. Ms. Lee has gone above and beyond her shipmates by excelling in youngie knowledge. She continues to uphold herself to the highest standards and that has stuck out to us. Congratulations Ms. Lee! Our CCPL for today was C/C Hill. Mr. Hill continues to better himself every day, and never loses motivation. He brings a high level of morale to the Company, and puts his shipmates before himself. Congratulations Mr. Hill!
A final position awarded to a Cadet Candidate is the guidon bearer position. Each Company possesses a guidon flag which is used in the Company wedge during formation and ceremonies. This position is given to a Cadet Candidate who has proved responsibility, pride, and ability to set an example for others. The Cadet Candidate who is awarded this position will be the permanent guidon bearer for the entire school year. The guidon bearer selected for 1st Company is C/C Scigliano. Mr. Scigliano has proved to the Cadre his desire to be at this Academy and the amount of pride he has for 1st Company. He is the loudest youngie and goes above and beyond to be the best version of himself. Congratulations Mr. Scigliano!
Very Respectfully,
1/C Jessica Hinds
1st Company Commander
2ND COMPANY
What a beautiful morning in Buzzards Bay. Second Company started the day off with a one mile cadence run around campus, which the C/Cs did fantastic on. After morning meal, Second Company headed to the pool for their STCW Cold Water Survival Training. Here they learned how to swim with and without a life jacket, flip over a capsized life raft, and how to embark and disembark a life raft safely. After their training was complete, the Cadet Candidates stayed at the pool where they defeated First Company in water polo! Second Company then enjoyed a delicious dinner and went to finish the day off with an Athletics presentation and a lecture on Training & Retention.
Very Respectfully,
1/C Matthew Barry
2nd Company Commander
3RD COMPANY
Today the Cadet Candidates participated in a motivating PT session on the football field. After breakfast, the Cadet Candidates went to firefighting training in Bridgewater where they learned fire suppression tactics and the various equipment used for it. They went through several evolutions of fire training and learned to work together as a team. It was beneficial for the Cadet Candidates to get off of campus for a bit. When the Cadet Candidates returned to campus, they participated in a dodgeball game against 4th company and unfortunately lost 3-1. The night ended with an athletics presentation and a training and retention presentation.
Very Respectfully,
1/C Sophie Strano
3rd Company Commander
4TH COMPANY
The Cadet Candidates began the day with PT once again, with today being focused on endurance training. The Squad Leaders led 4th Company on a run around the MMA campus, as the Cadet Candidates recited cadences. From there, the Cadet Candidates had Morning Formation followed by MMA ID pictures in their "At Sea" uniforms. Cadet Candidates also began learning from their Squad Leaders about the proper ways to keep their uniforms and their rooms, how to iron, and other basic tasks required of every Cadet at MMA.
After lunch, the Cadet Candidates were introduced to 4th Company Officer LT. Jordan, who had many words of encouragement and motivation for them. Lt. Jordan has a long and storied history at MMA, and has led 3 different companies over his time at the Academy.
The Cadet Candidates had Academic Planning as well, where they worked with Academy staff to begin constructing their schedule for the Fall Semester and planning out their courses for their time at MMA. From there, 4th Company picked up another dodgeball win, this time defeating 3rd Company.
Very Respectfully,
1/C Jack Mulligan
4th Company Commander
5TH COMPANY
Good Evening 5th,
Per usual the day started off with an 0530 wake up followed by physical training. Today the cadet candidates participated in stations, each containing a different workout (push-ups, burpees, sit ups, etc.). After heading to breakfast the company took part in morning formation and were quickly rushed back to the dorms to change into their "at-sea" uniform for pictures later on in the day.
The cadet candidates were able to tidy up some of their knowledge with proper drill training and youngie knowledge quizzing in the after noon.
The evening consisted of a very motivating game of ultimate frisbee against 6th company. After the cadet candidates were sent to shower and their evening meal, the day concluded with lectures by Coach Kelly and 1/C Gubert where they leathered more about athletics and training and retention. As always the day concluded with Taps.
Thank you for following along, as always please contact me with any questions.
Very Respectfully,
1/C Michael Riehl
5th Company Commander
6TH COMPANY
Good evening, Today 6th company began the day with a cadenced run. The Candidates were especially quiet this morning. I believe this was due to fatigue setting in. The Squad Leaders did their best to motivate them with their cadences, however they remained pretty quiet and it was difficult to get the energy up. Following PT the candidates had a shower and recovery with some breakfast.
Today 6th Company had firefighting training. Here they learn how to use and wear certain PPE. They also learn the different types of fires, and how to distinguish them. For example, a Class C fire is an electrical fire. You cannot distinguish a Class C fire with water, as a matter of fact the fire will become more aggressive and spread. Instead, a chemical powder is used to distinguish the fire. The candidates learned how to correctly operate the fire hoses at the academy with different nozzles which for different types of situations. This is a group effort usually with 5-6 candidates as the fire houses are incredibly heavy and powerful. CC Croft learned how to use the oxygen tank and mask effectively in the presence of smoke and did a very good job in doing do. The firefighters applauded our Cadet Candidates for their respect as we left Bridgewater.
We had a very good battle with 5th Company in ultimate frisbee today. There were many lead changes, but 6th Company got the victory in a 8-7 win at the last second. The game winning pass was caught by myself off a beautiful throw from CC McQueen into the end zone. The Candidates surrounded one another and chanted with excitement as we improved our record to 3-0.
Everything in life has trade offs. Today, ours was patio. The CC's had undoubtedly the worst patio of the week at evening meal. They struggled with the Steam Cycle, and also sir'ed a woman when she asked a question, which the Regimental staff was not happy about. They did have firefighting today, so there was not ample time to study, but we stressed the importance of remaining consistent and moving on to the next time we have patio. We will see if we can bounce back from our sub par performance tomorrow at noon meal. After evening meal, the CC's had an Athletic Presentation as well as a Training and Retention meeting.
The leadership traits of the day were Character/Integrity. Integrity and character are the cornerstones of an individuals moral compass. It's not just about doing the right thing when others are watching, but maintaining that ethical resolve when no one is around to witness. My goal is not only to form these CC's into good Cadets, but also good people. They have already convinced me they have it within themselves, as they have proven they can help each other, work together, and place their differences aside to accomplish a common goal. This is a skill which has been lost with time, however those who truly know the value will still prevail. In closing, "character is like a tree and reputation like its shadow. The shadow is what we think of it; the tree is the real thing"- Abraham Lincoln
Very respectfully,
1/C Michael Nogueira
6th Company Commander
7TH COMPANY
Today the cadet candidates went to Great Herring Pond to participate in Pond Day. They were authorized to relax from the regiment and have fun while still working as teams and small groups to row and sail around the pond. CDR Klimm organized a few races between the different groups and cadet candidates were very motivated and competitive. Pond Day is usually a morale booster because it allows them to get to know each other which helps with team building and motivation. Each day the cadet candidates are getting better and even more excited for what's to come.
Very Respectfully,
1/C Luke Dawson,
7th Company Commander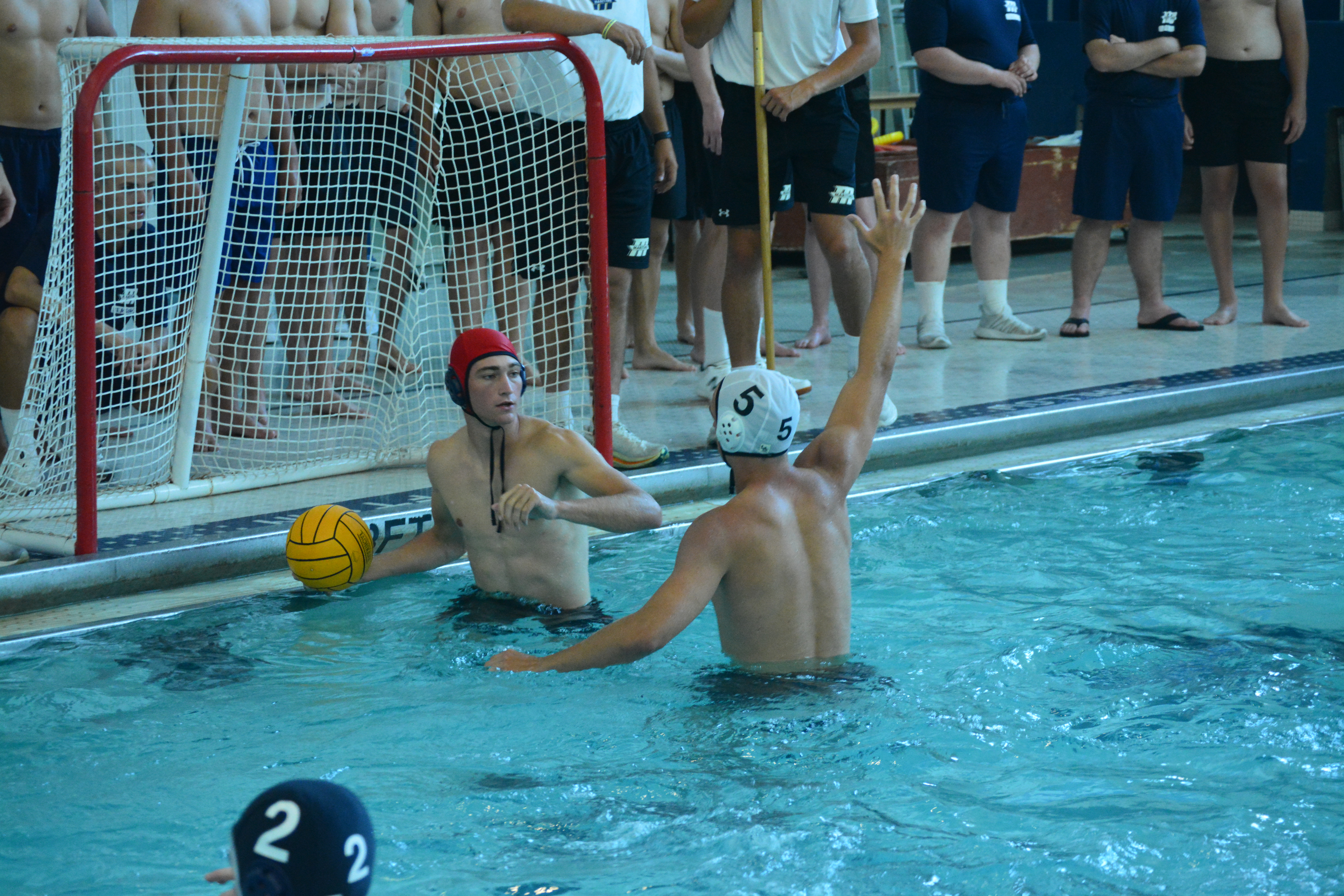 A heated match of water polo!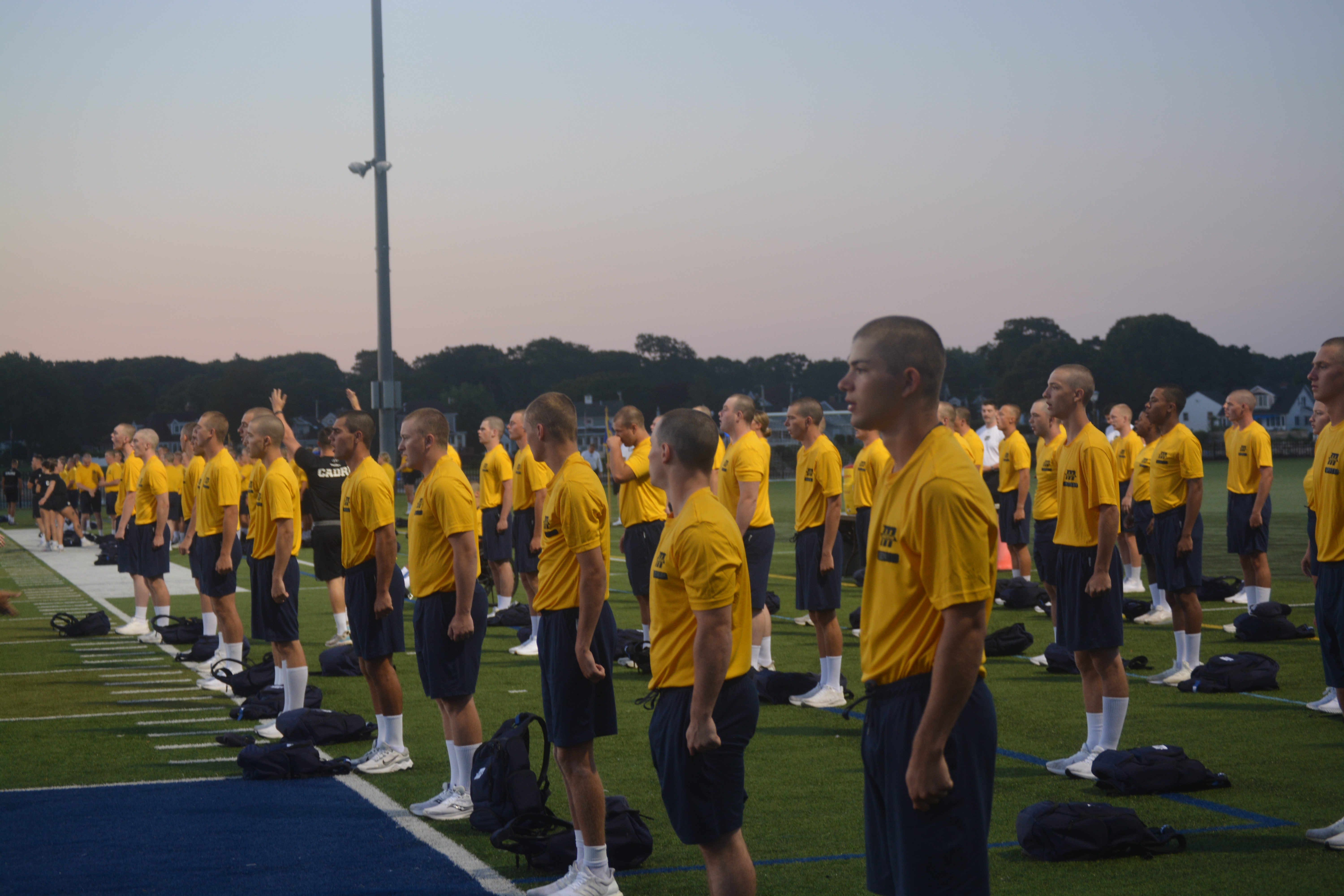 Morning PT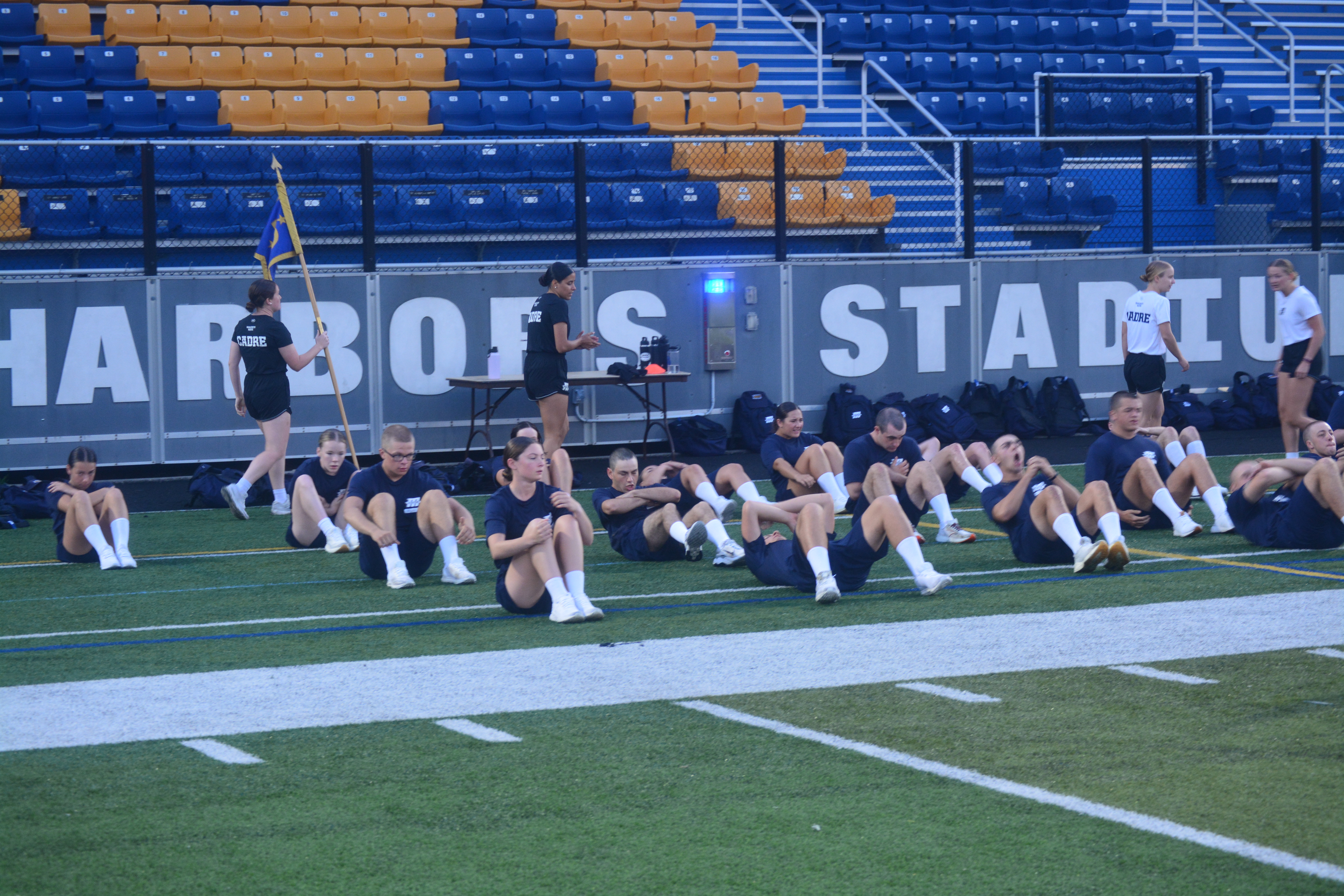 Sit-ups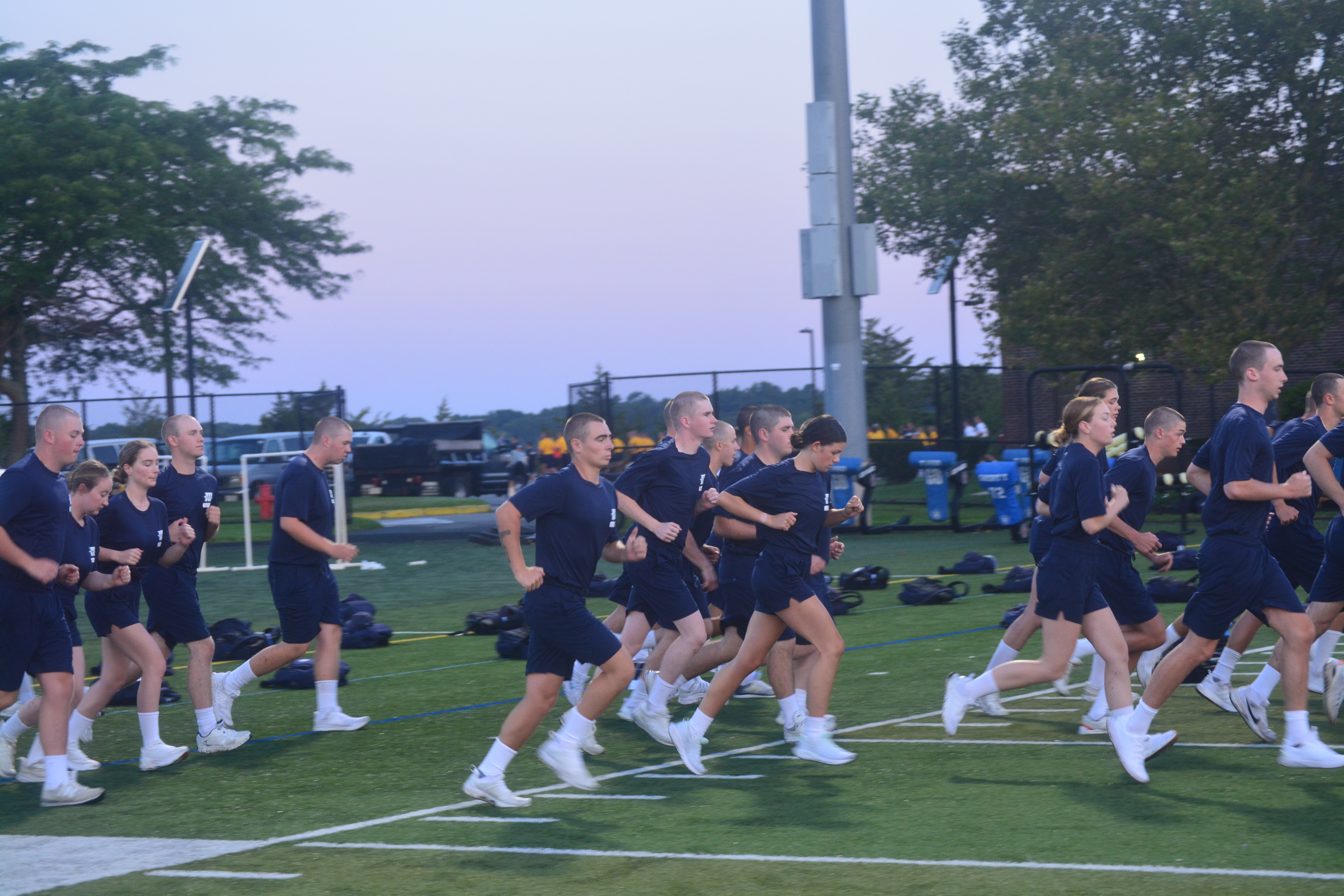 Running between stations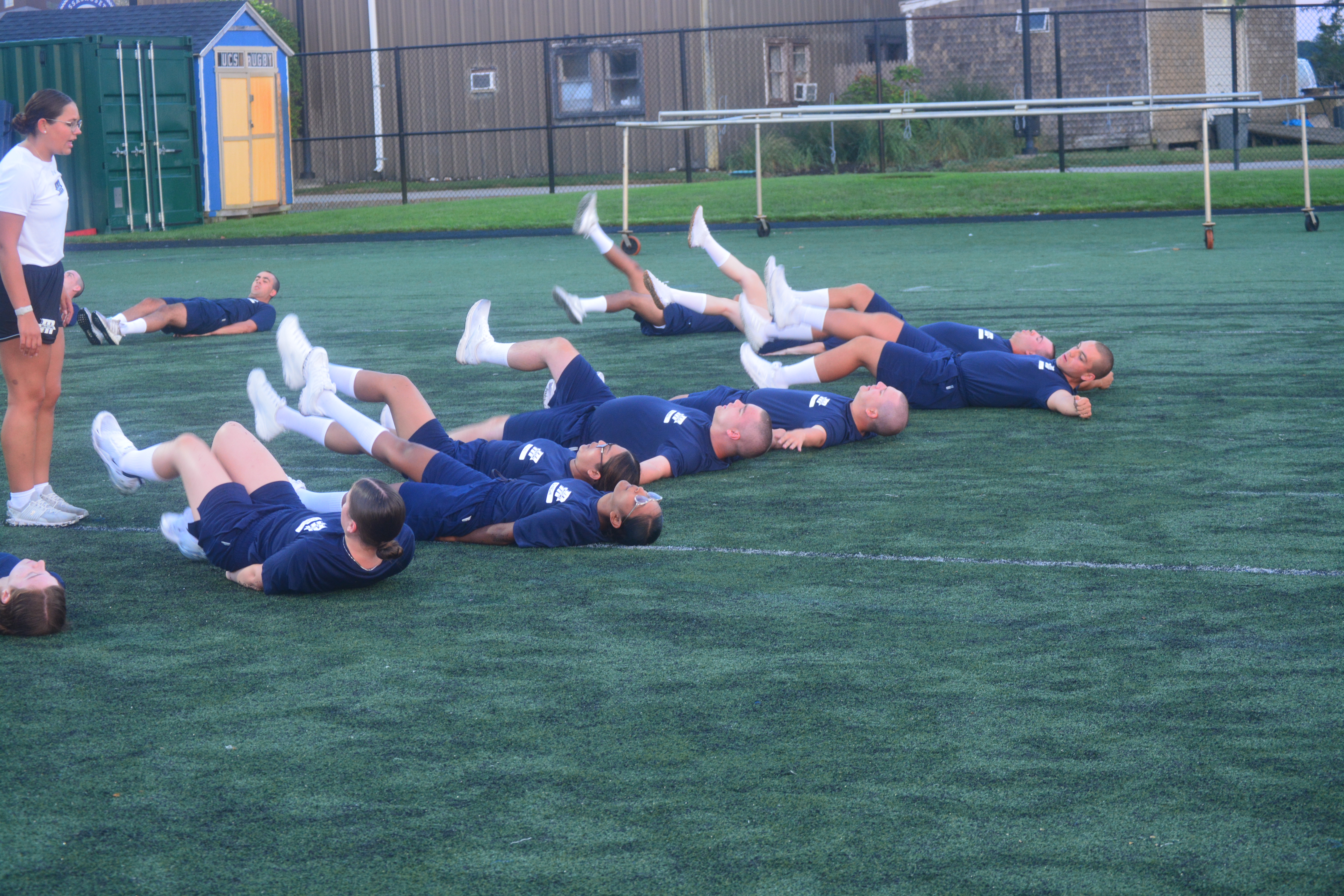 Butterfly kicks
Morning run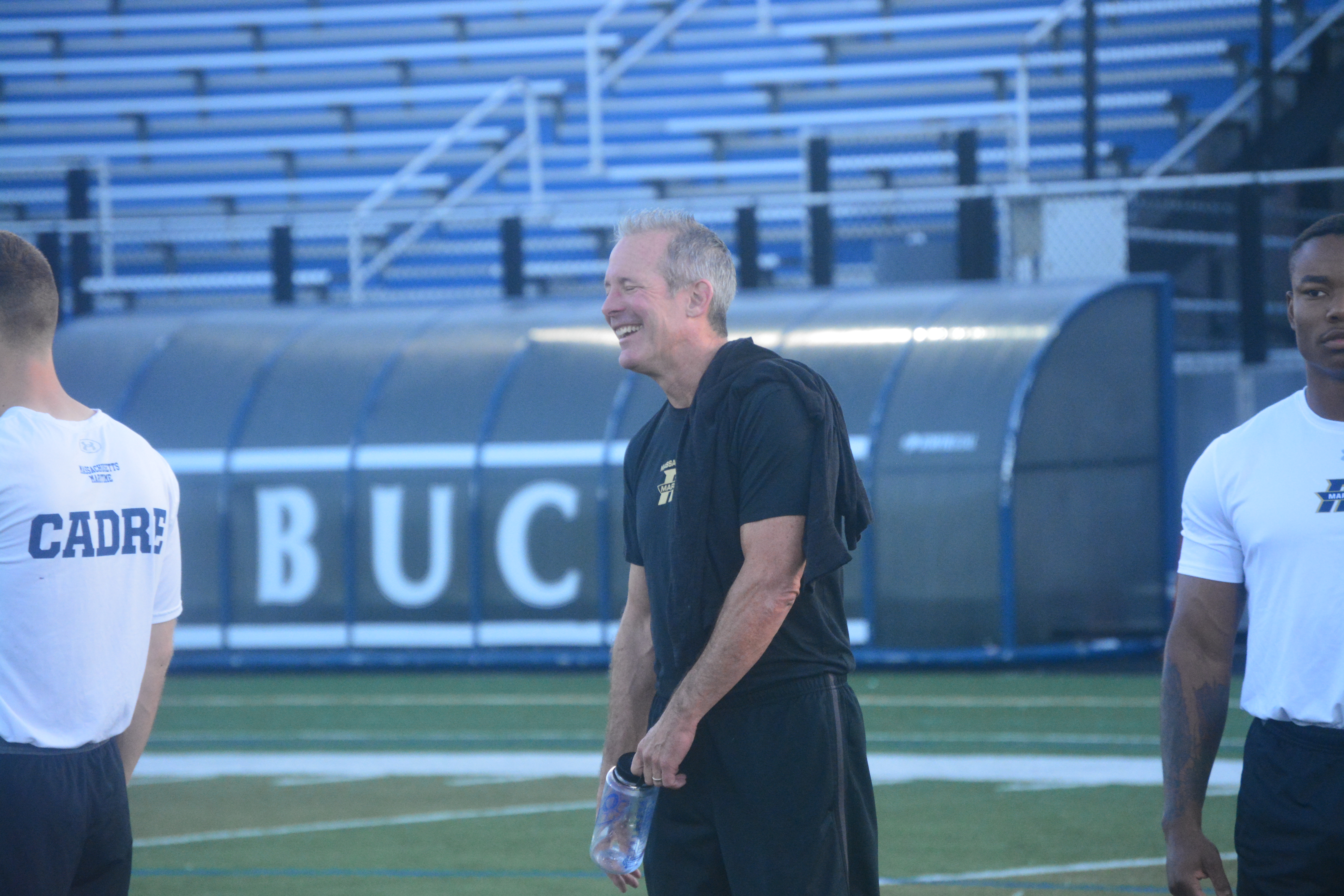 Rear Admiral McDonald joins us for PT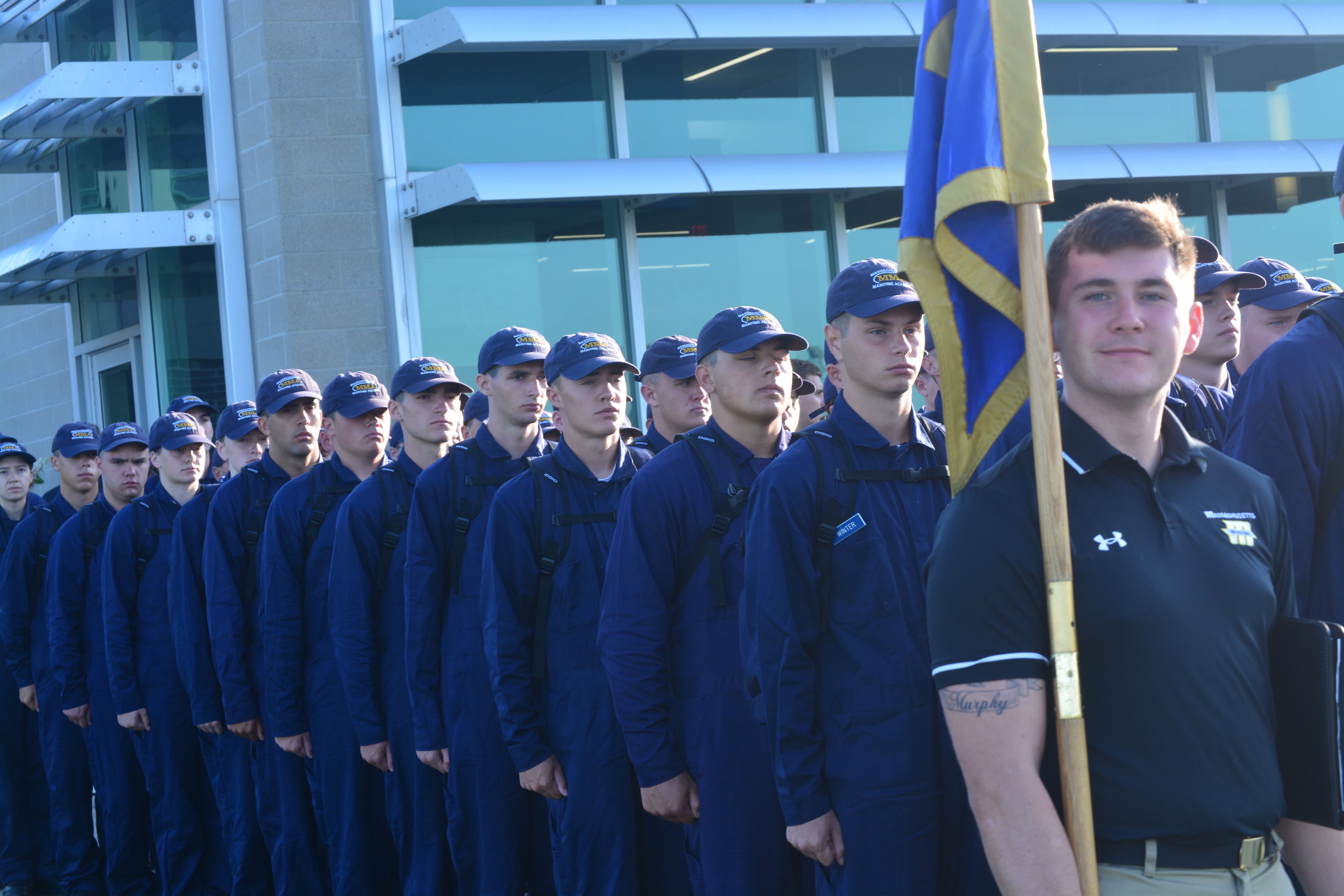 3rd Co lined up for firefighting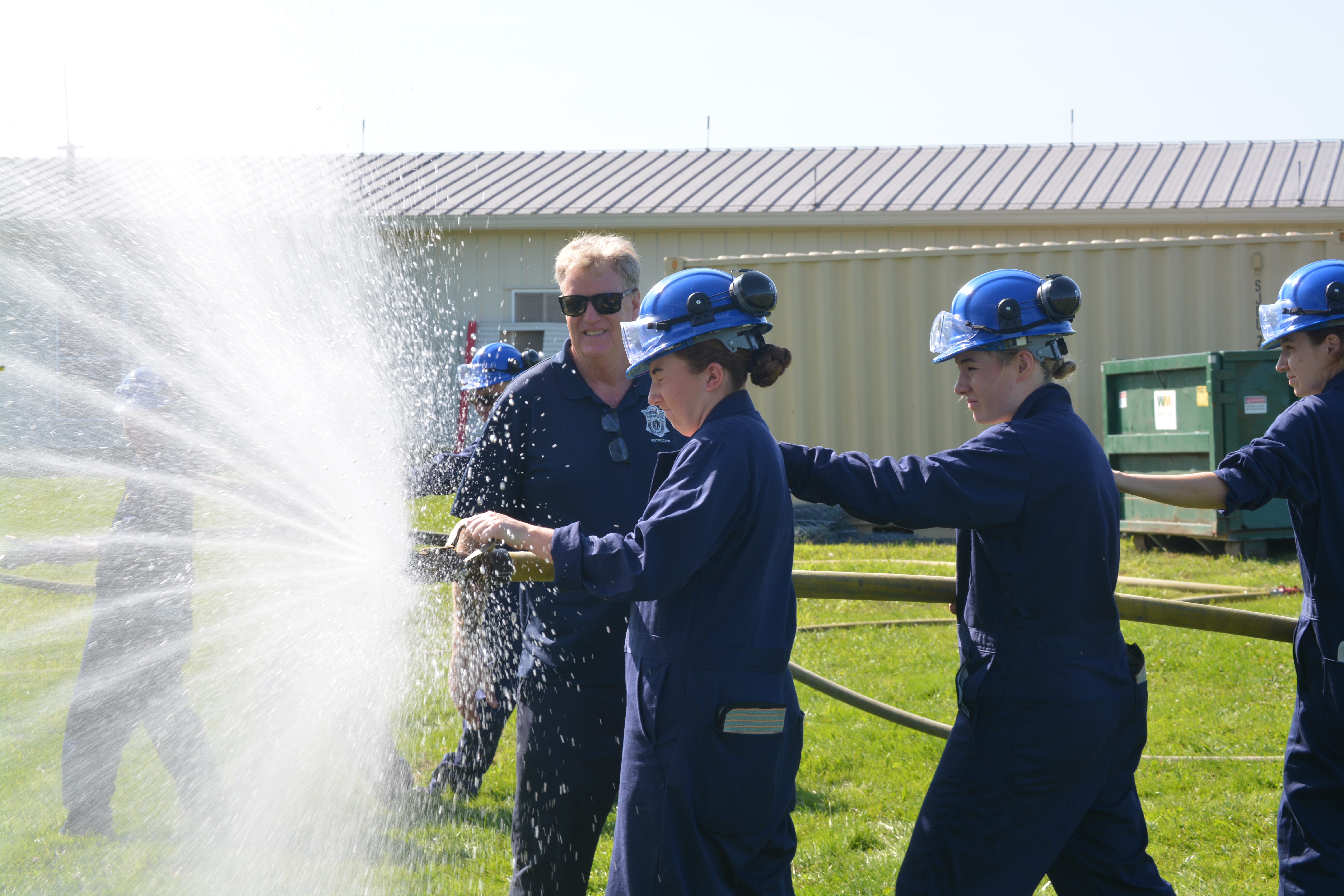 Firefighting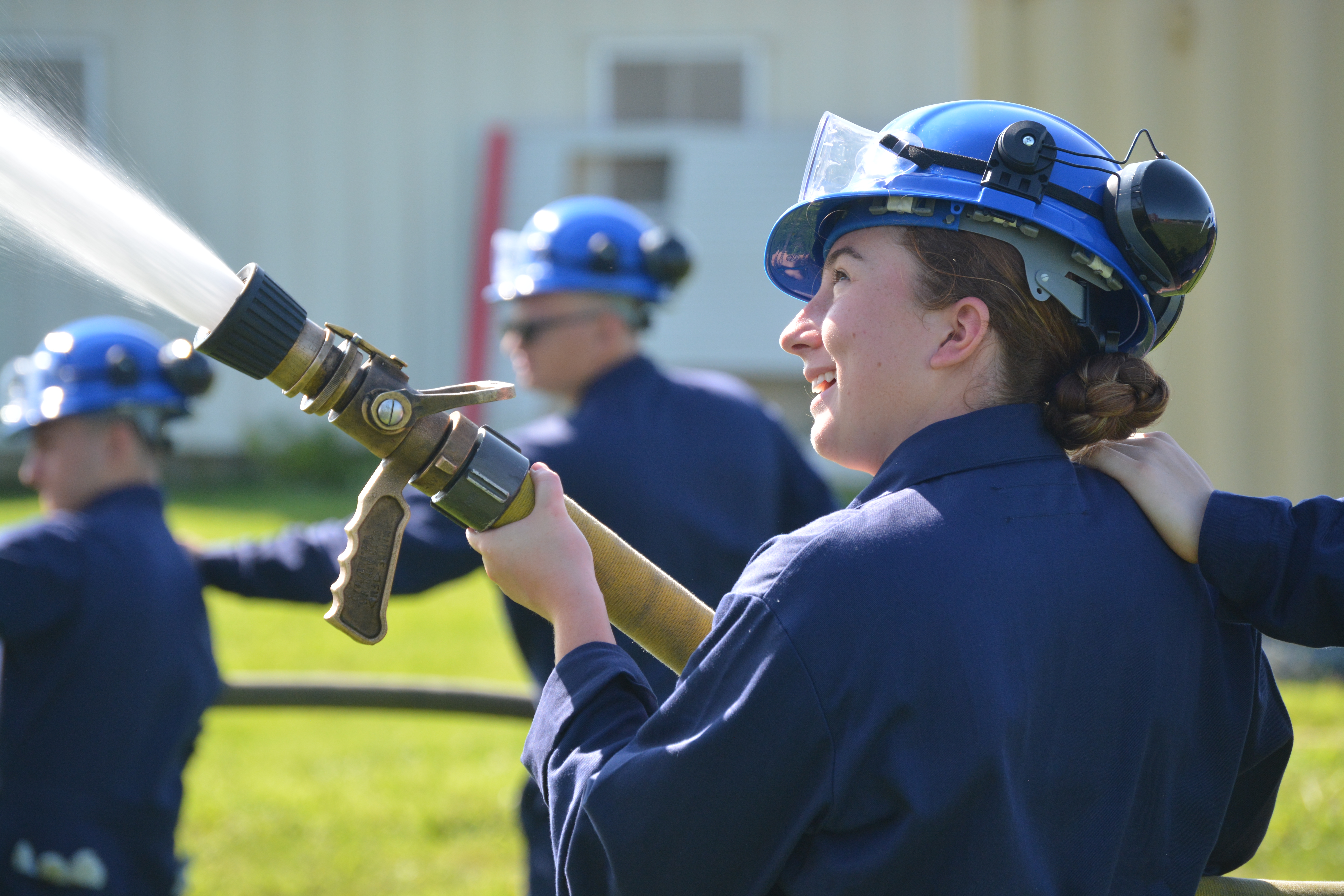 Having some fun here!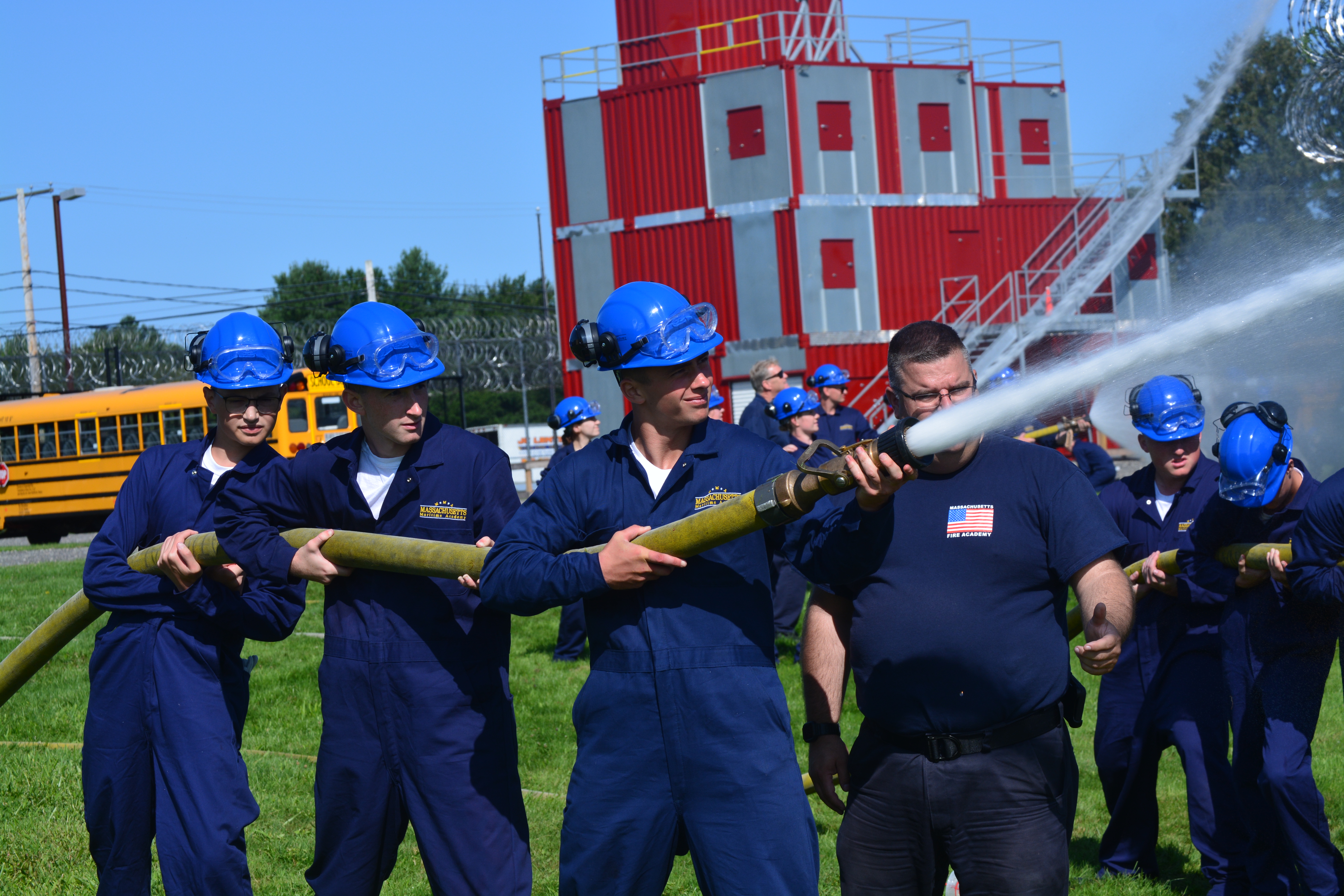 Supporting each other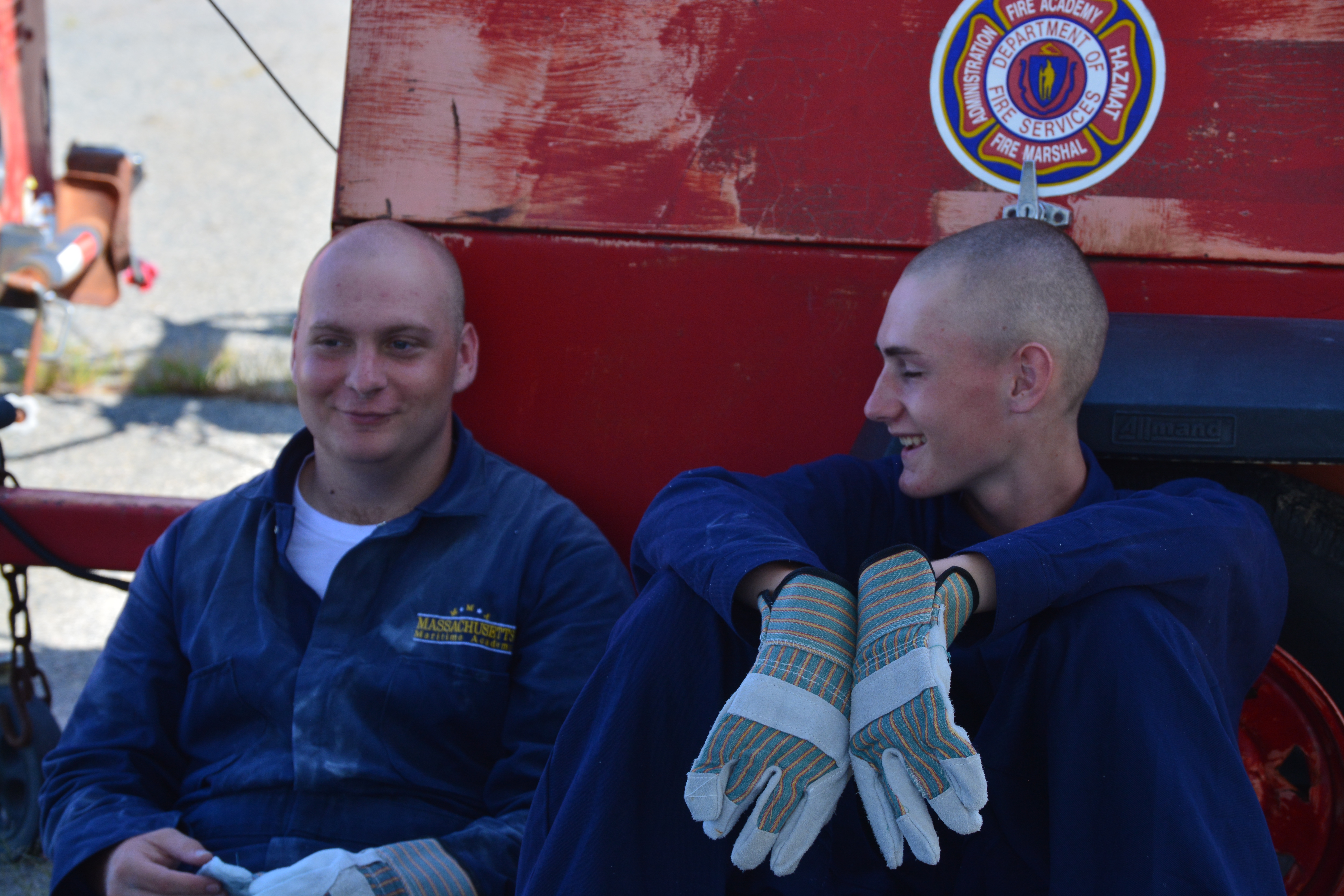 Taking a break in the shade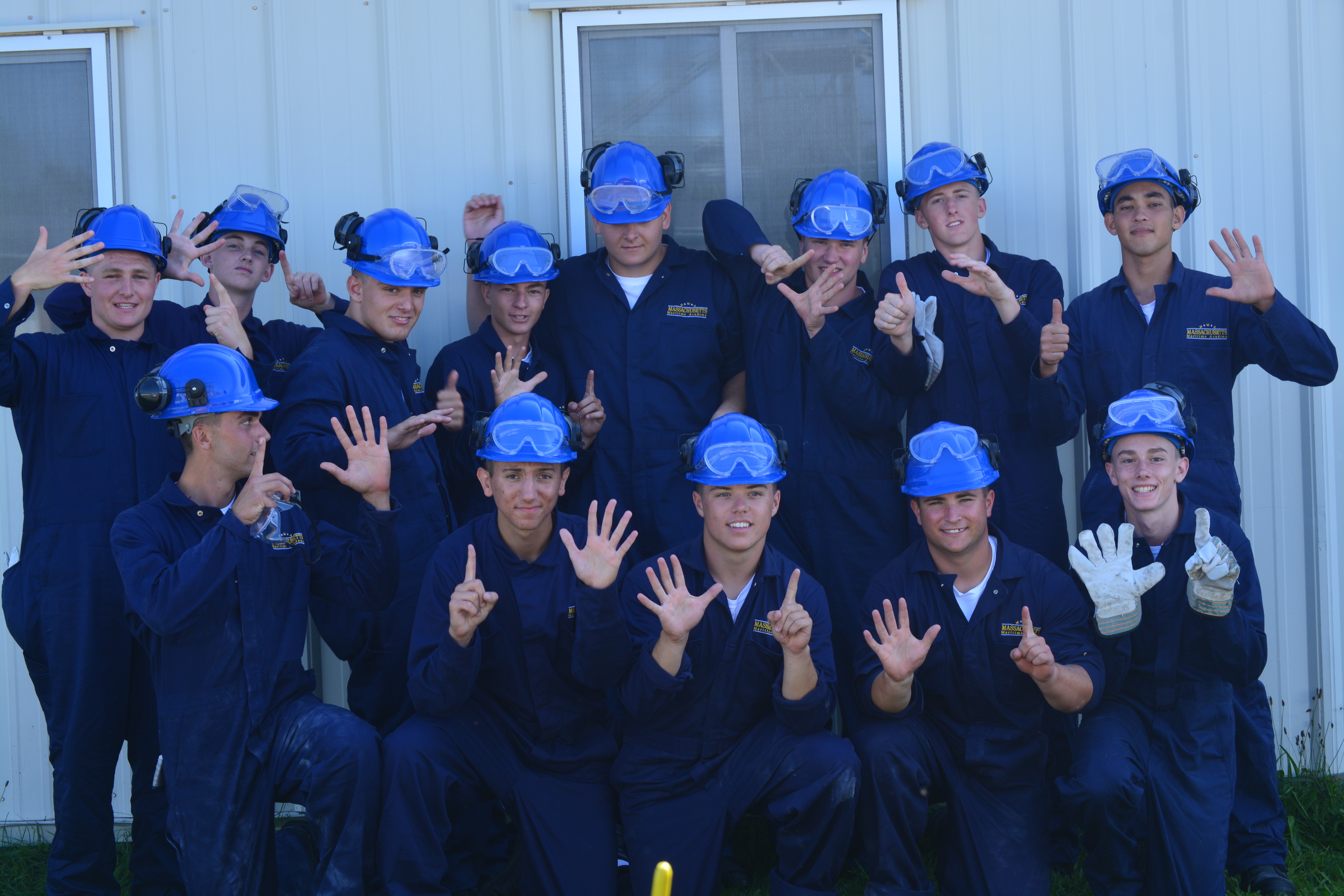 6th Co at firefighting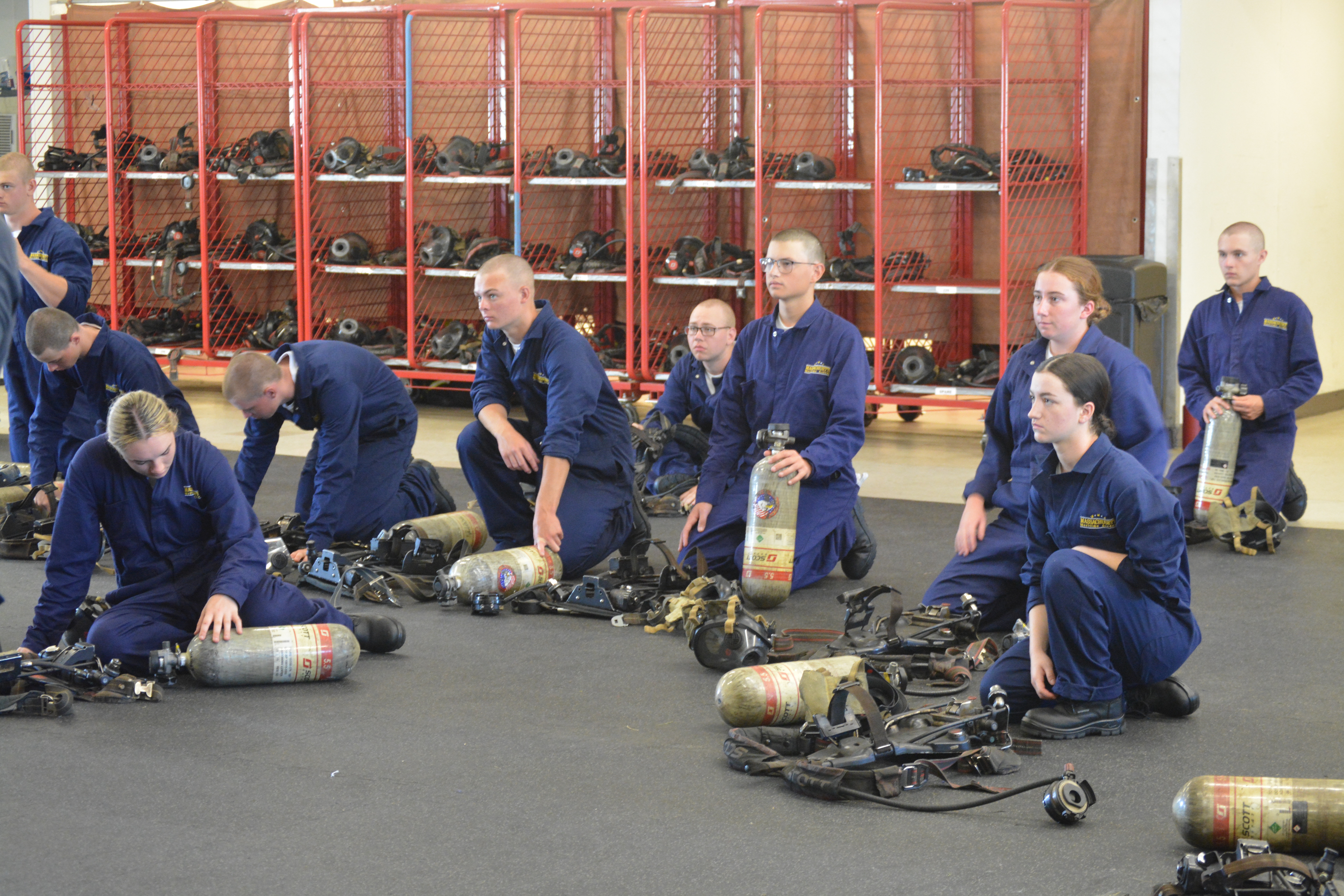 Learning how to use SCBA gear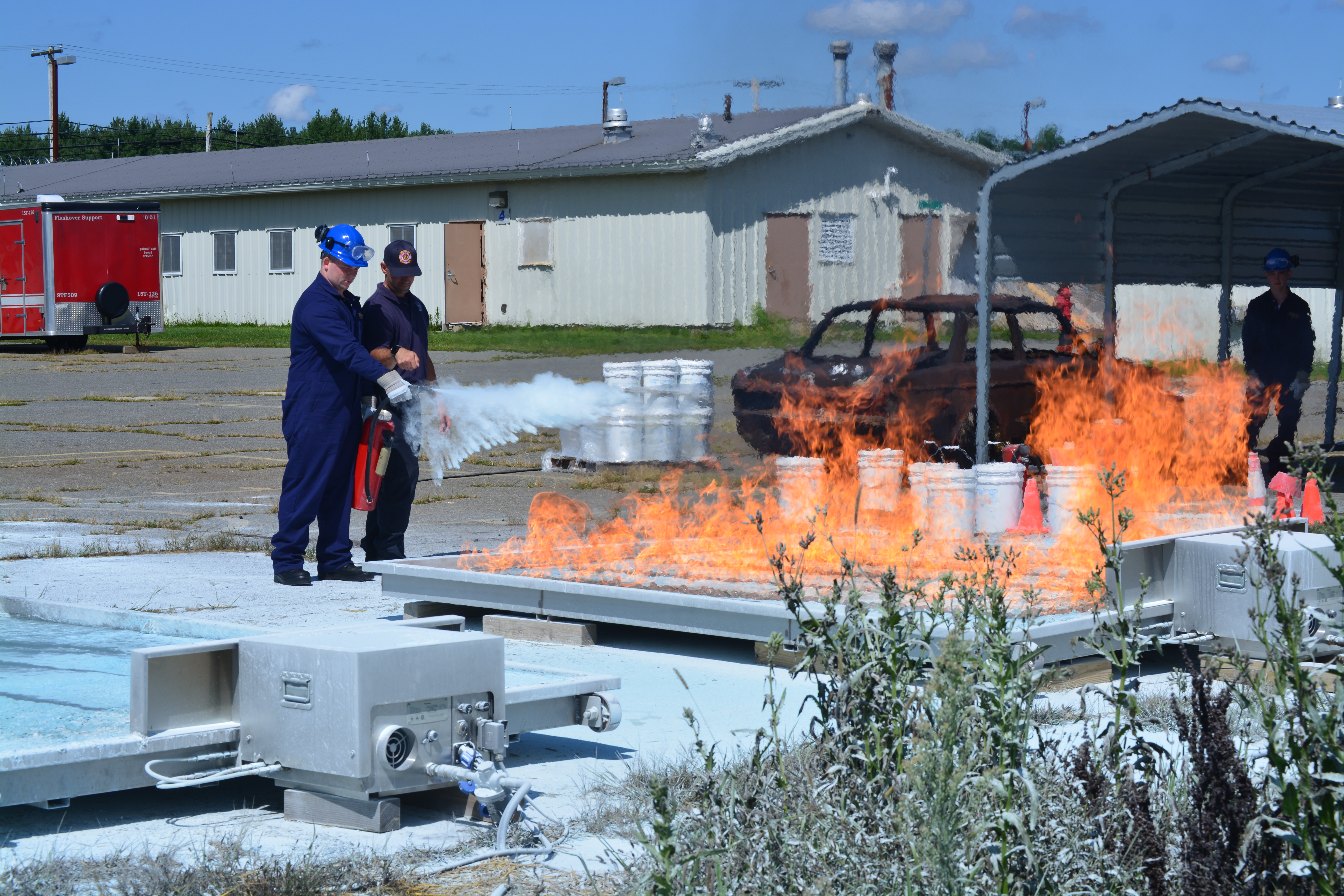 Using the fire extinguishers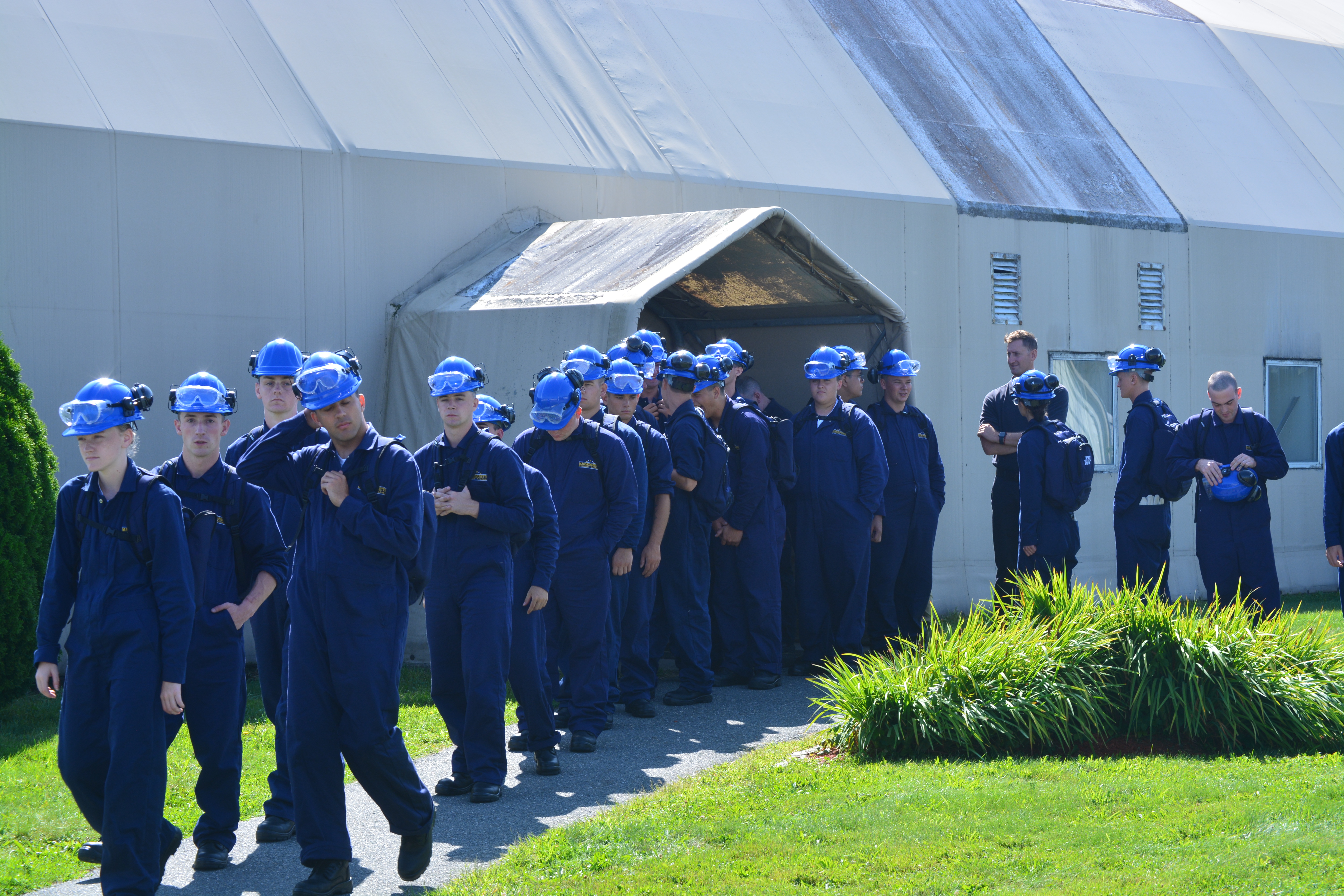 More firefighting training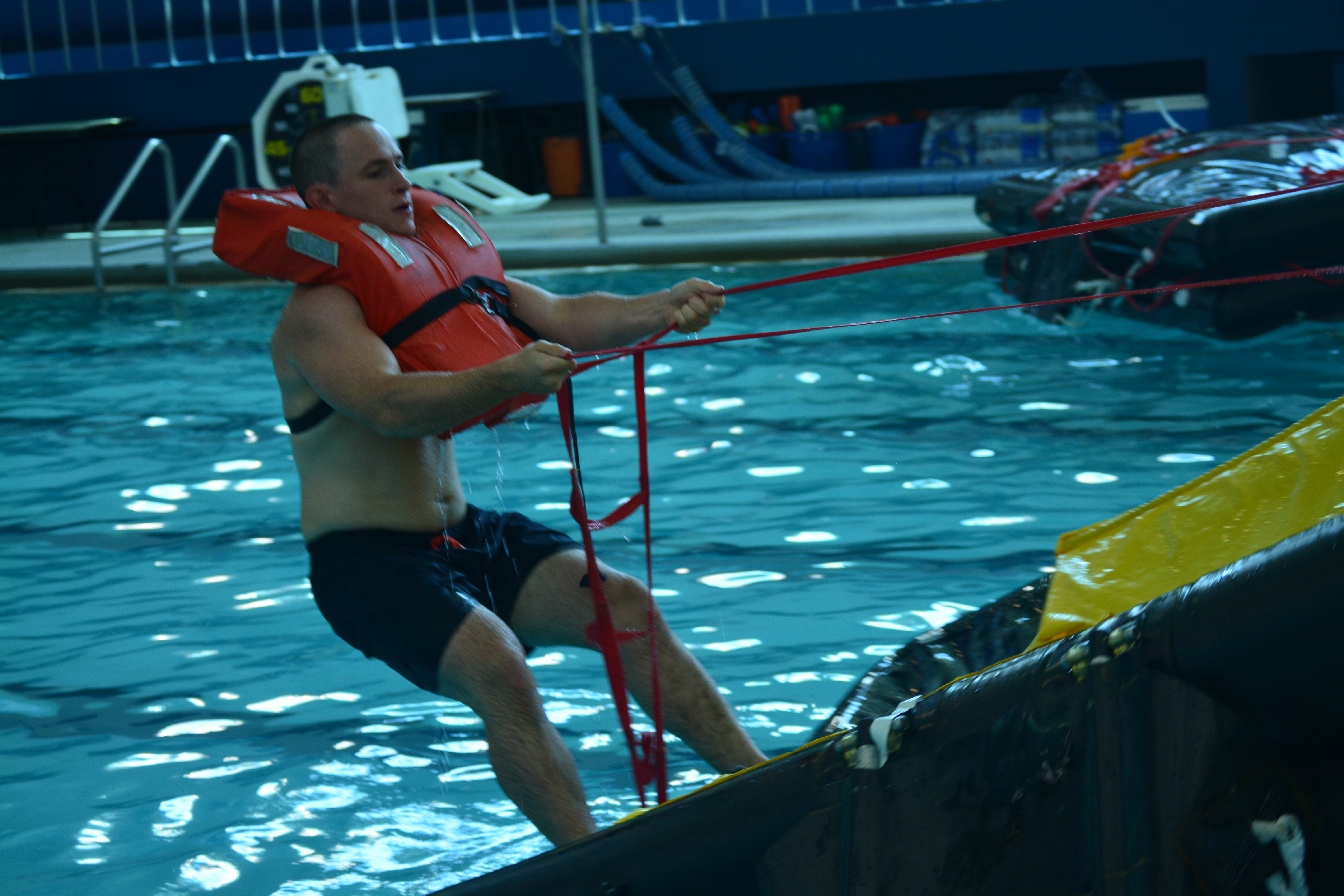 Learning how to flip a liferaft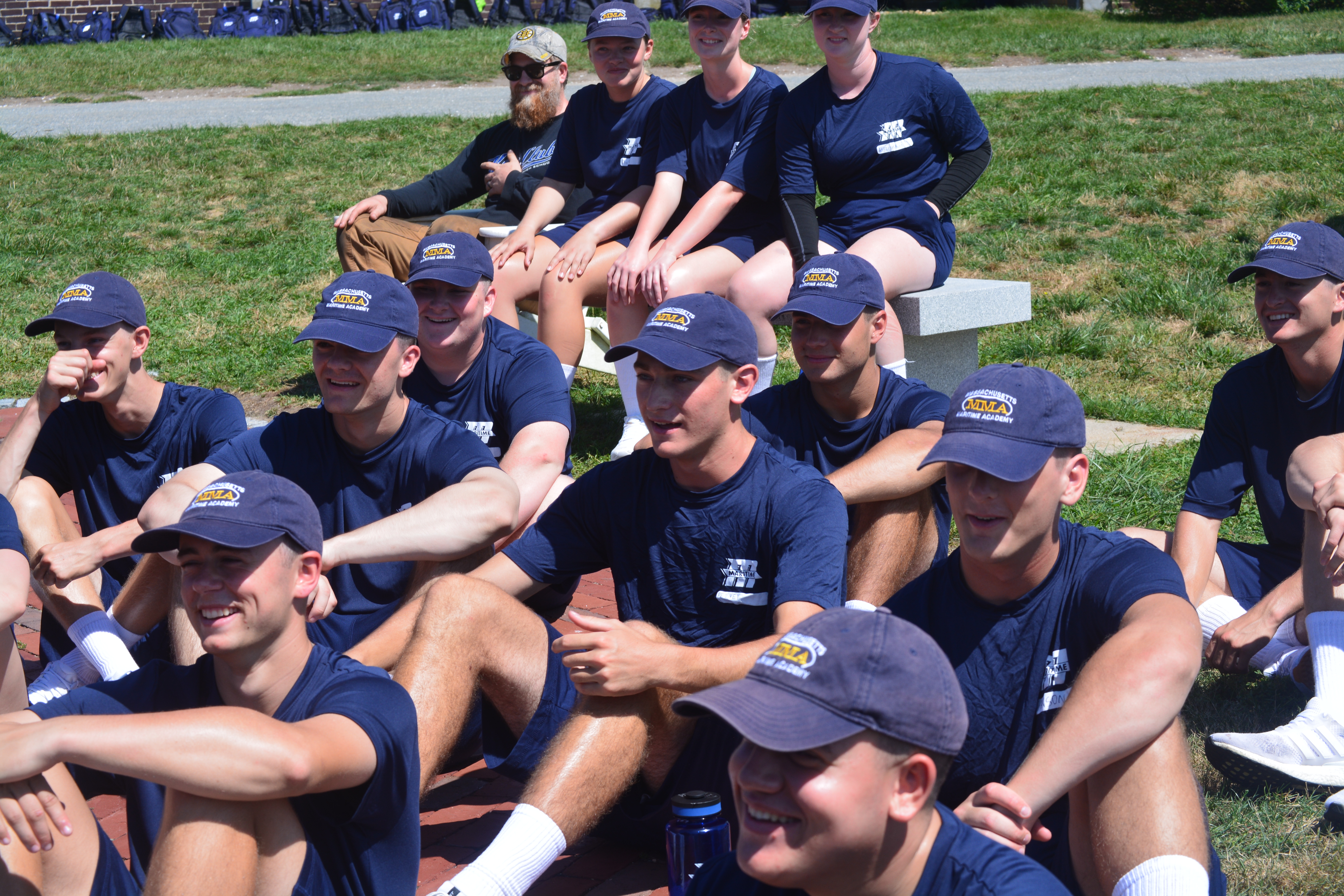 1st Co sharing stories at Sea Lab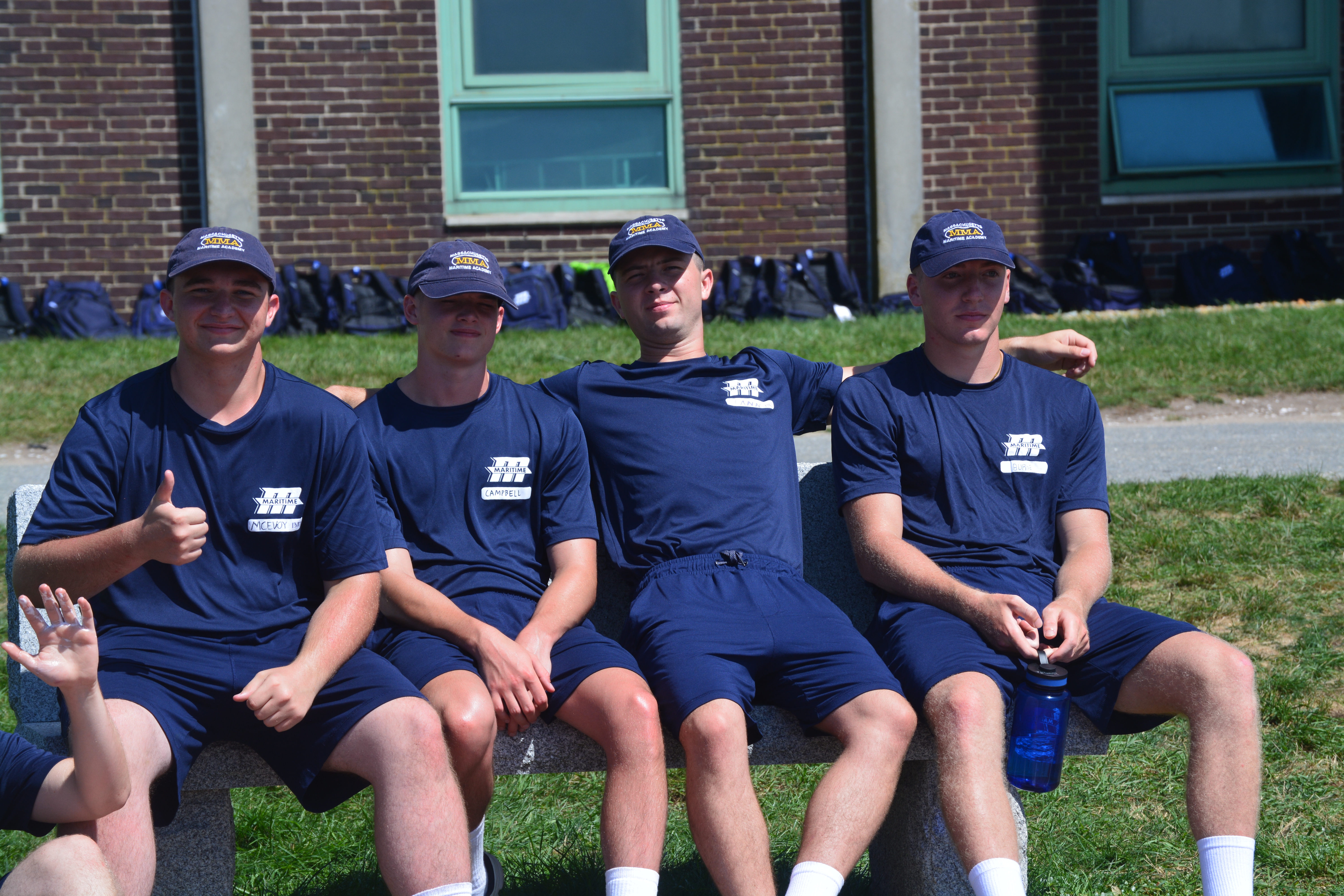 Making new friends!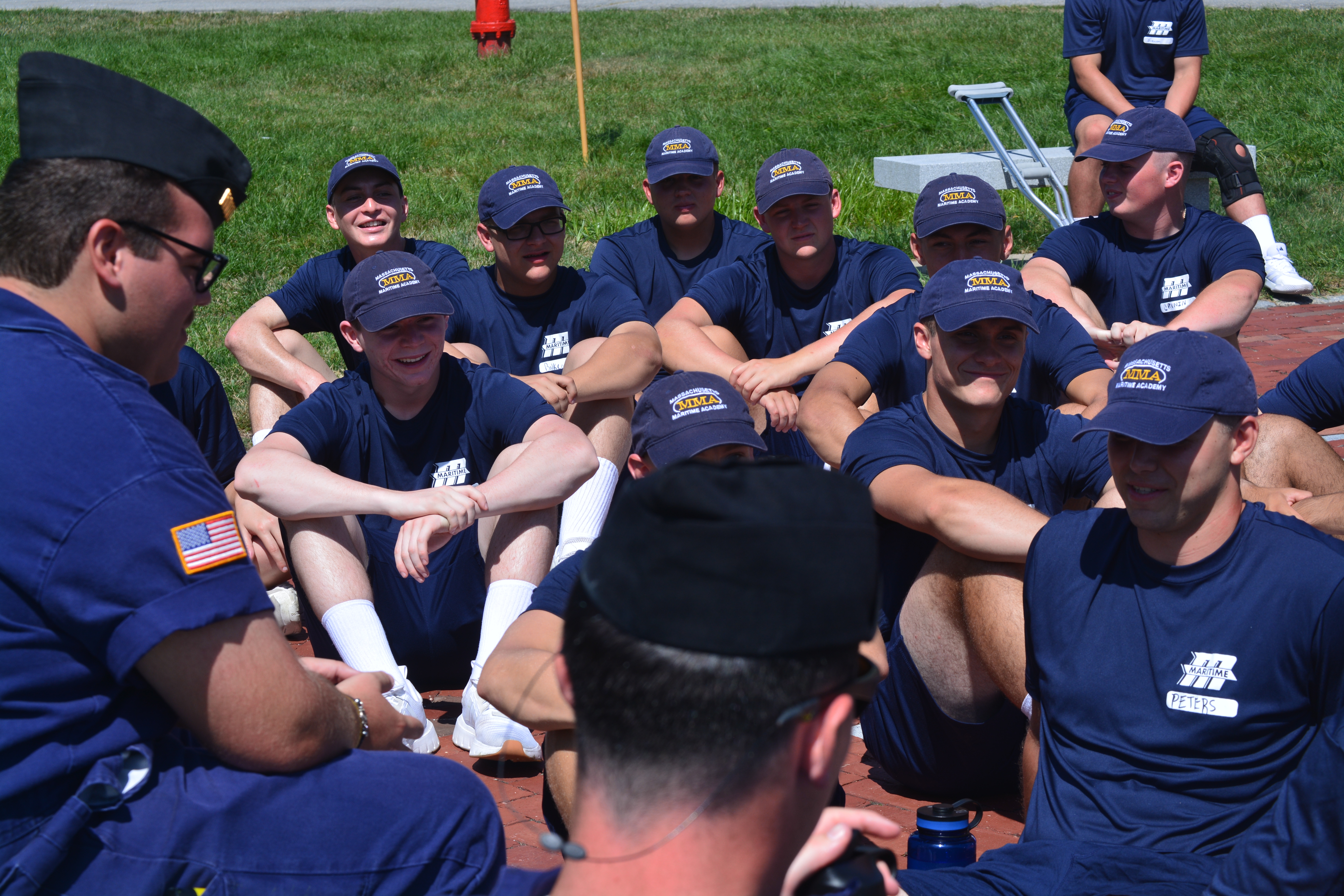 More storytime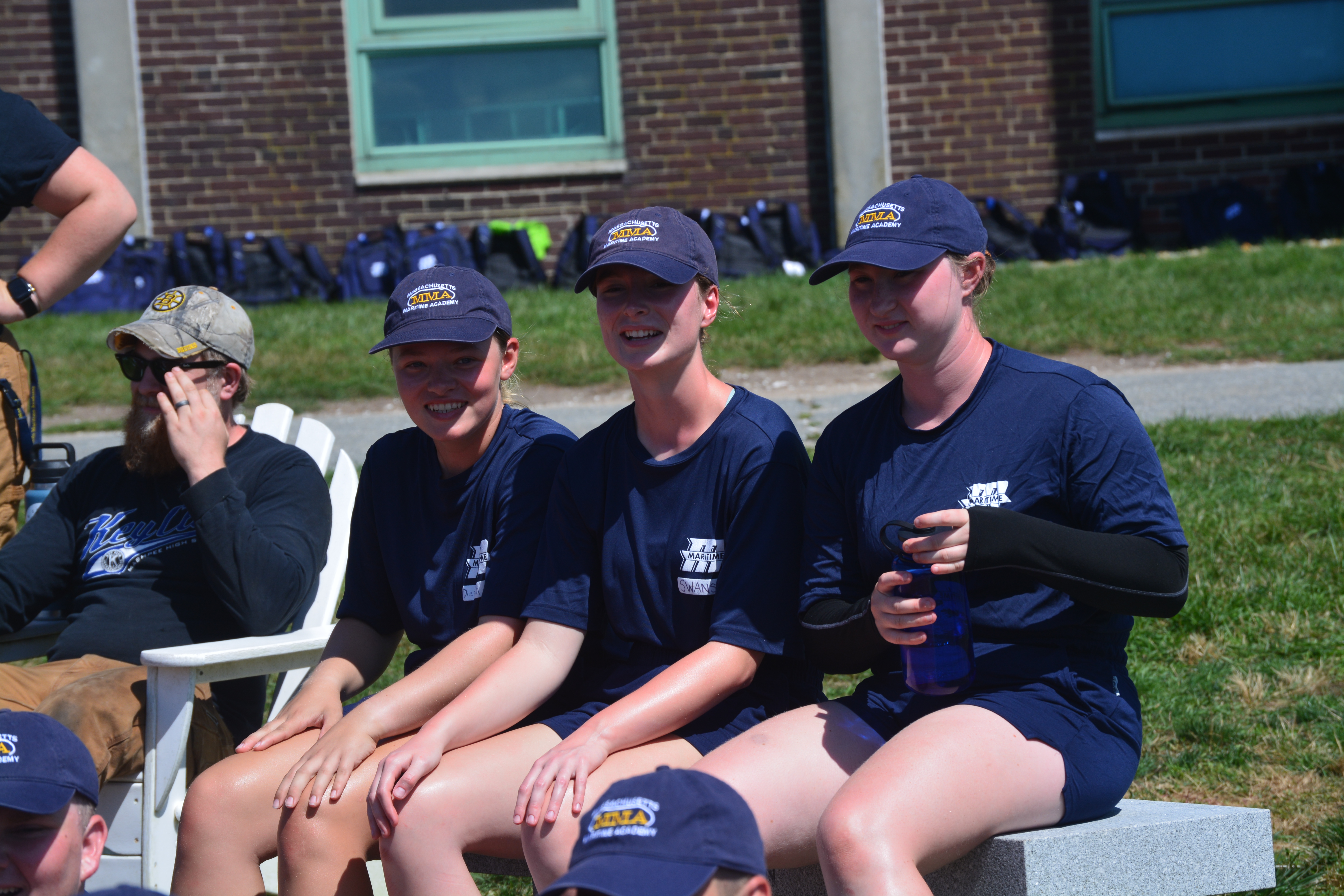 1st Co Ladies!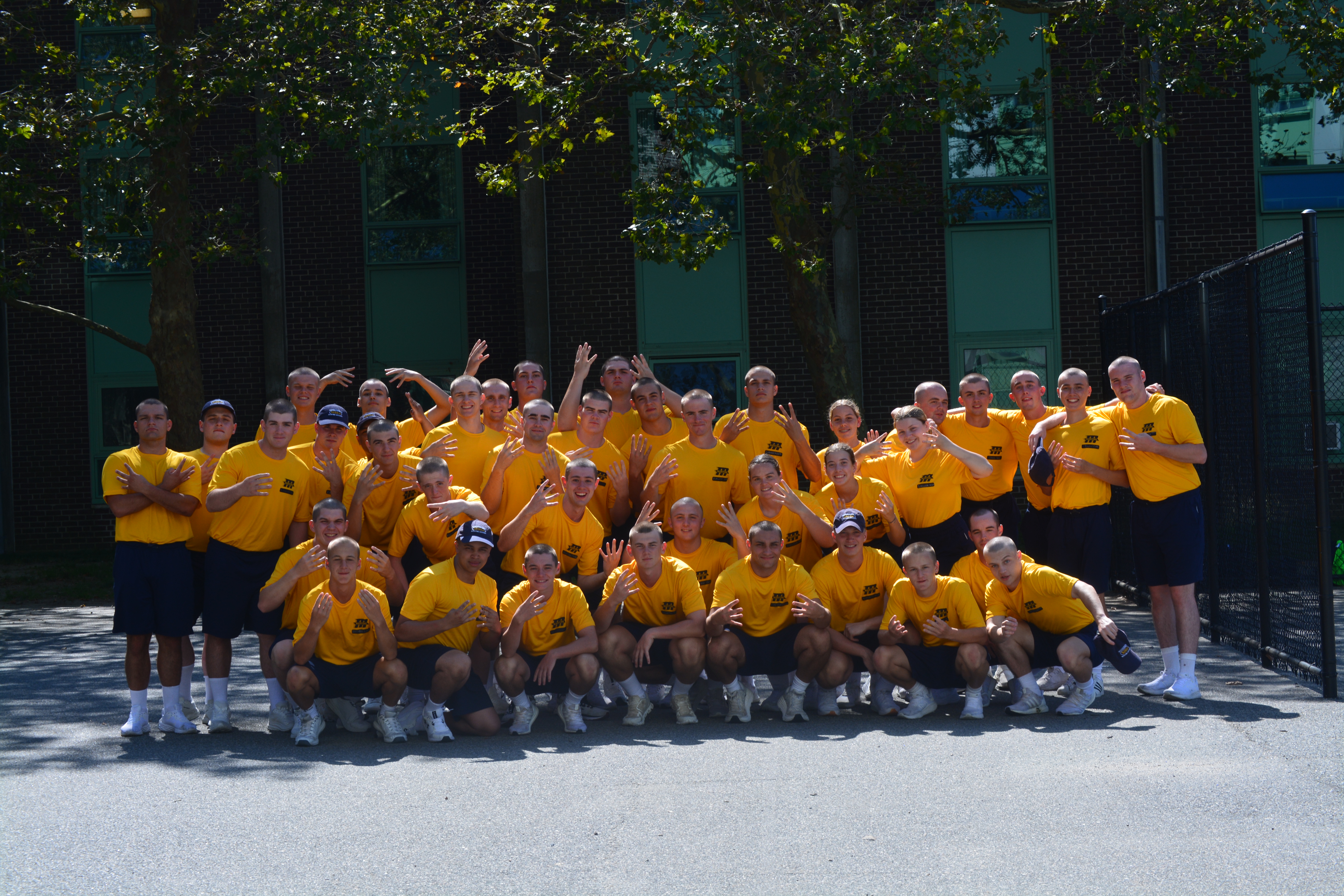 4th Co getting hyped up for dodgeball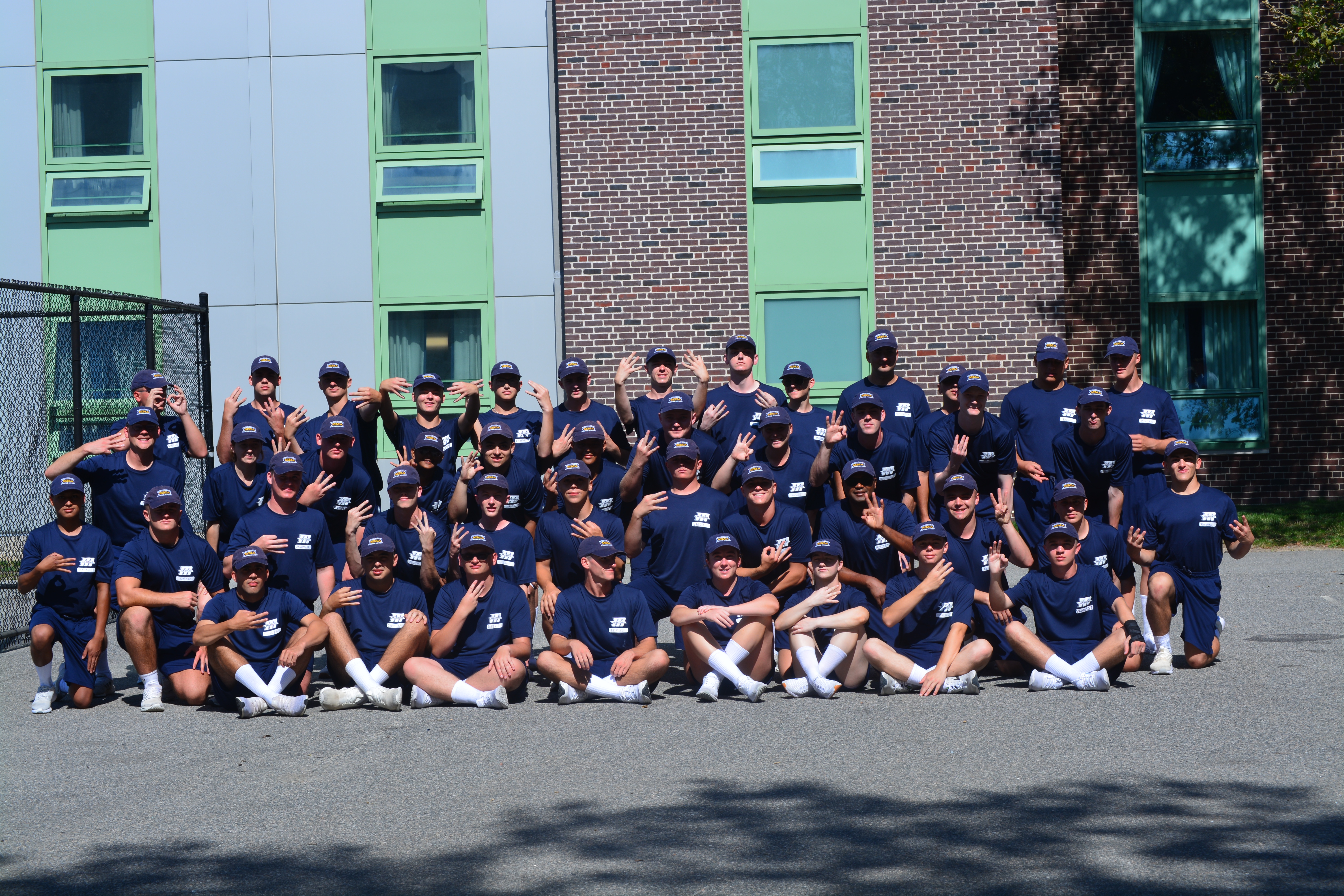 3rd Co!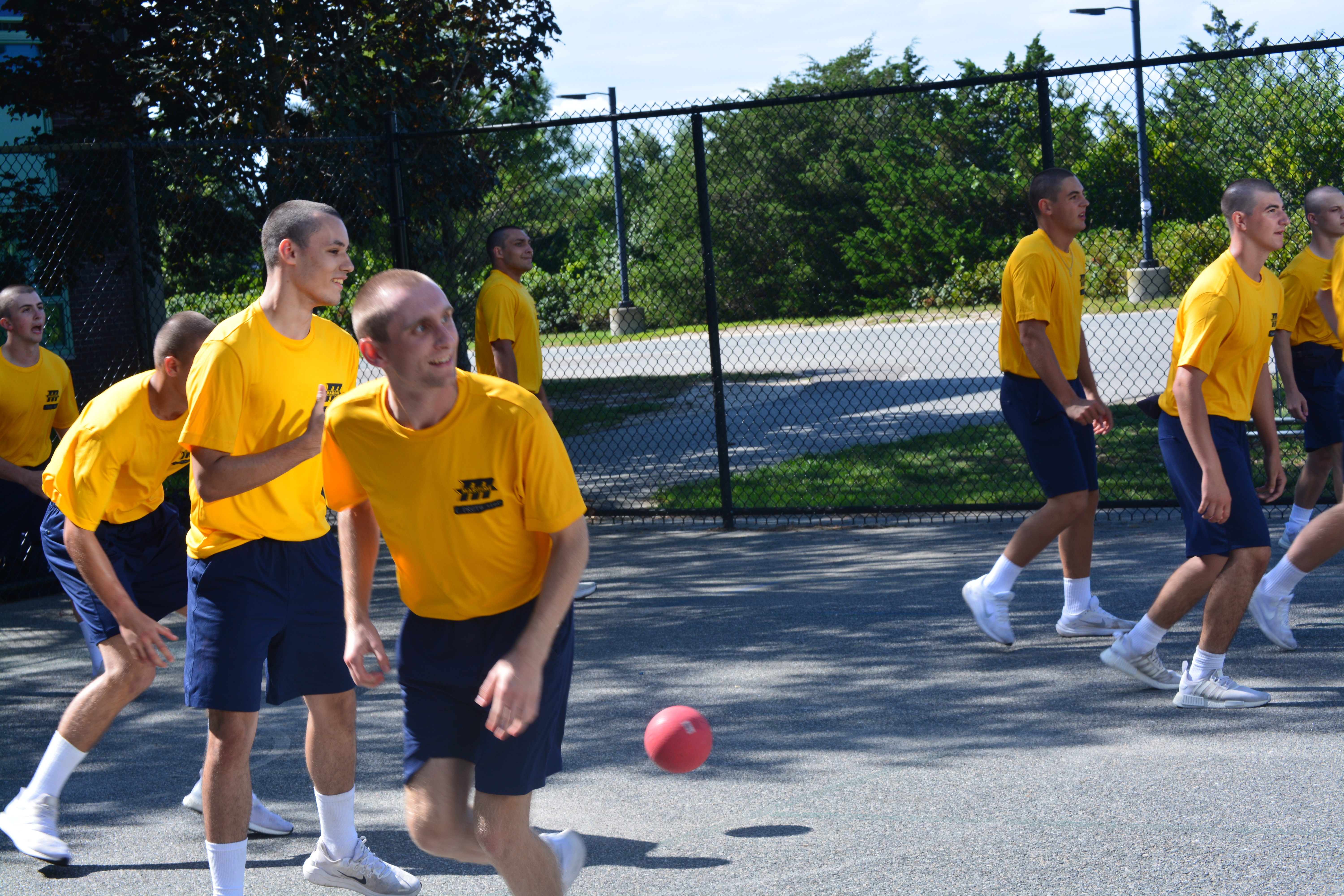 A heated dodgeball match!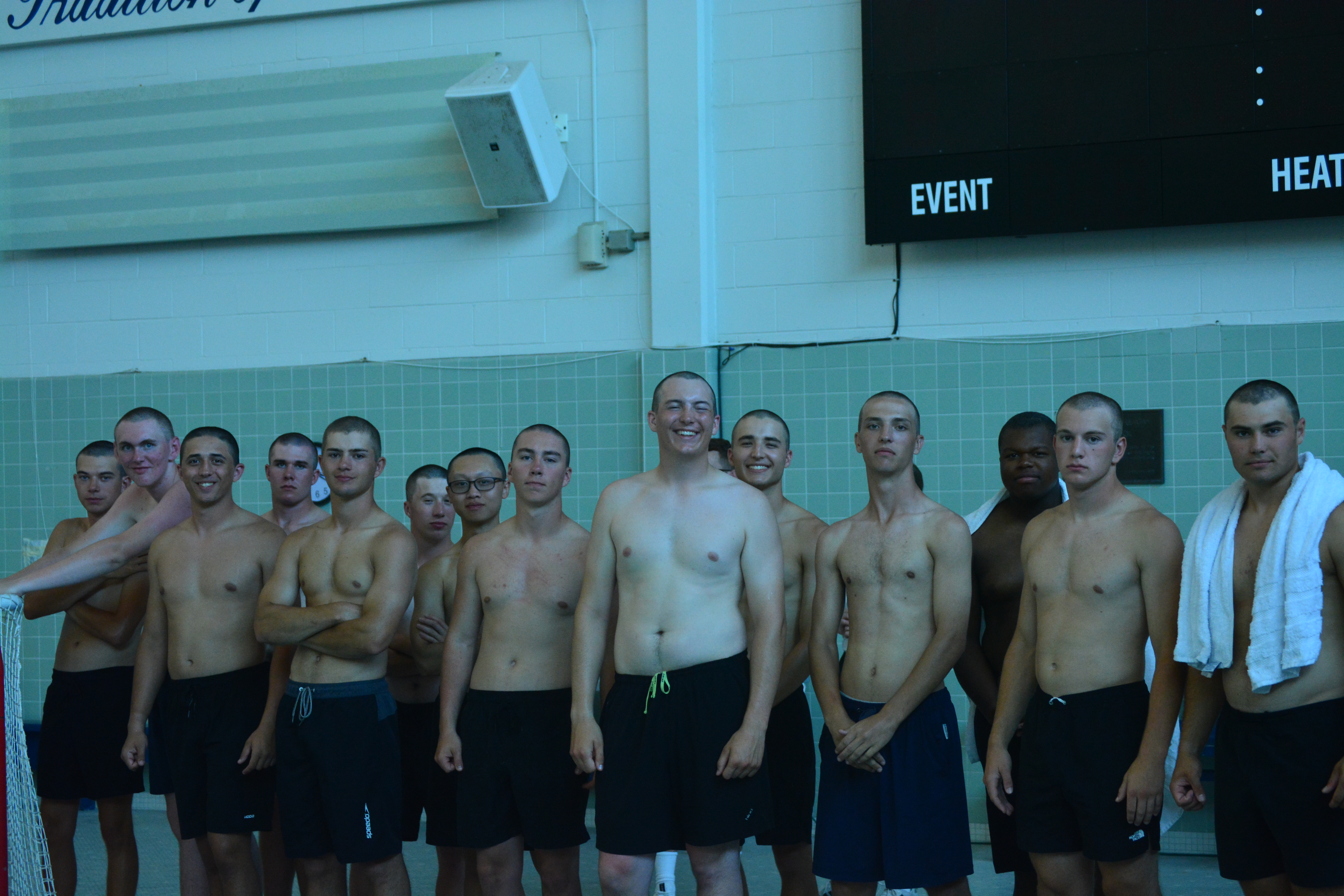 6th Co at water polo
1st Co Water Polo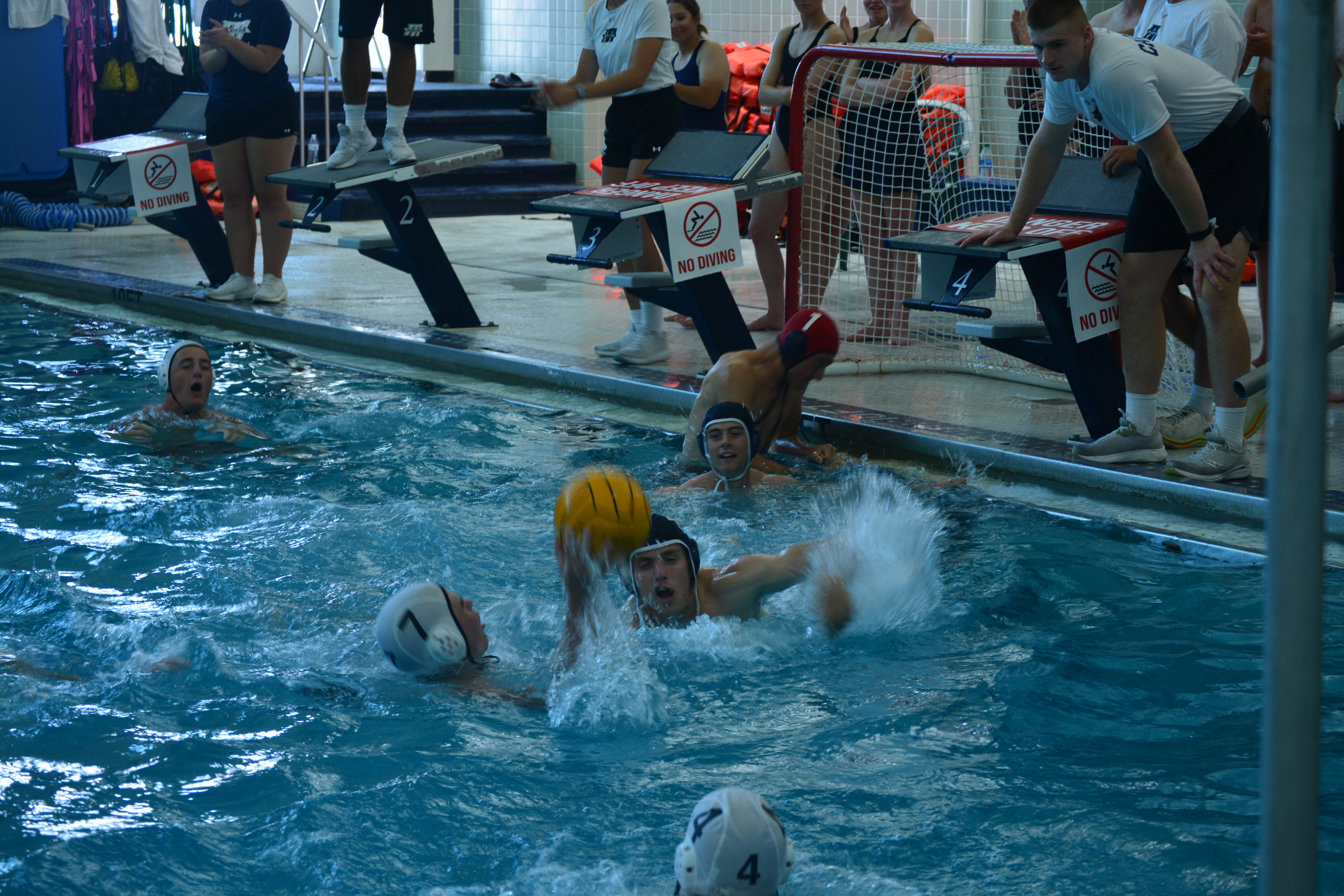 Some water polo action!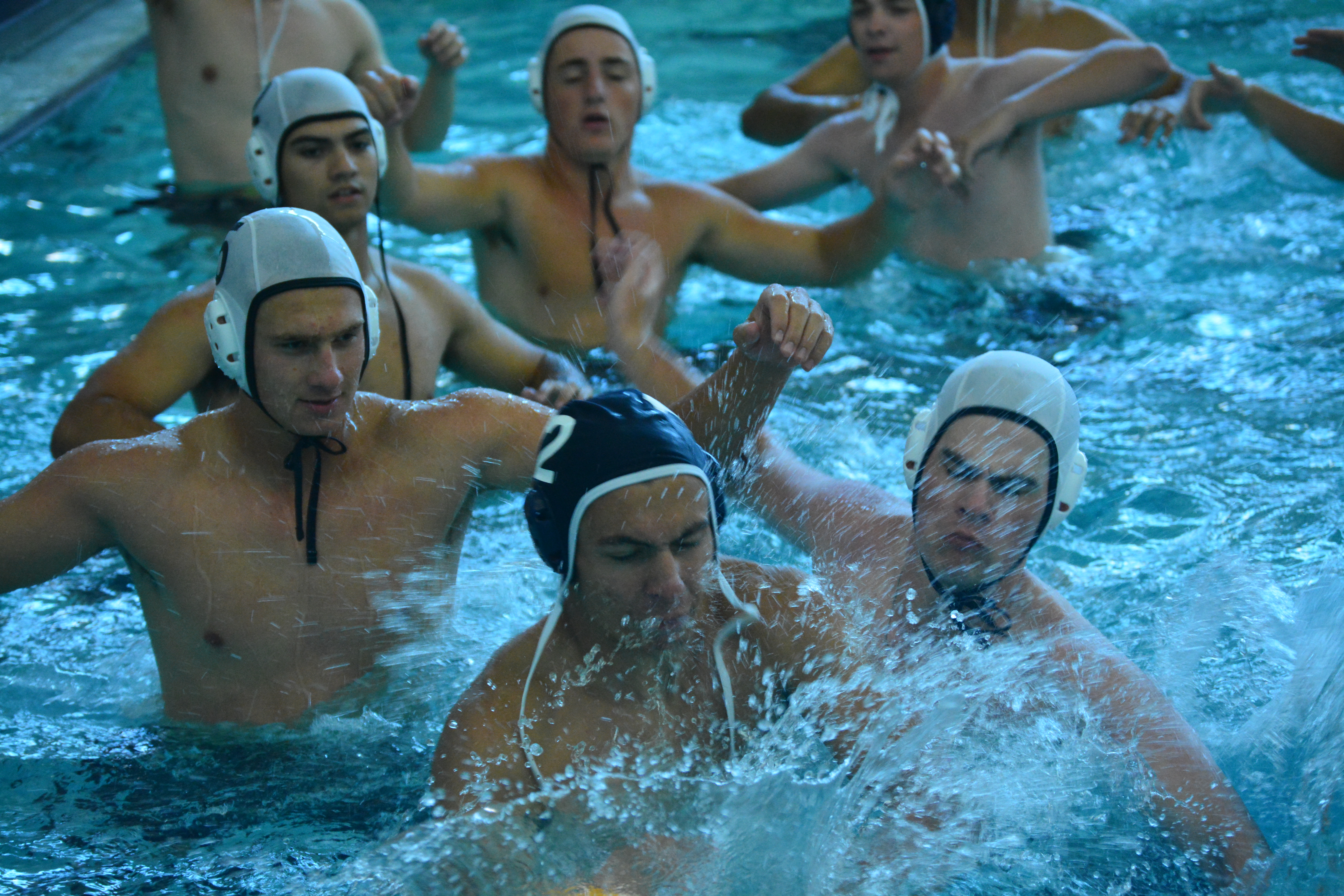 Good teamwork
Go 1st Co!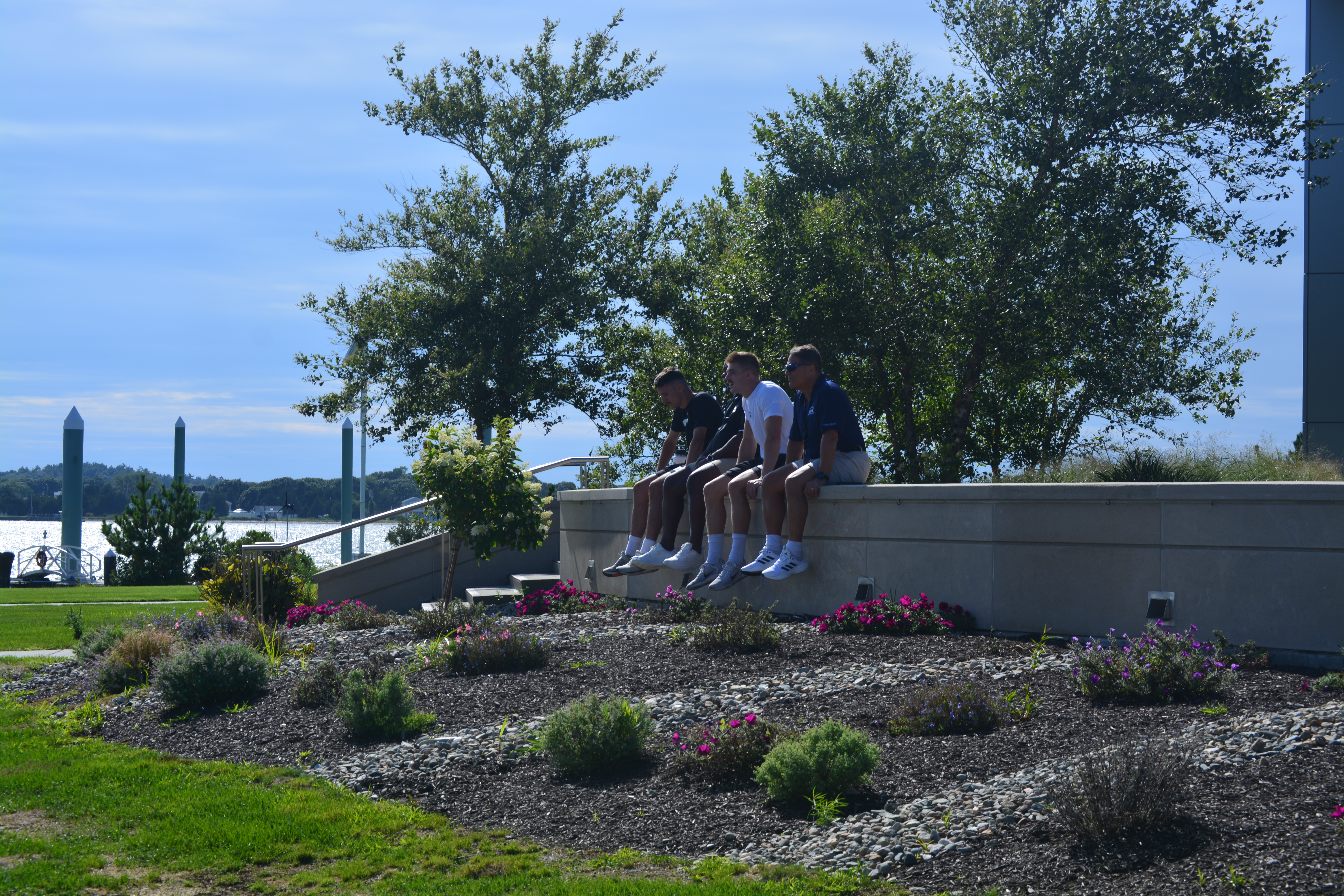 Company Commanders meeting with their Company Officers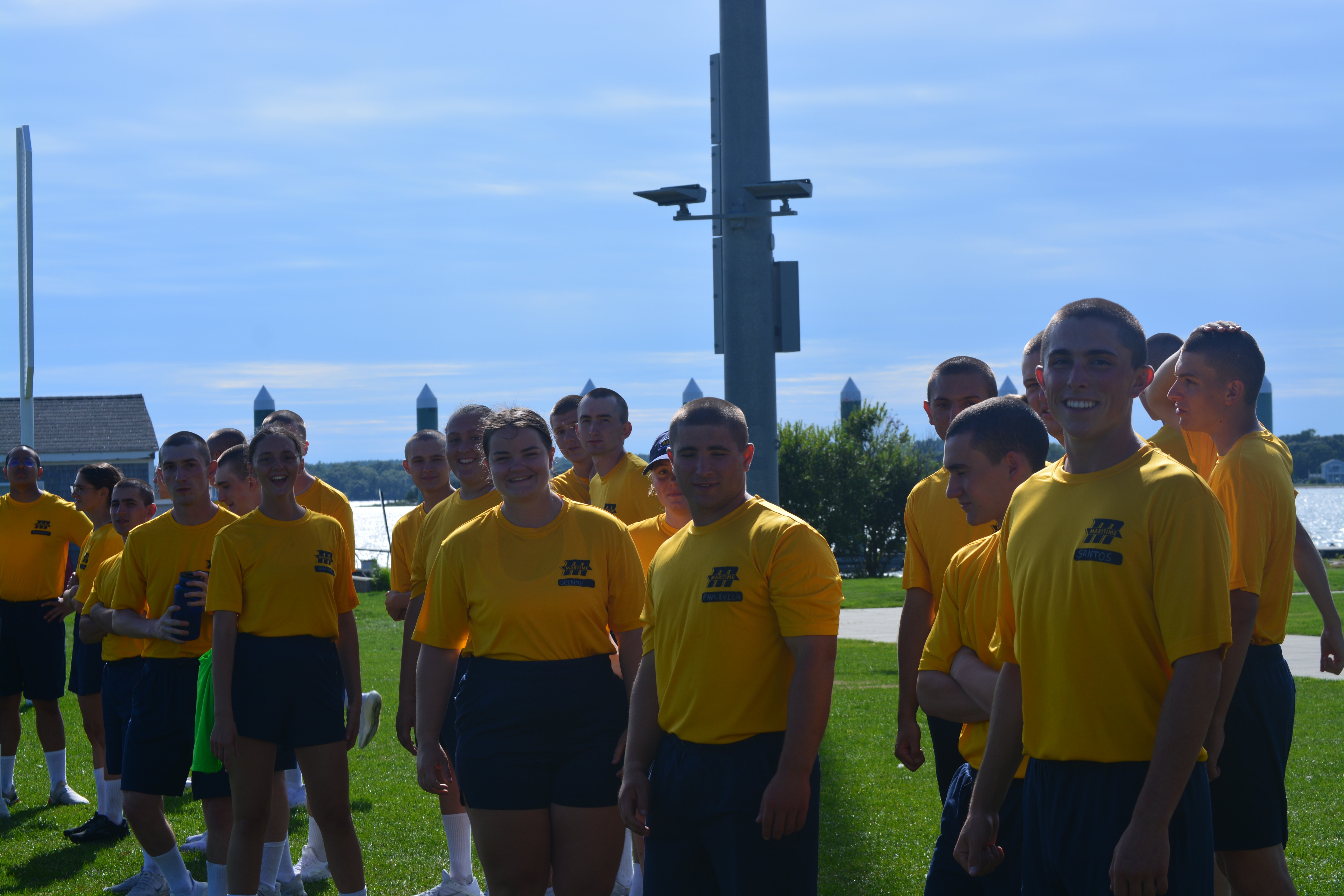 5th Co frisbee!
Reciting knowledge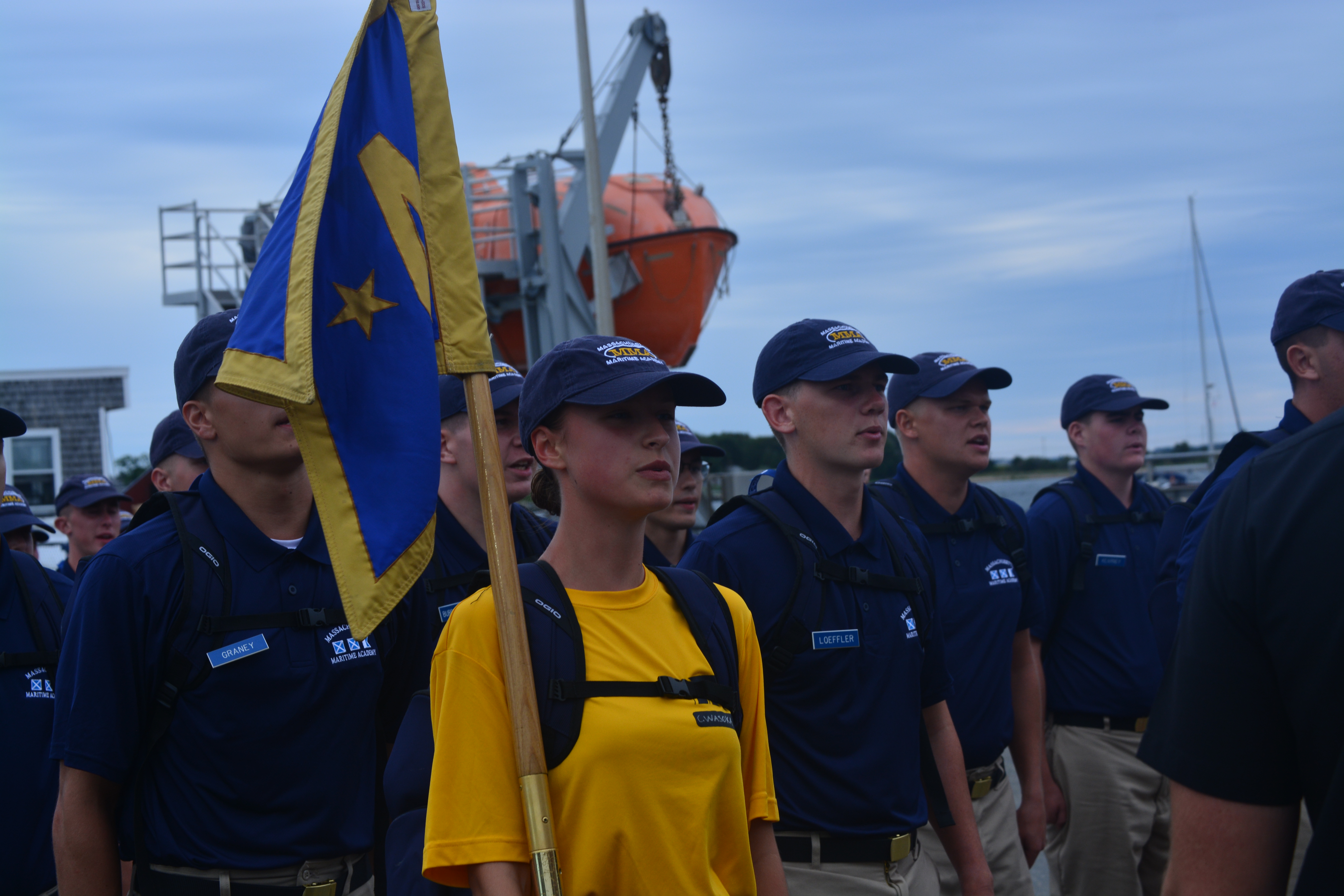 4th Co newly chosen guidon!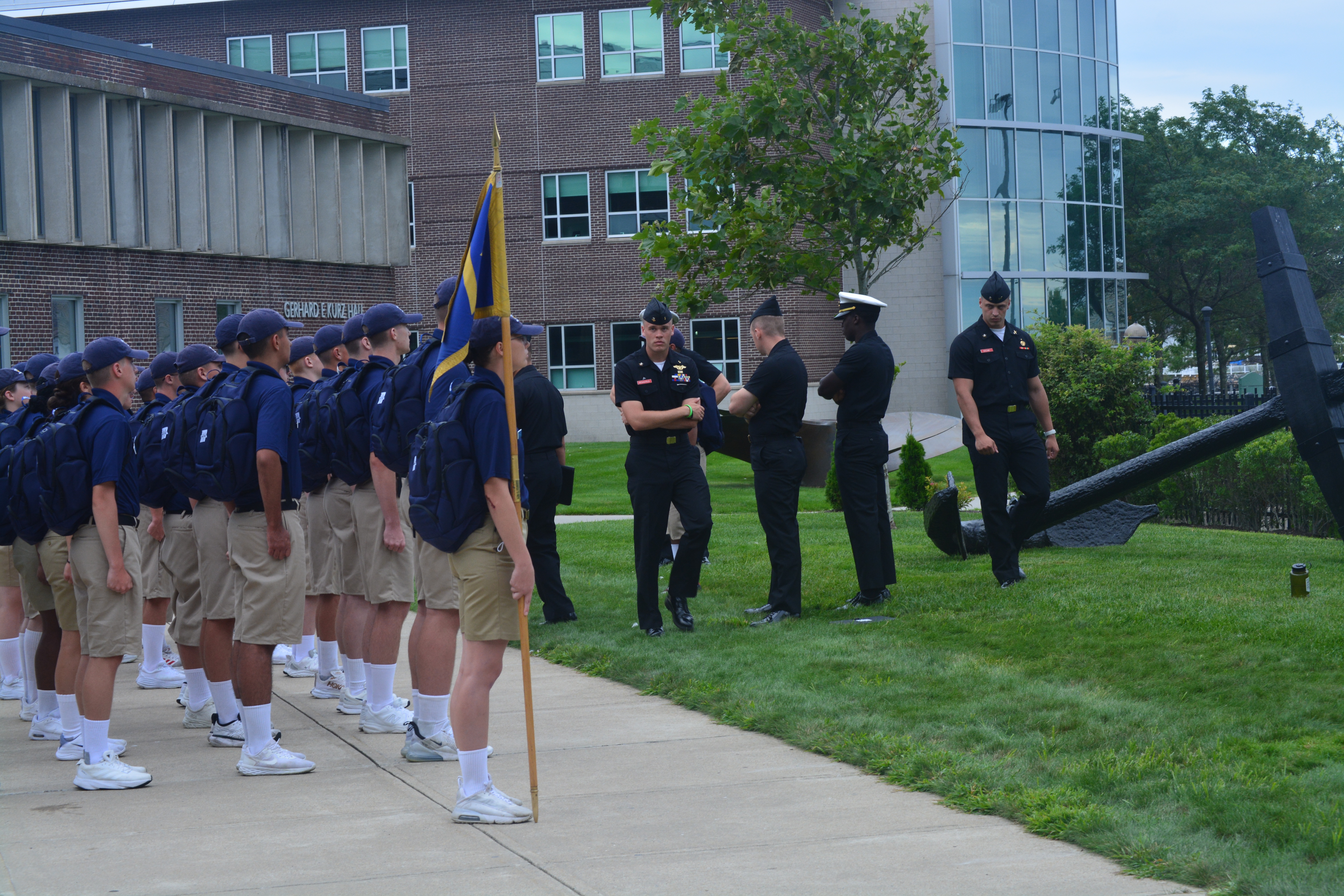 7th Co after patio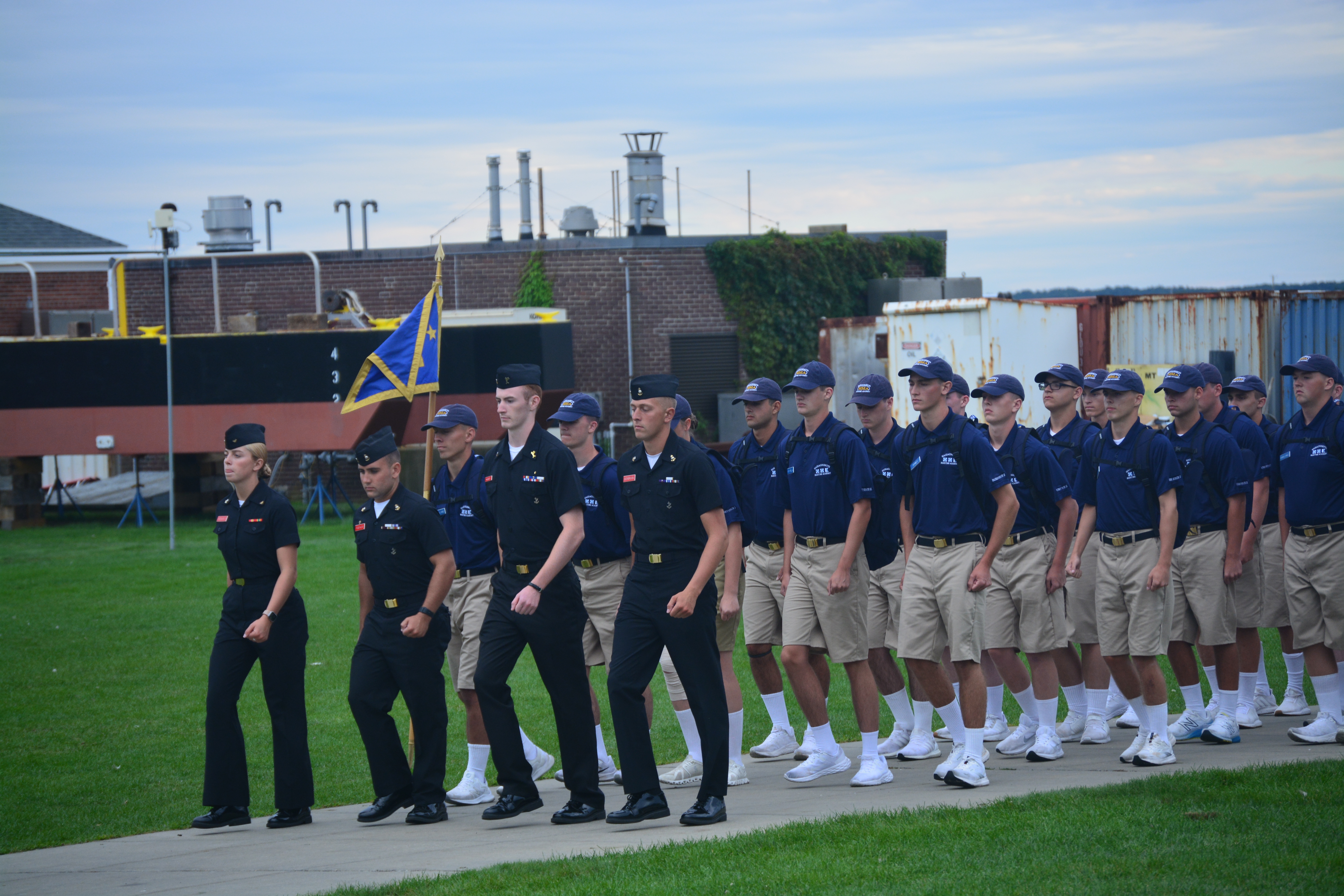 Marching to evening patio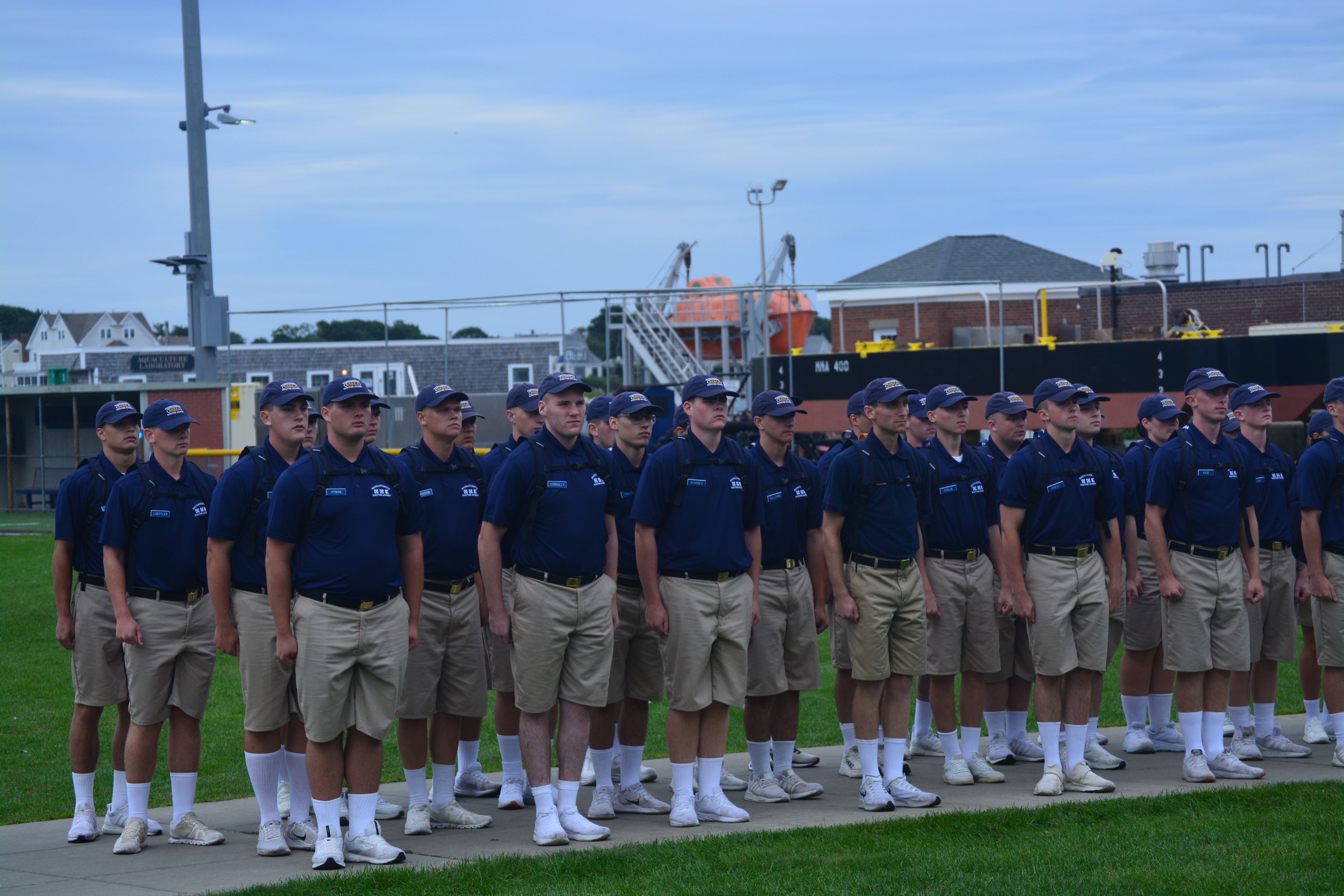 Ready to recite their youngie knowledge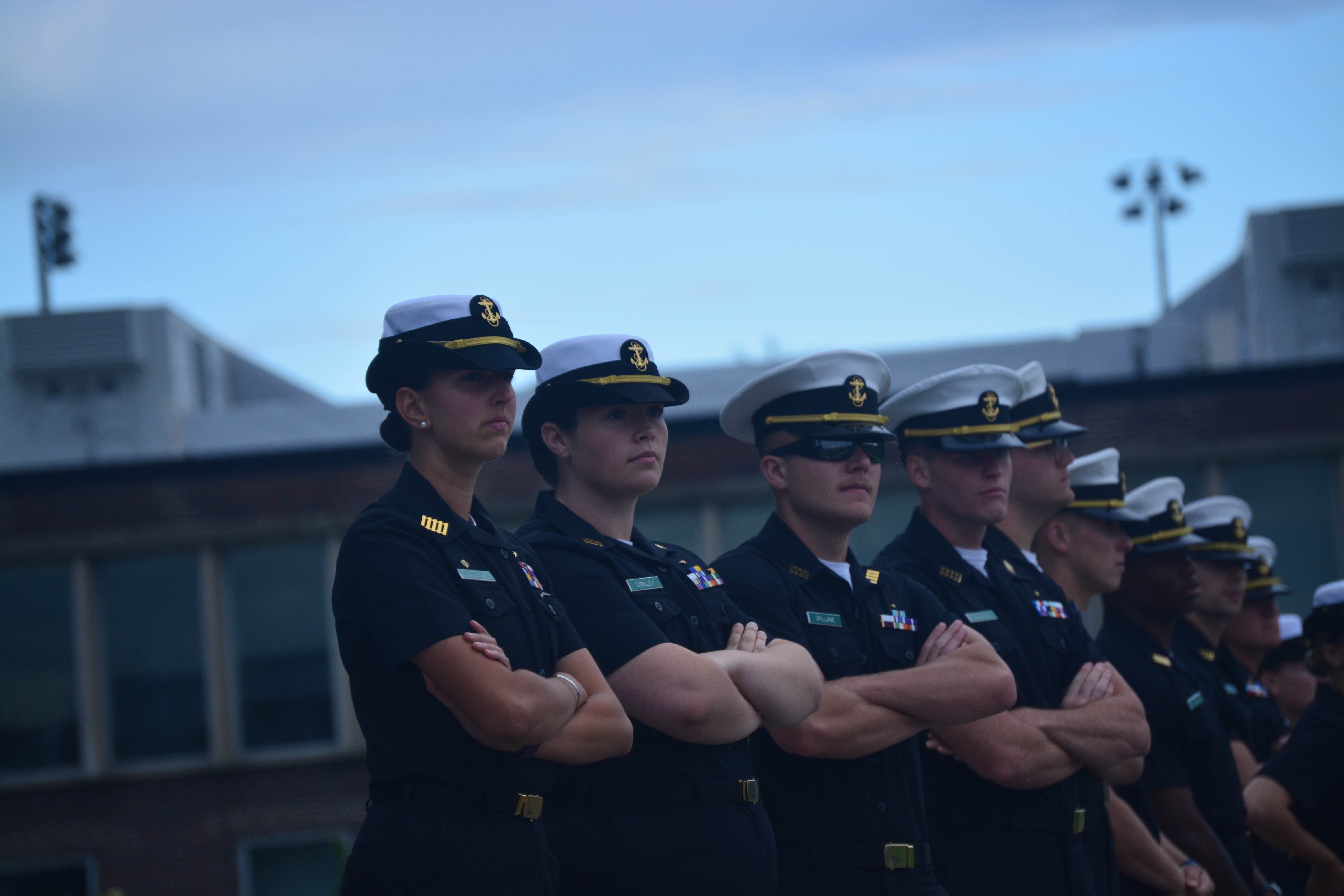 Regimental Staff at patio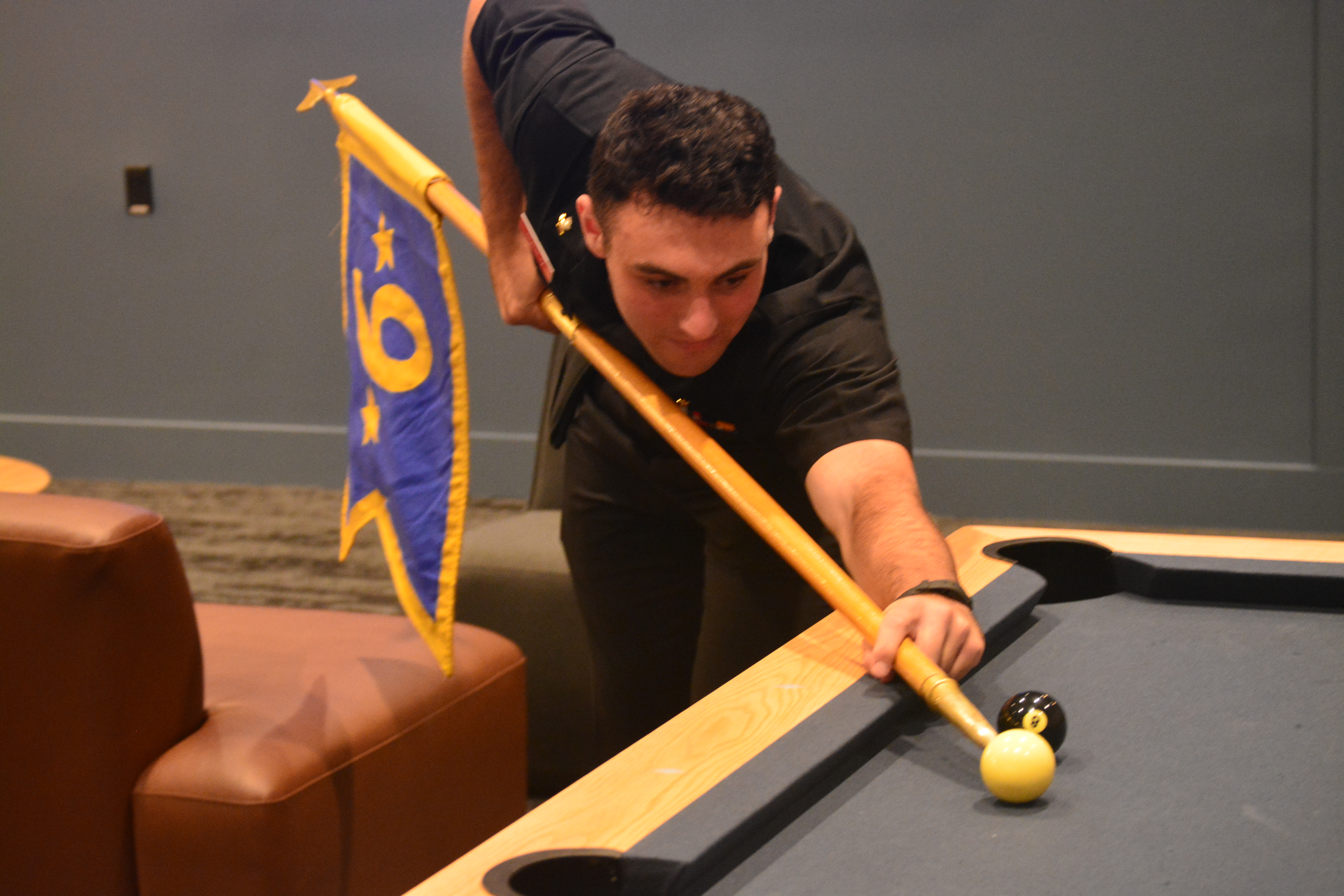 Our squad leaders enjoying their time off