Good Evening All,
Today was a good, albeit very rainy day here at MMA. Everyone adapted to the weather the best they could, and the Cadre came up with creative solutions on how to adapt to being indoors all day. Everyday we get closer to Orientation Graduation, and the Cadet Candidates and their Cadre couldn't be more excited.
Here are your nightly updates from our Company Commanders:
1ST COMPANY
Family and Friends of 1st Company,
This morning started with a mile and a half cadence run around campus. Our squad leaders have worked hard to learn various cadences to sing in an attempt to motivate the platoon. We got loud and it helped those who struggled to keep up. At one point one youngie was falling behind, and another fell back to run with them. They ran together and the youngie never left their side. When the run was completed, the two shipmates thanked each other for holding each other accountable.
The weather at the Academy today was not great, so most of our day was spent inside. The Cadet Candidates took this time to start prepping their rooms for inspections. Each morning during the school year the Cadet Candidates will have their room inspections. There is a long list of detailed standards that each room must be kept up to. My Squad Leaders did a phenomenal job of going around and guiding each room in the right direction of completing the room. Later on in the week, the Regimental Staff will inspect the Cadet Candidates room, and I am confident they will be successful.
Today was the Company's off day for intramurals, so the Student Government Association president created an online trivia game for the Youngies about Mass Maritime facts. They were divided into teams, which boosted team building and Company bonding. Patio occurs before every lunch and dinner, and is when each Company is quizzed on their youngie knowledge. Because of the weather, dinner patio was secured. The senior staff and I set up a mock patio to quiz them on their knowledge, and they nailed it. I was impressed to say the least, as patio has been our weakness so far in orientation.
The Company is slowly becoming more unified, and it has been encouraging to watch each of the Youngies bond with their shipmates who they did not know five days ago. When they return home in just five short days, I can guarantee they will return home a better person with a sense of pride for being at this Academy.
Very Respectfully,
1/C Jessica Hinds
1st Company Commander
2ND COMPANY
Good evening everyone!
The Second Company Cadet Candidates had a nice hard workout this morning and then immediately prepared to go to the Mass Fire Academy in Bridgewater for Firefighting training! There, the C/Cs learned how to handle a hose, fire extinguishers, and how to identify different kinds of fire and how to fight them. After returning to campus, Second Company defeated Fifth Company in dodgeball! Their C/Cs had a fantastic Maritime Dining dinner of barbecue chicken, and headed off to their nightly lectures. Tonight, they got a lecture from the Campus Police and also a lecture about Shipboard Customs and Safety Management Systems. More to come about their extraordinary progression tomorrow.
3RD COMPANY
After PT this morning, the Cadet Candidates headed to Great Herring Pond for Pond Day. The C/Cs spent the day at the Pond and learned how to sail, row, and row the Monomoys. Although it was raining for most of the day, the Cadet Candidates did not complain and enjoyed socializing and getting to know their shipmates. Once the Cadet Candidates got back to campus, it was time for them to lock it up and get back to the grind. They spent some time practicing a new marching move which was "by the right/left flank". After a bit of practice the Cadet Candidates picked it up quickly. In the evening, the Cadet Candidates attended a Campus Safety briefing and a Shipboard Customs & Safety Management System briefing. The night ended with selecting the new 3rd Company Guidon. The new 3rd Company Guidon is C/C Landry. Congratulations!
Very Respectfully,
Sophie Strano
5th Company Commander
4TH COMPANY
Friday was an exciting day for 4th Company, as the Cadet Candidates spent the majority of the day at the Firefighting Academy in Bridgewater being taught basic firefighting skills with fire extinguishers, hoses, and firefighting equipment. This was a great opportunity for the Cadet Candidates to get off campus, get to know their fellow shipmates better, and start building their teamwork as they work towards Admirals Cup together.
Once returned from firefighting, the Cadet candidates went straight into intramurals. While the contest was unable to be finished due to rain, 4th Company was able to compete for awhile before heading back inside. Inside, Cadet Candidates learned about proper room set-ups and uniform standards, helping to prepare them for Regimental Inspections throughout the academic year.
My staff and I are pleased to see the 4th Company Cadet Candidates continue to grow and come together as a team.
Very Respectfully,
1/C Jack Mulligan
4th Company Commander
5TH COMPANY
Good Morning 5th,
Today started off with the usual 0530 wake up and PT. Today the cadet candidates participated in a 1.5 mile cadence run. After breakfast the cadet candidates were quickly rushed to water survival at the pool. This consisted of each cadet practicing flipping rafts as well as other survival skills such as the human carpet, help position, and putting on immersion suits. After noon meal 5th company was able to participate in a close game against 2nd Company in dodgeball. After showering and evening meal the cadet candidates sat through a campus police and a shipboard customs and safety management system presentation before being sent to bed.
Very Respectfully,
1/C Micheal Riehl
5th Company Commander
6TH COMPANY
Good evening all,
The morning began in a regular routine with a standard wakeup. The Cadet Candidates are starting to get used to the sleep schedule, so they were not as tired as they normally are. Something else that helped them wake up was the announcement of our guide-on for the year. The guide-on is the flag bearer at the front of the platoon who holds the company flag. Our flag displays the number 6. Becoming the guide-on is a very honorable roll, as it is generally given to the fastest tracking cadet candidate who displays great leadership ethics as well as epitomizes the academy standards and values. I would like to recognize C/C Craig Hill as the 6th Company guide-on. His continuous effort and willingness to push himself has earned him the title of our guide-on. Congratulations to him.
Upon review of my blog from yesterday, I neglected to put in the CCPL we selected. Yesterdays CCPL was C/C Barruza who was awarded this for her intense energy, loud voice, as well as her impressive understanding of the Youngie Knowledge. Her quick understanding of the knowledge allowed her to lead a study session to help the other candidates learn as well.
Todays CCPL was C/C McQueen. He displayed a great addition of energy when spouting Youngie Knowledge, as well as becoming a key player during the intramurals against other companies. He did a very good job leading a study session and some team building exercises to build camaraderie.
A large part of running any successful organization is having the ability and the skill to adjust on the fly and be adaptable. Due to the rainy weather today, 6th Company as well as the rest of the regiment had to adjust their daily schedules to combat the weather. Instead of having morning formation and Company Officer time, we did some room preparation in which the Squad Leaders taught them how to iron. Parents, the days of ironing your sons and daughters laundry is hopefully over, as they were taught how to iron their military creases and how to flat iron as well. (Perhaps you can use this to your advantage and make them return the favor). Once this was over, they had an Academic Planning meeting in which they planned out their academic schedules and went over their course curriculum. I'm sure the last thing on their mind is academics, however this is the reason they came to this academy, so it is important they understand the classes they are taking, as well as how to succeed academically at MMA.
We suffered our first loss of the year in Intramurals today, but 6 Co did not go down without a fight. Water polo against 3rd company came down to the wire. We unfortunately lost 4-3 ending in a shootout. Our star players were C/C Cates who had two goals, as well as C/C White played great defense the entire time. A special shout-out to C/C Ferringo who led the company in some motivational chants to keep the morale high. After the game, I stressed that we can not win them all, however our success will be defined with how we bounce back from defeat. We will put this to the test tomorrow.
Todays leadership trait of the day was courage. Courage is the duel that propels individuals to confront their fears and challenges head on, transcending limitations and unlocking their true potential, which is a goal of mine I prefaced in my first blog. It is the vital ingredient in the recipe for personal growth as well as societal progress. Without courage, innovation and progress would stall, as it takes courage to step into the unknown. As the notorious quote goes, "A ship is safe in the harbor, but that is not what ships are build for". Your C/C's are casting off their lines and beginning to sail away from their bad habits as they delve into the world of unknown to find their true potential. It is important that they maintain the courage to try new things, learn knew lessons, and most importantly enjoy the journey. To bring this to an end, I will close with this, "Courage is not the absence of fear, but the ability to act in spite of it" – Epictetus
Very respectfully,
1/C Michael Nogueira
7TH COMPANY
This morning, cadet candidates participated in PT despite the misty morning weather. After PT and breakfast, they had formation, and had some time to study their knowledge and drill. After lunch, the cadet candidates met with our Company Officer LCDR Magee and the component staff to learn about the drill, honor guard, and band components that 7th Company offers. They then went to intramurals for a short period before it was canceled due to the rain. The remainder of the day involved dinner, a meeting with Campus Police about security operations on campus, and learned about Shipboard Customs and Safety Management Systems. Tomorrow the cadet candidates have firefighting in Bridgewater, which is close to home for me because I am I firefighter and I also live in Bridgewater. I am excited to learn which of the cadet candidates become interested in firefighting once they are exposed to it. Three days of orientation remain!
Very Respectfully,
1/C Luke Dawson
7th Company Commander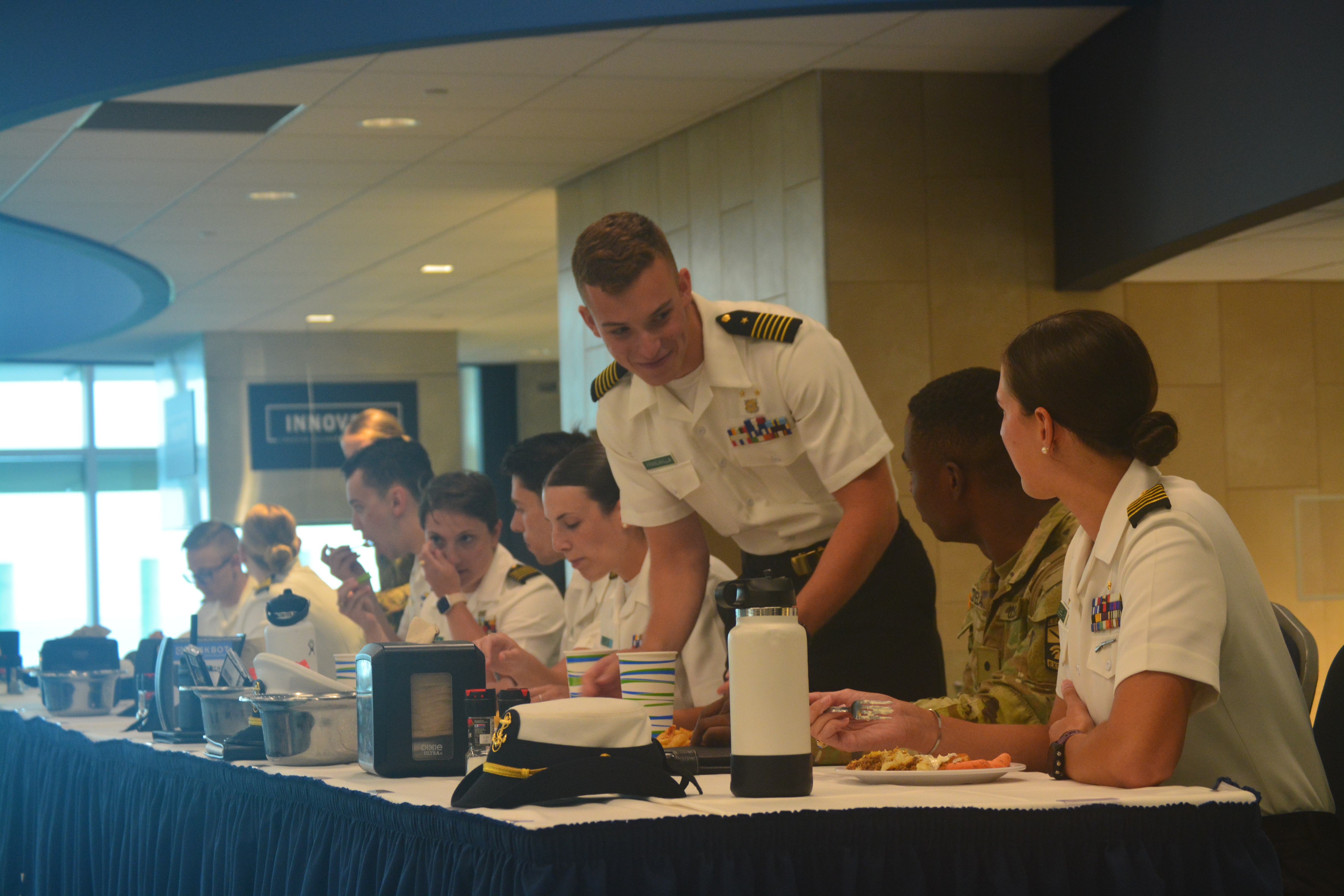 The regimental staff sit down for lunch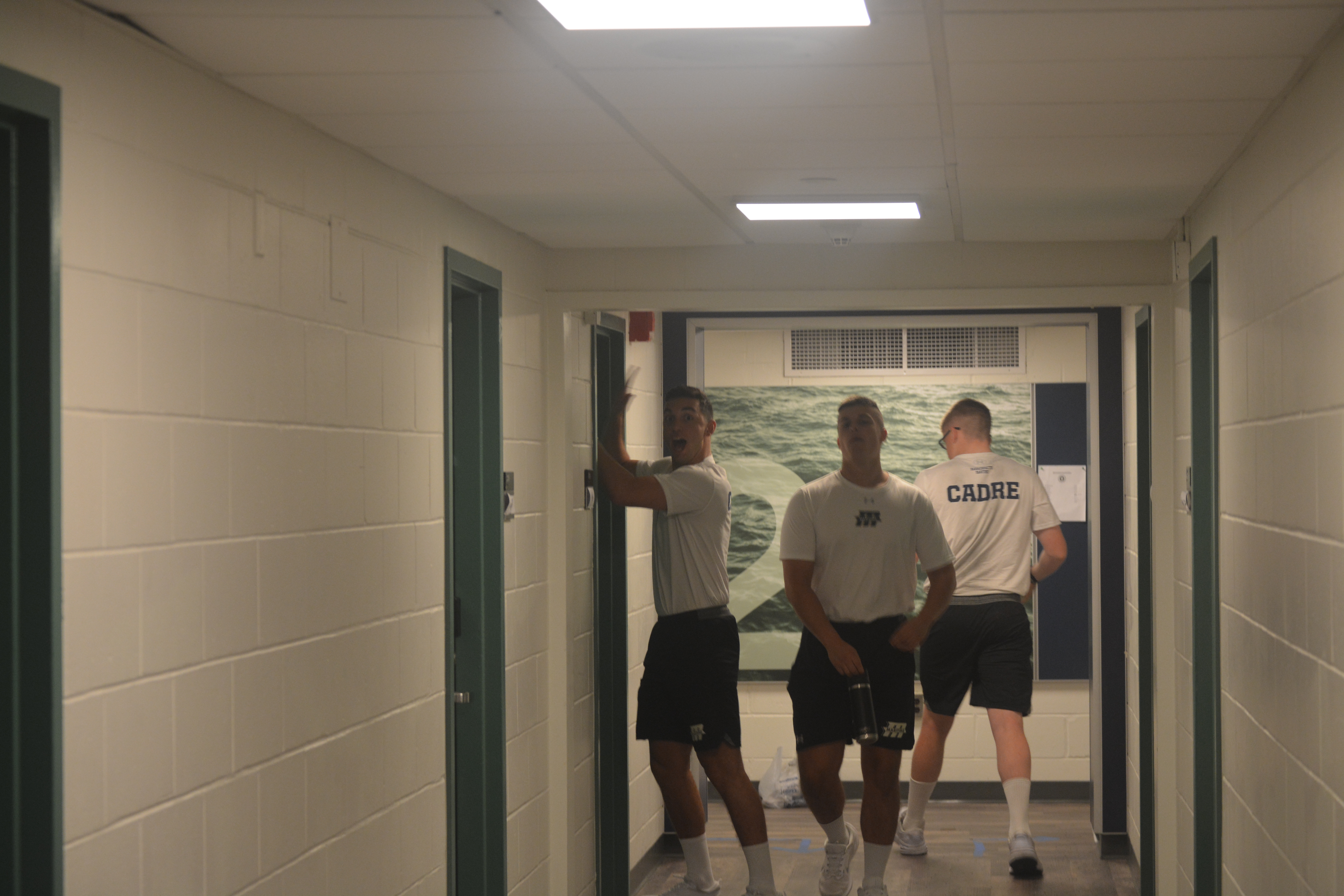 2nd Co morning wake-up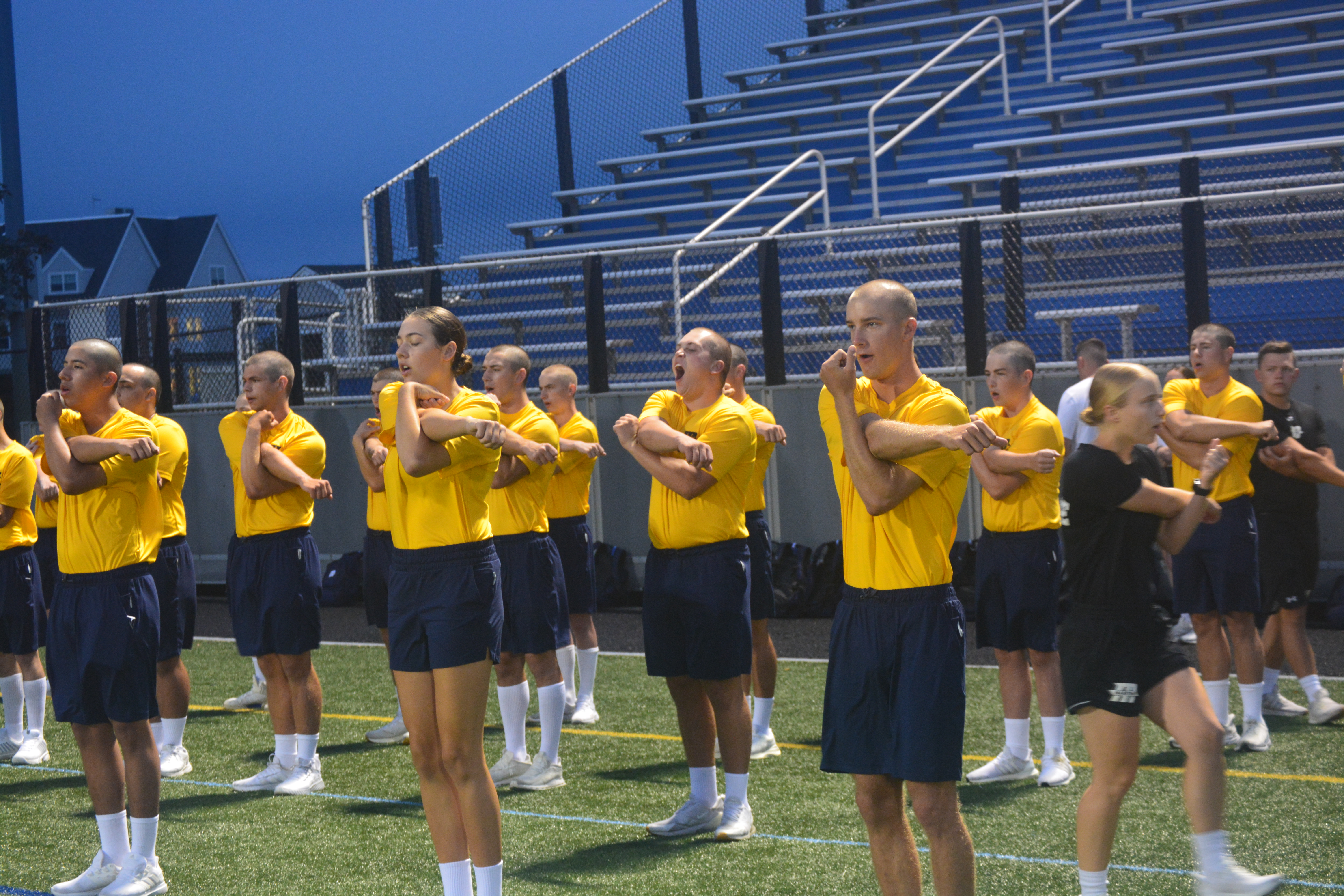 Morning stretches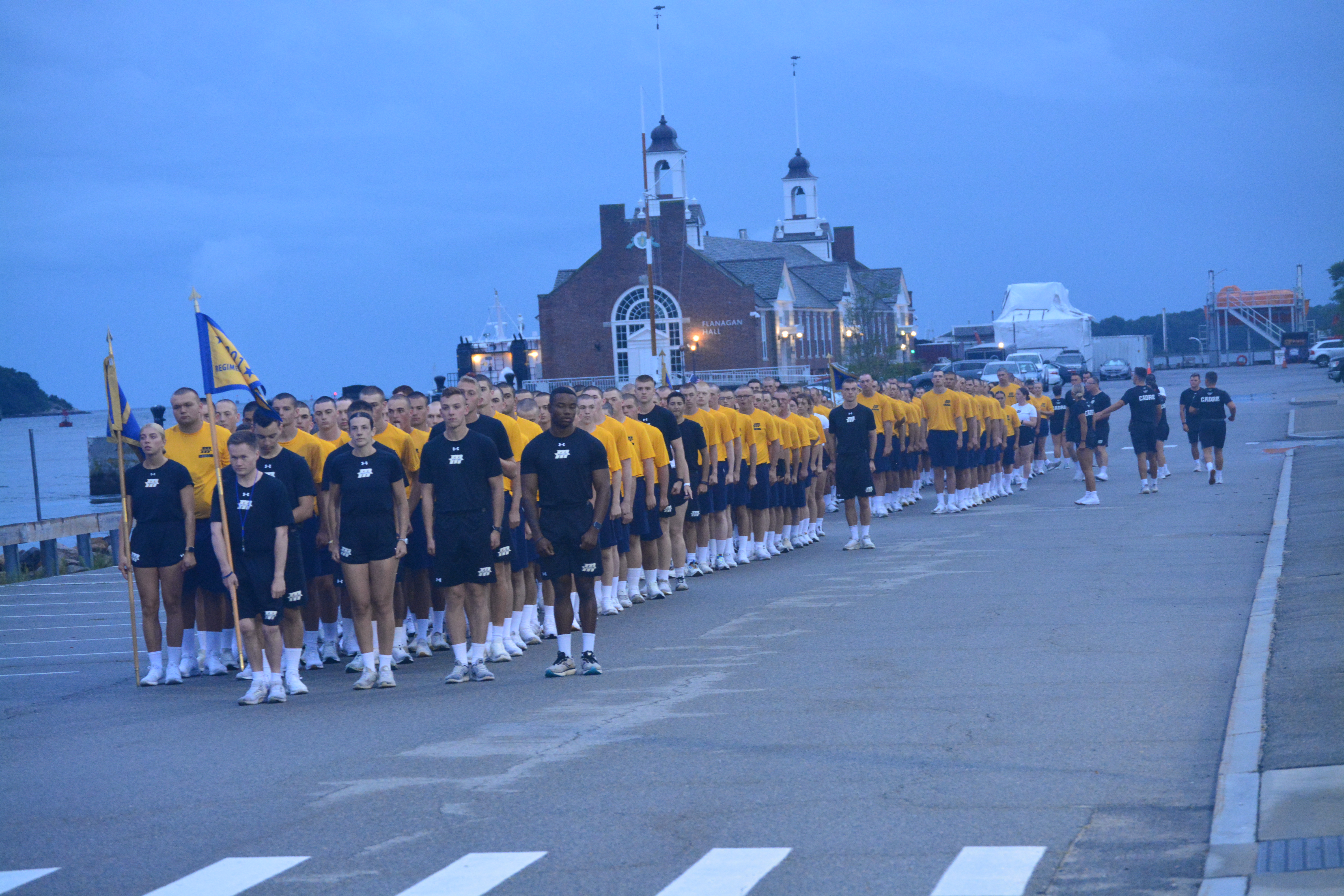 Preparing for the morning run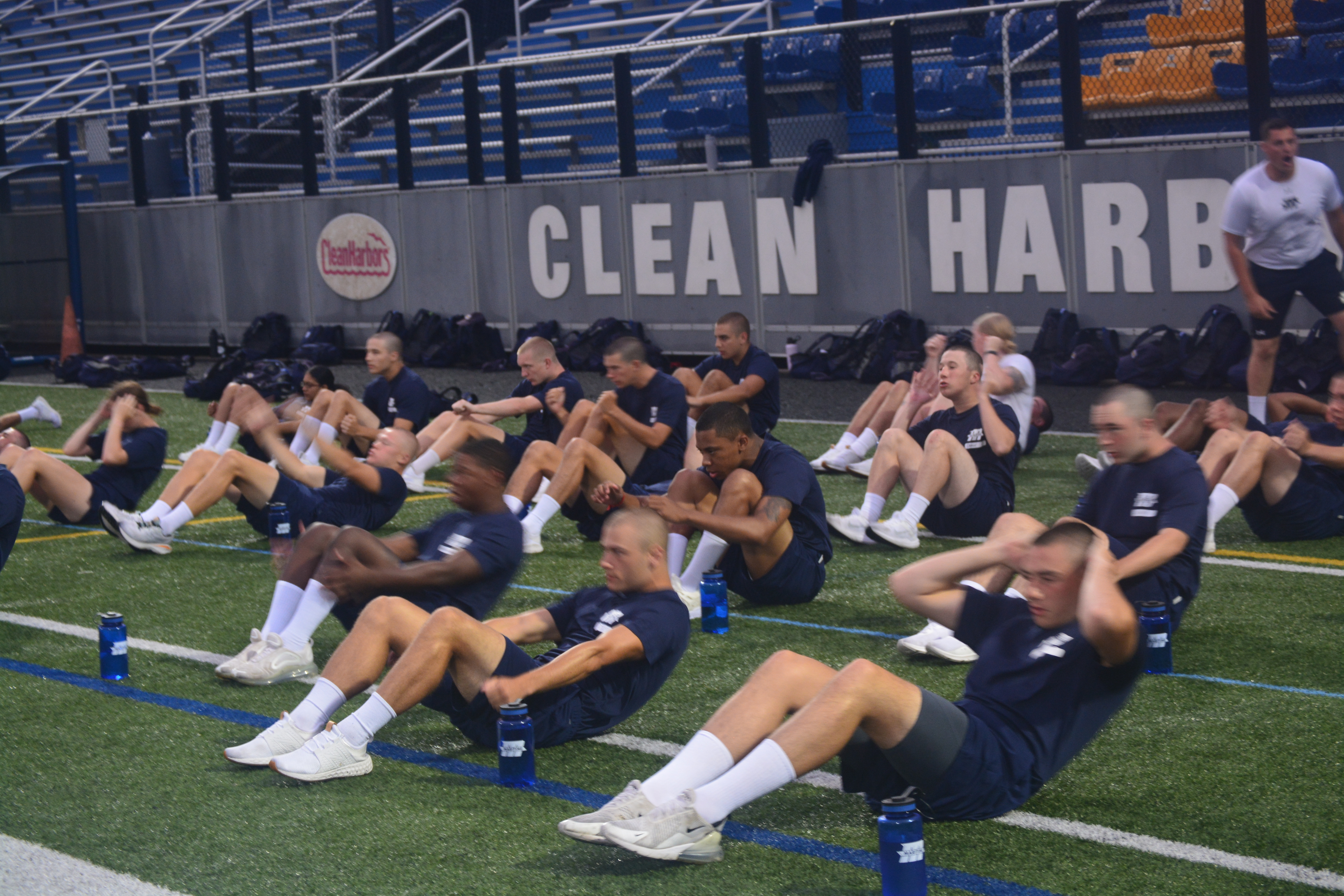 Some very motivating situps
Push up circle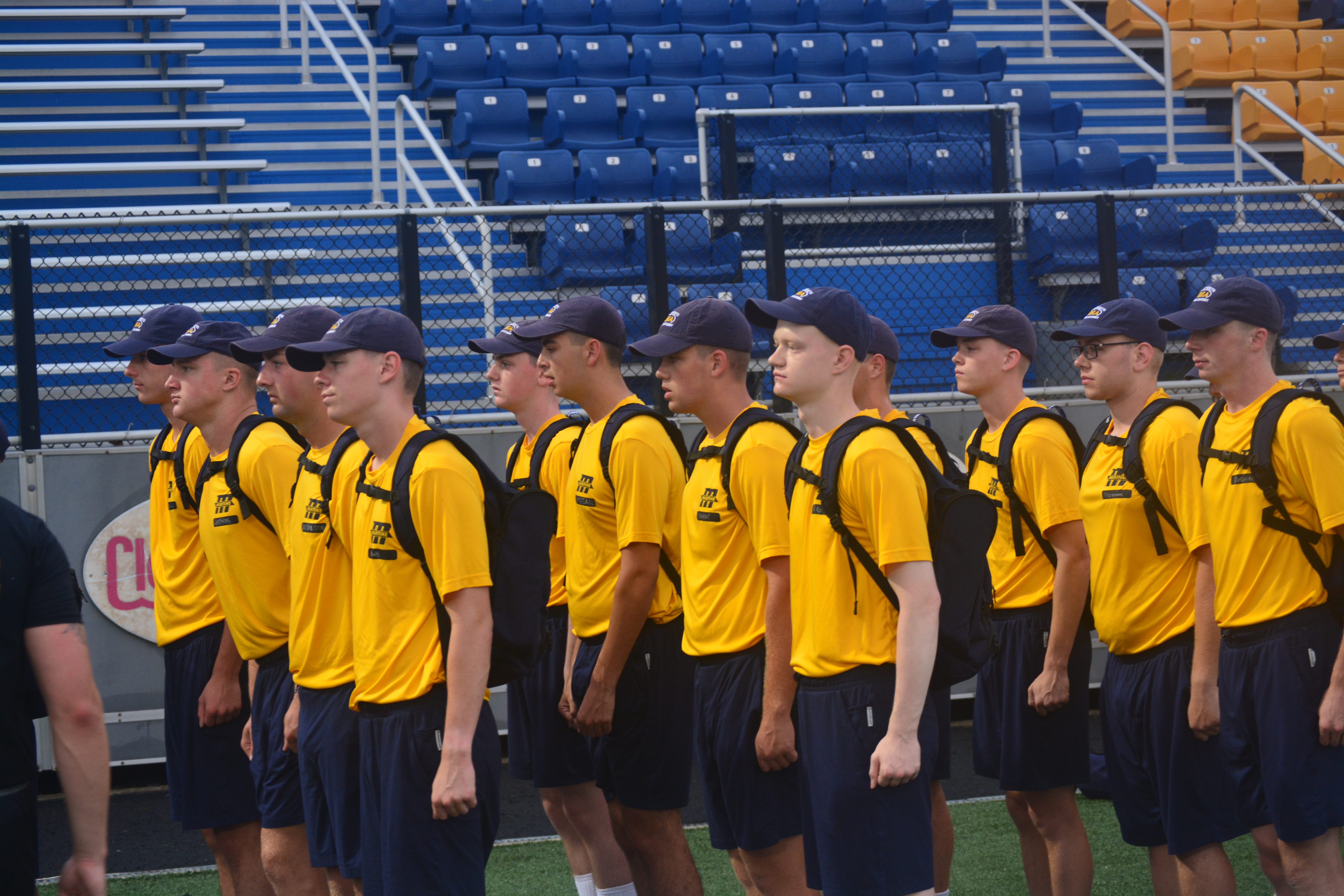 Forming up after PT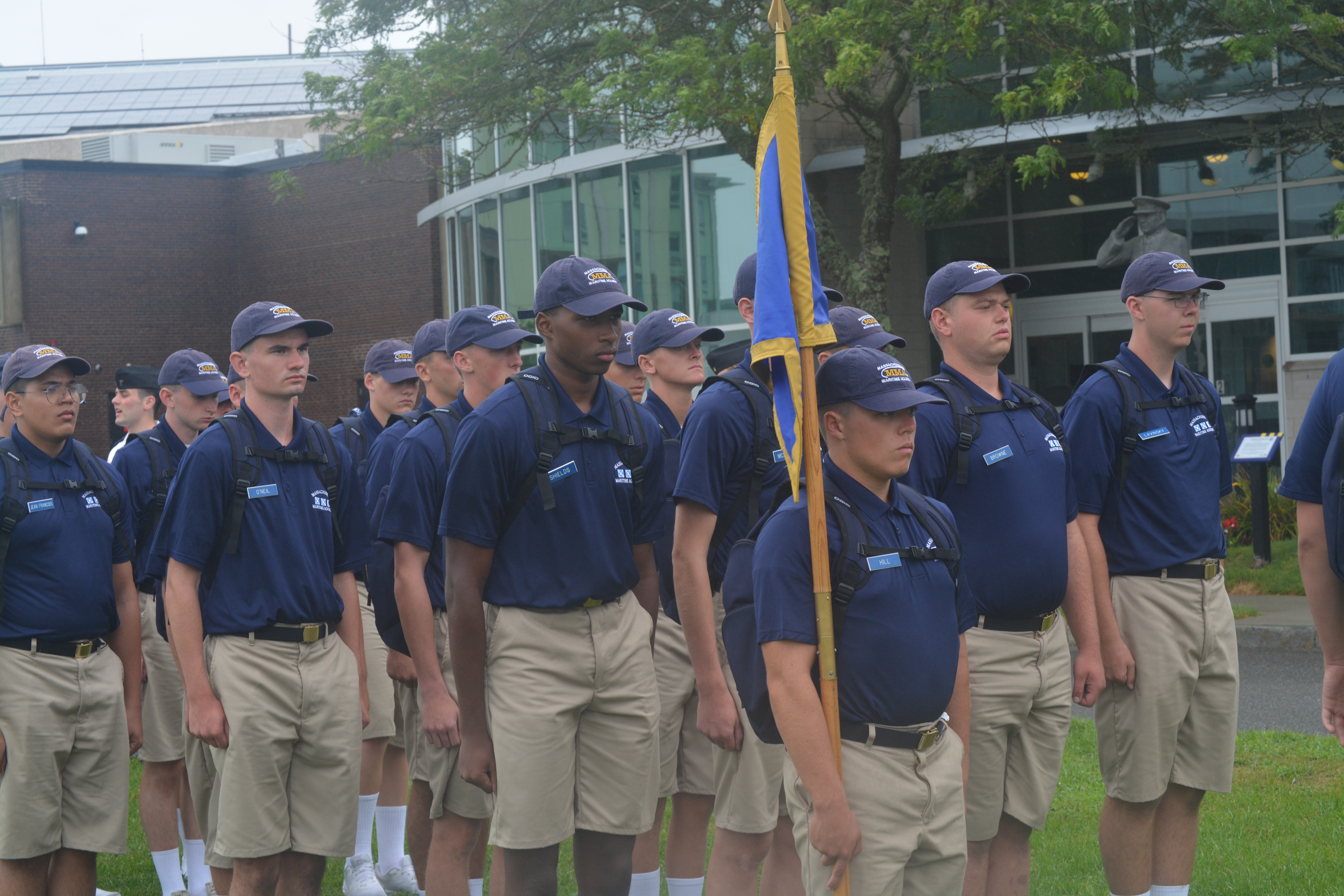 Practicing drill in the rain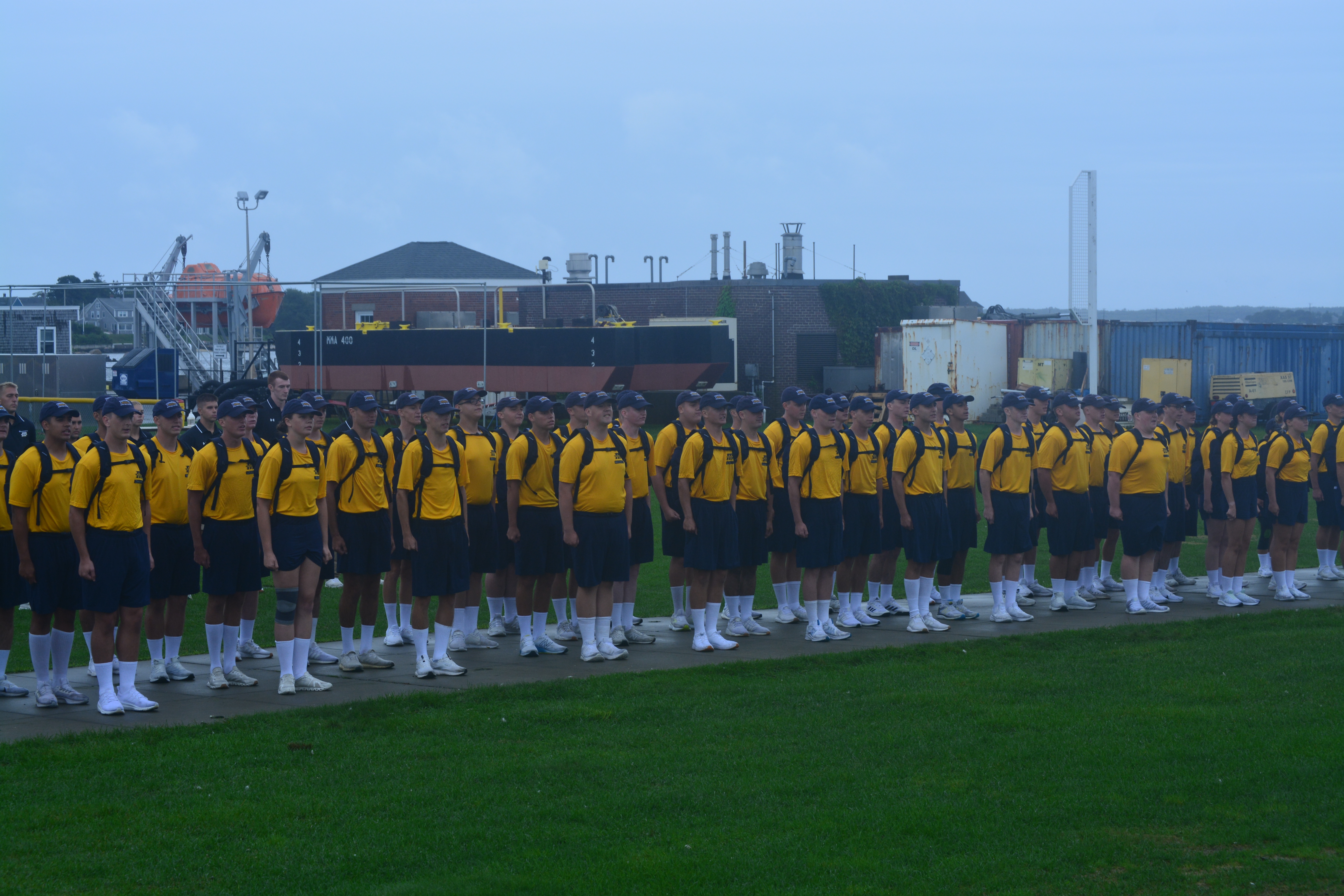 Reciting their youngie knowledge at patio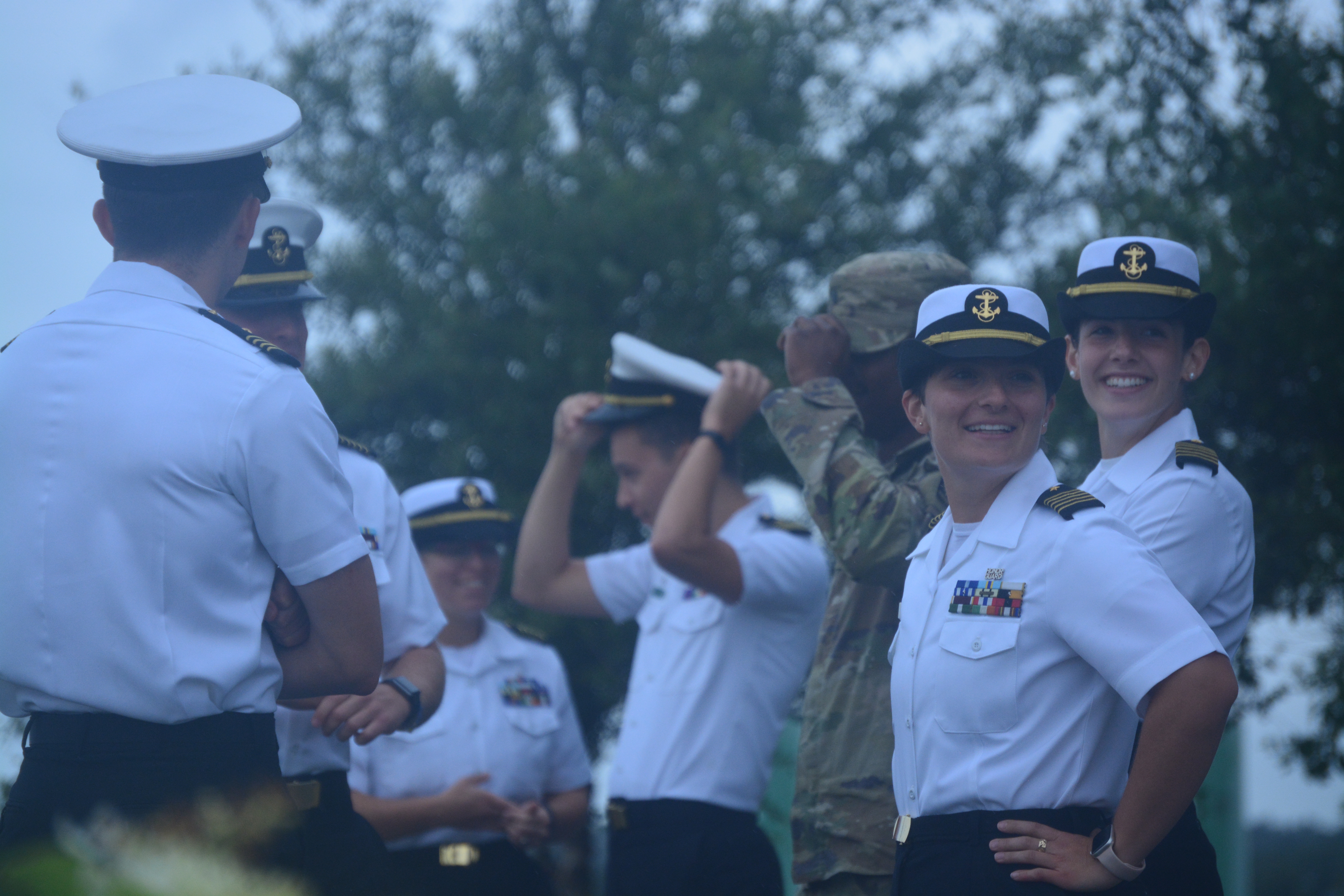 Our regimental staff getting lightly rained on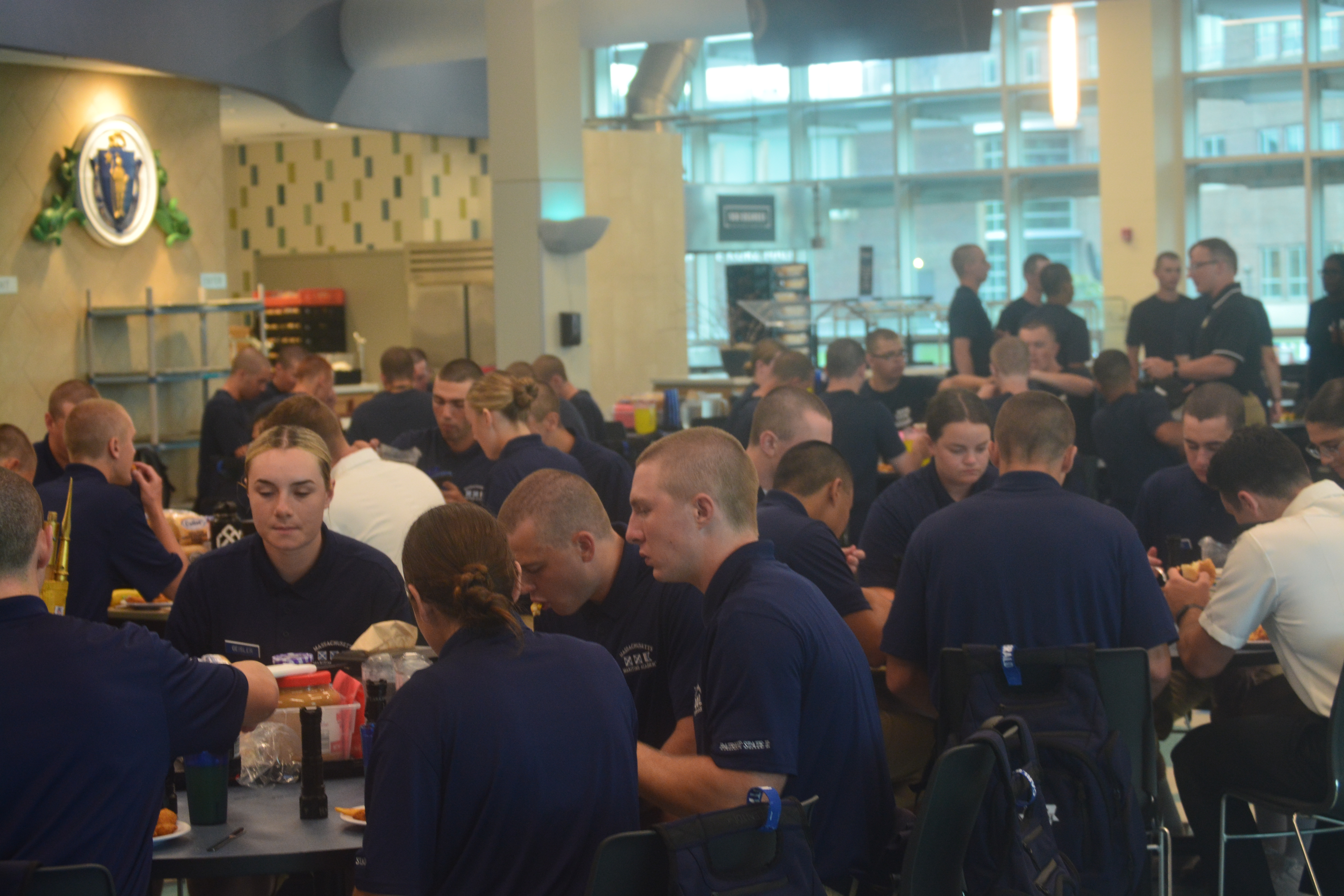 Enjoying a nice, warm lunch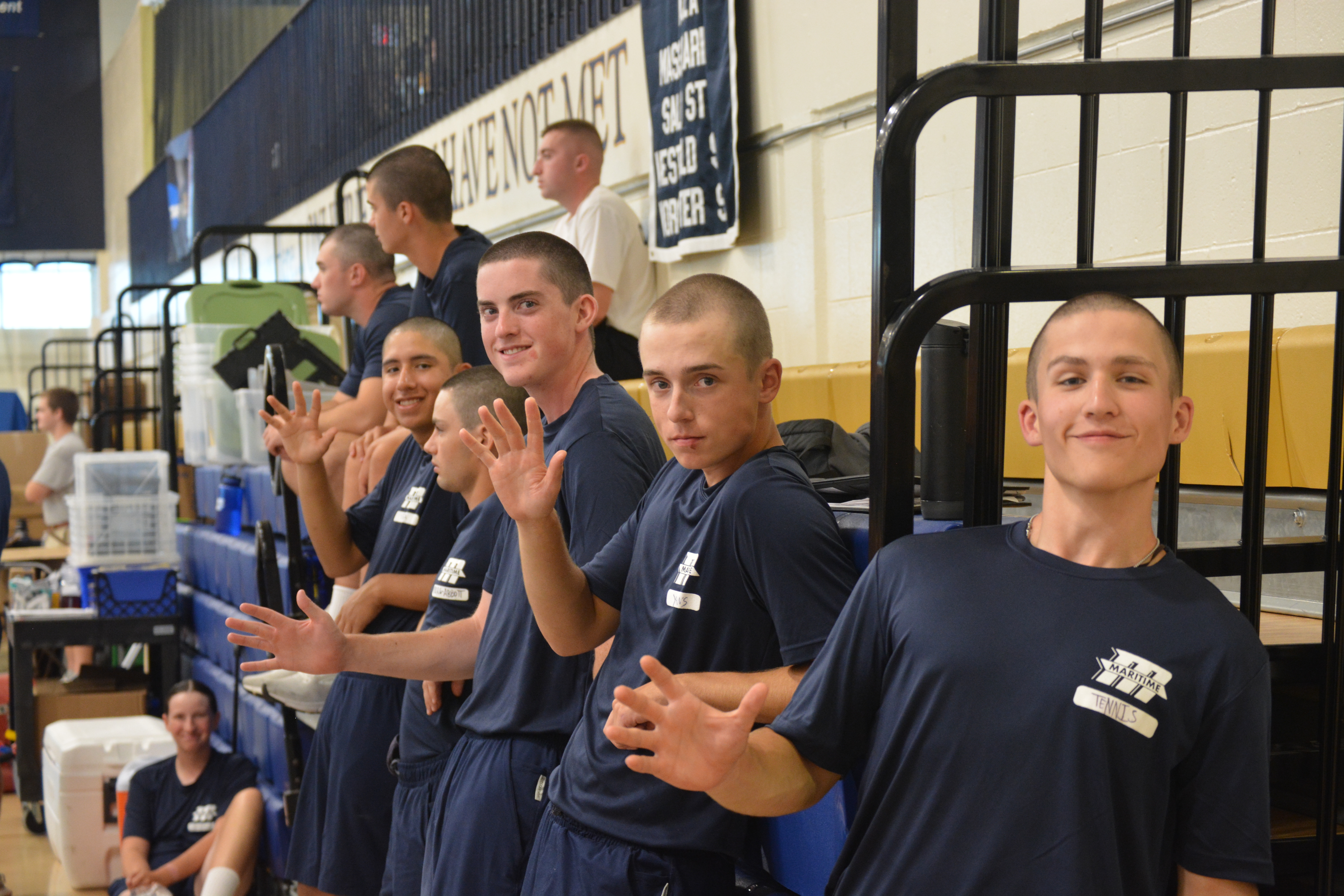 5th Co having some fun at indoor intramurals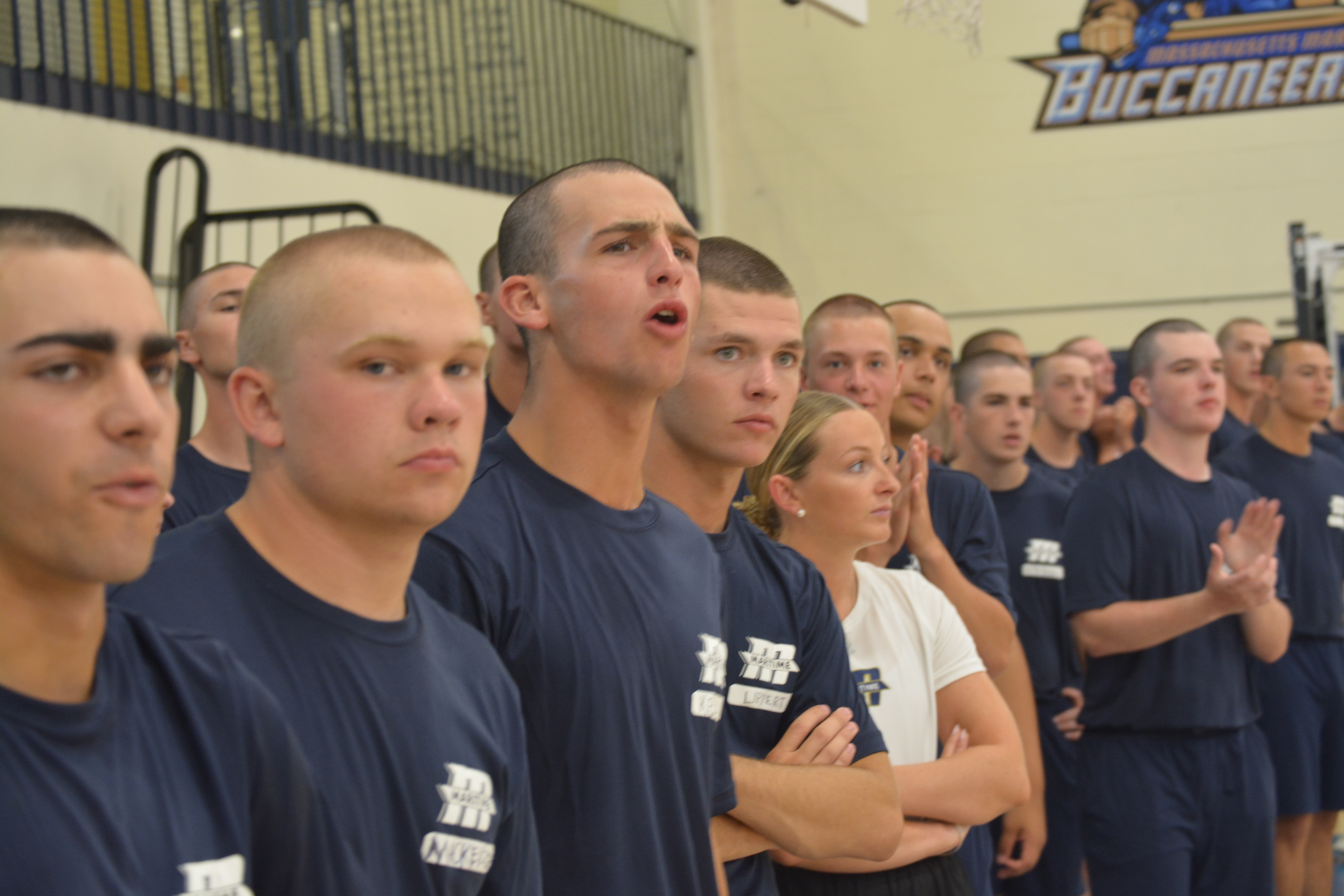 Cheering on their shipmates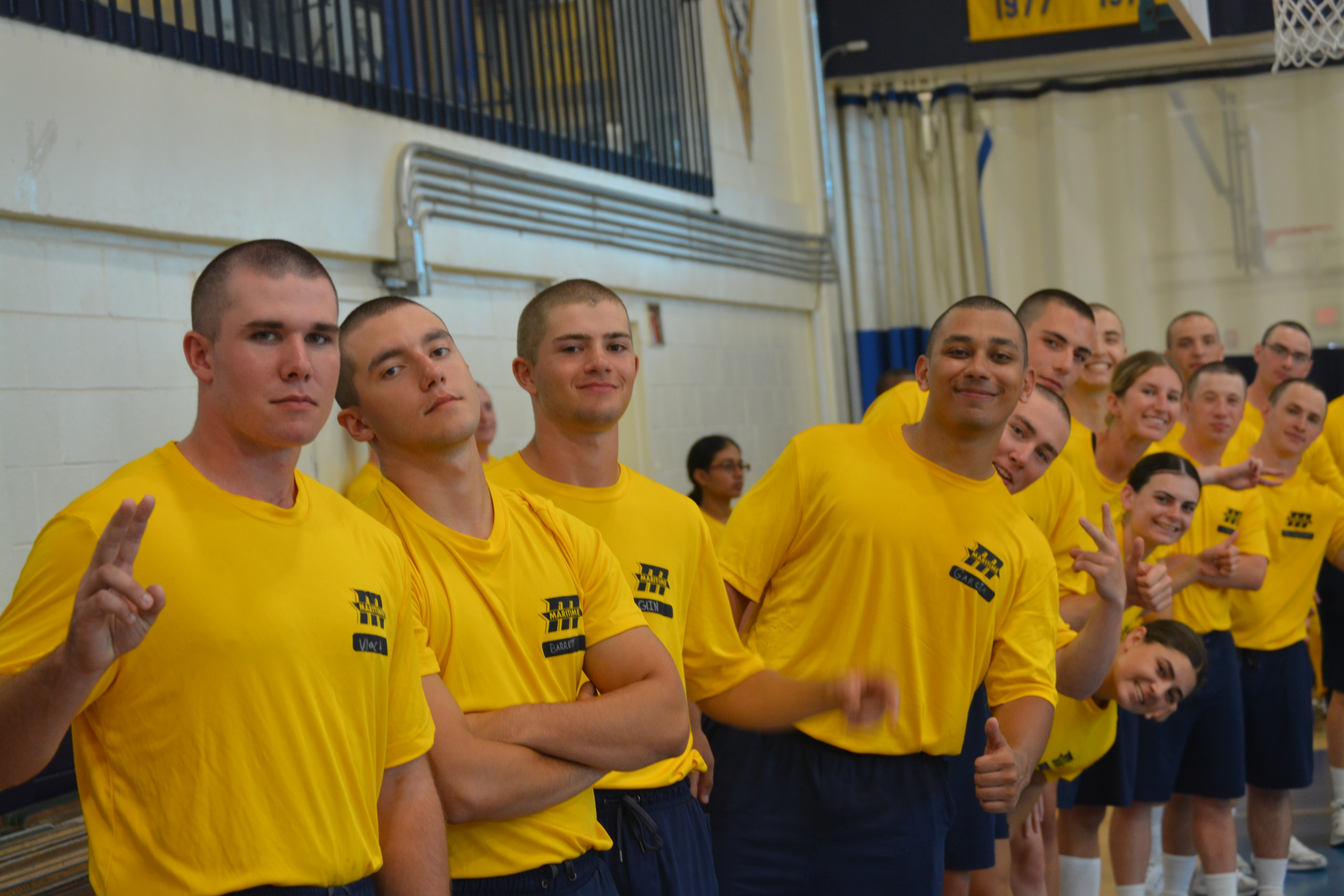 2nd Co at intramurals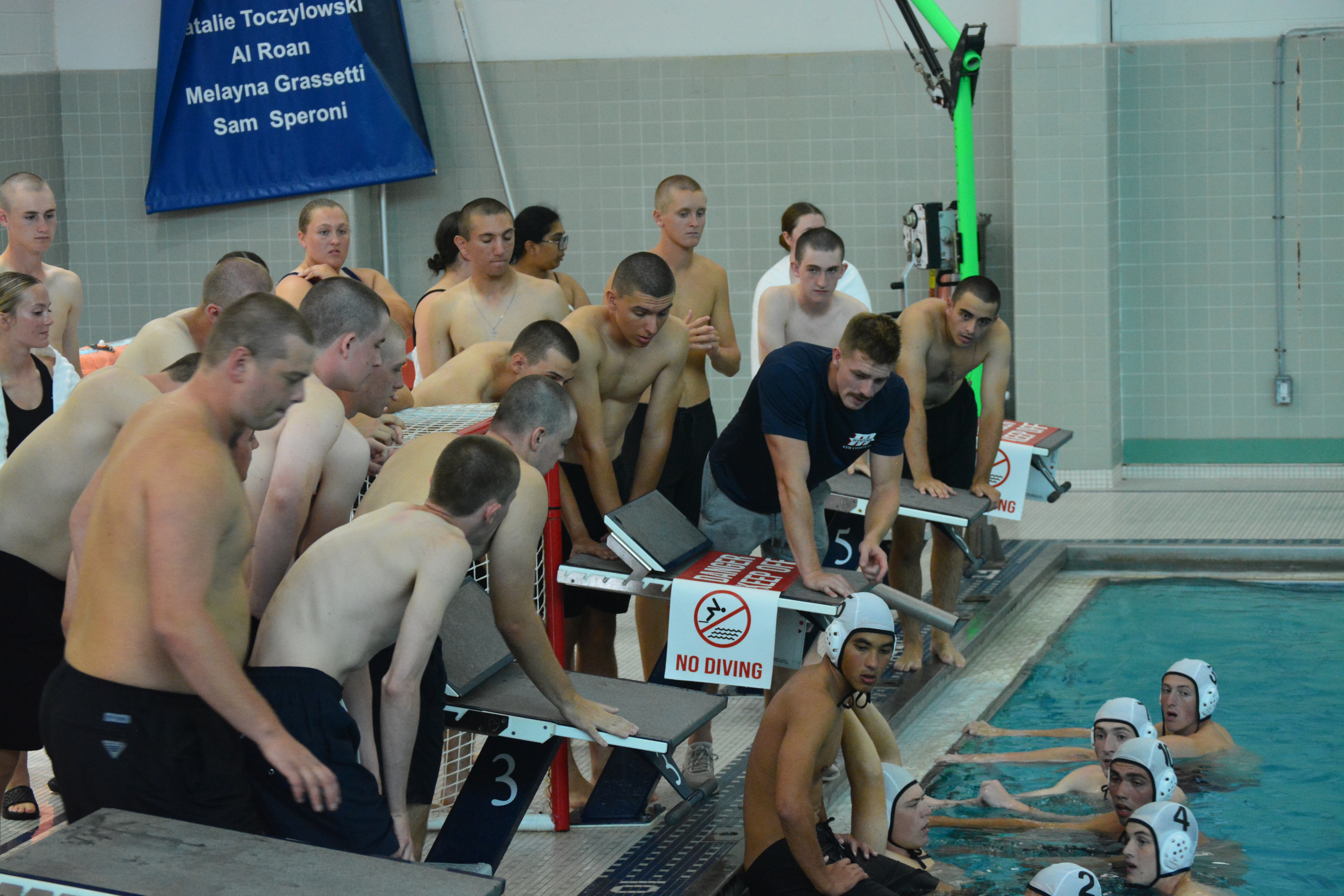 6th Co giving advice to their team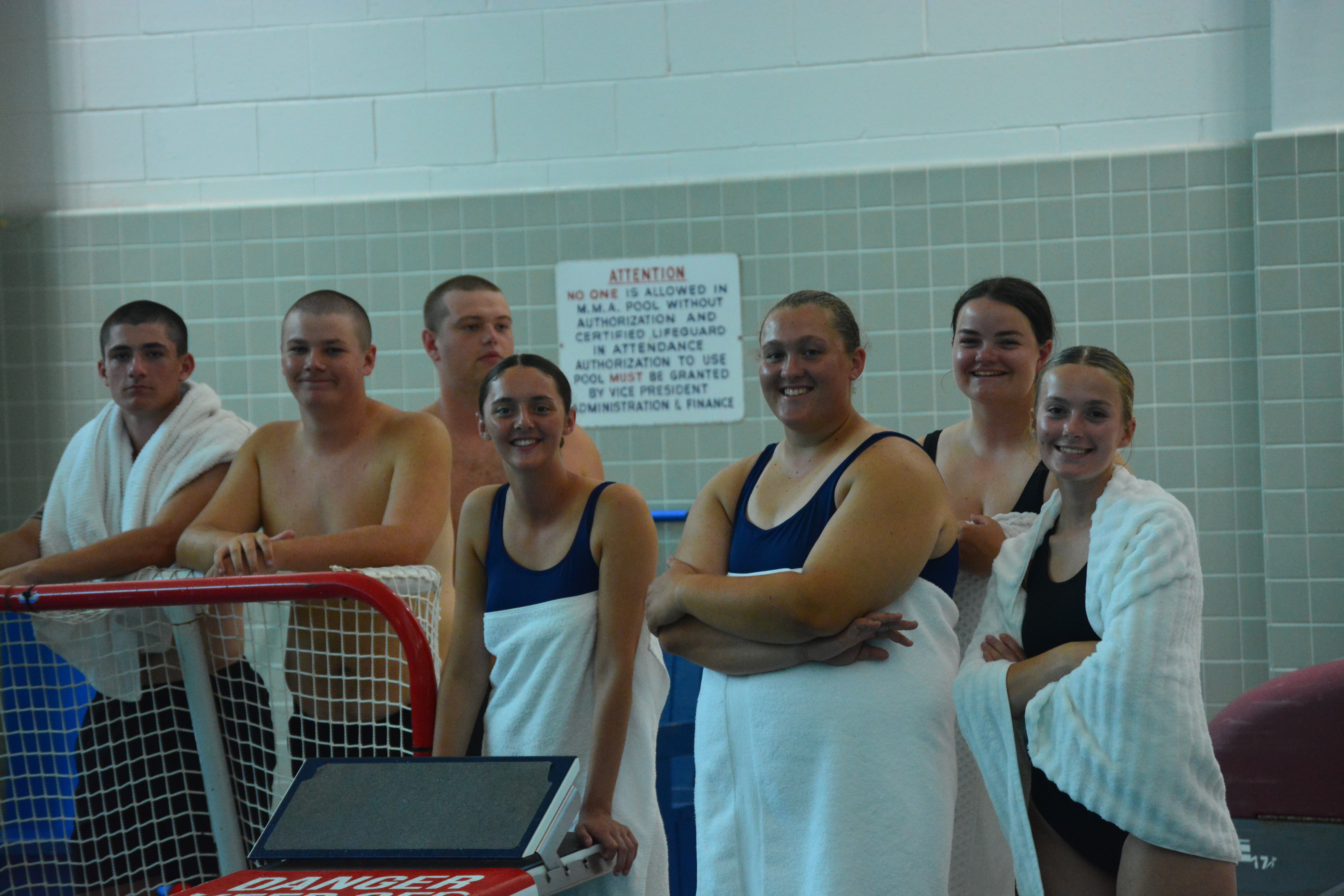 More 6th Co having fun at water polo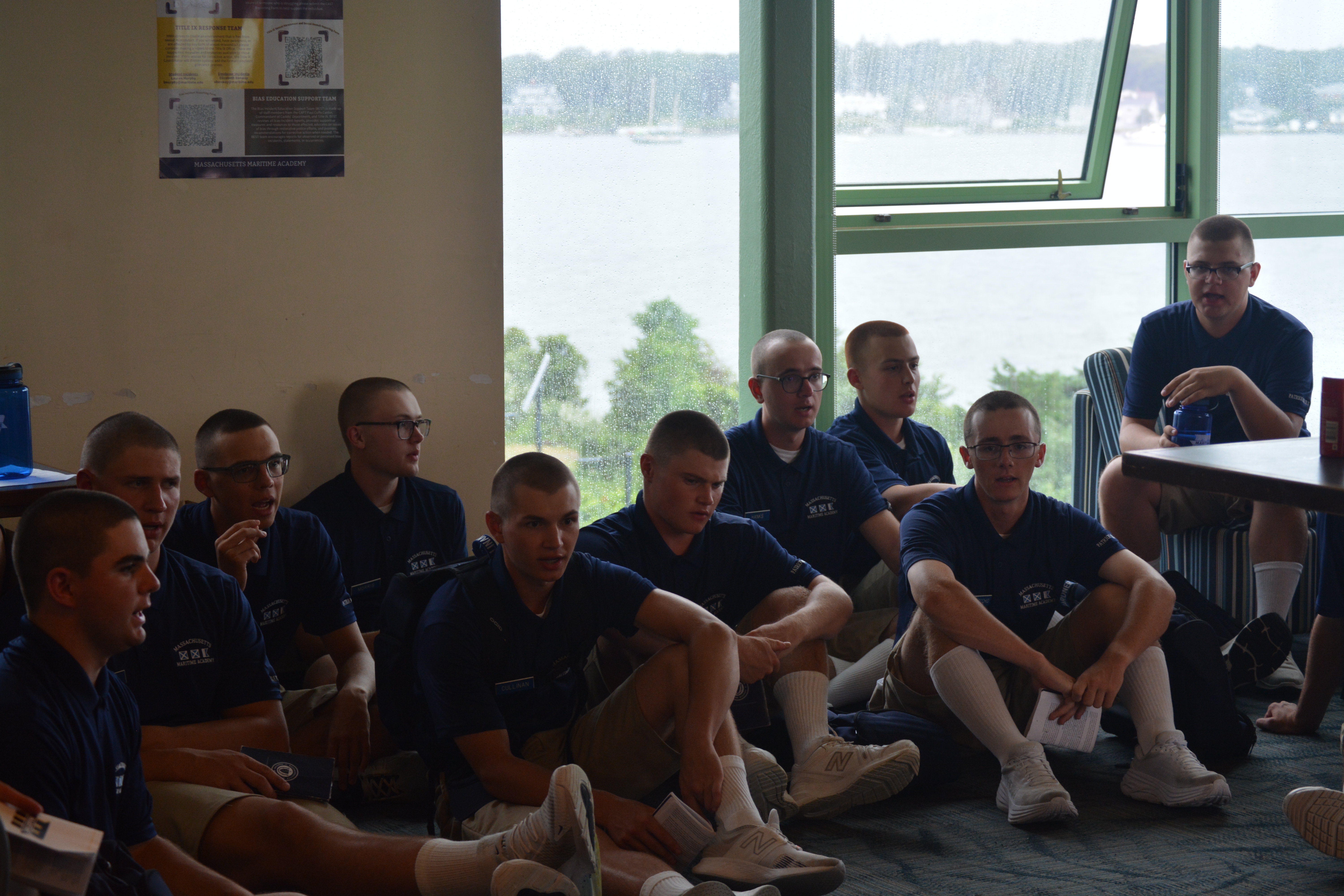 Reciting their youngie knowledge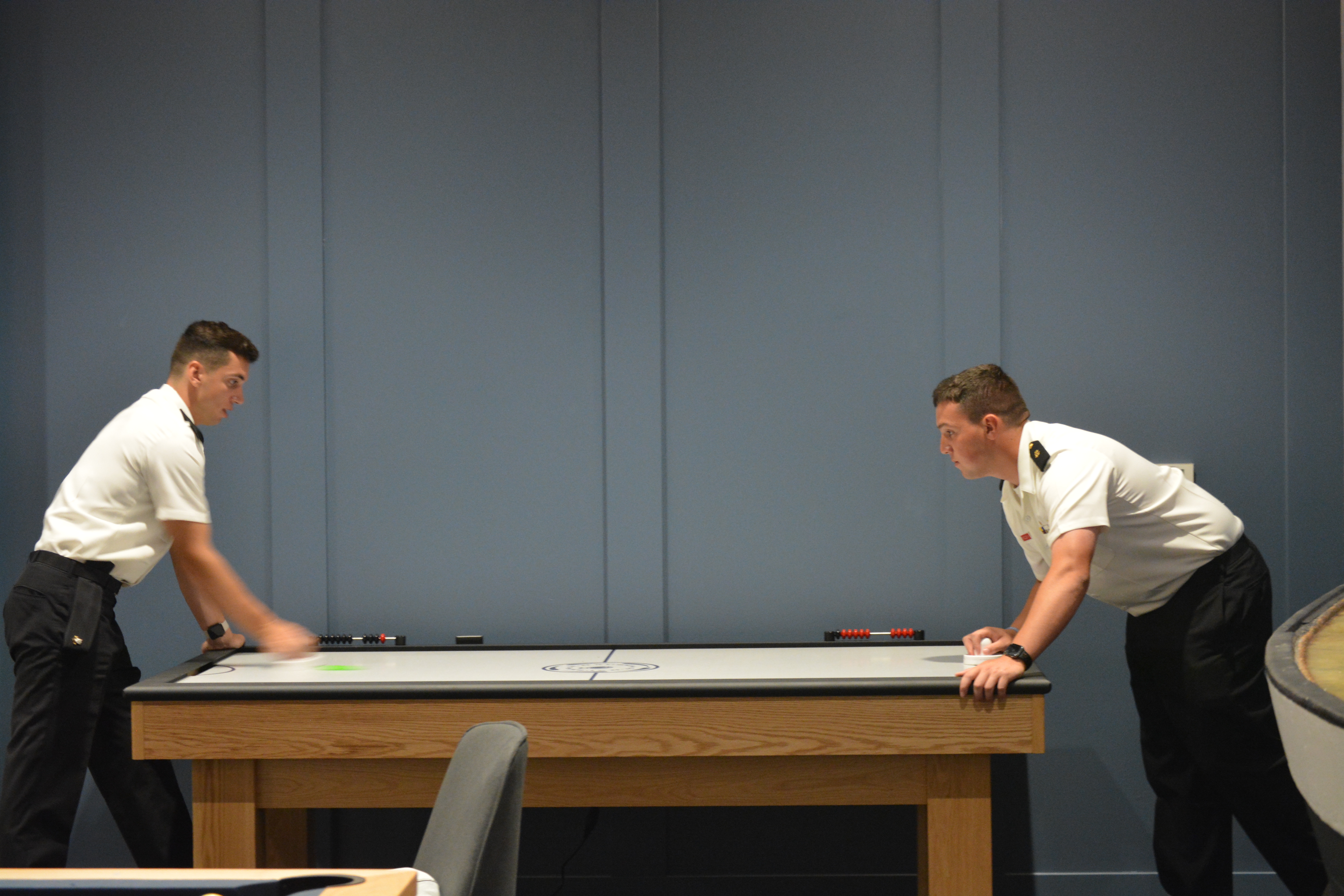 The Cadre enjoyin themselves on their break in our new Fantail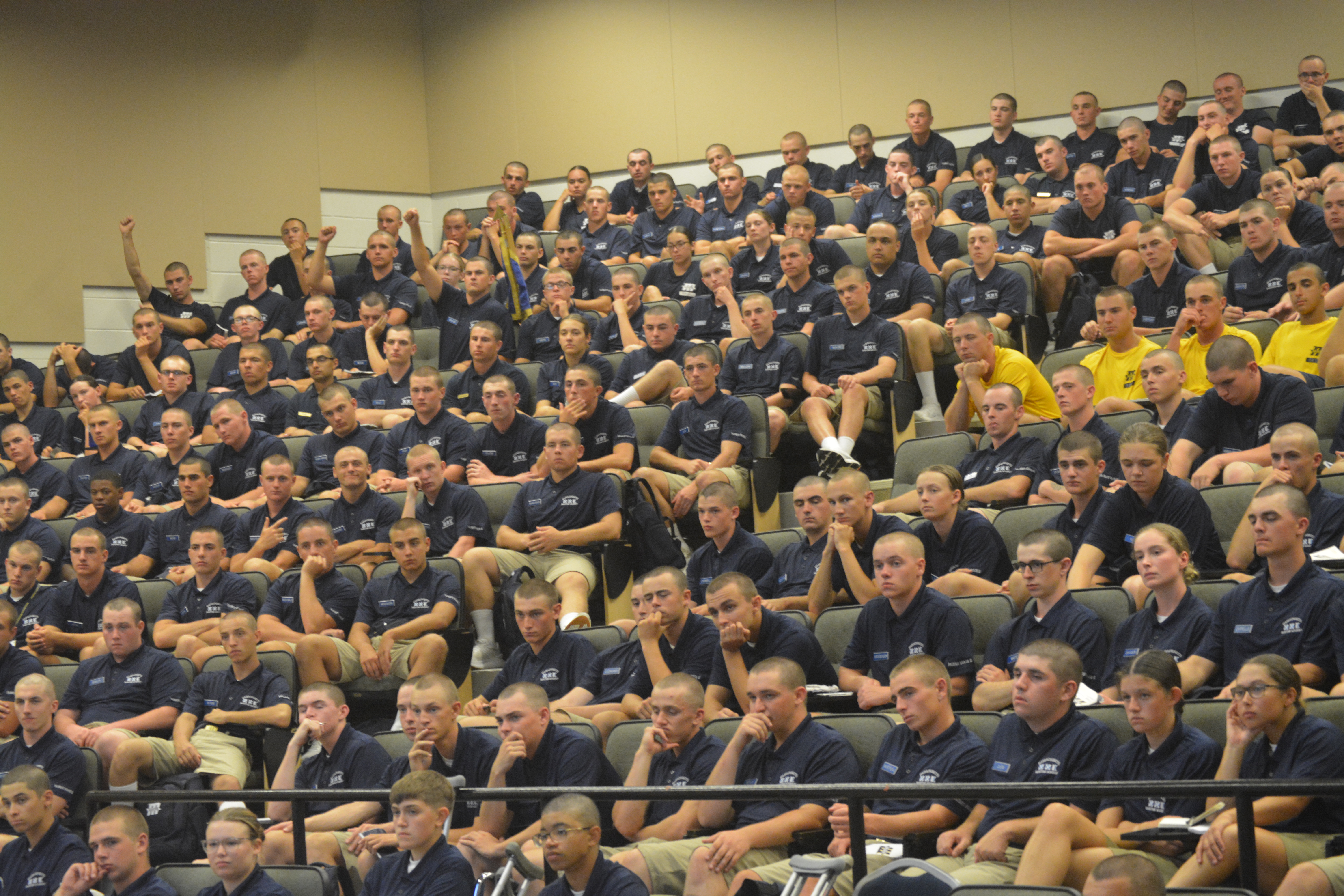 Evening meeting in Admirals Hall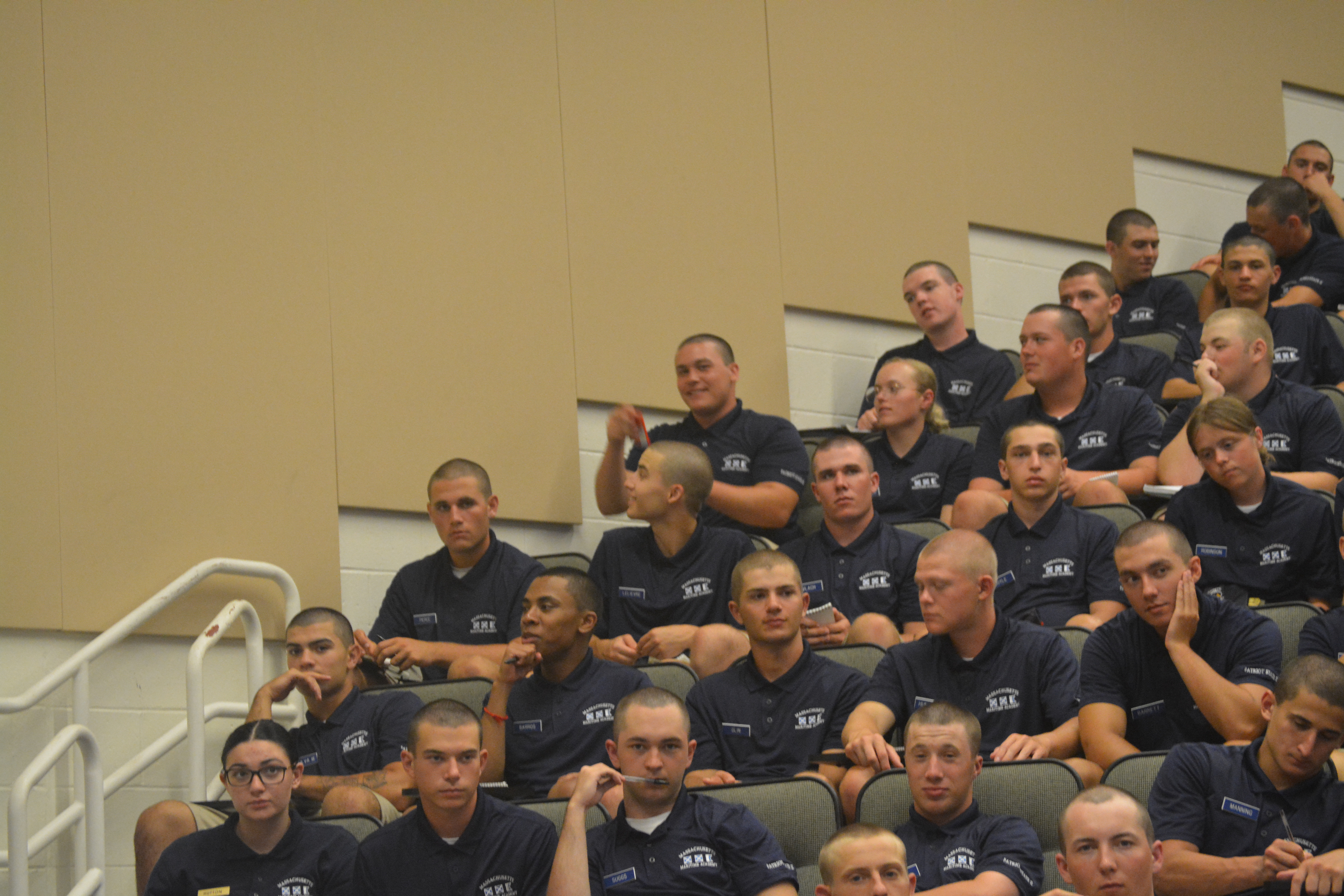 One lucky C/C gets a Kitkat for answering a question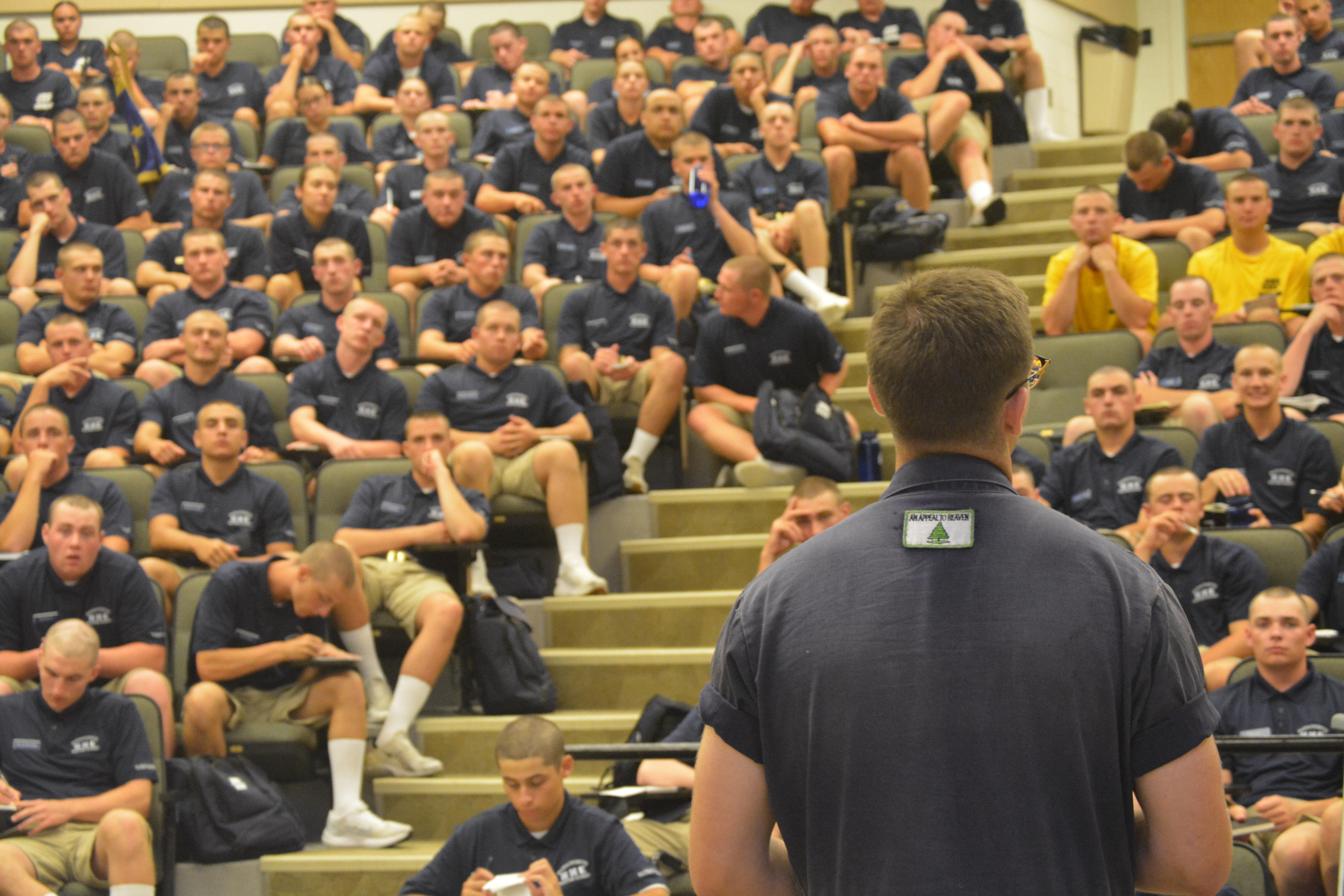 1/C Acevedo presenting on ship customs