Good Evening All,
Today was a bit different at Orientation. Rather than a loud wake-up and a hearty morning PT session, the Cadet Candidates had the morning to reflect and were given quiet spaces to pray, if they chose to. As we get close to Orientation, the Cadet Candidates continue to push themselves to learn their knowledge and come together as a group to succeed. Tomorrow, we go back into the swing of things, with a PT test to gauge how the C/C's have improved from their initial scores.
Here are your nightly updates from our Company Commanders:
1ST COMPANY
Family and Friends of 1st Company,
The senior staff took over for almost the entire day. There was no PT this morning, and instead we used this as a personal reflection time. We offered any Youngies who would like to take the time to practice religion to be taken to the new Cuffe Center located in the Fantail. For those who did not prefer this, we did a reflection exercise with them. We had all of the Youngies write a letter. In this letter we asked them to write their name, where they are from, their major and goals they want to accomplish with this degree, a struggle they may be facing during orientation that they are comfortable sharing, and words of encouragement for a shipmate. After all of these letters were handed in, we then shuffled them all and passed them back at random. When coming up with this idea, we had the intention of allowing their shipmates to get to know someone in their company they may have had limited conversations with or may not know at all. It was also to be used as a motivation strategy so if one of them is facing a struggle, they may realize they are not alone.
The entire morning and most of the afternoon was taken up by a day at Great Herring Pond in Plymouth. The Youngies were divided into three groups and rotated in stations. One station was with the Maritime Bucs crew coach, where they used a rowing barge to practice rowing. The second station was with upper class cadets in the Monomoy boats. These are old open lifeboats that are now used for training. For license majors, they will have to complete a lifeboatman assessment in the future, and one portion of this is being proficient in the proper commands and being able to steer the boat. Having to row these boats requires a lot of teamwork and communication, and I can tell you from experience it is not easy. The Cadet Candidates did end up doing a good job with this however, and I was impressed. The final station was using the small sailboats that are owned by our sailing team. The Cadet Candidates were put in partners and got to sail around the pond, which they had a blast doing. We had quite a few youngies that the crew coach and sailing coach were looking to recruit.
We returned back to Taylor's Point and immediately went into intramurals. I am proud to say that we clean swept 5th Company in dodgeball. We won three games in a row, and did so well that we took only a half hour of a two hour intramurals block to complete this game. To kill time, we then played a cadre game, where the 1st Co staff played against the 5th Co staff. Although we did not win in this cadre match, the companies were getting so loud and excited even though we weren't directly hyping them up. They were chanting and singing cadences and just overall happy to be there. It was incredible to see how invested they were in watching my staff and I play this game. I can see the sense of pride of being in 1st Company growing. This will only get stronger throughout the semester
Very Respectfully,
Jessica Hinds
1st Company Commander
2ND COMPANY
(To be added)
3RD COMPANY
This mornings wake up call was a bit different. Instead off attending morning PT on the football field, the Cadet Candidates spent the morning having some personal reflection time. If any Cadet Candidates needed a space to pray or tend to any religious needs, they were given the opportunity to do so.
Later in the day, the Cadet Candidates attended drill practice. They are currently learning "to the wind" which is a very elaborate drill move. The Cadet Candidates seemed excited and eager to learn. Some time was also dedicated to organizing their rooms and making their rooms inspection ready. This entails of prepping their uniforms, making their beds, and completing their Inspection wall locker and drawer. The 3rd Company Squad Leaders assisted the youngies as needed with their room prep.
3rd Company did not have a scheduled intramurals game today against another company. Instead, the company did team building exercises and had a kickball game.
The 3rd Company Cadet Candidates are one week into Orientation. The youngies are starting to display more self disciplined and integrity. Although they have made so much progress in the past week, the work is not done yet.
Very Respectfully,
Sophie Strano
3rd Company Commander
4TH COMPANY
With Orientation over halfway through, 4th Company Cadet Candidates continue to make great progress and have shown strong improvement overall. Today was spent mostly on drill and Youngie Knowledge studying. Both of these activities help acclimate the Cadet candidates to daily life and customs at Massachusetts maritime Academy. Additionally, both of these functions play a large part in the Competition for The Admirals Cup, which is an award given to the best overall Company during Orientation.
The marching that the Cadet Candidates are performing during drill will be showcased during the Marching Competition, which takes place the morning of Orientation graduation. The Youngie Knowledge that the Cadet candidates are learning will be tested on the same day, and provides Cadet Candidates the needed knowledge of Academy and Regimental Staff, MMA history and customs, and other important information such as ship safety signals and fire safety information.
4th Company once again was victorious in intramurals today, securing a win in Ultimate Frisbee against 2nd Company. In the evening after intramurals and evening meal, Cadet Candidates attended lectures on the MMA Conduct system, the Regimental Manual, and the Academy's community service programs. This information will all be extremely useful to the Cadet Candidates as they begin classes in a little over a week. With Orientation winding down, we will continue to push the Cadet Candidates in their pursuit of growth and excellence over the coming days.
Very Respectfully,
1/C Jack Mulligan
4th Company Commander
5TH COMPANY
Good morning,
This morning was different than any other this week. Sundays PT is canceled and in place is self reflection time for the cadet candidates. Cadet candidate could choose to go into their rooms for self reflection or were allowed to go to a quiet space to practice their religion if they needed too. If neither of this option suited them cadet candidates participated in room preparation for the upcoming regimental inspections. The inspections is all inclusive as a member of the regimental staff goes through the rooms and inspects beds, wall lockers, dresser drawer, dust in the room, as well as many other things
Today we also practice more drill. The 5th Company cadet candidates are progressing exponentially with their marching movements and stationary drill movements. We are looking forward to the marching competition as we are practice hard.
After drill we had noon meal then company officer time with 5th Company's Officer Senior Chief Jones. They spent an hour with Senior Chief as he talked to them about his aspirations and goals for them moving forward. Once they left that meeting they were excited and ready to continue on marching. We had another hour block for drill until our intramural game of dodgeball verse 1st Company.
Intramurals did not go in our favor today but we will be sure to bounce back tomorrow with a win. The cadet candidates then attended evening meal followed but a few presentations from the regimental staff. As always the night concluded with the playing of taps.
Very Respectfully,
1/C Michael Riehl
6TH COMPANY
Good evening family and friends of 6 Co,
Todays morning was conducted differently than what the C/C's have grown to know from the last week. Myself along with two members of the regimental staff awoke the freshman instead of all of the Squad Leaders on deck today. Although normally we would go to PT in the morning, we stayed inside the dorms for a "Personal Reflection Time" with the C/C's. We also used this time for any interested in participating in any religious rituals they felt as though they would like to do. The academy did a good job of accommodating those who did participate. For those who did not, I asked them four simple questions in which they wrote down on a notecard for myself to read. 1. What is a regimental or academic goal they have? 2. What is a personal goal they have? 3. What is something they are proud of themselves for this week? And 4. What is something they need to work on? I was very proud while reading some of the answers as they were inspiring as well as motivating. We have a lot of C/C's who said they want to have high GPA's, obtain high leadership positions, and those who are especially proud of themselves for coming to this Academy and not quitting on themselves. As for some things they would like to work on, the general consensus was that they needed to work on being comfortable in uncomfortable situations and working on their confidence. I assured them that no progress has ever been made in a comfort zone, so it is good that they embrace and understand the power of being uncomfortable.
After morning meal, the C/C's participated in their second of many morning formations they will have in their time at MMA. I was skeptical about the weather as it was cloudy and foggy over Buzzards bay, but as the morning went on the fog began to clear and the sun started to show.
Once morning formation concluded, our Squad Leaders taught the C/C's various marching maneuvers which are beginning to get advanced and complex. The C/C's have a lot of work to do before the competition on Wednesday. I hold them to a very high standard with the marching. I am proud to say that 6th Company was fortunate enough to take home the trophy last year for the spring marching competition, and I am hoping to lead them to victory once again. It is difficult for the C/C's to learn the marching, as it is all brand new to them. I was especially impressed with the SL's patience while teaching them to March. A couple of all stars we have when it comes to marching are C/C Shields, C/C Hill, and C/C Patterson who have all shown extraordinary growth in their confidence and appearance as they march. There is still a lot of work to be done, and I am hoping that we can accomplish this before the competition on Wednesday.
Losing intramurals two days ago may have been the wake up call that 6th Company needed to fuel their efforts today. 6th Company had an absolutely dominant performance against 7th Company in water polo today. 6 Co swept 7th 3 games to 0 with help from a multitude of candidates. It was nice to see the entire company participating and having a good time. Aguado-Scheyer led the team with a hat trick in the first game to set the tone for 6th Company. C/C Accord gave us some great effort and contributions as well to help lead 6 Co to victory. Our record now stands at 4-1.
Our evening patio was one of our worst, which was incredibly disheartening. We had ample time to study today, but the C/C's struggled to remember the older knowledge which we had learned a few days prior. It was not a good moment for sixth company, but I explained to them that good teams are not defined by how they act when things go good, however how they respond when things go bad. I encouraged them to hold themselves accountable and to reflect on how they can make themselves succeed in this aspect. I am hoping that tomorrows performance on patio will be exponentially better than todays.
Our CCPL for yesterday was C/C Santos, who showed exemplary leadership specifically during intramurals as well as the study sessions he led. Todays CCPL was C/C Cates who plays a vital role in our intramurals team, and also does a fantastic job of motivating the company to perform better in every aspect. Congratulations to the both of them for displaying their amazing character traits and helping the company succeed.
The leadership trait of the day was initiative. Initiative is the quality that propels individuals to take proactive steps, even in the face of challenges and uncertainties. Initiative embodies the spirit of seizing opportunities and making things happen, rather than waiting for them to unfold on their own. It is the spark that inspires innovation and fosters leadership. Those who exhibit initiative are not content with the status quo, they are the ones who pave the path. Initiative is the catalyst that transforms ideas into actions and dreams into reality. I believe that MMA does a great job of rewarding those who do take initiative. The academy naturally influences the cadets to take initiatives with their mind as well as their body to better themselves. It truly is astonishing to see the motivation that comes from within some of the cadets from this institution, and I would argue that it is second to none. I will end tonight's blog with a notorious Chinese proverb which I believe portrays this idea of initiative perfectly, "the best time to plant a tree was 20 years ago. The second best time is now"
Very Respectfully,
1/C Michael Nogueira
6th Company Commander
7TH COMPANY
This morning, cadet candidates regiment-wide were woken up at the same time as usual but instead of PT they were given time to reflect and participate in religious services. After breakfast, we had our company picture and did some more drill and knowledge study until noon meal. From there, they had a meeting about the standards outlined in the regimental manual and then moved to intramurals. After that they went to the evening meal and an STCW meeting about the conduct system where they learned about discipline within the academy. After that they were briefed on the uniform standards and community service and then sent to bed. These last two days of orientation will be packed with activity and the cadet candidates are increasingly more excited to graduate the program. As I have mentioned, they have come a long way already since the beginning and will certainly be changed for the better. I look forward to seeing what they can achieve.
Very Respectfully,
1/C Luke Dawson,
7th Company Commander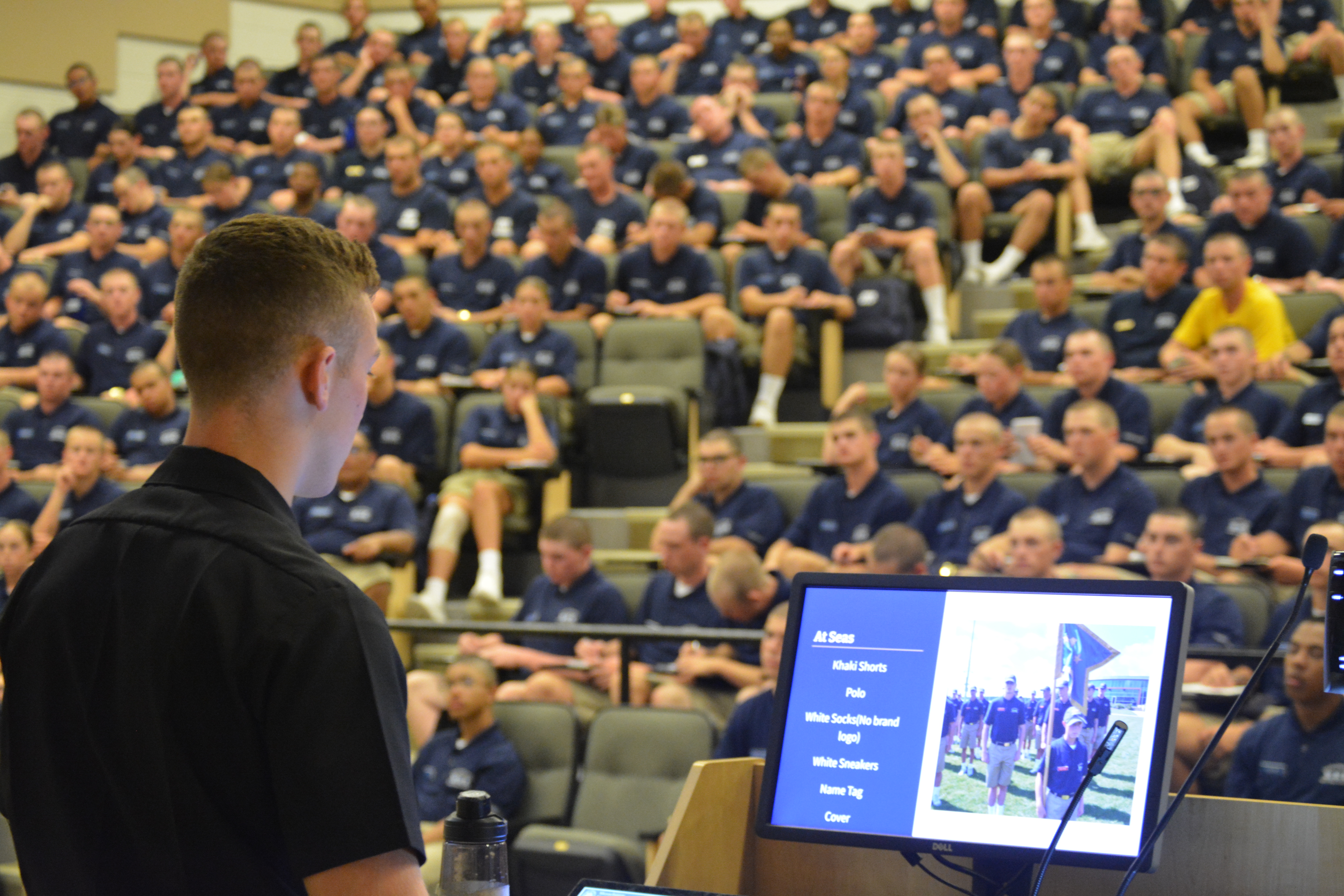 C/C's listen in on a meeting out uniforms standards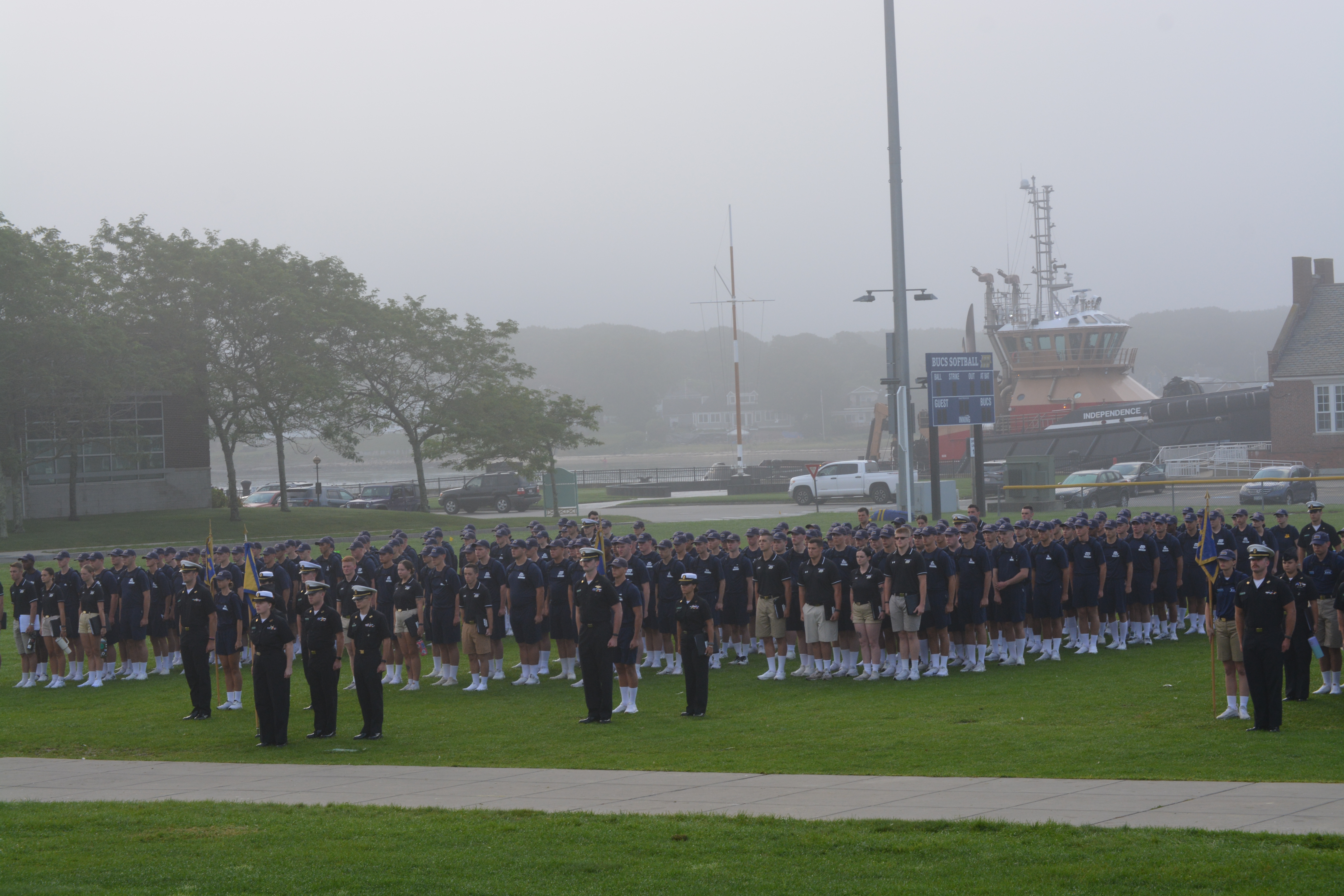 A very foggy morning formation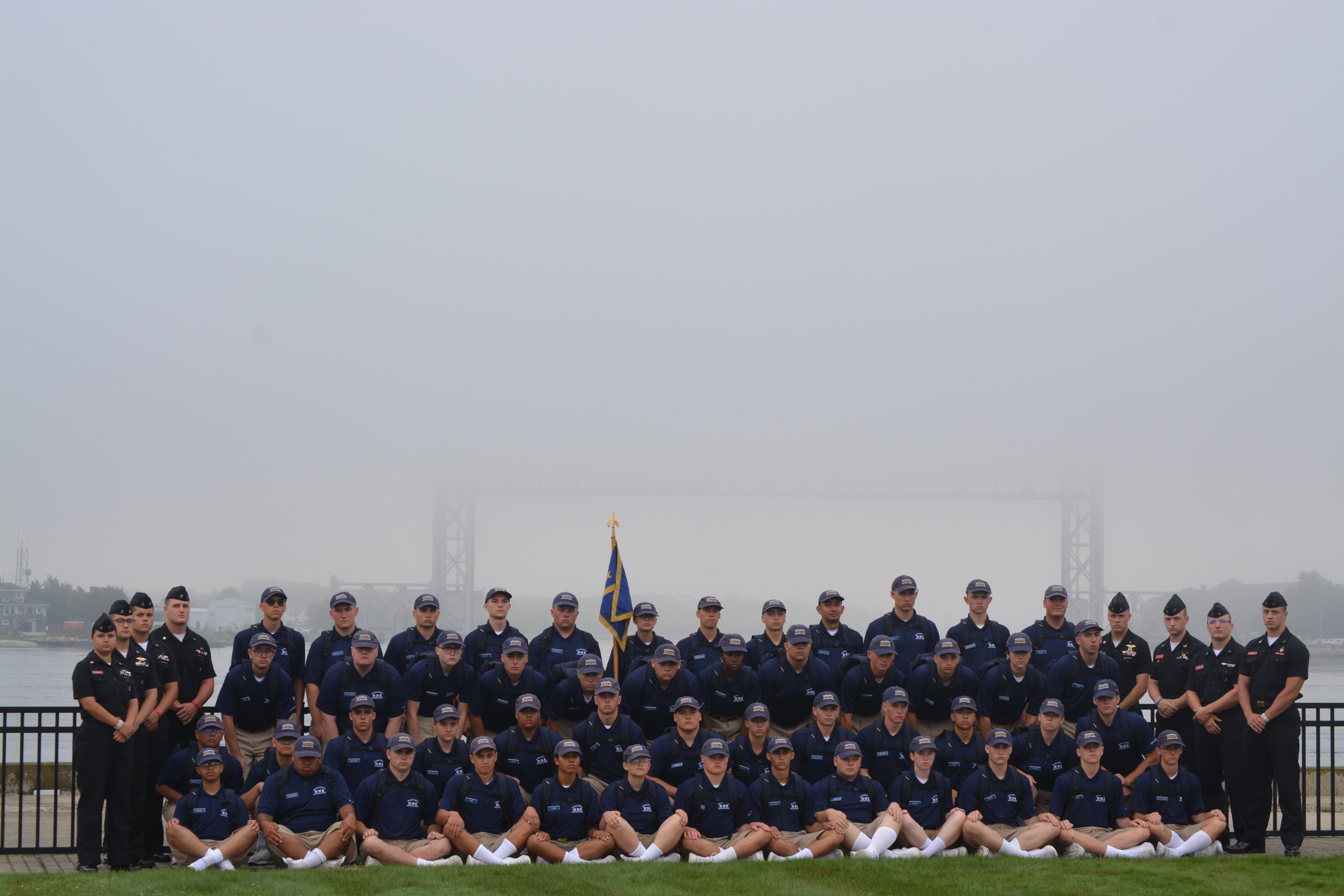 7th Co group picture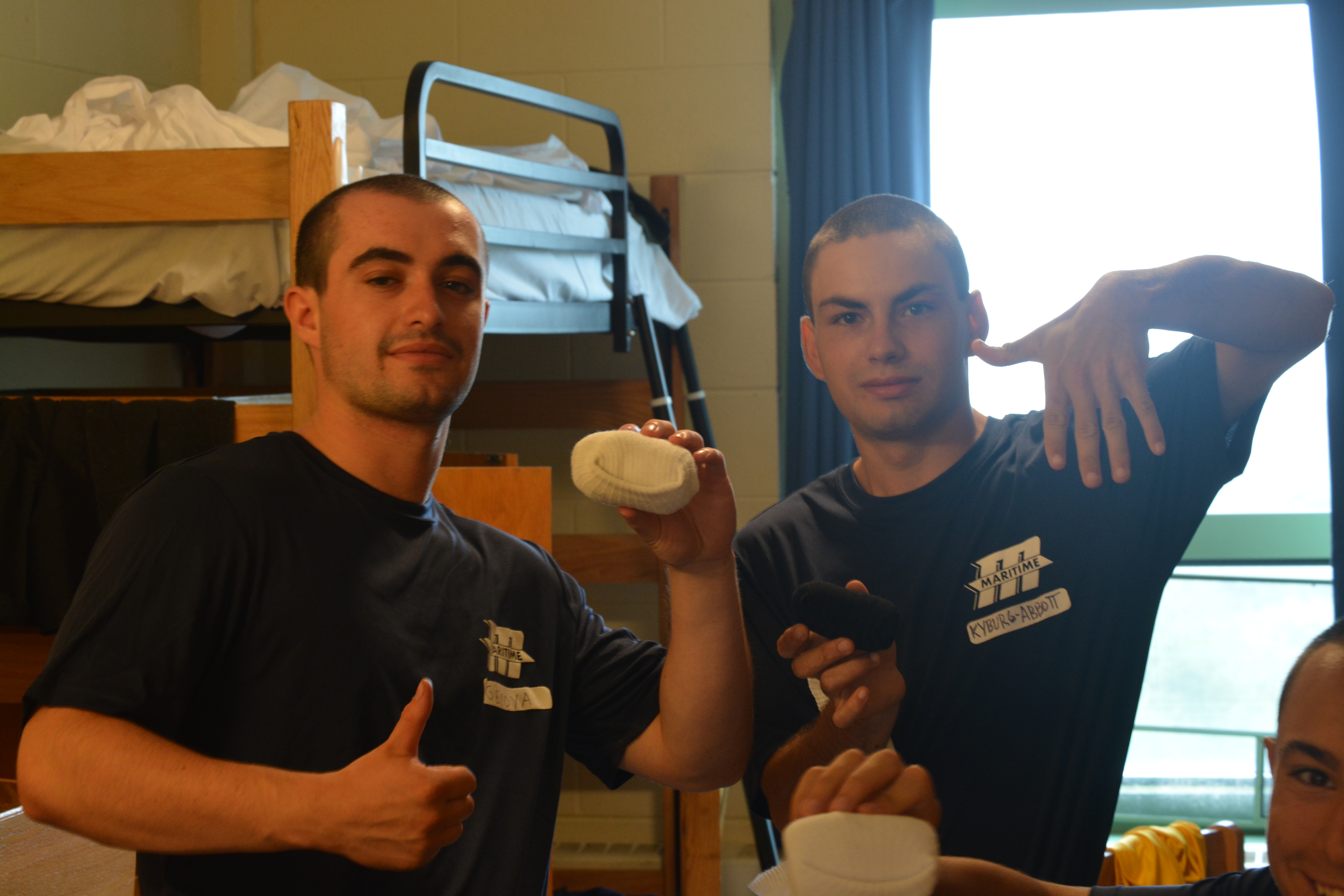 C/C's learn to set up their rooms for inspections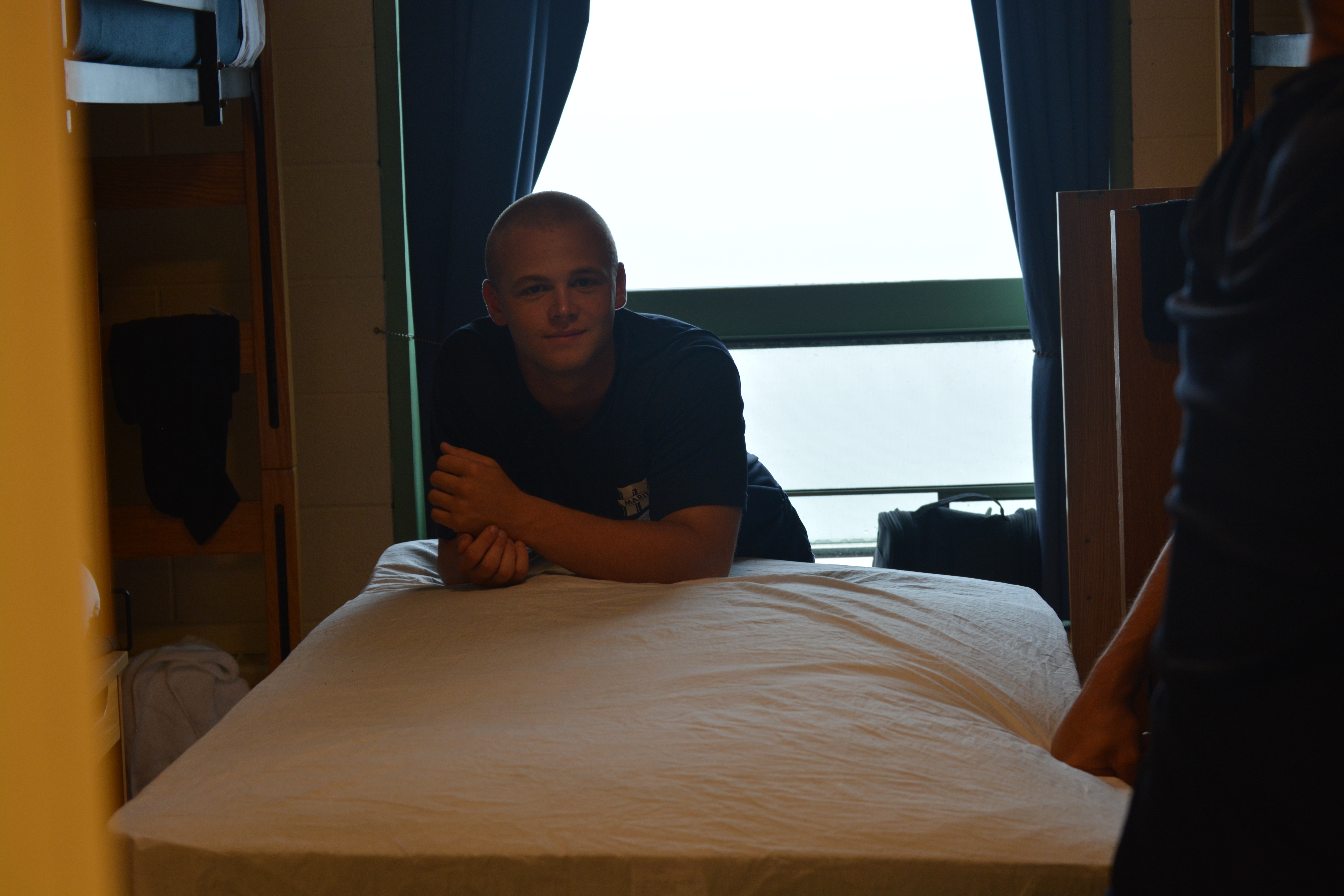 More room set up
3rd Co group picture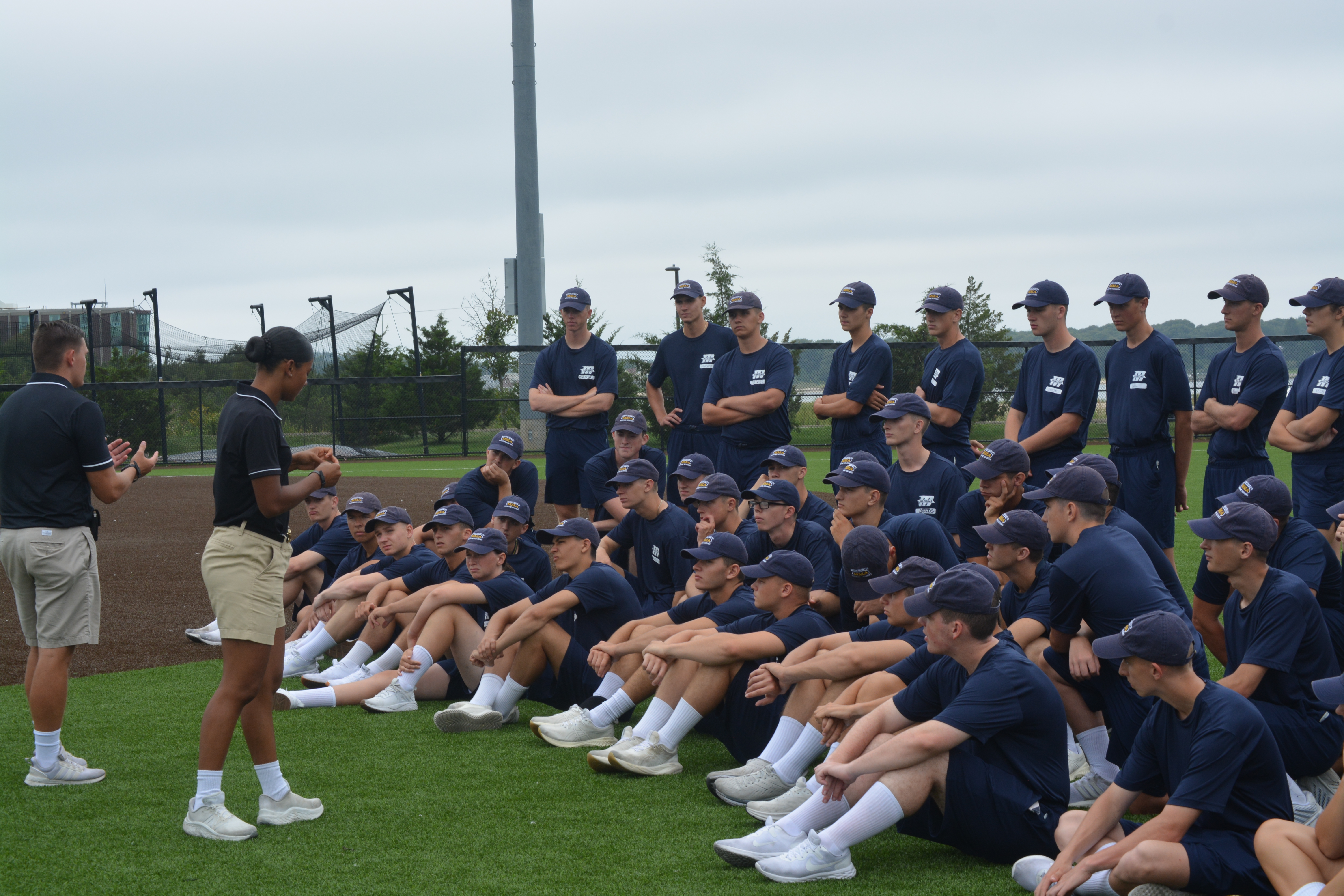 5th Co learns drill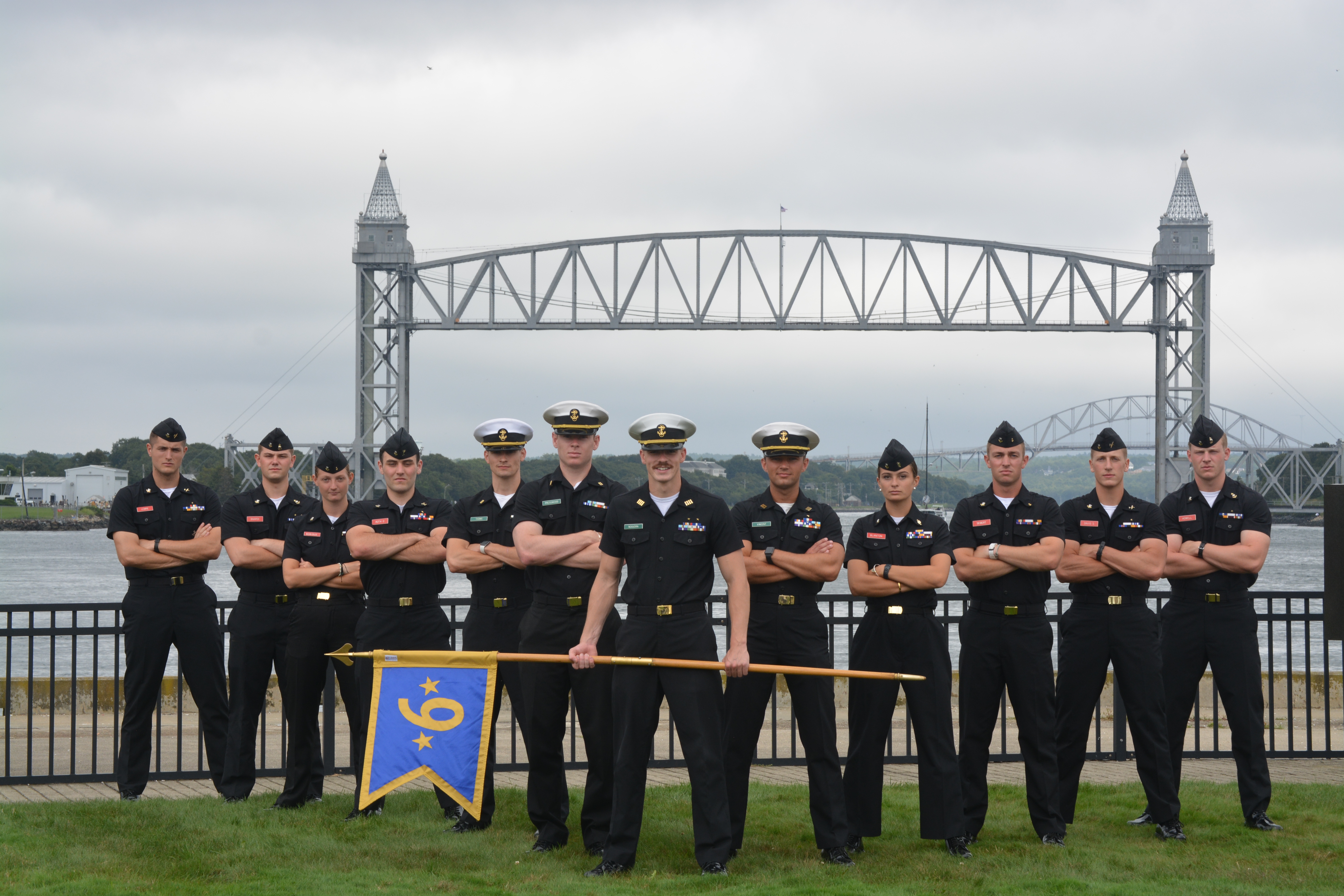 6th Co group picture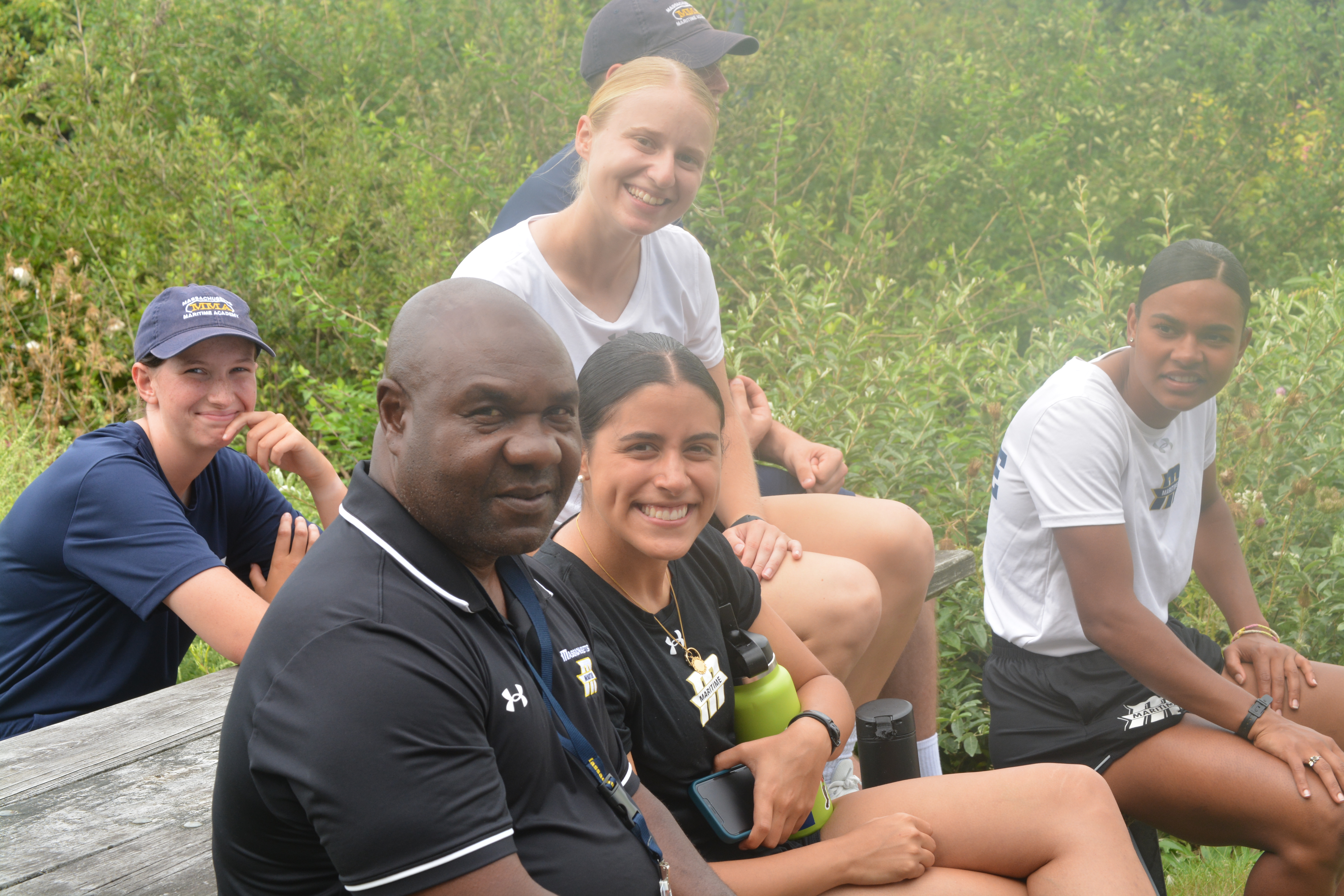 Sr. Chief Jones and his 5th Co Cadre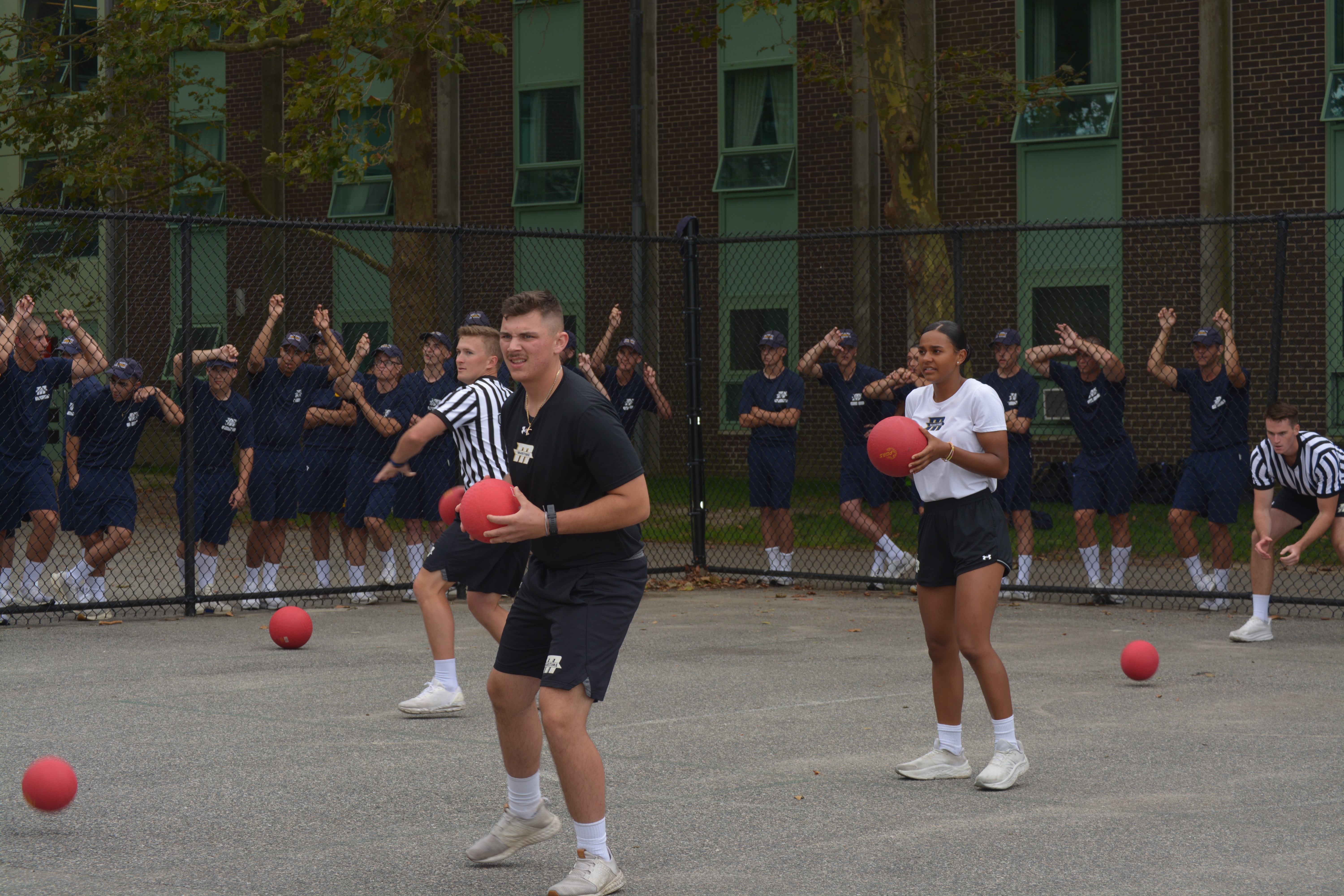 A very heated Cadre dodgeball match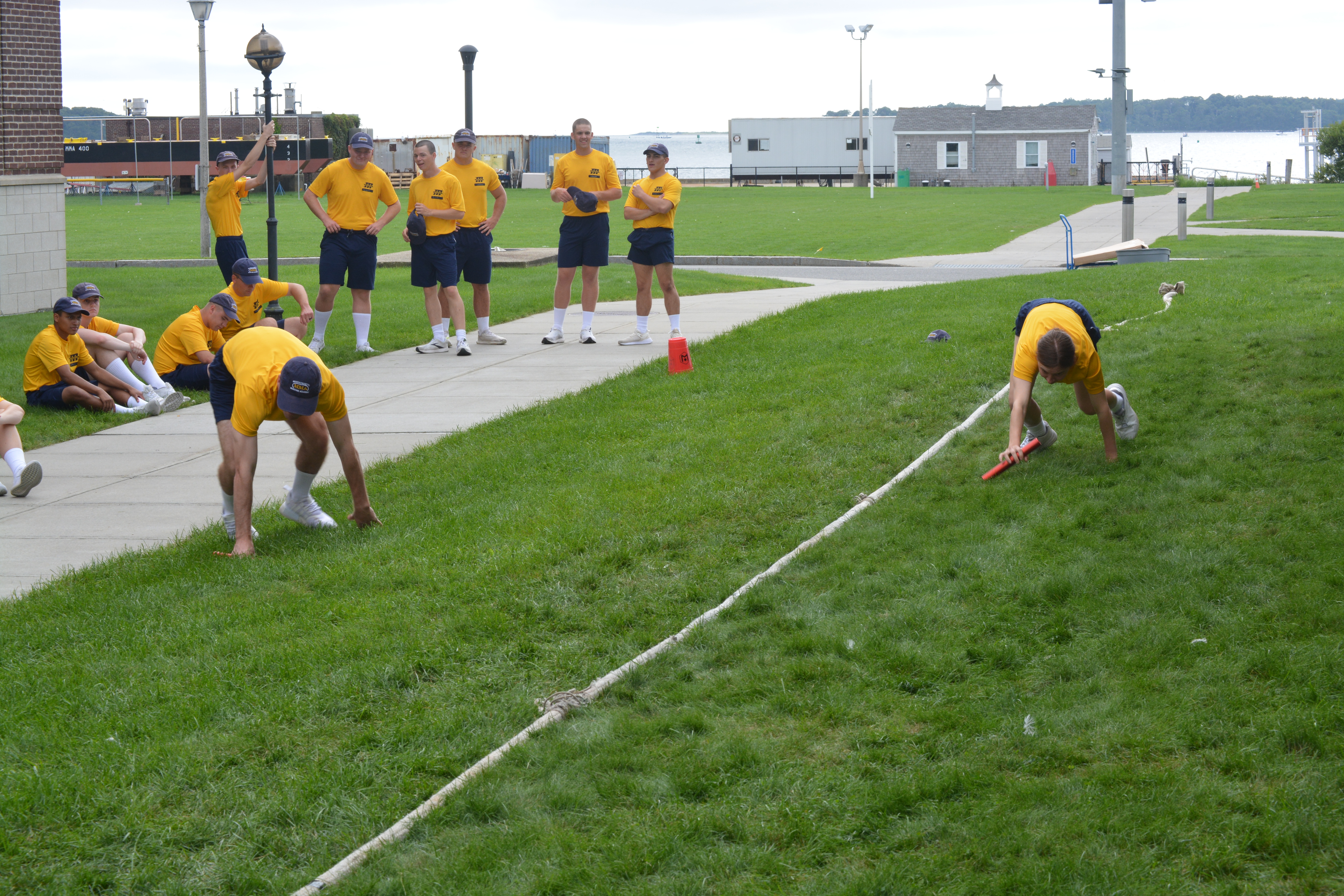 Teambuilding relay race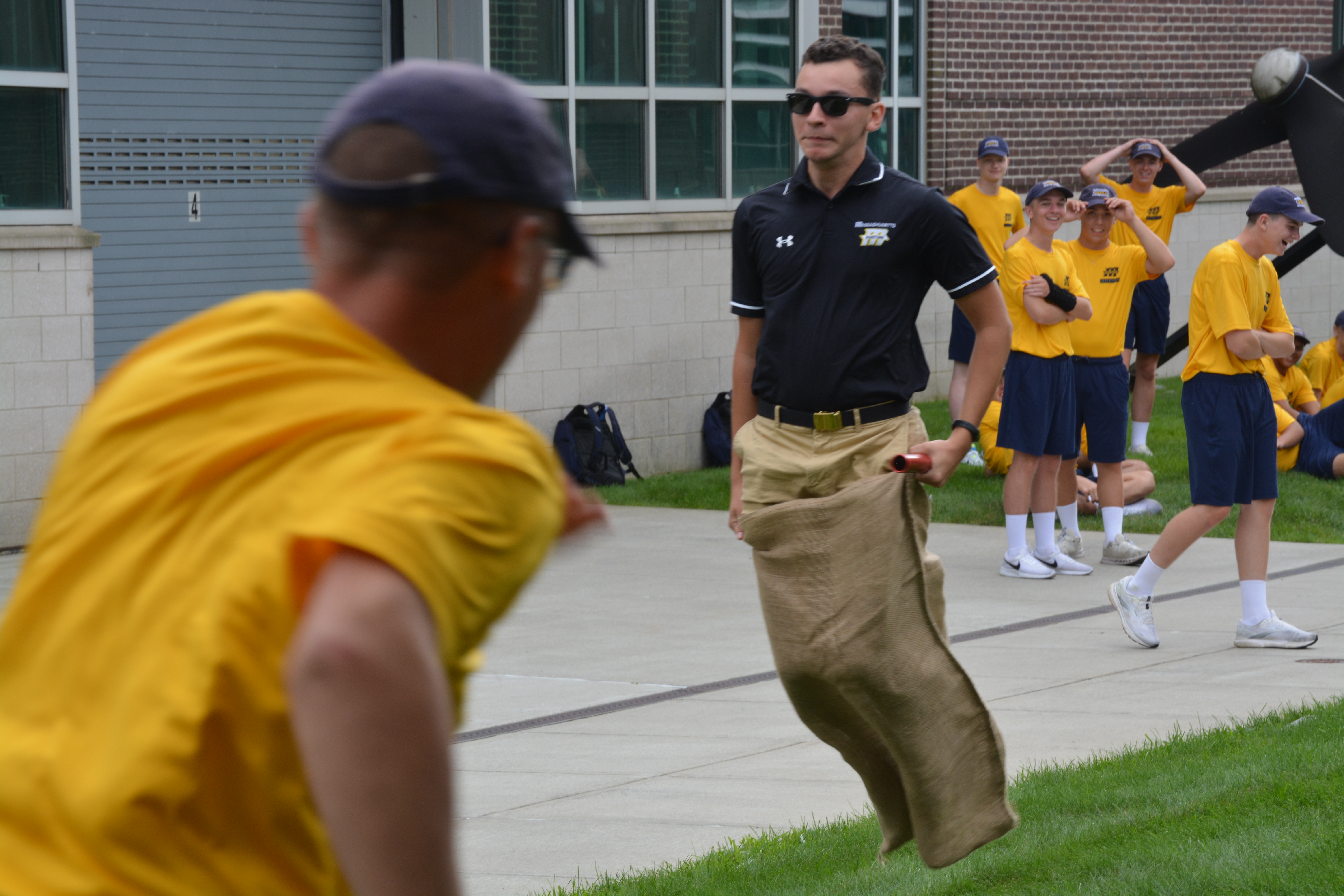 1/C Lydell participates in the relay race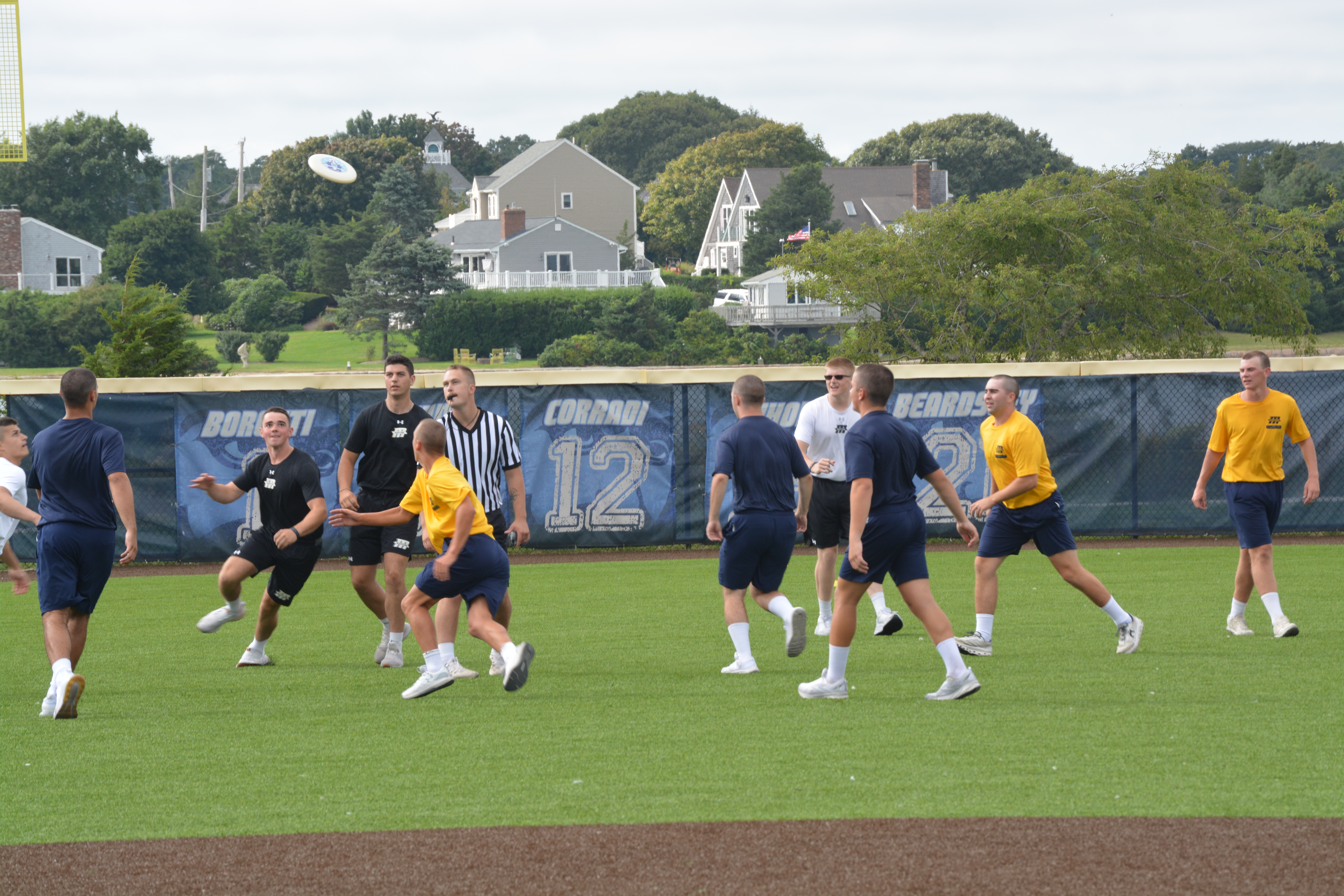 Ultimate frisbee intramurals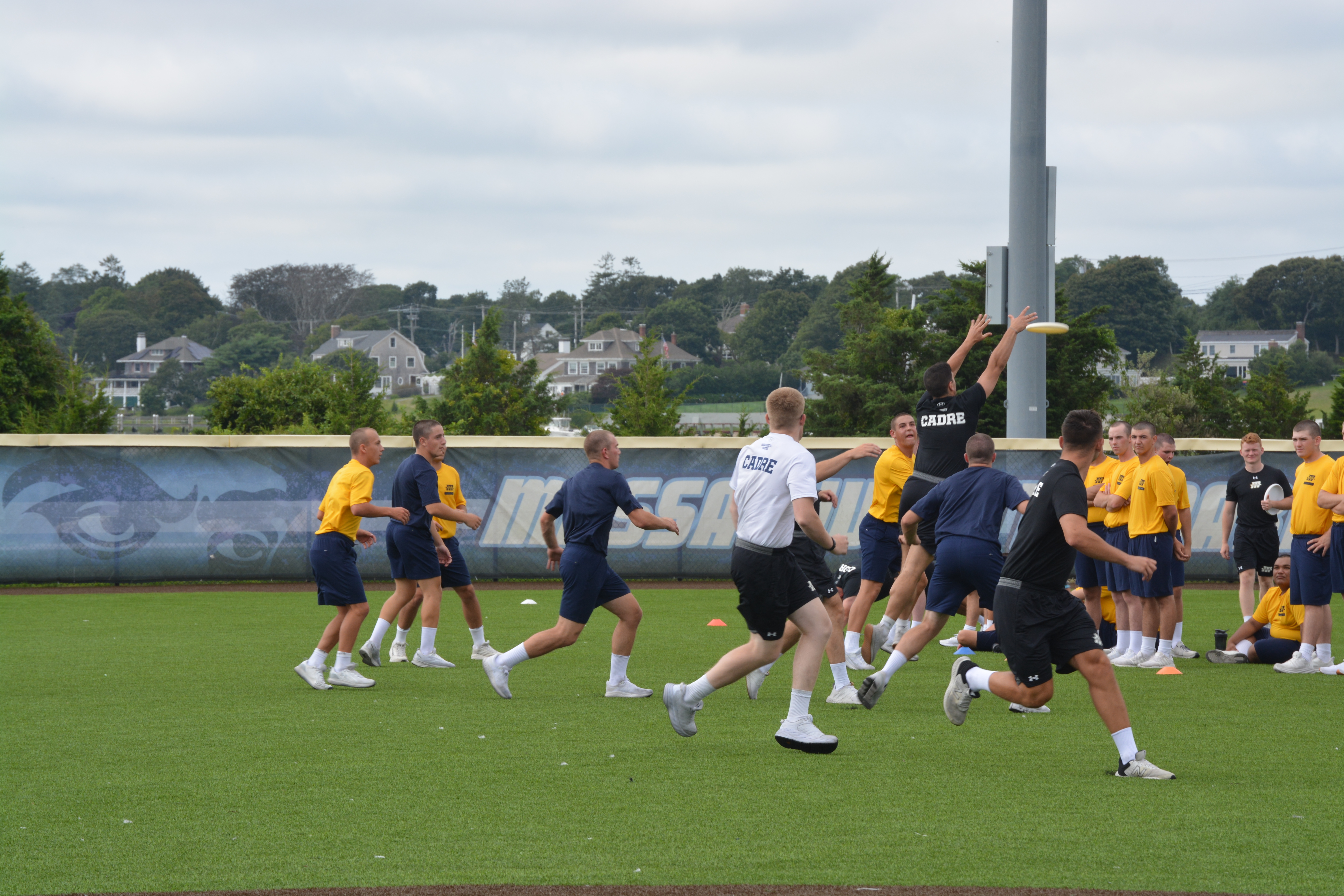 More frisbee…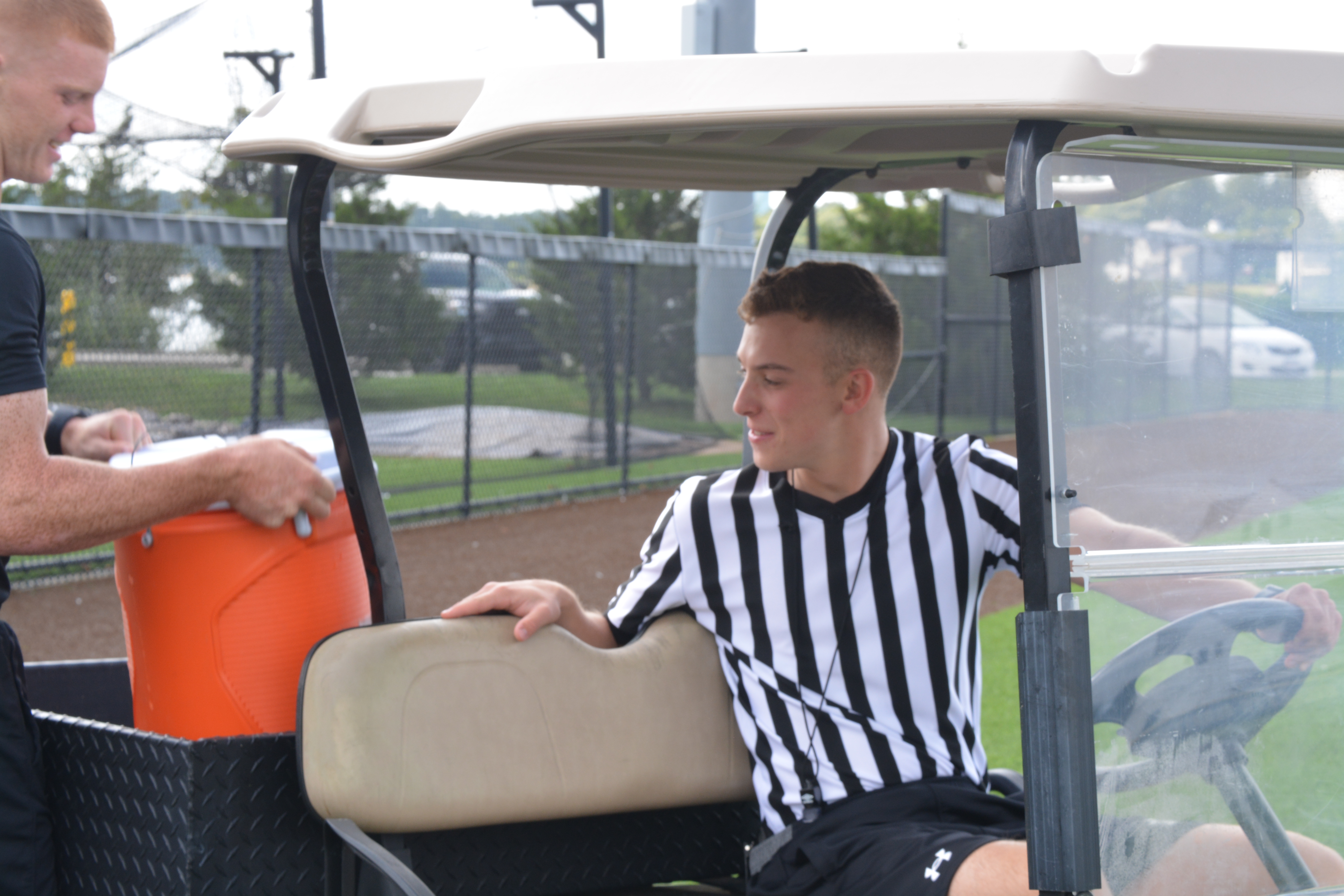 1/C Francavilla helps the Orientation Assistants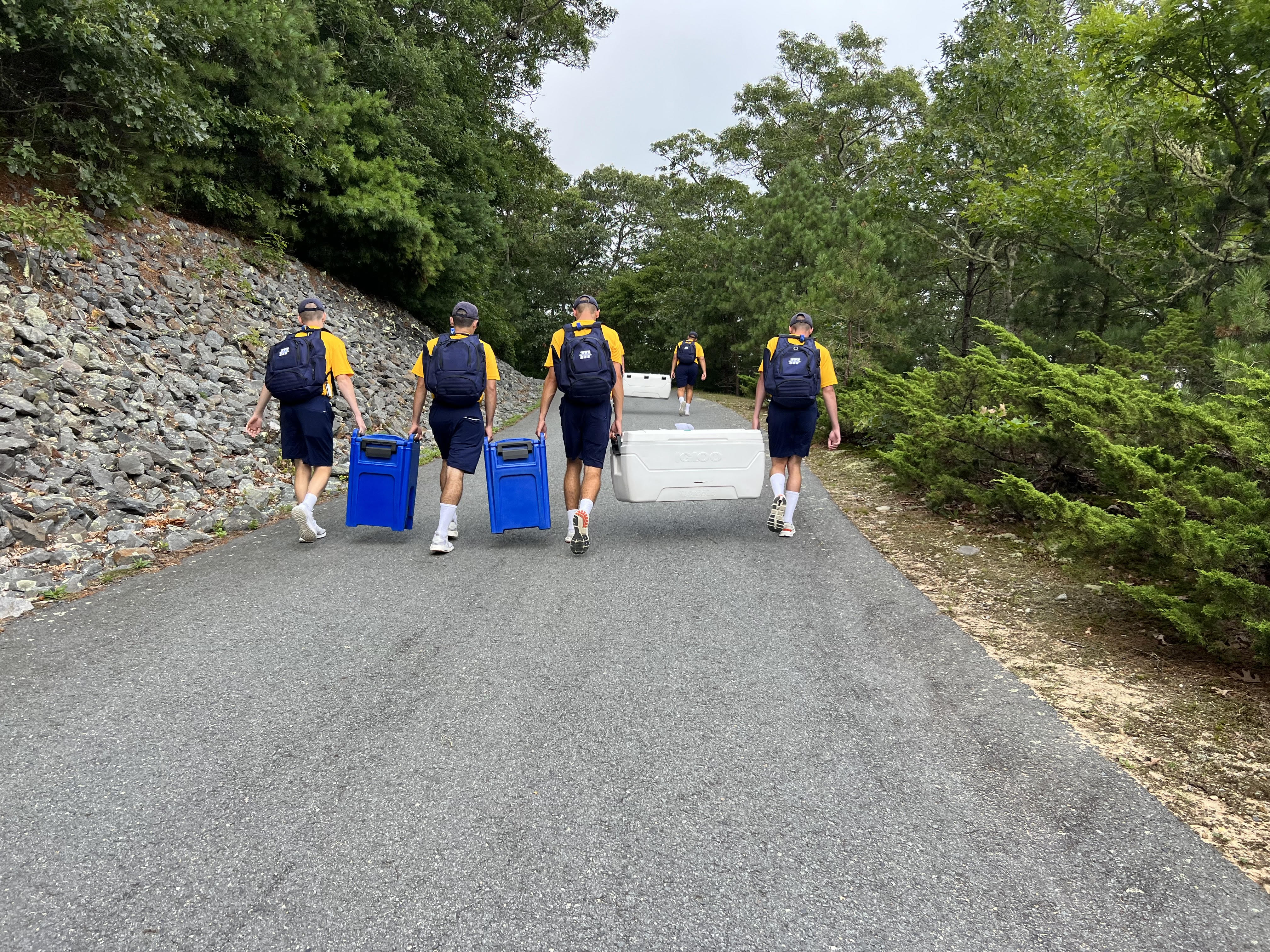 1st Co C/C's work together to carry their lunch coolers