Good Evening All,
We're in the final stretch of Orientation! With only 2 days to go, it's incredible to look at the progress these amazing Cadet Candidates and Cadre have made throughout the week.
Here are your updates from our Company Commanders:
1ST COMPANY
Family and Friends of 1st Company,
We are nearing the end of orientation, and the youngies are so excited to come home. Our CCPL from yesterday, Mr. Penney, told the senior staff and myself at dinner that the first thing he is going to do is eat a greasy cheeseburger when he returns home. I figured the first thing many would want to do is take a nap or take a long shower, but eating a good meal seems to be a common answer. Be ready parents.
We had our second PT test this morning, which was the exact same as the first time. The Cadet Candidates are given two chances to pass this test, and also improve their scores. We once again came in with the fastest mile time of 1st Battalion. Our push up and sit ups scores were also impressive, and the majority of the youngies improved their scores from the first test. We then went straight to breakfast before starting our day with drill and knowledge study. We spent most of the day practicing drill for the upcoming marching competition. We have practiced a variety of movements and special tricks. All are definitely improving, but we still need to work on it.
1st Company did a phenomenal job on both lunch and dinner patio today. They all knew their youngie knowledge, and even got a compliment from Mr. Francavilla for their performance. 1st Company has definitely come a long way in patio, and have built confidence in themselves that they know the knowledge they have been working so hard to study. The night concluded with a meeting with the military branches and their involvement with Mass Maritime, then one about student financial services. At this point in orientation the youngies are tired, but I am pleased with their improvement and overall performance. They have definitely grown since coming off the bleachers only a week and a half ago.
Very Respectfully,
1/C Jessica Hinds
1sy Company Commander
2ND COMPANY
3RD COMPANY
This morning was the final PT test of Orientation. 3rd Co worked hard this morning and the scores were much better than the first PT test scores. I can confidently say that all of the C/Cs felt stronger and more confident than they did at the beginning of orientation. 3rd Company Cadet Candidates supported and pushed their shipmates to improve their PT scores.
The Cadet Candidates attended Pool Day. At the pool, the Cadet Candidates had their STCW Cold Water Survival Training. They did hands on exercises such as flipping over a life raft, learning how to embark and disembark a life raft, and went over some basic swimming techniques, with and without a lifejacket.
After having lunch on the grass outside of the pool area, the Cadet Candidates finished up their training and then headed to intramurals. 3rd Company won an utimate frisbee game against 1st Company. Another win for 3rd! Following intramurals, the Cadet Candidates attended evening patio, dinner, and then attended a military recruiting presentation and a student financial service presentation in Admirals Hall. Taps was played at 2130 and the C/Cs sent to bed.
The Cadet Candidates are so close to the finish line of Orientation. In just 2 short days, these Cadet Candidates will be reunited with friends and family, feeling proud of what they have accomplished and how much they have grown over the past 10 days.
Very Respectfully,
1/C Sophie Strano
3rd Company Commander
4TH COMPANY
5TH COMPANY
Greeting to all!
What another beautiful day at the Bay! This morning was the second PT test at Orientation. We had an early wake up and got the cadet candidates over to the football field. They were very highly motivated and ready to take on the test. Most of our cadet candidates either matched or exceeded their previous scores showing much improvement on their PT! It was a very motivating morning for all!
After that we got to head over to Maritime Park as a company and take our pictures. We got plenty of pictures in front of the canal with the mass maritime sign in the background. We took pictures as an entire company, then got some of just the squad leaders, senior staff only, and of course the cadet candidates.
They have been working really hard as we start to come to a close to Orientation 2023. The last two days will be the busiest as we have been doing a lot of marching and youngie knowledge practice. The firefighting, youngie knowledge and marching competition is coming up and we are making sure our cadet candidates are ready to take them on!
Intramurals was a success today as we swept 4th Company and won all 3 games in a row in water polo. This was a moral booster for sure as it lead right into our evening patio that was exceptional. We closed out the day with meetings with the military recruiting staff and the Student Financial Services. TAPS was played as we ended another great day here at the academy.
Very Respectfully,
1/C Michael Riehl
5th Company Commander
6TH COMPANY
Good evening,
We began the morning with the second PT test of orientation. The effort seen from all C/C's reinforced my opinion that they have what it takes to be a successful Cadet at this academy. I was very satisfied with their results, as most of them improved their scores from the week prior. They began with the field exercises (push-ups and sit ups). Our standouts were C/C Hill with 136 push-ups, and C/C Hegedus with 93 sit-ups. Everyone gave amazing effort and the results followed. It was also very nice to see them all cheer on their partners and their shipmates. In only a week, all of the C/C's have made friends and have learned the value of motivating one another.
After the PT test and morning meal, 6th Company did a good amount of drill to prepare for the marching competition. They are starting to master the simple maneuvers and they are getting more familiar with the advanced ones as well. Tomorrow is out last day to prepare for the competition, so it is important that we understand and execute every step to precision or we will not perform the way we would like. We are teaching them a specialty move tomorrow which will hopefully award us some more points during the competition. The Squad Leaders have been doing everything in their power to ensure the success of the marching competition, but we are not alone. Other companies have been practicing just as much as 6th Company and look good as well. It will be a battle to see who is crowned the winner of the marching competition, but I can guarantee that myself and my staff will be ready for it.
The C/C's had their company photo today. It was taken at maritime park with the railroad bridge in the background. It made me proud to see them standing as a company with their shipmates taking the photo. I know that in 4 short years, they will look back on these long and difficult days and laugh about everything that occurred. Some of my favorite memories are from orientation my freshman year, and I am fortunate enough to play a role in some of theirs as well. The days go slow at MMA, but I can assure you; the years go fast.
After the company picture, we did some more drill and then room prep. The candidates have their first regimental inspection tomorrow. There are a lot of small details that they need to get right in order to ensure they pass the inspections. This teaches them the importance of doing the little things right, and demanding perfection from themselves. They will learn a lot in the year to come as far as inspections go, but tomorrow marks the first one they will stand. I am hoping that they have put in the work for their rooms to be ready, however there is a lot of standards and small steps which are easy to miss when the candidates are still learning that could lead to a failed inspection. Nonetheless, it is their first inspection and the cadre understand this.
6th Company had another absolutely dominant day of dodgeball. They won 5 games to 0 vs. 7th company in absolute dominance. The star player was C/C Browne, who caught a plethora of the other teams throws, allowing 6th company to get a player back in, as well as removing the person who threw it from 7th co. I was very happy with their effort as well as their performance. We have created a culture of winning in 6th company. All of the candidates as well as cadre understand their roles, whether it is that they are the star player, or they are providing energy from the sideline. They know it takes an army to be successful and so they show up with a full head of steam every day.
The two evening presentations consisted of a military recruiting presentation in which they were informed about the different branches, opportunities, as well as duties of the military. They also had a student financial services meeting so they understand where their tuition goes to, any scholarships that may be available, as well as general information on how financial services operates at MMA.
The leadership trait of the day was trust. Trust is the bedrock upon which the foundations of any meaningful relationship, whether professional or personal, are built. In a world marked by uncertainty, trust provides a stable anchor, allowing individuals to collaborate, share, and connect with confidence. It empowers teams to work harmoniously, knowing that each member can be relied upon. I am hoping that 6th Company trusts one another with learning their knowledge, knowing how to march, as well understanding that they all need to trust each other and work together in order to succeed. The lone wolf dies, but the pack survives. We have created an atmosphere in 6th Company that I am very proud of, and I hope that they continue to trust each other as the time goes on. "Trust is the glue of life. It's the most essential ingredient in effective communication. It's the foundational principle that holds all relationships" -Stephen Covey
Very Respectfully,
1/C Michael Nogueira
6th Company Commander
7TH COMPANY
The cadet candidates started this morning with their final PT test to determine their improvements on physical fitness in the 1 mile, pushup, and situp. With only two days or orientation left, 7th Company used most of the day to practice drill and set up their rooms for inspection. Later in the afternoon they played 6th Company in dodgeball and then went to evening meal. From there, they attended a military recruiting presentation and a student financial services meeting. They are nearing the end and starting to feel the fatigue, but my team has been reminding and motivating them to finish strong and remember why they're here.
Very Respectfully,
1/C Luke Dawson,
7th Company Commander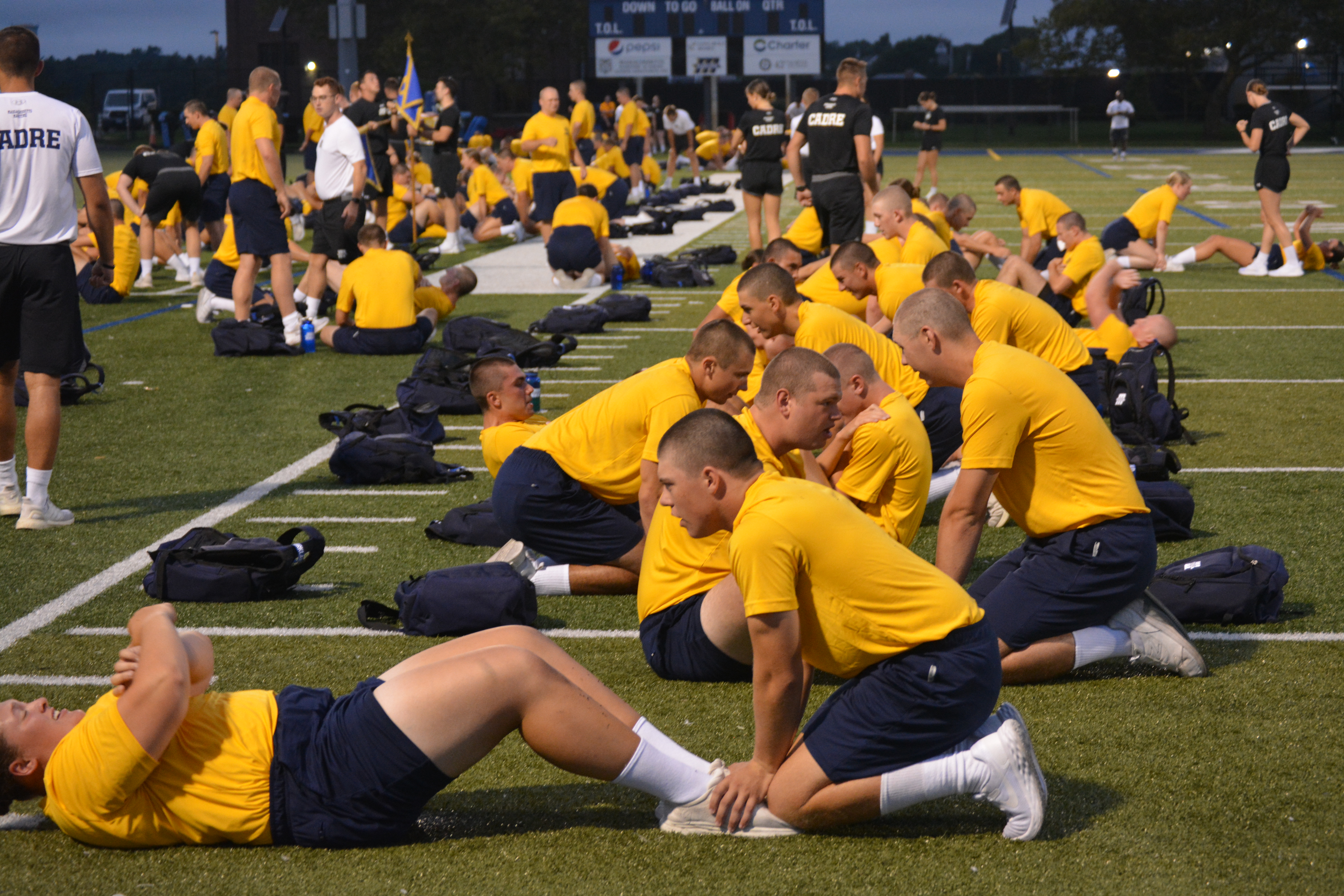 Morning PT test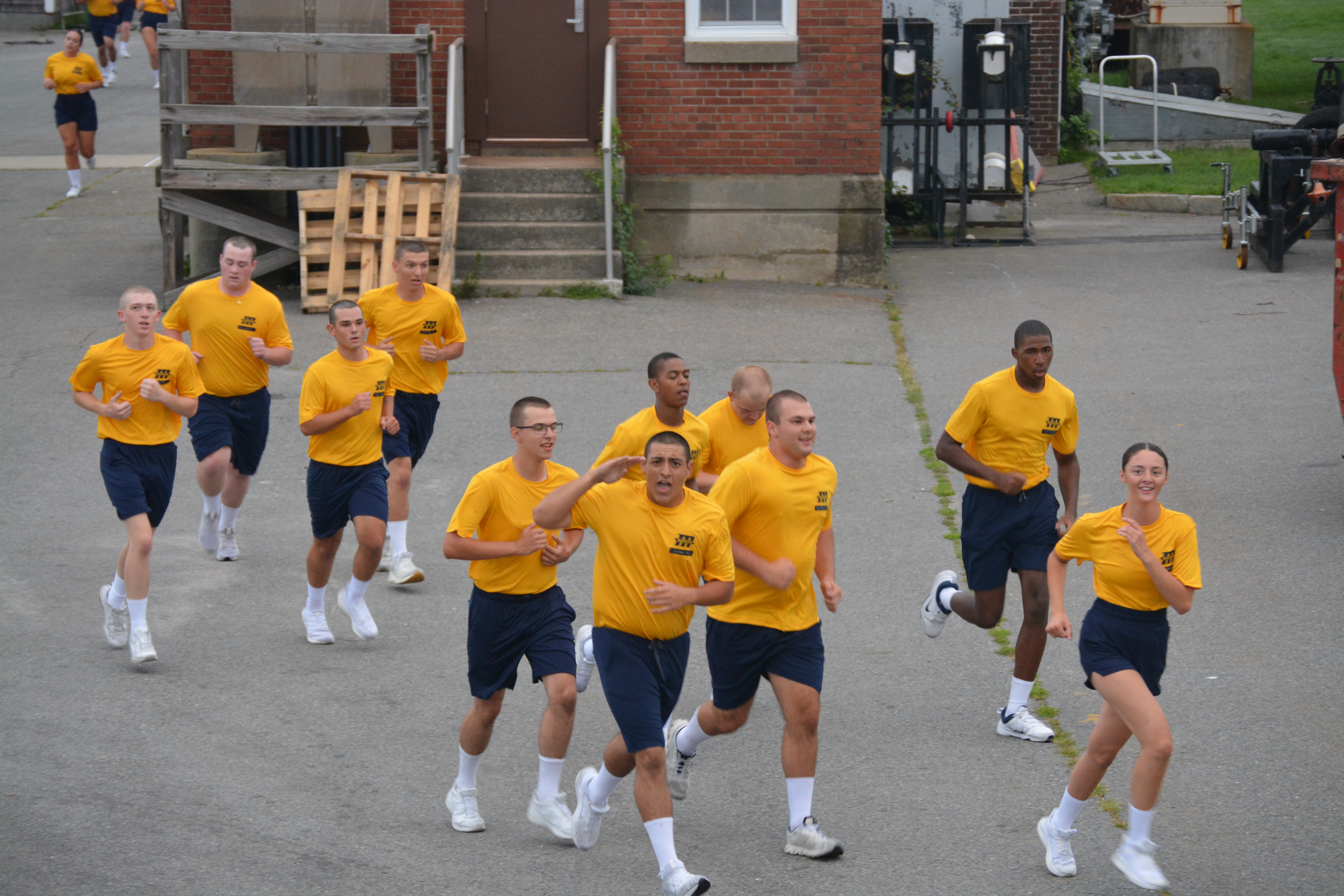 Morning run.. part 2!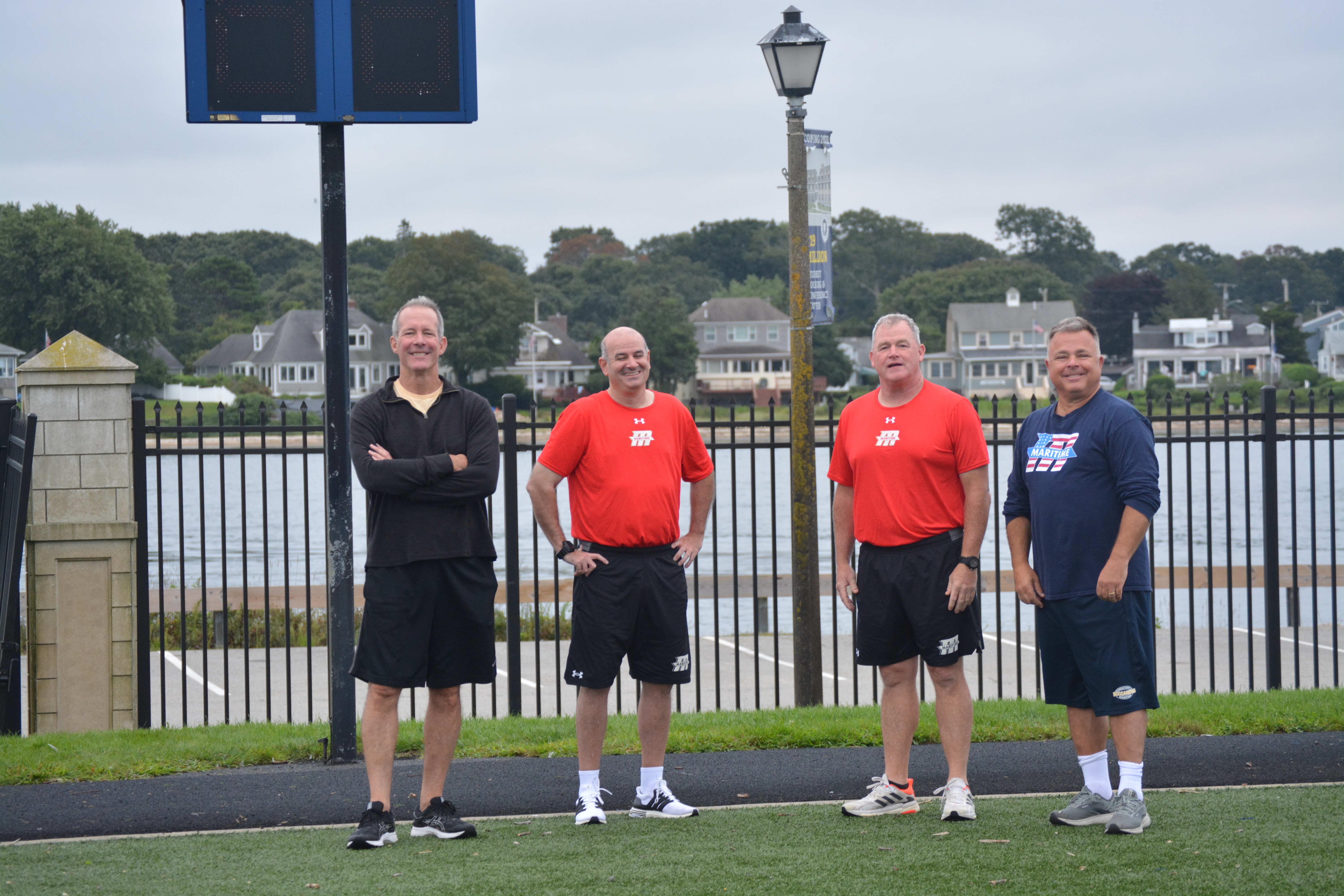 COMCAD staff overseeing morning PT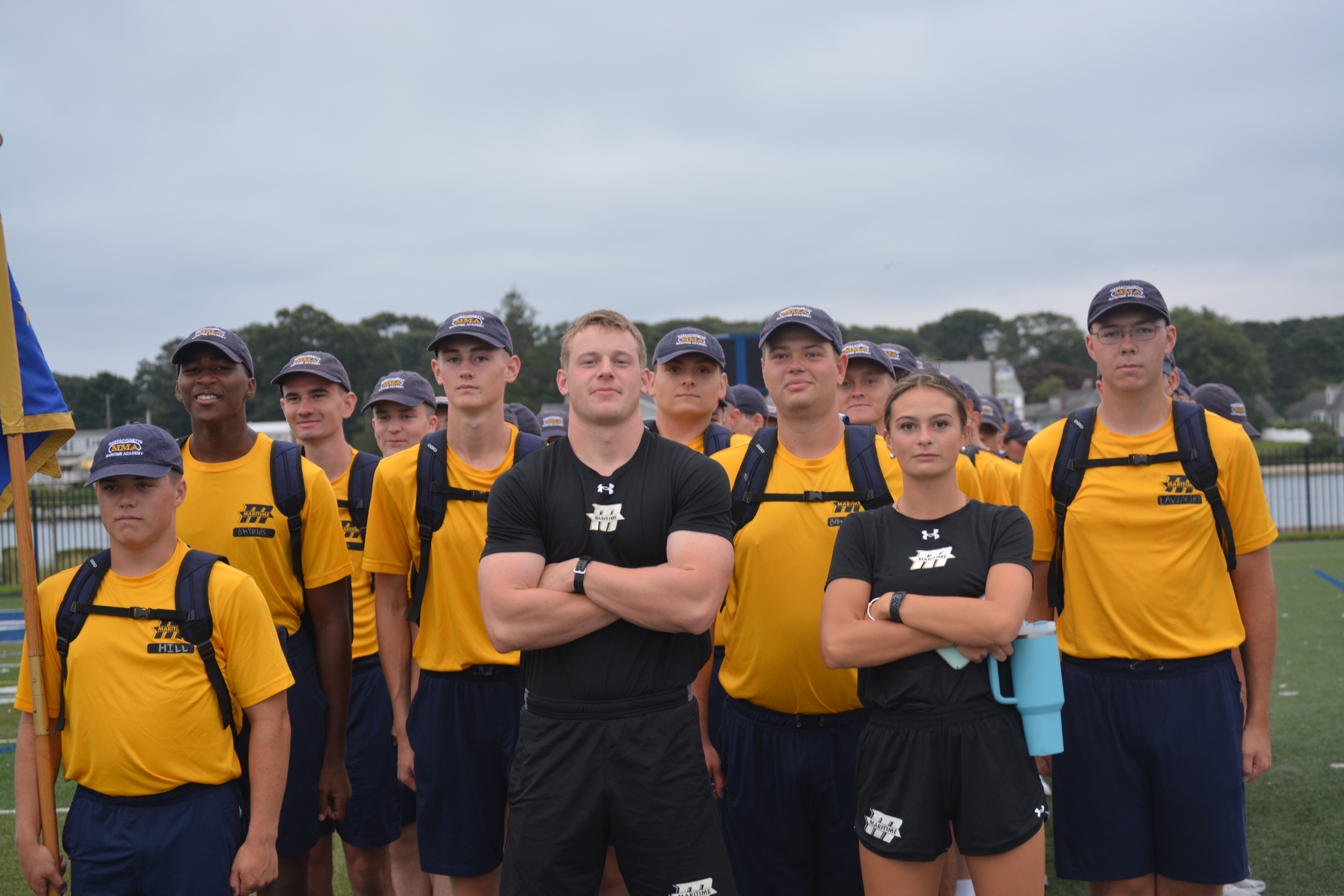 6th Co marching to breakfast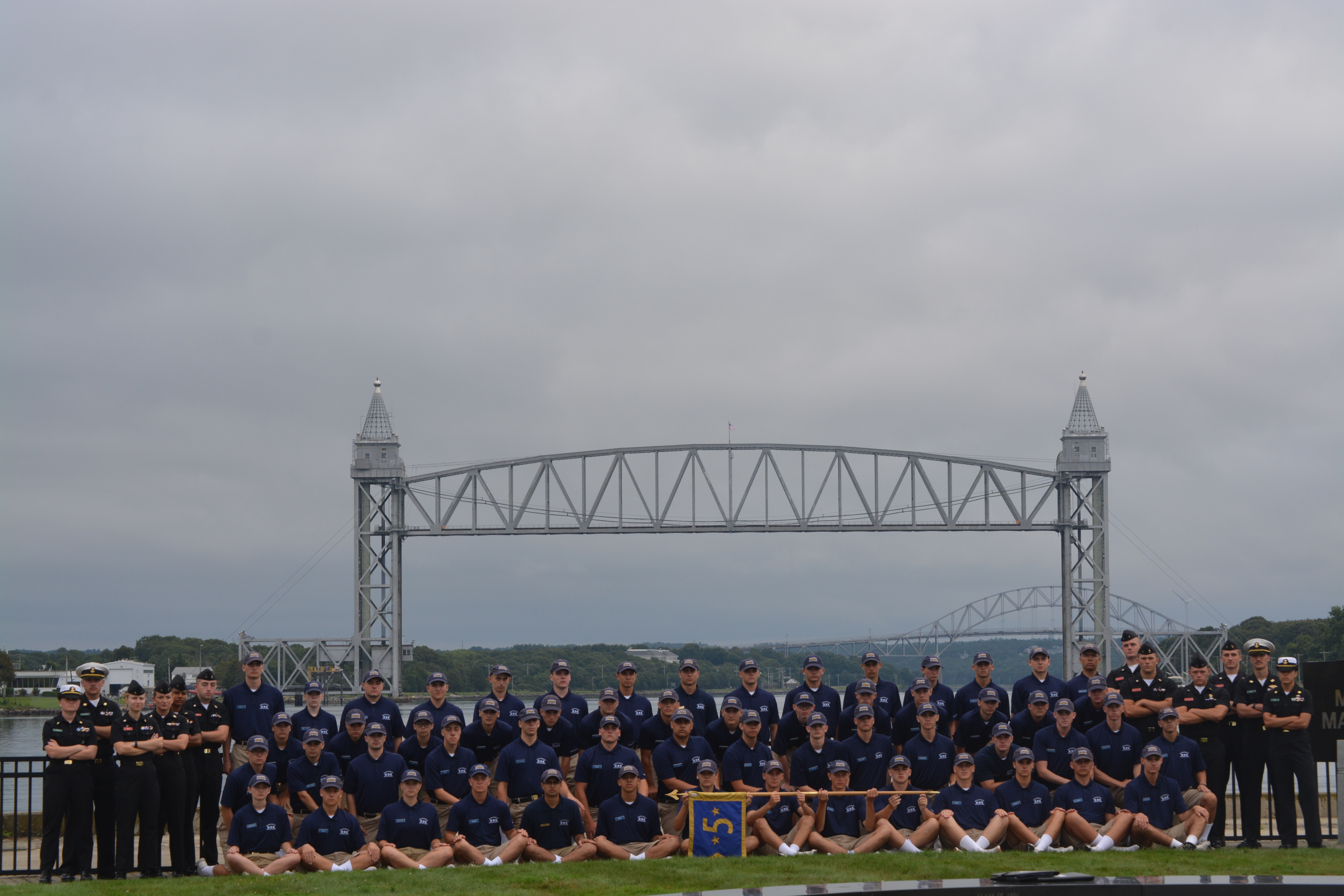 5th Company photo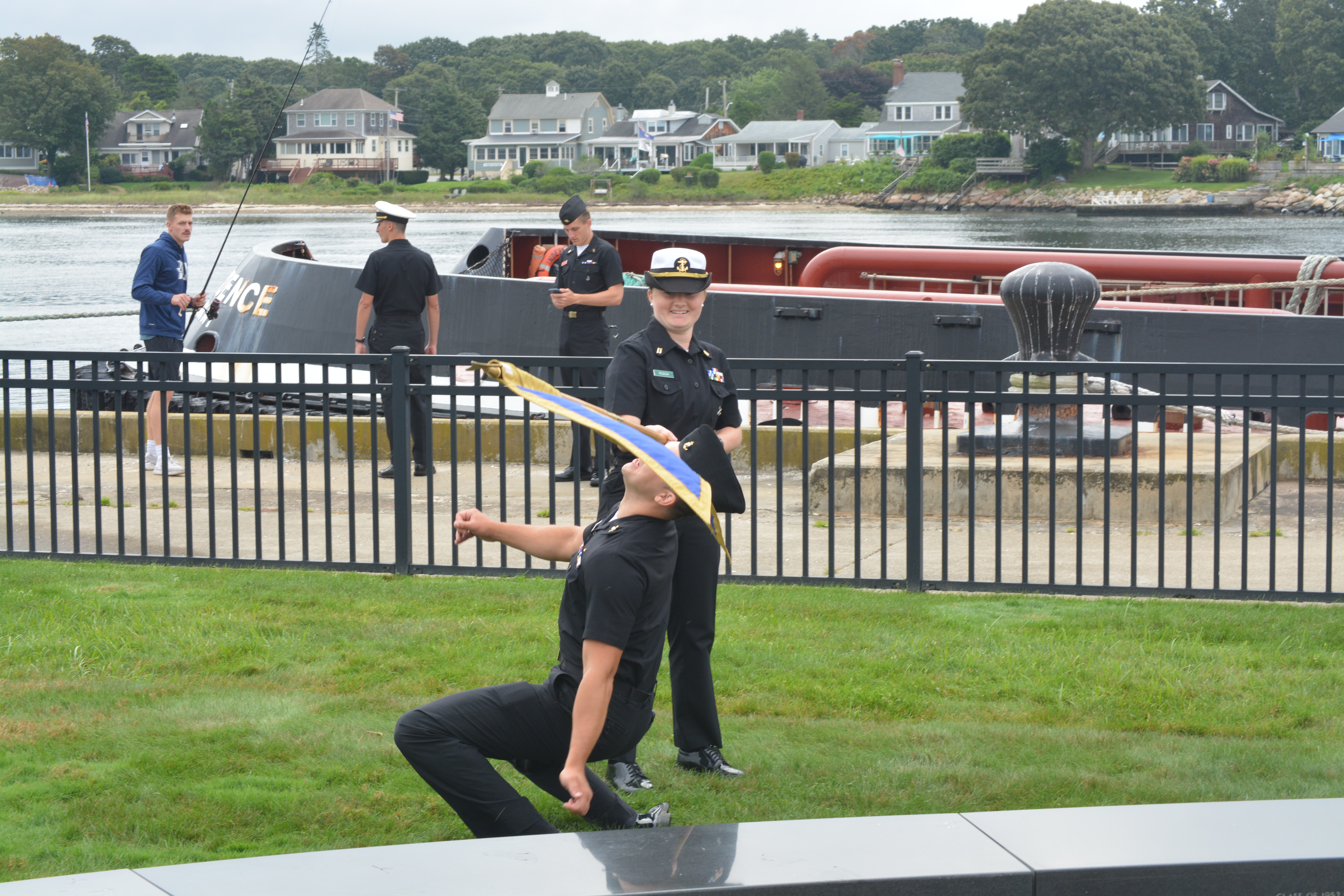 An unsuccesful limo attempt..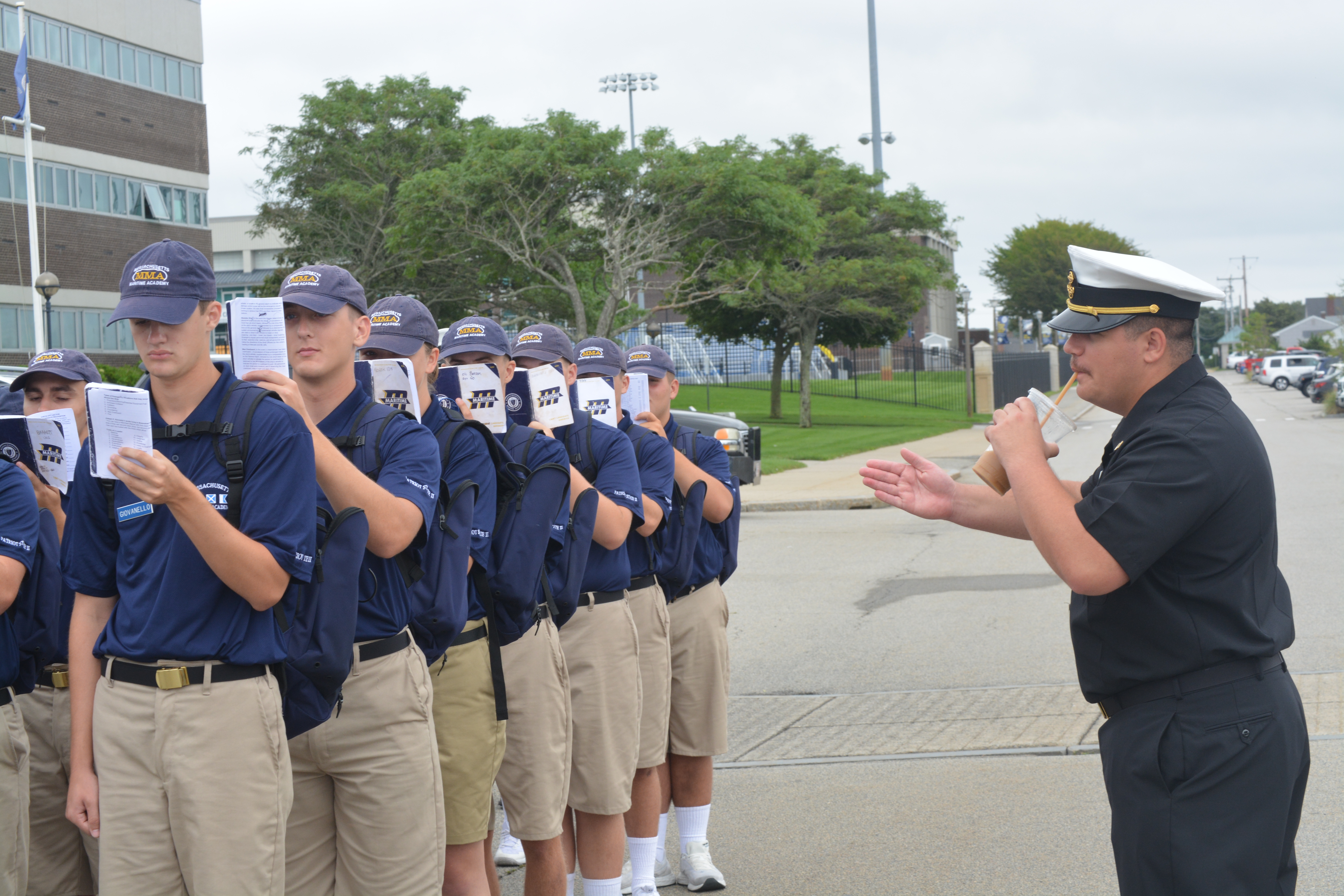 Coffee break!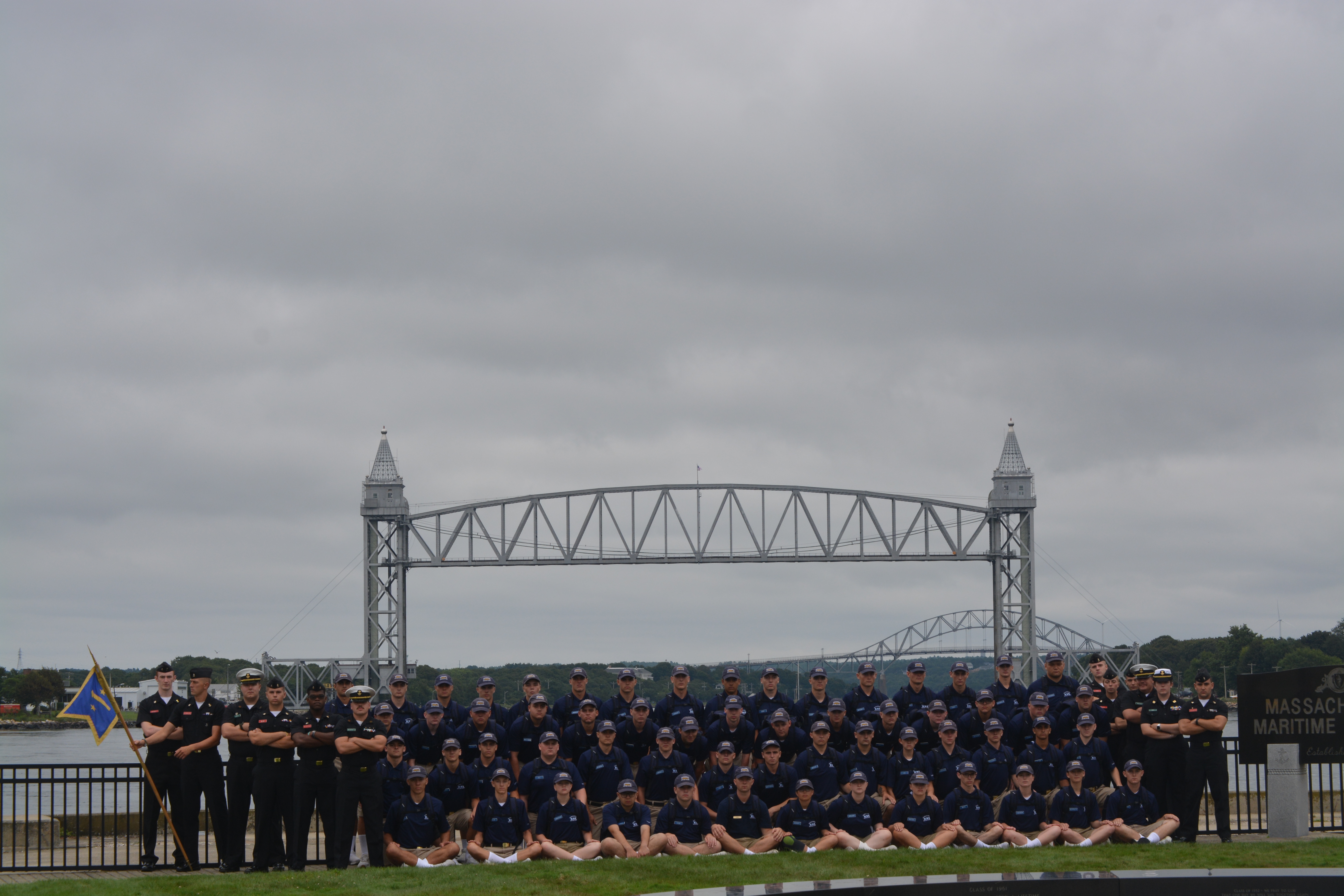 1st Co photo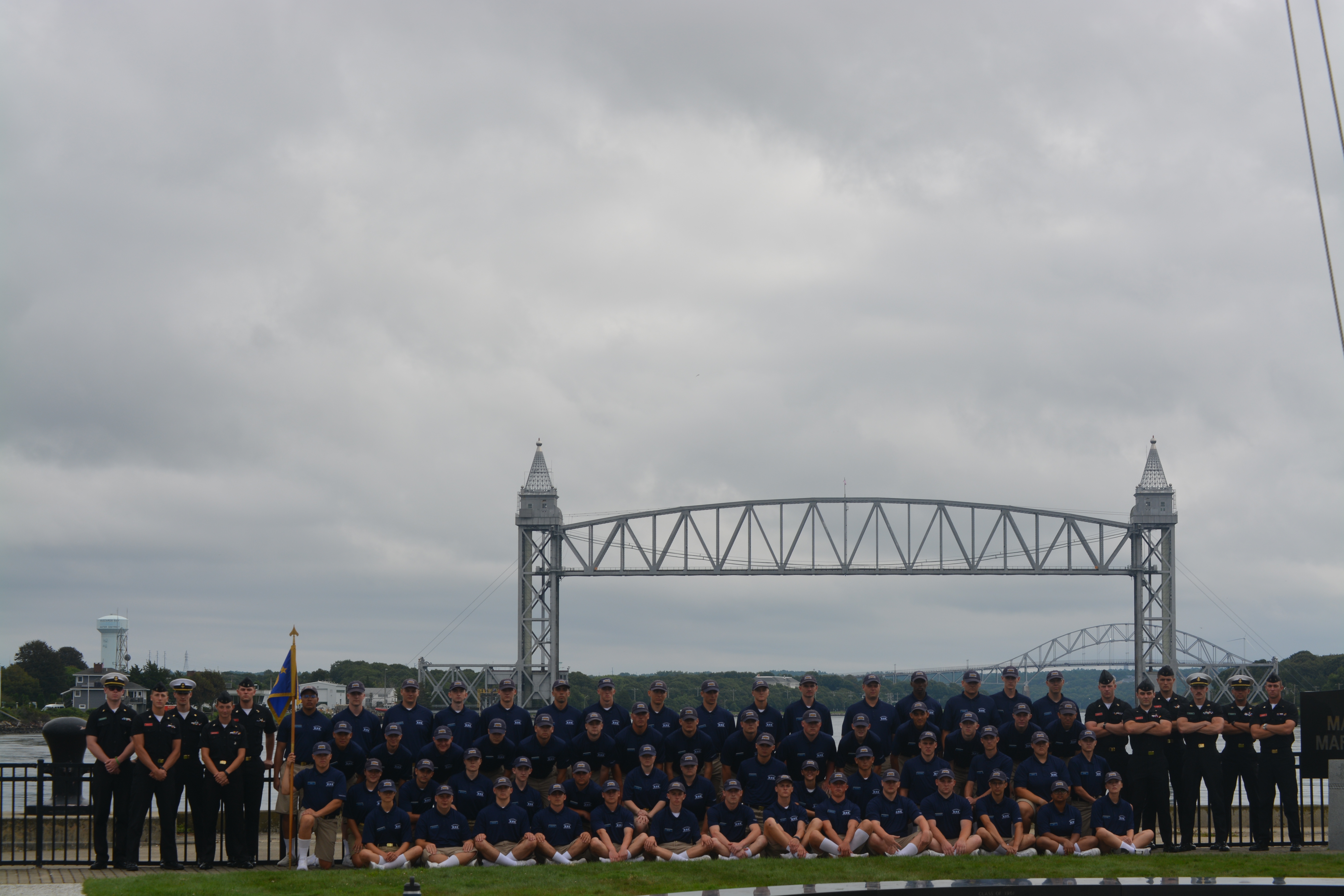 6th Co photo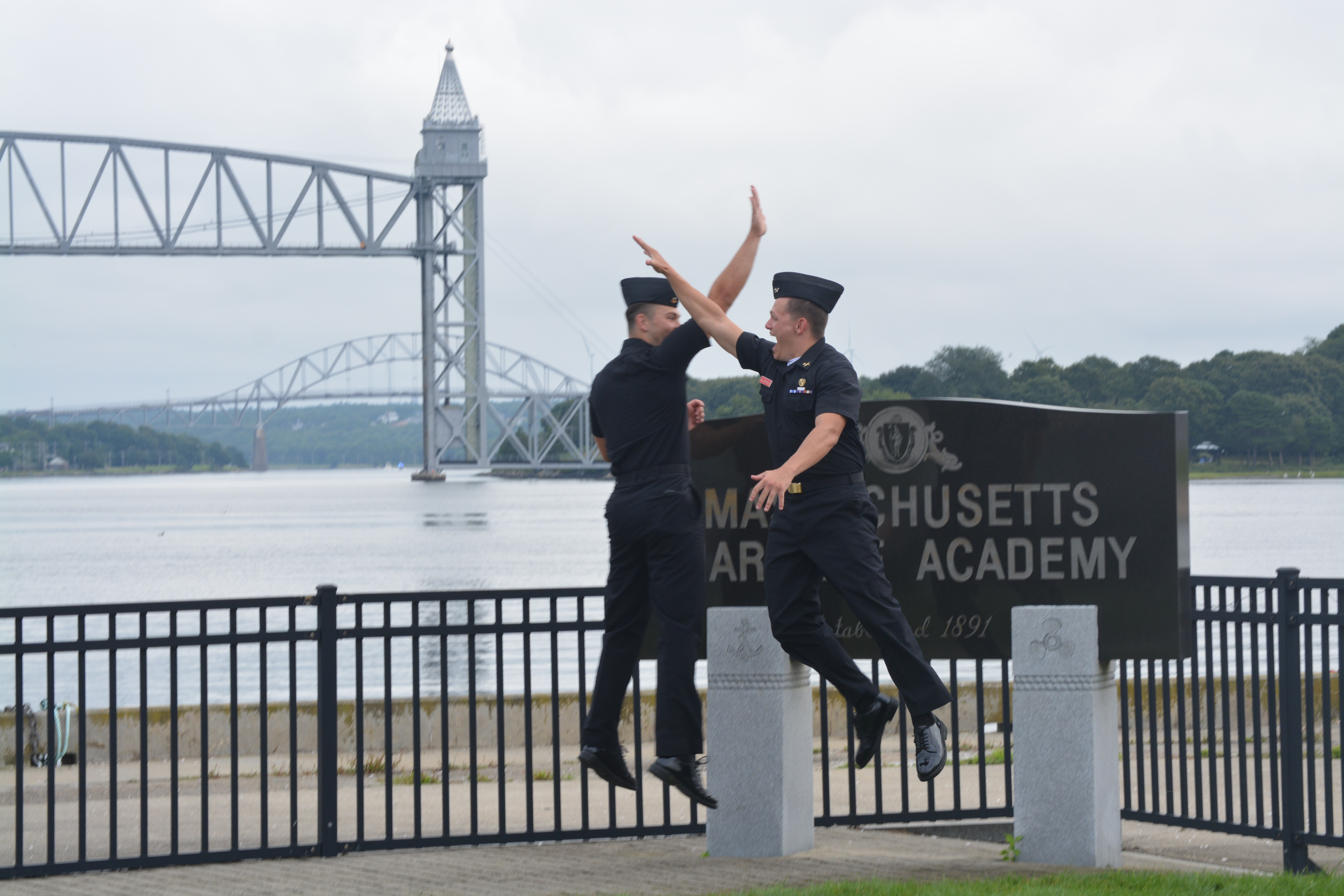 High five!
Shipwrecked youngies..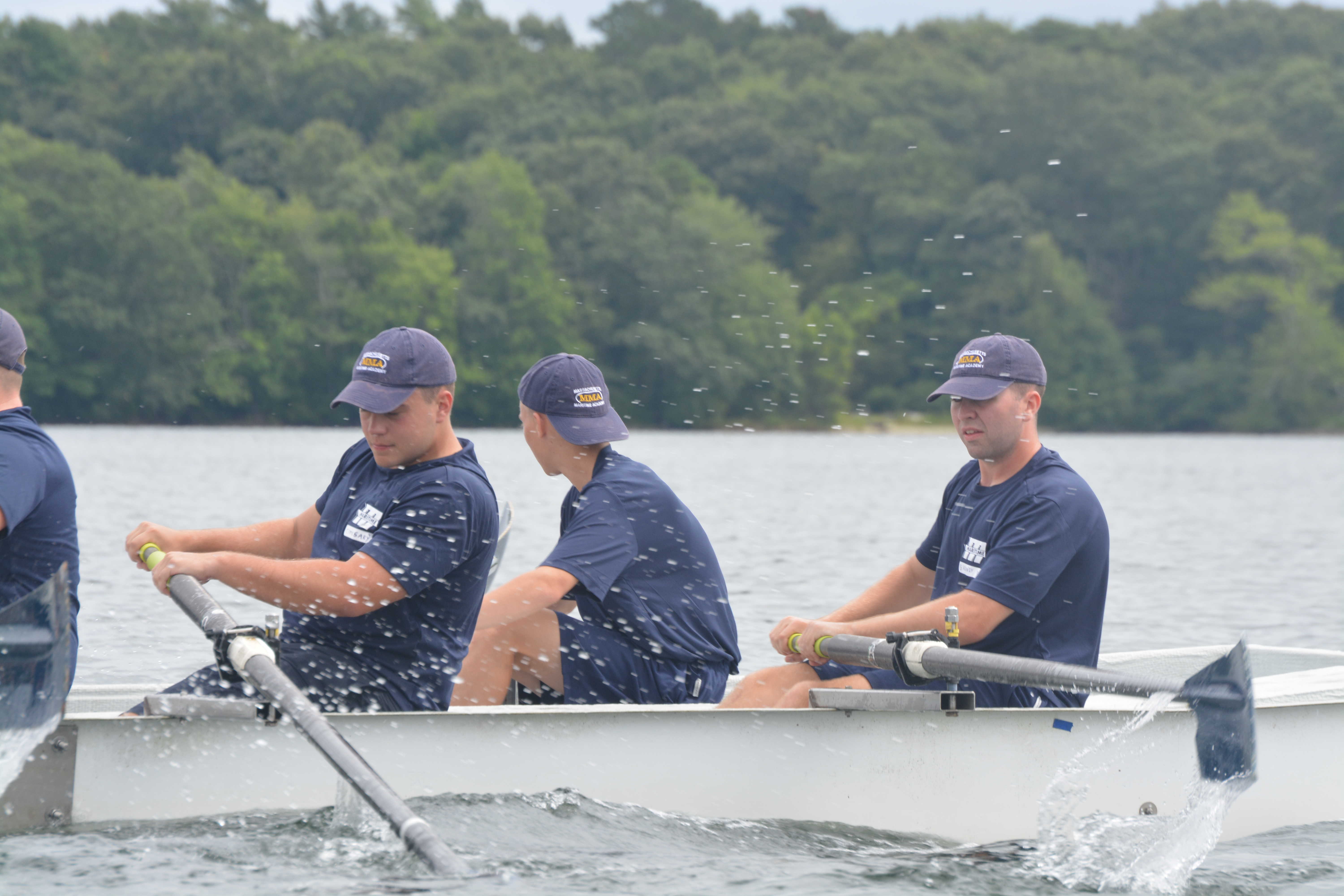 Learning rowing!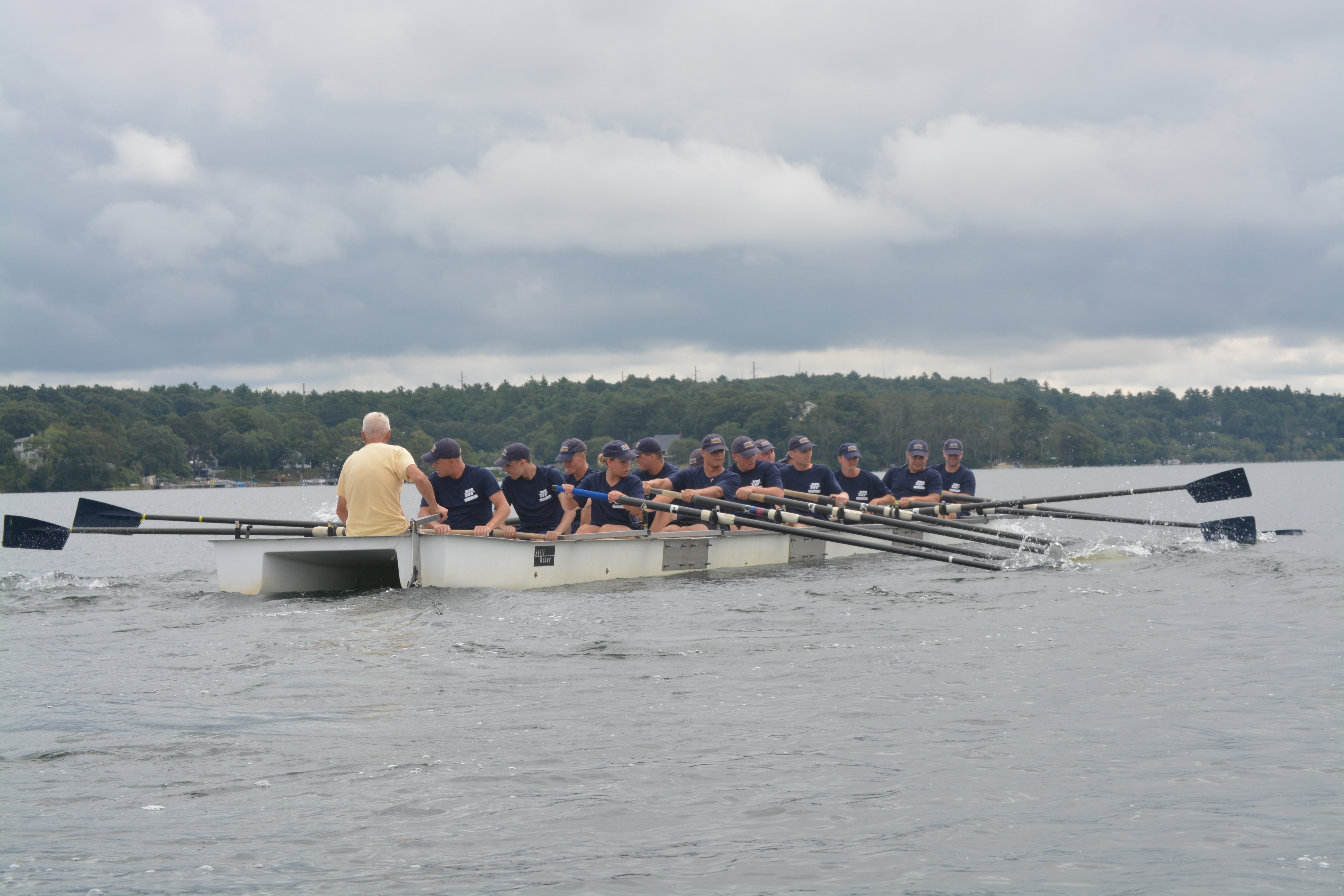 More rowing practice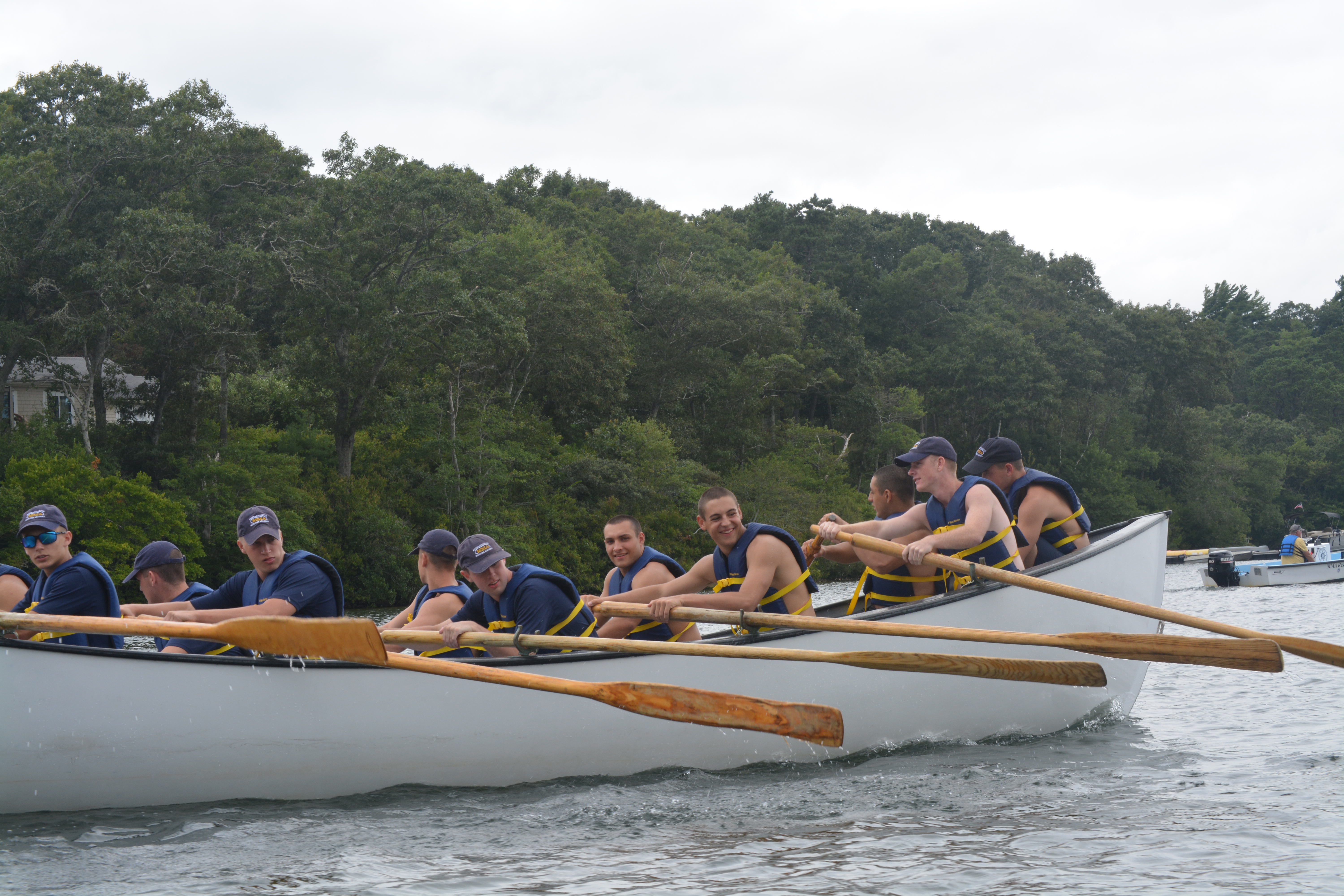 Monomoy practice!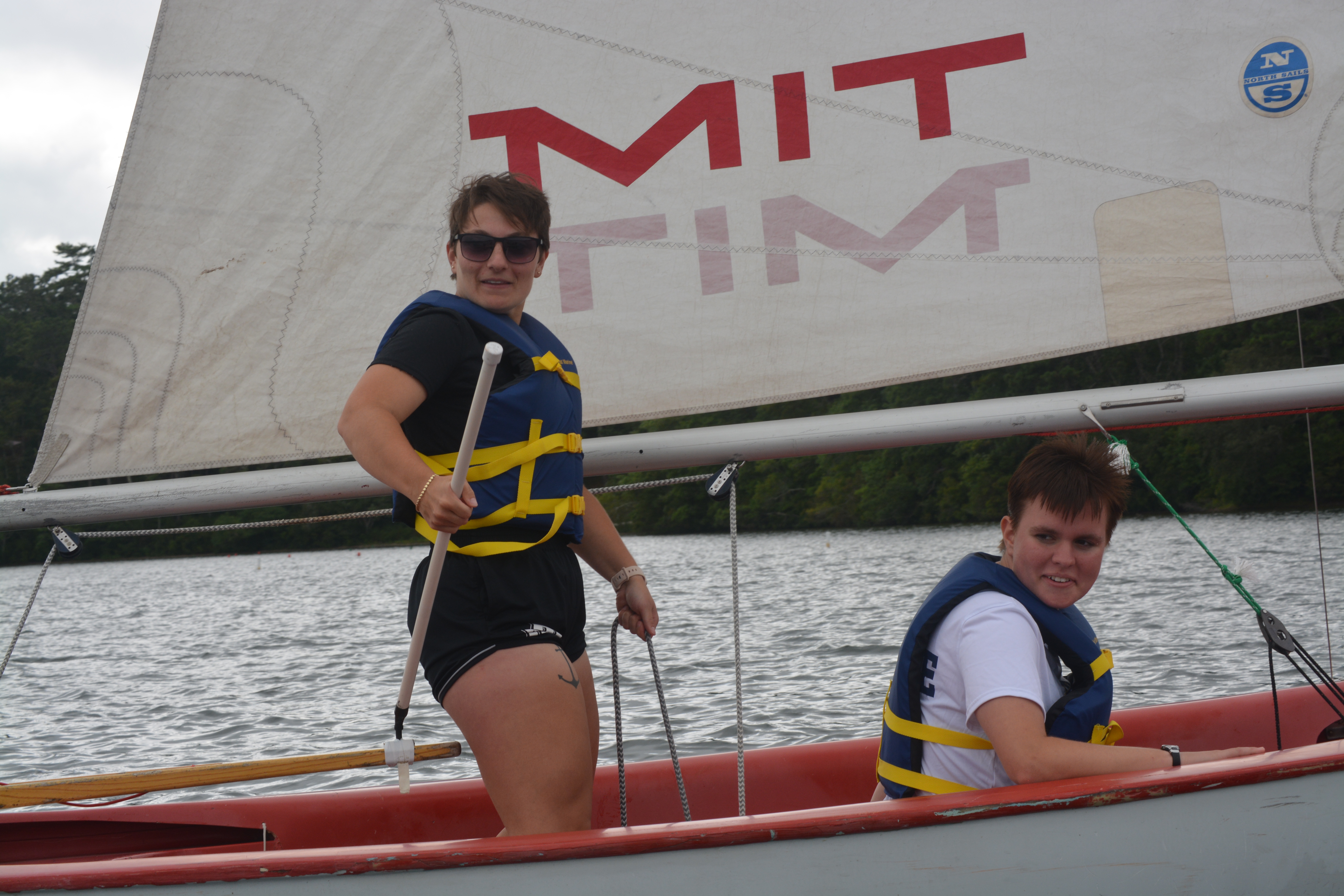 Experienced sailor at work!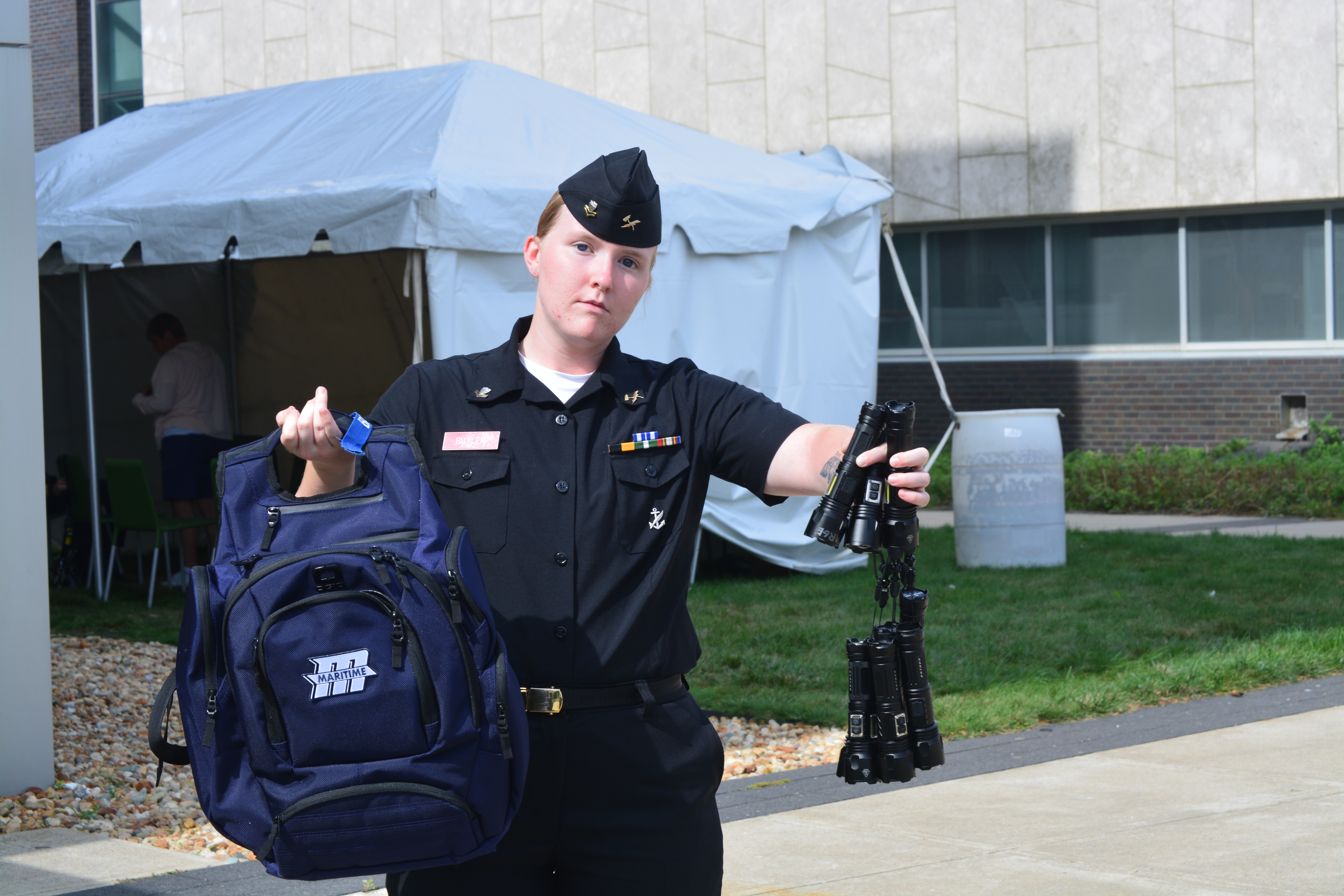 Youngie gear check…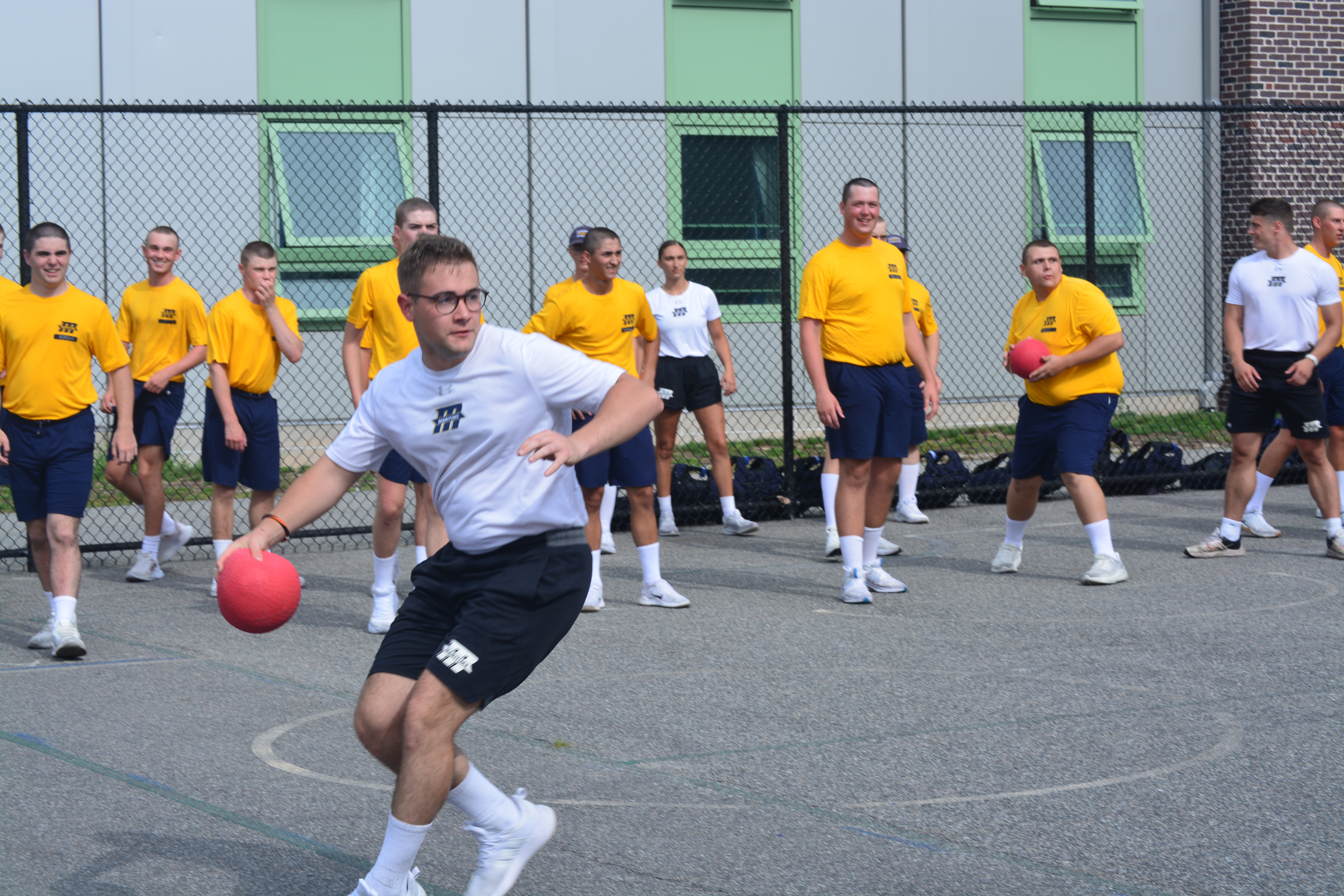 7th Co dodgeball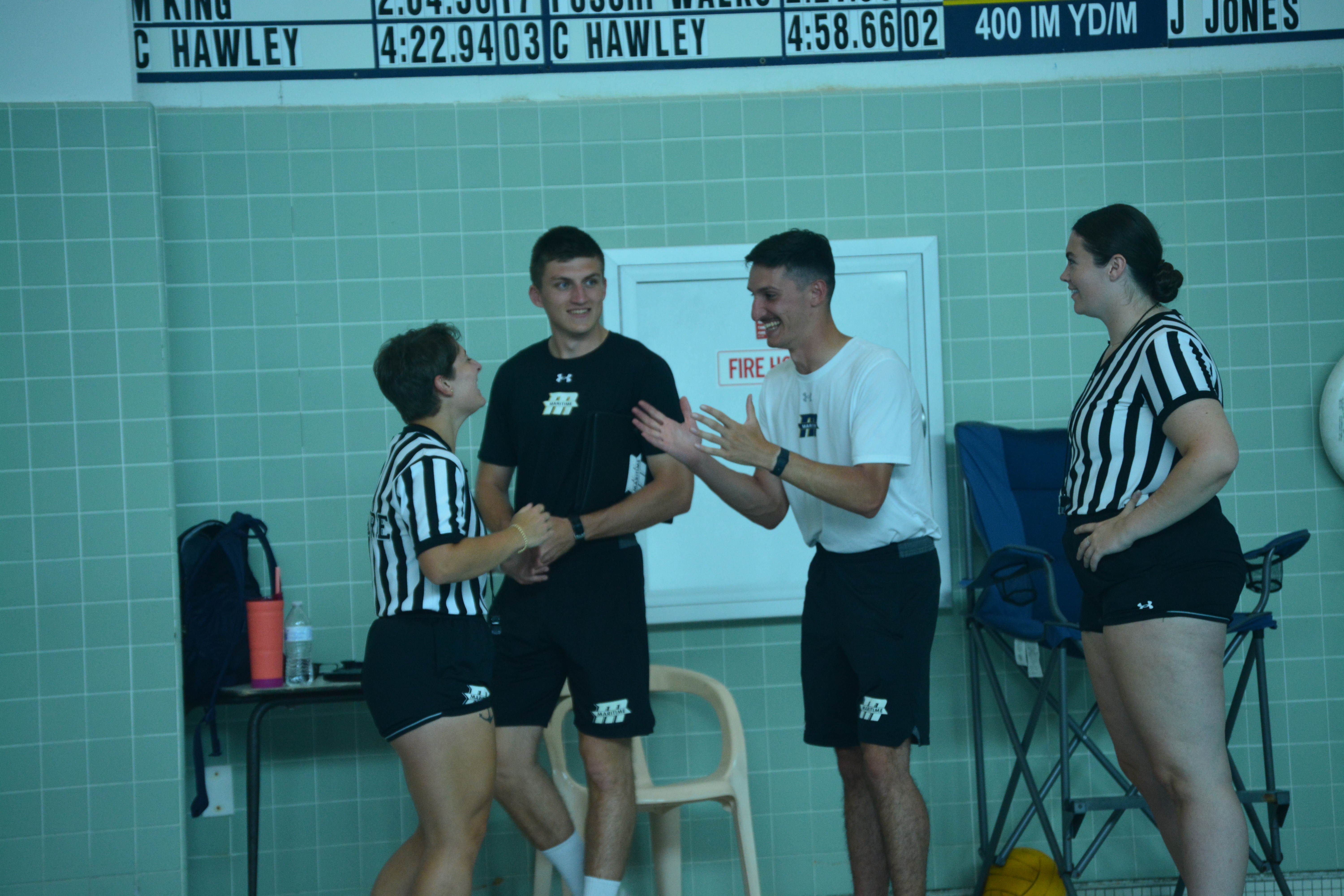 5th Co argueing with the refs at water polo…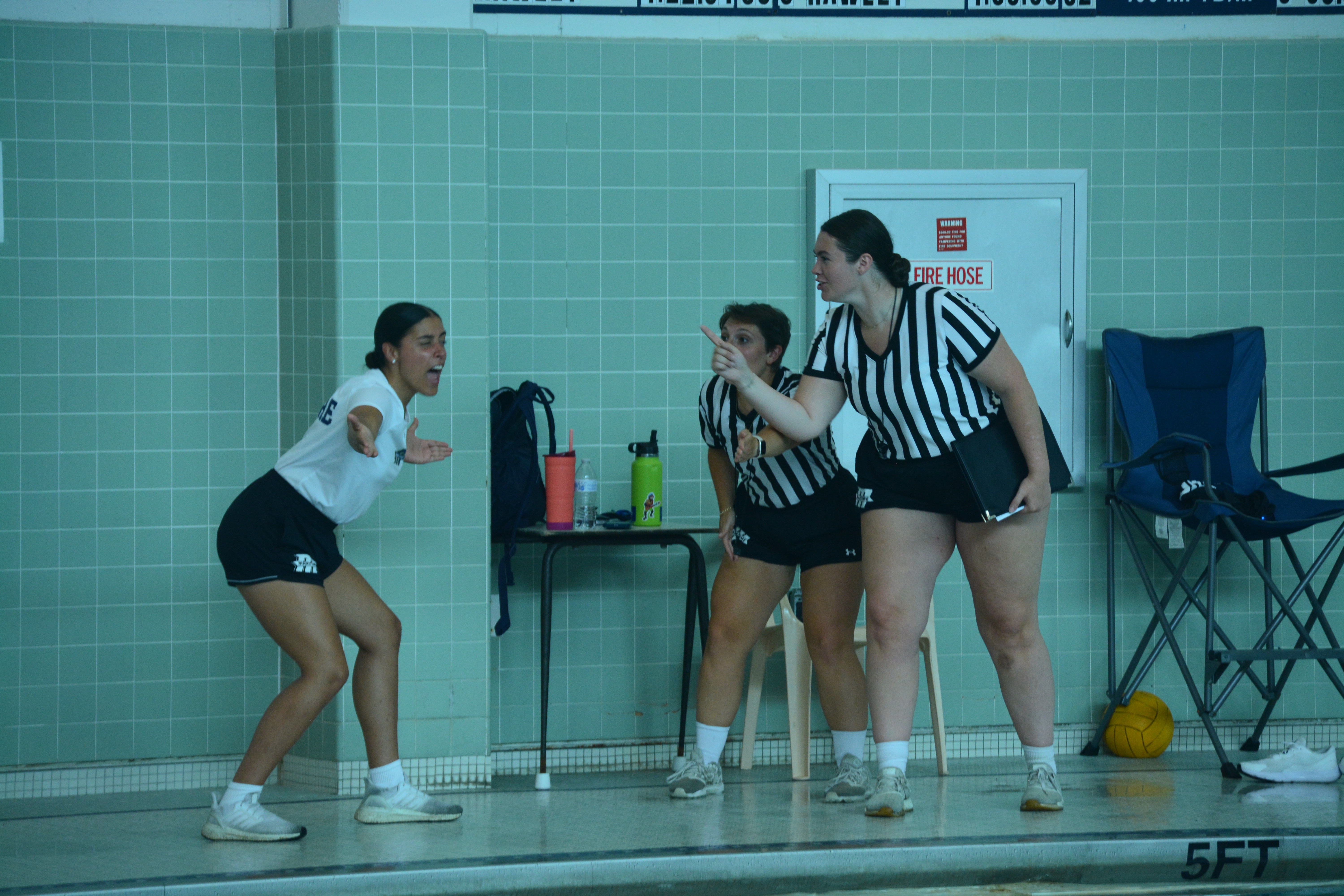 More argueing with the ref… uh oh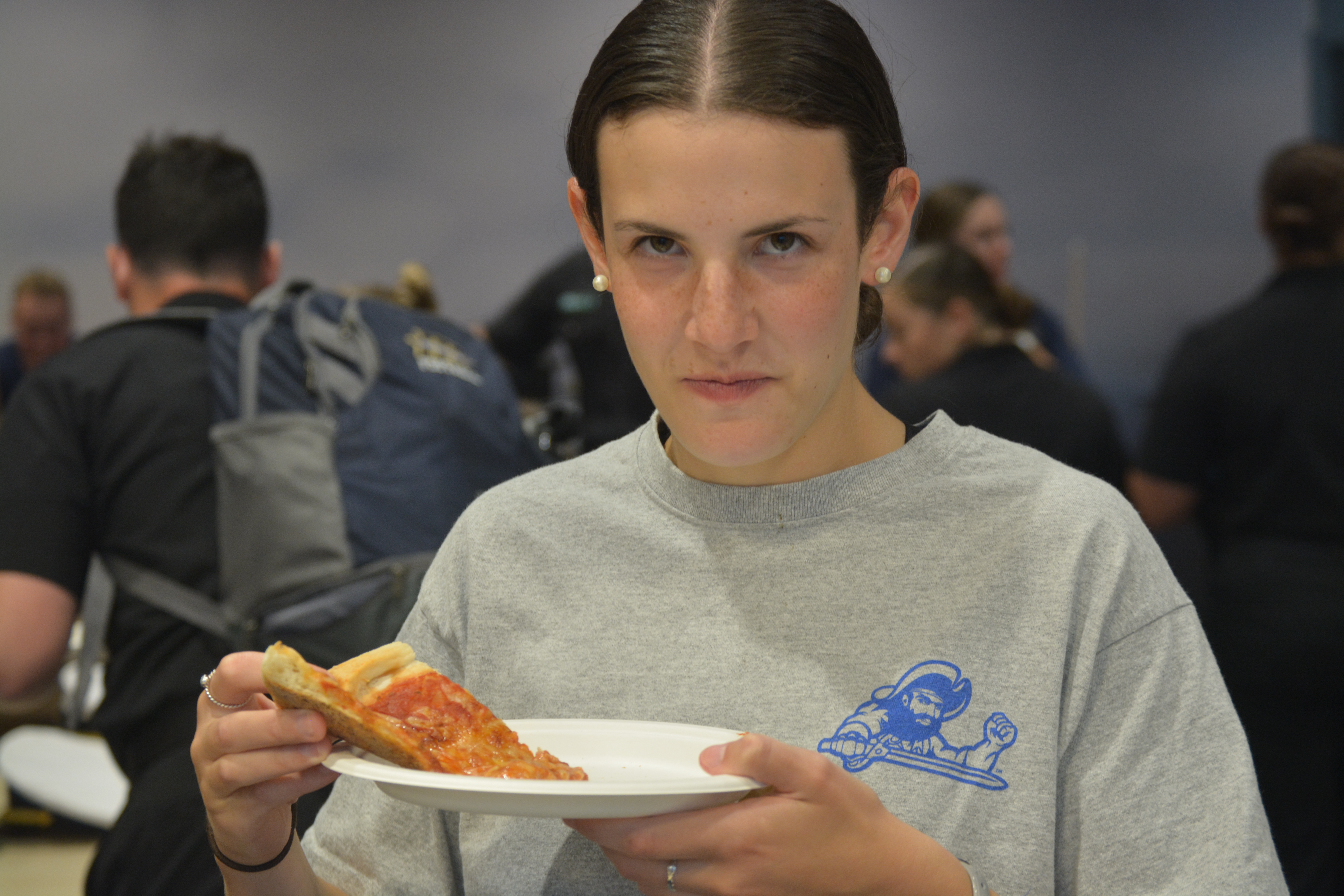 The Cadre relaxing with a pizza party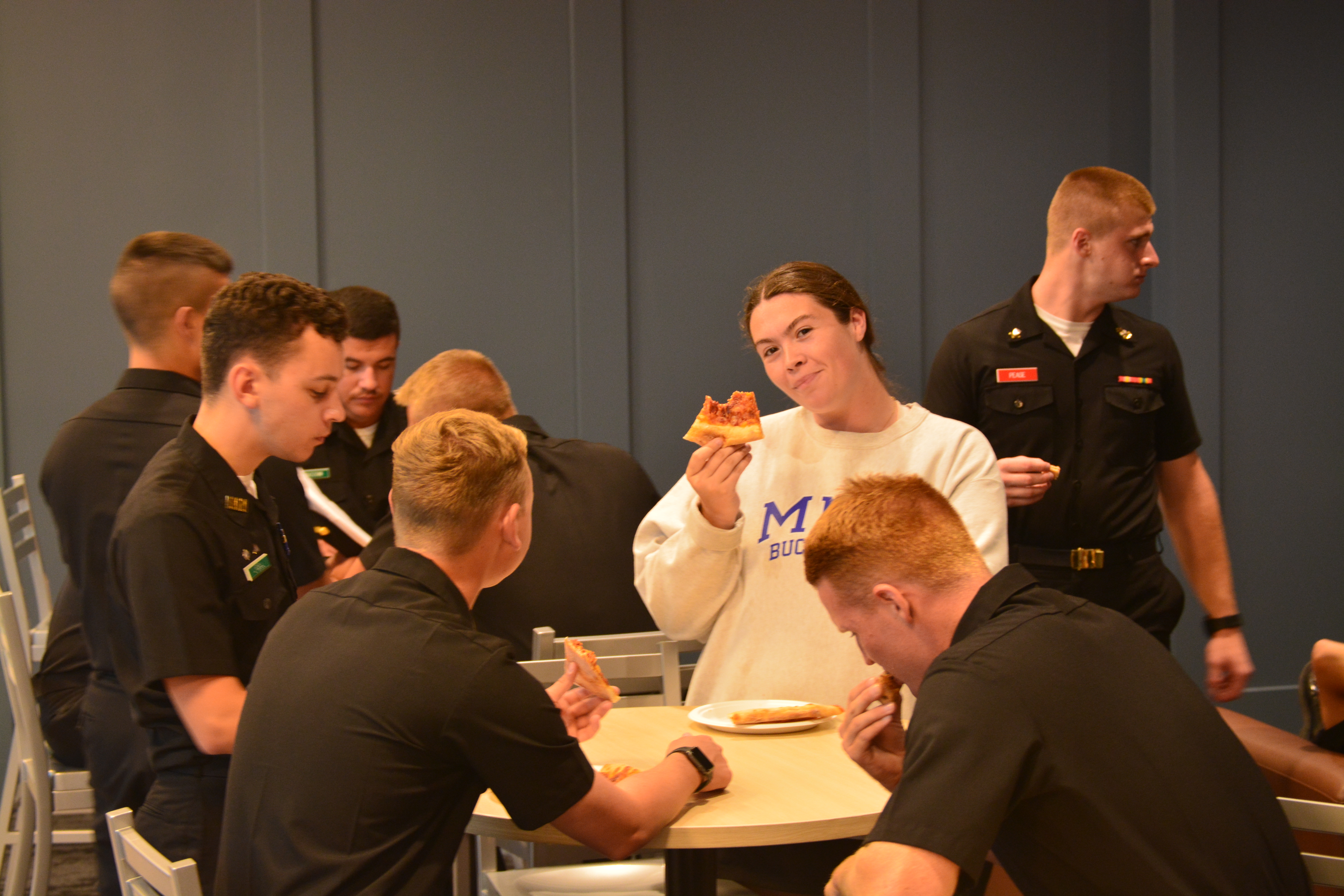 Pizza party!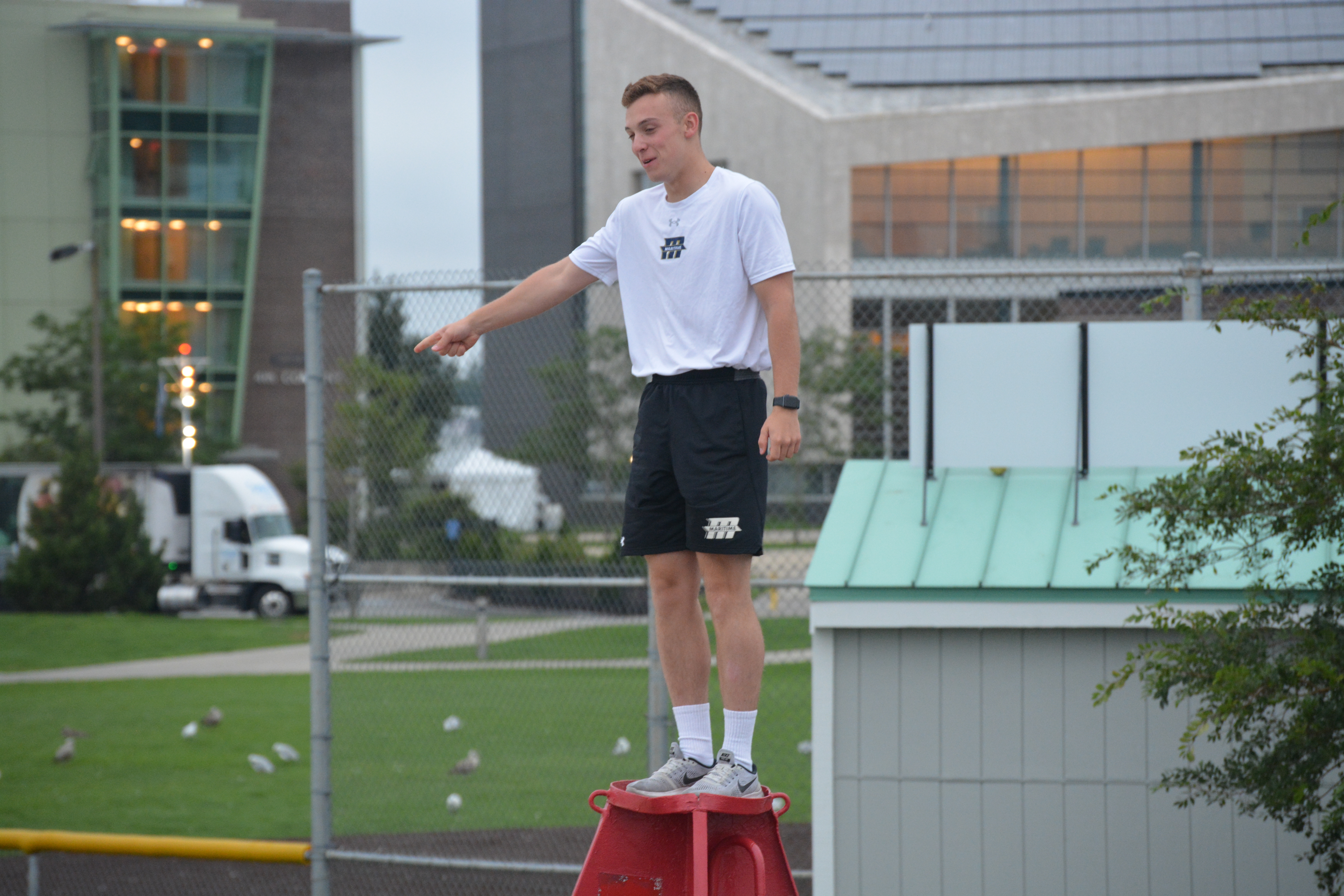 The regimental commander oversees the mile run